Wasatch Range
The
Wasatch Range
is a region of north central
Utah
consisting of the Wasatch Front and the Wasatch Back. The Wasatch Front is generally defined by the cities along the western side of the Wasatch Mountains, most of which are bordered to the west by either the Great Salt Lake or Utah Lake. At the center of the Wasatch Front is
Salt Lake City
, the state's largest city and capital. The majority of the state's population live in this region, with a total population of more than 2,000,000. The Wasatch Back consists of several valleys on the eastern side of the Wasatch Mountains.
The region stretches from
Brigham City
to
Santaquin
and includes the counties of Wasatch, Salt Lake, Utah, Morgan, Cache, Davis, Weber, Rich, and the western half of Summit County. Not everyone agrees on the strict limits of the Wasatch Front, however; some people argue that
Logan
and
Cache Valley
are part of the Wasatch Front or that the region goes as far south as
Nephi
.
Cities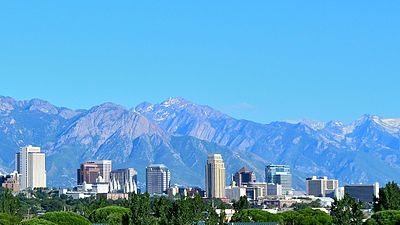 The cities along the Wasatch Range are grouped into valleys. (Listed in geographical order from north to south.)
Cache Valley
– home to Utah State University (USU); population 48,000.
Northern Wasatch Front
– generally considered the northernmost city of the Wasatch Front; population 20,000
– center of the northern Wasatch Front; old industrial city; population 80,000
– rapidly-growing bedroom community south of Ogden, near Hill Air Force Base; population 70,000
– home of Lagoon Amusement Park
– suburb north of Salt Lake City; population 45,000
Salt Lake Valley
– capital of the state, center of the LDS church and home of Temple Square, site of Salt Lake City International Airport; population about 185,000
– large mixed-use suburb southwest of Salt Lake City; population 130,000
– mixed-use suburb near the center of the valley; population 45,000
– rapidly-growing mixed-use suburb west of Sandy; population 105,000
– mostly bedroom community in the southern portion of Salt Lake Valley, with a distinct commercial region; population 90,000
– bedroom community at the southern end of Utah Valley, population 40,000
– home to Thanksgiving Point; population 50,000
– population 25,000
– mixed-use suburb alongside Provo in the southern Wasatch Front and home to Utah Valley University (UVU); population 90,000
– central city of the southern Wasatch Front and home to BYU; population 115,000
– bedroom community just south of Provo, home to the Springville Museum of Art; population 30,000
– home to the valley's main fairground; population 30,000
– home to Peteetneet Academty; population 12,000
– generally considered the southernmost town along the Wasatch Front; population 8,500
Snyderville Basin
Snyderville Basin in east of Salt Lake City through Parley's Canyon.
– Main venue for the 2002 Winter Olympics and home of the Sundance Film Festival; population 8,000
Heber Valley
Heber Valley is south of Snyderville Basin and east of Utah Valley. It can be accessed from Utah Valley via Provo Canyon.
– Near three large reservoirs, Jordanelle, Deer Creek, and Strawberry; population 11,000
– Soldier Hollow was the site of the 2002 Olymipcs cross-country skiing; population 4,000
Other destinations
– Officially incorporated as a town, but mostly a ski resort.
– An island in the Great Salt Lake.
and – Natural attractions and ski resort.
Get in

The normal entry point to the Wasatch Front by air is Salt Lake City International Airport (SLC).
I-15 runs the entire length of the Wasatch Front (north-south).
I-80 cuts through Salt Lake Valley and Snyderville Basin (west-east).

Get around

The availability of public transportation varies throughout the region, ranging from good (Salt Lake City) to sparse (southern Utah Valley). Car is the most common method of transport.

Do
The Wasatch Front is a world destination for outdoor sports. Boasting incredible amounts of light powder snow, many ski resorts dot the mountains a short drive from Salt Lake City. A number of these resorts are storied in the annals of skiing history including Alta, which opened in 1938. In the summer the resorts can be explored for their tremendous beauty and for their mining history, which is extensive. Hikers will find a lifetime of trails in the Wasatch including the Pipeline trail in Millcreek Canyon, which is perfect for beginners and leads to impressive views of the Salt Lake Valley.
The area is also home to world class rock climbing of a number of varieties. From quartzite in Big Cottonwood Canyon, to granite in Little Cottonwood Canyon, and limestone in American Fork Canyon a number of rock types form impressive structures and have led to the development of thousands of routes. Bouldering, sport climbing, and traditional climbing, and alpine climbing are all well represented. In the winter climbers can test themselves on a number of ice climbs, head to the local climbing gyms, or drive a few hours to the storied cracks and towers of the Utah desert.
The Wasatch Front also sports impressive mountain biking terrain, which includes beginner rides on dirt trails all the way up to extreme mountain biking at ski resorts. Salt Lake County is completing a paved trail to follow the Jordan River. This trail, which will be accessible in sections or a full cross-county adventure, will be a joy for all ages and will be open to walkers and bikers with informational signs and resting places along the way.
As one would expect for an area with so many athletes, the Wasatch Front features a number of races, from the Wasatch Powder Keg backcountry ski race to any number of small 5k runs, there is almost always a race taking place.