Washington, D.C./Capitol Hill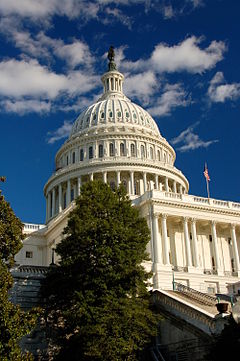 Capitol Hill
is a venerable neighborhood just east of the Capitol building, best known as the main residence in the city for the legislative and judicial branches of the U.S. government, and for the staffers who run the place. Time permitting, you should make an effort to see not just the Capitol Building, the Supreme Court steps, and the Library of Congress, but head further east to see this beautiful neighborhood, and to have a nice meal on Barracks Row while listening to the politicos chatter away. The Hill extends several miles east of the Capitol to RFK Stadium and the Anacostia River.
Understand
Capitol Hill, just east of the
National Mall
, plays a central role in the country's political life, as two of the three branches of the federal government—the legislative and the judicial—are located here. The government spills far over into the neighborhood, as this is the favorite residential section of town for congressional staffers, and any other type of politico you can imagine. Streets are abuzz with intense political debate, and you'll encounter this head on when visiting a neighborhood bar or restaurant.
Capitol Hill is worth exploring regardless of your interest in politics, though. It is a beautiful historic neighborhood of 18th- and 19th-century rowhouses in a wide range of architectural styles, and a wandering stroll from the Capitol to Barracks Row along residential side streets is a nice way to take in this quintessentially Washingtonian neighborhood. The upscale dining scene is one of the best in D.C., particularly along
Barracks Row
(centered on 17th century U.S. Marines barracks at 8th and I St) and along Pennsylvania Ave. North of the Capitol Grounds is grandiose
Union Station
, which is both a major point of entry into the city, and also a historical landmark in its own right, with a beautiful, gilt main hall. The other big historical attraction is the huge
Eastern Market
, which is a fine place to browse, admire, or grab something good to eat.
Get in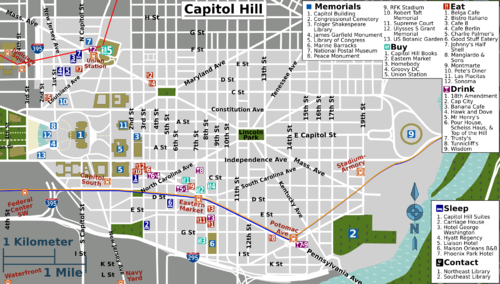 By Metrorail
For more information on riding the Metrorail in Washington DC, see
Washington DC#Get_around
.
The
Blue
,
Orange
, and
Silver
lines have stations just south of the Capitol Grounds at
Federal Center
and
Capitol South
. Further from the city center
Eastern Market
and then
Stadium-Armory
can be reached on the same line. Eastern Market is the most convenient stop for exploring the Capitol Hill
neighborhood
, as well as the eponymous market and Barracks Row. Stadium-Armory is closest to the DC Armory and Congressional Cemetery.
The most prominent stop is certainly at
Union Station
, on the
Red Line
, which is an easy walk from the Capitol, and is right by the Amtrak/Marc train station.
By train
phone: +1 202 289-1908

address: 40-50 Massachusetts Ave

The central train station for the city, and trains come and go primarily along the Northeast Corridor, although you can likely find a train heading in any direction, the majority of which are operated by Amtrak.
Union Station is also the end point for the
MARC Trains
heading north through the
Capital Region
of
Maryland
to
Baltimore
. Since the MARC serves primarily commuters, train departures and arrivals are concentrated at the beginning and end of the work day.
By bus
The following are the main bus routes operating in these neighborhoods, along with links to timetables and route maps. For more information on riding buses in Washington DC, see
Washington DC#Get_around
.
By car
Street parking is not too hard to find on side streets once you get far enough east of the Capitol Building, and away from Eastern Market and Barracks Row. The traffic patterns are disastrously convoluted, though—even by D.C. standards. Main east-west routes run along Constitution and Independence, as well as Pennsylvania and Maryland Ave. Coming from
Anacostia
, the main bridges are at Pennsylvania Ave and E Capitol St. There are no main roads heading north-south throughout the area, only the complex diagonals.
See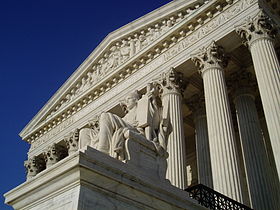 The main attractions on Capitol Hill are all concentrated in the
U.S. Capitol Complex
, grounds managed by the Architect of the Capitol, covering roughly the three blocks east of the
National Mall
. These include the Capitol Building and its grounds, as well as the U.S. Supreme Court, Library of Congress, and congressional office buildings.
Capitol Complex
Capitol Grounds monuments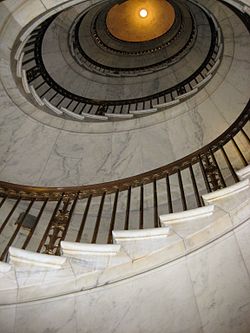 Other attractions
address: 1801 E St SE

All sorts of notables from American history found their final resting place here, from composer John Sousa to FBI founder J. Edgar Hoover. The cemetery hosts regular yoga classes in the summer as well as a monthly book club.

phone: +1 202 357-2700

address: 2 Massachusetts Ave NE

The Smithsonian's own philatelist Shangri-La has one of the world's largest collections of rare stamps, as well as exhibitions of how mail has been delivered throughout history, and other ways that the mail shapes culture.

phone: +1 202 289-1908

address: 50 Massachusetts Ave NE

Not just a train station or metro stop, the grandiose 1908 Beaux Arts building by legendary American architect Daniel Burnham makes it worth a look—the ceremonial entrance is stunning. Open long after the museums close, it contains shops and restaurants. A large monument to Christopher Columbus stands outside the building.

National Guard Memorial Museum

phone: +1 202 789-0031

address: 1 Massachusetts Ave

Belmont-Paul Women's Equality National Monument

phone: +1 202 543-2240

address: 144 Constitution Ave NE
Do
phone: +1 202 544-7077

address: 201 E Capitol St SE

A library, performance venue, and a museum all rolled into one. The library is the single most impressive feature—it houses the largest collection of the Bard's works in the world—although the library itself is geared towards researchers, not travelers. The Shakespearean performances here are top-notch, and occasionally outshine the bigger Shakespeare Theatre Company in the East End (although the performances here can be more uneven). There are also frequent lectures, musical performances, etc., which can be a good excuse to visit. The small museum has a replica of Shakespeare's Globe Theatre, and an Elizabethan garden in the back, and is nice to visit combined with a performance.

phone: +1 202 608-1100

address: 2001 E Capitol St SE

Opened in 1941, this is an auditorium, arena, big top and ballroom that can hold 10,000 people. It features events such as games of the DC Rollergirls.

phone: +1 202 547-9077

address: 2400 E Capitol St SE

Opened in 1961 as the home of the Washington Redskins, this stadium has suffered wear and tear and is no longer in use. However, small annual festivals and events are held in its parking lot, including the Shamrockfest Irish music festival every March and the DC World Reggae Festival every August. Plans are in the works to demolish the stadium.
Buy
Union Station
and
Eastern Market
are big shopping destinations in the city. Union Station includes a big shopping mall with plenty of high end and mid-range stores, while Eastern Market is much more offbeat, and geared to a lazy day of browsing. Outside these two heavyweights, Capitol Hill is an unorthodox shopping destination, but it does have a relatively small collection of unique and offbeat shops dispersed throughout the neighborhood, especially on Pennsylvania Ave near the Library of Congress and by Barracks Row.
phone: +1 202 698-5253

address: 306 7th St SE

D.C.'s biggest public market has been housed since 1873 in a 19th century brick building, just a few blocks from the Capitol. The market is open every day, but weekends bring an additional influx of vendors ranging from local farmers to antique furniture. The market burned down in 2007, but reopened in June 2009.
Books
phone: +1 202 544-1621

address: 657 C St SE

Housed in a small, old rowhouse next to Eastern Market, this bookstore is a local favorite, jam-packed with used books on every imaginable subject. For a delightful surprise, be sure to open the cabinets in the kitchen and bathrooms.
Gifts
phone: +1 202 544-6633

address: 323 7th St SE

This is a very eclectic gift shop with unique gift cards, gags, and other arts & crafts. It's a little on the expensive side.

phone: +1 202 543-1997

address: 713 D St SE

A collection of high-end kitchen gadgets, cookware, and appliances, with also some gift and seasonal items. The upstairs hosts classes in cooking skills.

phone: +1 202 554-8445

address: 715 8th St SE

Selling mostly home furnishings, this store is better suited to locals than travelers, but its selection is unique and stylish enough to merit a visit if only to browse. And there are original works of art and accessories, which are easier to take home.
Eat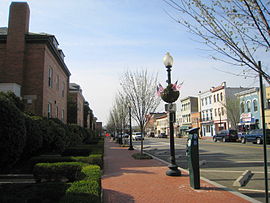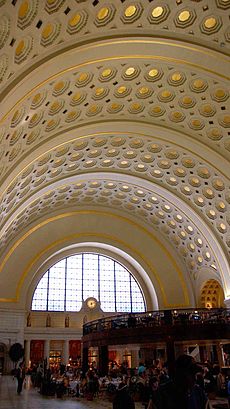 Barracks Row
, on 8th St SE, has classy restaurants that cater to repeat diners and to a sophisticated crowd.
Union Station
has much cheaper options. The cafeteria food on the bottom level is best for the cheapest and quickest meals. The main level includes many popular national chains such as Chipotle, McDonald's, Chop't, Potbelly Sandwich Works, Pizzeria Uno, Pret A Manger, Roti Mediterranean Grill, Shake Shack, and Subway.
Budget
phone: +1 202 546-4522

address: 320 D St NE

If you come to this neighborhood restaurant, everyone will necessarily assume that you are a local. It's your traditional Italian-American checkerboard tablecloth restaurant, and only a little larger than a hole-in-the-wall. The food for the price in this neighborhood is exceptional.

phone: +1 202 543-8222

address: 303 Pennsylvania Ave SE

Flagship location of the soon to be franchised burger joint. Renowned locally for its handmade burgers, handcut fries, handspun ice cream.

Jimmy T's Place

phone: +1 202 546-3646

address: 501 East Capitol St SE

A 1930s-type Capitol Hill greasy spoon diner and a must visit for the charm alone. Cash only.

phone: +1 202 543-6212

address: 1317 Pennsylvania Ave SE

It's far from the action and has limited hours, but this deli has served classic Italian subs to locals for about 55 years, who will universally tell you these are the best sandwiches in the city. Order the "G-man" if you want a local favorite.

Pete's Diner

phone: +1 202 544-7335

address: 212 2nd St SE

Somehow there's a little greasy spoon next to the Library of Congress. The prices are extremely low, the waitresses are friendly, and the diner food is certainly adequate.

phone: +1 202 450-6067

address: 257 15th St. SE

Delicious pretzels & breakfast sandwiches.

phone: +1 202 543-2725

address: 331 Pennsylvania Ave SE

Beer & comfort food in a space adorned by taxidermy.
Mid-range
Splurge
The high-end restaurant scene in Capitol Hill is one of the city's best. Reservations are a must at most high-end restaurants.
Drink
There are plenty of bars in the Capitol Hill neighborhood, most of which are concentrated around the West side of the Capitol, and on the Eastern Market/Barracks Row strips. Catering to a diverse crowd of overworked hill staffers, lobbyists, lawyers, lawmakers, Marines from the nearby Barracks and neighborhood locals, there's something for everyone.
Sleep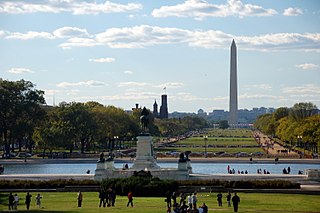 Budget
Hostels
Mid-range
Splurge
Hyatt Regency Washington on Capitol Hill

phone: +1 202 737-1234

address: 400 New Jersey Ave NW

The hotel occupies a full city block in the heart of Capitol Hill, between the Capitol and Union Station, and has a lovely, large, plant-filled atrium. Avoid the absurdly overpriced hotel restaurant, unless you're in the mood for a $10 bowl of cornflakes.

phone: +1 202 638-6900

address: 520 N Capitol St NW

Hotel of the Irish! Rooms are furnished in an 18th-century Irish Manor style, Irish entertainers are at the Dubliner bar, and it's also right next to Union Station.
Connect
Most cafes and restaurants offer free WiFi. Otherwise, the two public libraries in the neighborhood offer public terminals and free WiFi, or you could just enjoy the public WiFi on the steps of the Capitol Building!
phone: +1 202 698-0058

address: 330 7th St NE

phone: +1 202 698-3377

address: 403 7th St SE
Go next
The obvious destination is just west of the Hill, the National Mall, and the proximity is one of the main reasons to stay on Capitol Hill in the first place.
For a change of pace from Capitol Hill nightlife, consider heading just north to Near Northeast to have a beer at one of its very offbeat bars and clubs.