Washington, D.C./Dupont Circle
Dupont Circle
is a trendy historic neighborhood in
Washington D.C.
It is popular due to its night clubs, bars, cafes, art galleries, and shops.
Understand
Pierre Charles L'Enfant's original plan for Washington, D.C. included a number of grand boulevards, radiating out and intersecting with one another in a way that would create public squares and green space. One such circle, Dupont Circle, lies at the intersection of Connecticut Ave, which emanates from the White House and runs roughly north-south, New Hampshire Ave, which runs diagonally, and Massachusetts Ave which runs roughly east-west.
The Dupont Circle area remained largely undeveloped until after the Civil War, when demand for housing from returning soldiers and freed slaves spurred additional development in D.C. Construction of the traffic circle, originally called
Pacific Circle
, began in 1871. In 1884, the circle was renamed after Civil War Rear Admiral Samuel Francis DuPont, partial heir to the DuPont family fortune, and a bronze statue of him was added. The statue was replaced in 1921 with the large marble fountain that remains to this day. The fountain was designed by Daniel Chester French and Henry Bacon, also the designers of the Lincoln Memorial, and features creatures that symbolize sea, the stars and the wind. It is now a popular gathering spot, with many places to sit.
In the early 1900s, the area became a popular place for wealthy Washingtonians to build their mansions, most notably on Massachusetts Ave.
In the late 1940s, a tunnel was built beneath Dupont Circle as part of a Capital Transit streetcar project. Streetcar service ended in 1962, and the underground space where it was located is now an event venue. Along with the streetcar tunnel, another tunnel was constructed to allow Connecticut Ave vehicle traffic to pass beneath, helping to alleviate traffic congestion around the circle.
While the neighborhood suffered considerably during the 1968 riots, it recovered faster than the adjacent neighborhoods of Shaw and the East End due in part to the trendiness brought on by the gay community, which brought a Bohemian feel the area, similar to Greenwich Village in
New York City
. In the 1980s and 1990s several clubs, bars, and shops opened in the area, furthering the gentrification process.
The neighborhood is now a very popular place to live for young people without cars or children, and for the wealthy elite who can afford some of the highest home prices in the city.
Get in
By Metrorail
Metro is exceptionally convenient in Dupont Circle—the
Dupont Circle
stop on the
Red Line
is right under the circle. The station's north and south exits are fairly far apart, so take a moment to figure out which one will get you in the direction you want to go.
For more information on riding the Metrorail in Washington DC, see
Washington DC#Get around
.
By bus
The following are the main bus routes operating in Dupont Circle, along with links to timetables and route maps. For more information on riding buses in Washington DC, see
Washington DC#Get around
.
By car
Unless you are an experienced D.C. driver, it is very easy to get confused in Dupont Circle, or worse yet, wind up on the barbarous circle.
Connecticut Ave is the main thoroughfare. Massachusetts Ave is busy as well, but its traffic patterns are too confusing to be of much practical value. If passing through, make sure to stay in the left lanes to go through a tunnel
under the circle
, not around it. Traffic is terrible on the circle, in volume, confusion, and rage. If you accidentally get stuck driving around the circle and don't know what you are doing, stay in the outer lane and get off to save yourself the headache. P St is the best route west to
Georgetown
.
Parking
Street parking is scarce, and limited to 2 hours during the daytime on weekdays. There are several
parking garages
, with daily rates in the $15-$20 range. Late at night, you can find street parking in the deserted business district just south of M St in the
West End
.
See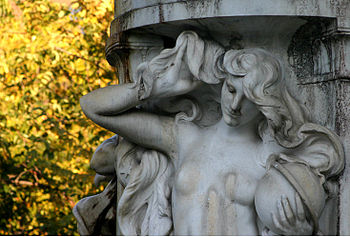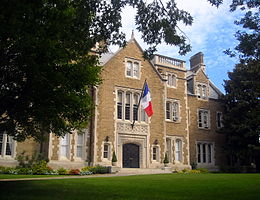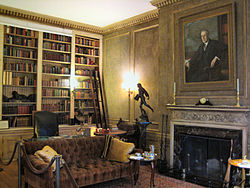 phone: +1 202 234-7490

address: 1812 19th St NW

Immaculately maintained home of the founder of the infamous Church of Scientology. The curator, one of the world's top experts on Hubbard (and a practicing Scientologist), will lead you on an interesting tour (lasting up to two hours) that covers Hubbard's biography and a sanitized version of the church's overall history and belief system.

Museum of the Palestinian People

phone: +1 202 290-3684

address: 1900 18th St NW

Museum covering the history and political situation in Palestine.
Embassy Row
Many of the buildings that now house embassies were once the luxurious residences of the rich and famous. If you have the opportunity, take a walking tour of embassy row and learn the stories behind these beautiful buildings.
phone: +1 202 785-2040

address: 2118 Massachusetts Ave NW

The 55,764-square-foot Anderson House, which is perhaps better described as a castle, was built in 1902-1905, as the home of Larz Anderson and his wife. Upon Anderson's death, the house was given as a gift to the Society of the Cincinnati which was something of an American noble order dedicated to preserving the legacy of the American Revolution founded in 1783 after the Revolutionary War. The house serves as the organization's headquarters, and houses a museum and library with information relating to the Revolutionary War.

Everett House

address: 1606 23rd St NW

Designed by George Oakley Totten, Jr., the 40,000-square-foot house was built in 1914 for industrialist and philanthropist Edward H. Everett. The house was later used as the Turkish embassy, beginning in 1932, and became the Turkish ambassador's residence in 1999 when a new embassy building was built on Massachusetts Ave. The Everett House features a limestone facade, in Beaux-Arts neoclassic style.

address: 2121 Massachusetts Ave NW

Almost completed rebuilt by heiress Mary Scott Townsend in 1899, the house features a Beaux Arts, Louis XVI French-inspired design. Townsend lived there until she died in 1931. For a period of time before World War II, Sumner Welles, the son-in-law of Mary Scott Townsend and Franklin D. Roosevelt's Under Secretary of State, lived in the Townsend Mansion. The Cosmos Club, a private social club, bought the house in 1950, and continues to occupy the mansion.
Do
Dupont Circle has relatively few activities and is generally not a great place for kids. The actual
Dupont Circle
, around which the neighborhood is centered, has a nice park in the middle of the traffic circle. It's a favorite neighborhood spot to read, play chess, and people-watch. On summer weekends there are relatively frequent musical performances.
Comedy clubs
address: 1140 Connecticut Ave NW

First-come, first-served seating.
Theaters
phone: +1 202 265-3767

address: 1742 Church St NW

Small theatre offering new and classic plays and musicals.

phone: +1 202 248-0301

address: 1810 16th St NW

Small, young theatre company that performs in a specially renovated church basement. Name refers to an Einstein quote; repertoire is not necessarily "spooky."
Think tanks
Dupont Circle has probably the highest concentration of major think tanks of any neighborhood in the U.S., if not the world. They host frequent free talks and panels during lunch hour (free food is often included) and happy hour. Topics include a variety of policy issues, some of which are very technical or esoteric and others of which are more generally accessible.
Festivals & events
17th Street FestivalIncludes the famous drag queen high heels race.

Capital PrideMultiple Capital Pride Events; held annually. The Pride Parade usually begins at the intersection of P St. & 21st St., continues around Dupont Circle, and on toward U St. in Shaw.
Buy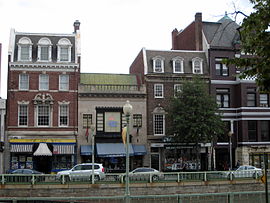 Art galleries
Most galleries in Dupont Circle participate in
First Friday Dupont
, an open house from 6PM-8PM on the first Friday of every month, with a strong social bent (cocktails, music, etc.).
Books and music
Dupont Circle may not have many bookstores, but those that are here are beloved city-wide.
Fashion
Other
Eat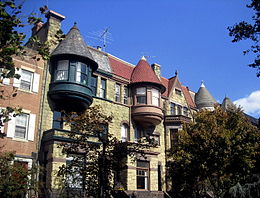 Dupont Circle has
plenty
of dining options, including some of the best in the city, but this is expensive territory with limited budget options aside from chain restaurants. For more affordable local dining, visit the nearby neighborhoods of
Shaw
or
Columbia Heights
.
If you're visiting on a Sunday morning, be sure to check out the
farmers market
on 20th Street, one of the largest and best in the city.
Budget
Mid-range
Splurge
Desserts
Drink
There are bars, clubs, and lounges catering to all sorts of different people, but the general theme is that they are upscale - you won't find many dive bars here and you likely won't be allowed into a club wearing sneakers or shorts. The main nightlife stretches are along Connecticut Ave just north and south of the Circle, P St west of the Circle, and on 17th between P and T St.
There are plenty of coffeeshops, including many Starbucks locations. Independent coffee shops are in ample supply as well, most of which offer outdoor seating in nice weather to watch the crowds go by.
Bars
Clubs
Dupont Circle is one of the major clubbing areas of the city. There are plenty of parties going on here nightly, the most famous and established of which are at the Eighteenth Street Lounge.
Cafes
Filter Coffeehouse and Espresso Bar

phone: +1 202 234-5837

address: 1726 20th Street, NW

Your eyes are attracted from the people moving in this semi-basement location. Something tells you to check it out, you are not disappointed. 3 locations in DC.

phone: +1 202 387-6622

address: 1645 Q St NW

A long-time neighborhood coffee shop that roasts its own beans. The biggest draw is the plentiful, shaded outdoor seating, which fills up with laptops (free WiFi and plenty of outdoor outlets!) checking emails while enjoying some good 17th St people watching.

Jolt 'N Bolt

phone: +1 202 232-0077

address: 1918 18th St NW

Another neighborhood outdoor seating and WiFi coffee shop, this one with a more private seating area on the side of the building. The inside is attractive, decorated with local artwork.

Steam Cafe & Pizzeria

phone: +1 202 483-5296

address: 1700 17th St NW

Steam distinguishes itself from the other independent neighborhood coffee shops by staying up late. It's mellow, plays classical music, and has particularly reliable WiFi.

address: 2009 R St NW

Tea shop with Asian-inspired foods. Breakfast, lunch, and desserts offered on menu. Great selection of fine teas, although the prices exceed the (high) quality. Good place for lunch/brunch. Seating is limited, so if it looks busy you might want to look elsewhere (but there's also seating upstairs).
Sleep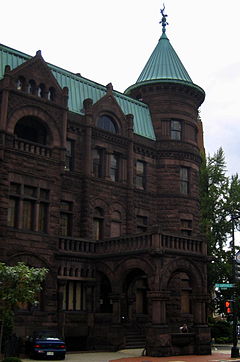 Dupont Circle is a great place to stay when in D.C., and should be even more popular than it is. Rates are more affordable than at the big chain hotels in the touristy
East End
, there are several charming independent options, it's a great area to come back to in the evening, has convenient metro service, and is just a few blocks north of the main business district. If staying towards the southwest end, you'll be right by the business district of the
West End
, and a short walk from
Georgetown
, while the northeast side puts you closer to main dining and nightlife strips.
Budget
Mid-range
Splurge
Connect
Internet
Almost all cafes and restaurants in Dupont Circle offer free WiFi.

Go next