Washington, D.C./Georgetown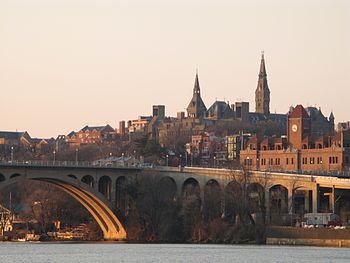 Georgetown
is a neighborhood in
Washington, D.C.
, south of
Upper Northwest
and west of
Dupont Circle
. It is the oldest part of the city, with buildings dating back to 1751. The neighborhood is known for high-end shopping and dining, French-style cafes and cupcakeries, quaint 18th and 19th century rowhouses lining cobblestone streets reminiscent of Old Europe, sprawling estates, exclusive cocktail parties for the social and political elite, a glistening waterfront harbor, as well as Georgetown University and the associated rowdy collegiate nightlife. Several countries have embassies in Georgetown. Georgetown is physically separated by from the west of Washington by a ravine and the lack of a Metrorail station, and the feeling of separation persists in many ways to this day.
Understand
Georgetown is situated on bluffs overlooking the Potomac River. As a result, there are some rather steep grades on streets running north-south, as well as some great views over the Potomac. The famous "Exorcist Steps", which connect M St to Prospect St, were necessitated by the hilly topography. Several of these sloping streets remain unpaved and cobblestoned. Most of Georgetown's streets are lined with tall, old trees and quaint 18th-19th century architecture. Georgetown used to be an industrial area and many of the former warehouses and factories have been beautifully repurposed into apartments, hotels, and office buildings. In 2003, the former
refuse incinerator
was re-developed into the luxury Ritz-Carlton hotel. Georgetown is best explored by foot.
History
Georgetown used to be inhabited by the Nacotchanke Indians, who called it
Tahoga
. The first written European record of its existence was by English fur trader Henry Fleet, who wrote about the settlement in 1632. It was settled by the British in 1696, who quickly expunged the local population. Incorporated in 1751, Georgetown predates Washington and it remained a separate city from Washington until 1871. The name was either a tribute to King George II of Britain, or to George Gordon and George Beall, who owned most of the land at the time the city was founded.
In colonial times, Georgetown was at the northernmost navigable point on the Potomac River. As a
port city
it was an important center of
Mid-Atlantic
trade, particularly for locally-grown tobacco and slaves. In 1789,
Georgetown University
was founded as the first Jesuit university in the nation. Thomas Jefferson and Francis Scott Key both lived in Georgetown, and George Washington came over often to visit the popular taverns.
The $77 million
Chesapeake and Ohio Canal
was constructed in the 1820s along the west bank of the Potomac River, linking Georgetown to
Ohio
via
Western Maryland
. Due to the construction of the more efficient B&O Railroad and problems with flooding and silting, the project was a dramatic commercial failure, and operated at a loss, but its legacy exists in Georgetown today as a beautiful place to take a walk or bike ride. In the late 19th century, Georgetown's fortunes declined precipitously as both the Potomac and the canal became unnavigable due to increased sedimentation. The factories around the canal shut down, and Georgetown became a slum. As the city of Washington grew, the Anglo-elite moved to newer homes in the burgeoning city, while newly freed slaves fled the south and came to Georgetown. The black population of Georgetown almost doubled and it became a majority African-American neighborhood.
In the mid-20th century Georgetown's fortunes changed rapidly, as well-educated residents moved here, drawn by its proximity to the city center and especially by its beautiful architecture. In the 1950s, then-senator John F. Kennedy moved to 33rd and N St, and since everyone wanted to be at Jackie O's parties, the city's social and political elite returned to Georgetown. Many houses were renovated and Georgetown became the most expensive part of D.C.
Today, Georgetown caters to a privileged, wealthy, international, powerful, and even somewhat aristocratic crowd, although the university presence preserves a unique mixture of beer-soaked college town and prosperous enclave.
Get in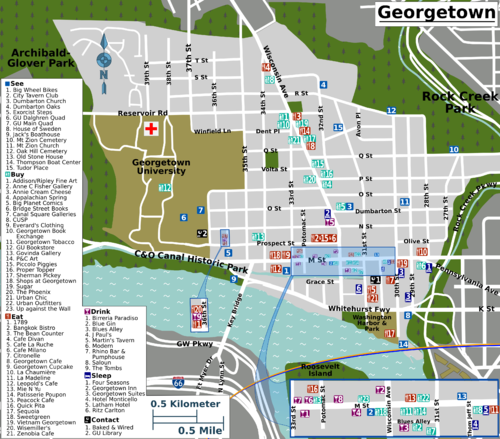 By Metrorail
For more information on riding the Metrorail in Washington DC, see
Washington DC#Get_around
.
There is no Metrorail station in Georgetown. Georgetown is an easy one-mile walk from either the Rosslyn Metrorail Station in
Arlington
or the Foggy Bottom Metrorail Station in the
West End
and is 1.5 miles from the
Dupont Circle
Metrorail Station. Walking across the Key Bridge to/from the Rosslyn Metrorail Station also offers some really nice views.
By bus
The following are the main bus routes operating in Georgetown, along with links to timetables and route maps. For more information on riding buses in Washington DC, see
Washington DC#Get around
.
By car
Driving in Georgetown is not a pleasant experience. Streets are clogged, pedestrians are aggressive (that's right, the
pedestrians
), major arteries reverse flow and become one-way during rush hour.
Wisconsin Ave and M St are the major arteries. The Whitehurst Fwy from K St is a quick way to get between Georgetown and the
West End
or the
National Mall
. The Key Bridge at the west end of M St connects Georgetown with
Arlington
,
Virginia
,
Washington Reagan National Airport (DCA)
, and
Alexandria
. The Rock Creek and Potomac Parkway provides quick access between Georgetown and the neighborhoods along Rock Creek Park in
Upper Northwest
.
Parking
Street parking is almost impossible to find. Parking is available at
The Shops at Georgetown Park Parking Garage
(32nd & M St) for $10/hour or $20/day or the less-convenient
Georgetown University Southwest Garage
(37th & O St) for $3/hour or $20/day.
By taxi
It is easy to find a taxi on M St or Wisconsin Ave any time of the day.
By boat
Potomac Riverboat Company
operates water taxis from Alexandria to Georgetown ($15 one-way) with narrated tours of the monuments.
By bicycle
The
Capital Crescent Trail
runs from Georgetown to
Silver Spring
.
For information on bike-sharing programs in the Washington DC area, see
Washington DC#Get around
.
phone: +1 202 337-0254

address: 1034 33rd St NW

Although it is expensive, this DC-area bicycle shop chain has the largest bike shop in Georgetown, with a wide selection of different styles of bikes available for rent. They are very used to accommodating visitors, and are happy to help you find a good route for exploring the area.
See
Although Georgetown is known principally for its pretty residential streets, shopping, and dining, it has some of the most historical attractions in D.C.
Dumbarton Oaks is a highlight
of any visit to the city. A visit to D.C. would also be remiss without a stop at Georgetown University's beautiful Main and Dalghren Chapel quads, the notorious Exorcist Steps, and the C&O Canal.
phone: +1 202 337-8770

address: 3206 M St NW

Built in 1796 as a neighborhood pub, the City Tavern is the oldest commercial structure in the city, and the second oldest building following the Old Stone House. The interior is a beautiful trip back to the 18th century, but it is closed to the public, except for private event bookings.

phone: +1 202 339-6401

address: 1703 32nd St NW

Most famous for its role in 1944, when world leaders convened here to draw up the United Nations charter. But that's not why you should come. The extensive gardens are the biggest draw; they are extraordinarily beautiful—almost palatial—and peaceful, uncrowded. The best time to come is a Spring weekday, when the gardens are practically empty, and the trees are budding with bright pinks and purples. The mansion, built in 1800 for John Calhoun (one of the most powerful senators in American history), houses an extraordinary collection of pre-Columbian and Byzantine art. And rest assured a stroll around the mansion would be worthwhile even without the exhibits. Don't thank Sen. Calhoun for all this though; he was rather a boor. The second owners, the Blisses, a wealthy couple from the U.S. Foreign Service, are responsible for the magnificent landscaping and collections. If you are up for a little homework, look for Stravinsky's Dumbarton Oaks Concerto, commissioned by Mrs. Bliss for their 30th wedding anniversary.

Exorcist StepsMade famous by the 1973 horror movie, the "Exorcist Steps" run between Prospect and M St just west of where the Key Bridge deposits people into D.C. In addition to grisly ends to men and devils, the steps are popular among Georgetown students looking for a serious workout during their daily jog along the Potomac.

Georgetown University Dalghren Chapel QuadThis quadrangle was the original land purchase upon the founding of the university. The chapel (1893) at the south end, beautiful inside and out, is best known to the world for its role in The Exorcist, where the priests discovered the defaced statue of the Virgin Mary. The oldest building on the quad is Old North (1795) on the north side, from which Abraham Lincoln gave his speech in 1861 to Union soldiers stationed here. The best time to visit is undoubtedly at the end of the cherry blossom season, when the petals are beginning to fall throughout the quad.

Georgetown University Main QuadIt's hard to notice anything on this very large quadrangle other than the enormous Healy Hall (1897), a national historic landmark, whose high-set Flemish-Romanesque towers loom over the neighborhood, and even the city. It is named after Patrick Healy, who had an impressive career of firsts: the first African-American president of a major U.S. university, the first African-American with a PhD, and the first African-American Jesuit priest. During the day you can wander inside the building to appreciate the interior—Gaston Hall at the north end of the third floor should be your main objective, as it is both beautiful and has hosted endless visits by foreign and domestic heads of state. In the summer, these visits are often free to the public and not very well attended, so you might be able to get in and talk foreign policy with a king or two. Check the university's events website.

address: 2900 K Street NW

A striking, award-winning modern building (2006), it is home to the Swedish Embassy. It bills itself as the "crown jewel of the Swedish presence in the U.S.," hosting a large exhibition space open to the public and devoted principally to current international issues dear to the Swedes.

address: 2701 Q St NW

Mount Zion Church served Georgetown's once large African-American community which once offered free burials for Washington's African-American population. It was very popular since church was legally the only place that large groups of African-Americans were allowed to congregate. The church, at 1334 29th St NW, remains in operation with only a handful of families still living in the area; most of the congregation commutes from other areas.

phone: +1 202 337-2835

address: 3001 R St NW

The Gothic chapel and gates were designed by the same architect who designed the Smithsonian Castle. It was the original resting place of Abraham Lincoln's son, Willie, before he was reinterred with his father in Illinois, as well as other figures. In addition to being a cemetery, it is also a botanical garden well set for a leisurely walk.

phone: +1 202 426-6851

address: 3051 M St NW

Built in 1765, this is the oldest original structure in Washington, D.C. For a while it was a used car dealership, but since the 1950s it has been operated by the National Park Service as a house museum showcasing pre-revolutionary colonial life in Georgetown, as well as a small English garden in the back.

Remains of the Potomac Aqueduct BridgeThe bridge opened in 1889 and was used to transport boats between the C&O and Alexandria canals. The bridge was demolished in 1933, after the construction of the Key Bridge and the closing of the canals. Now, it is a grassy, peaceful area with great views of the Key Bridge and some unique graffiti!

Remains of the Washington Streetcar SystemRemnants are visible on P St, at the façade of "The Shops of Georgetown Park," and at The Georgetown Car Barn (now an office for Georgetown University.) If driving on the insidious rails over the dilapidated cobblestone surface, aim to ride the rails—it's both a fun challenge and easier on your car.

phone: +1 202 965-0400

address: 1644 31st St NW

A stately mansion built in 1815 by the son of the first mayor of Georgetown, and the step-granddaughter of one George Washington. The manor hosts permanent exhibits of 18-19th century American furnishings, as well as a large collections of items owned by George and Martha Washington. The gardens in the back are lovely, and can be accessed separately from the mansion for $3.
Do
D.C. has a lot of outdoor opportunities for such an urban area, and Georgetown is one of the best places to enjoy them.
Theodore Roosevelt Island
and its hiking trails are just across the Key Bridge (free ranger-led tours on weekends at 10AM), the C&O Canal is a great place for a walk or bike ride, and Georgetown is also becoming a major jumping off point for boats, from water taxis to kayaks. The Washington Harbor development at the south end of 31st St, is the center of maritime activity, as well as a favorite (if touristy) place for a stroll to take in the views of the city across the Potomac.
Parks
Chesapeake & Ohio Canal National Historical Park

phone: +1 202 653-5190

The Georgetown portion of the 184.5-mile Chesapeake and Ohio Canal National Historical Park stretches through the heart of the historic industrial center of Georgetown, just south of M St. Restored and renovated buildings line the path, offering a wonderful walk through history. In addition, one can take a mule-pulled barge ride through some of the still-working locks. The path runs northwest along the edge of the city, and eventually all the way to Cumberland, Maryland. The route is very popular with bikers, joggers, and anyone out for a stroll in a pretty setting. If you follow the route east past the end of the canal and head under the highway underpass, you can connect up with the paved waterfront jogging/bike path which runs by the Kennedy Center and then the monuments on the National Mall.

Georgetown Waterfront ParkA 10-acre National Park that traces the path of the Potomac River from the Key Bridge to the Washington Harbor Complex. The park itself features an interactive fountain, water steps, lawns to relax upon, and walking/cycling paths. There are also scenic river overlooks and a labyrinth to explore.

address: Intersection of Reservoir Road and Wisconsin Avenue NW

A park on what was formerly a reservoir, the hilltop is now a great place to get a view of Georgetown University.
Kayaking
phone: +1 202 333-9543

address: 3500 K St NW

This is where the students all come to have the requisite boating experience on the Potomac. Jack rents single and tandem kayaks as well as canoes. Launches are "weather and water permitting"—the Potomac can be a rough river with very strong currents, you won't be allowed to go out when it's unsafe.

phone: +1 202 333-9543

address: 2900 Virginia Ave NW

Thompson's also rents bicycles. Accessible by car only via Virginia Ave from the West End.
Festivals and events
phone: +1 202 965-2000

address: 3133 Dumbarton St NW

Dumbarton is a prestigious street in Georgetown, and prestigious acts perform at Dumbarton Concerts. Even if they did not, any candlelight performances of classical music in a historic Georgetown church would be reason enough to come. Get your tickets in advance since they sell out quickly.
Buy
Georgetown is
upscale shopping central
, although you won't find many discount or touristy stores here. You'll find many upscale local shops and boutiques as well many national and international chains. Along with Friendship Heights in
Upper Northwest
, Georgetown is one of two highly upscale shopping areas in the District.
Georgetown has many modern interior design stores and showrooms concentrated between 34th and 33rd along M south to the canal. Even if you are not interested in design, some of those air conditioned stores have some very comfortable couches that you might stop in to "try out" on a hot day.
Clothes
If you like fashion, you will love shopping in Georgetown. You may also wind up in financial ruin due to the high prices, albeit with great closet riches.
National upscale clothing retailers including
Abercrombie & Fitch
(1208 Wisconsin Ave),
Anthropologie
(3222 M St),
Banana Republic
(3200 M St),
BCBG
(3210 M St),
Brooks Brothers
(3077 M St),
Club Monaco Ralph Lauren
(3295 M St),
Coach
(3259 M St),
Co-Op by Barney's New York
(3040 M St),
CUSP
(3030 M St),
Diesel
(3033 Wisconsin Ave),
The Gap
(1258 Wisconsin Ave),
Gap Athleta
(3229 M St),
Hugo Boss
(1517 Wisconsin Ave),
J Crew
(3222 M St),
Limited
(3276 M St),
Lucky Brand Jeans
(3273 M St),
Lululemon
(3265 M St),
Nike
(3040 M St),
Ralph Lauren
(1245 Wisconsin Ave),
UGG Australia
(1249 Wisconsin Ave),
Urban Outfitters
(3111 M St),
Zara
(1238 Wisconsin Ave), and many more are all located close to each other, especially on
M St
east (and two blocks west) of Wisconsin and
Wisconsin Ave
north of M. You can walk past them all in 15 minutes.
Discounted clothing can be purchased at TJ Maxx and Forever 21 (3222 M St).
Books
For an upscale college town, Georgetown has an underwhelming selection of bookstores, but there are still a couple of good, small, independent stores.
phone: +1 202 965-5200

address: 2814 Pennsylvania Ave NW

A great little bookstore, conspicuously far from the university, which selects and presents its materials thoughtfully. The political and poetry sections are the big draws, although a specialist might be surprised to find their narrow subject covered comprehensively! Hosts occasional poetry readings, author events, etc.

Barnes & Noble: Georgetown University Bookstore

phone: +1 202 687-7482

address: 3800 Reservoir Rd NW

As university bookstores go, this does a particularly bad job of getting books to the students that need them. But it is very well set up for non-students, with a ton of Hoya merchandise, and shelves stocked with recent books by professors (mostly political).
Other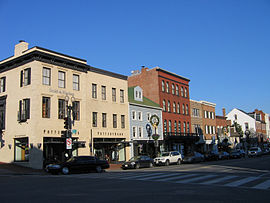 Eat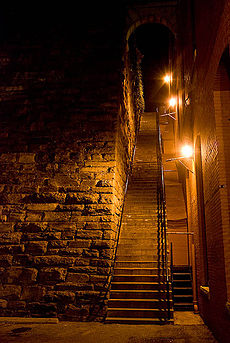 Georgetown has one of D.C.'s best dining scenes, with loads of options on M St. The university presence ensures that there are a lot of good budget options, but it is the
high end
where Georgetown excels—from stuffy and traditional to modern and chic. For more affordable options, check the
bars
as well, where there are some excellent eats to be had (e.g., Martin's Tavern).
Bakeries
Cupcakes and pies are serious business here and it is common for people to wait in line for a long time to buy them.
Budget
National fast food chain restaurants are rare in Georgetown. For those looking for cheap fast food, in addition to the restaurants below, try Five Guys Burgers & Fries or Chipotle's Mexican Grill. A Cosi's is available in the Leavey Center on the campus of Georgetown University.
Mid-range
Splurge
Georgetown is the place to go for high-end dining in D.C. The food and wines are world-class.
Drink
There are many,
many
places to drink in Georgetown, from upscale, exclusive bars to college joints. In addition, many places are restaurants-by-day, bars-by-night. M St is the main drag for drinking, and you won't have to walk far to stumble in and grab a beer. The nightlife in Georgetown is crowded and plentiful, but a good deal less fashionable than in less-touristy hotspots such as
Shaw
and
Adams Morgan
. The booze may be overpriced, but it is nice to have some drinks in a neighborhood where you can walk the side streets intoxicated at night without any fear of getting mugged.
For dancing, El Centro DF, listed above, is a very popular option.
Music venues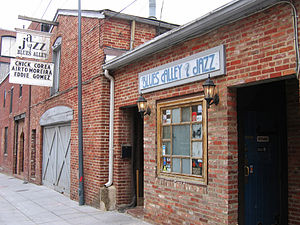 phone: +1 202 337-4141

address: 1073 Wisconsin Ave NW

One of the world's great jazz clubs, playing host nightly to mostly national and international acts. The atmosphere is wonderful, in a brick building off Wisconsin in an actual "Blues Alley." The venue is tiny and packed full; patrons are respectful and do not talk during performances (if you want conversation, go elsewhere). The range of music, however, has become a little wider than jazz purists would like—check the website calendar to make sure you'll hear music to your taste. Seating is not assigned, so get in the line early, which starts to form one half hour before shows.

phone: +1 202 333-7700

address: 3401 Water St NW

American music and beer.
Bars
Sleep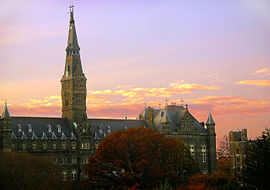 Georgetown is generally expensive. If you want to stay near Georgetown on a budget, either look for deals, or head over the Key Bridge to
Arlington
, where you'll find better options and save a couple percent on hotel taxes.
Mid-range
Splurge
phone: +1 202 342-0444

address: 2800 Pennsylvania Ave NW

Almost impossibly luxurious, with legendary service—you will receive pretty much anything you request. The one stumble is the location, which is fine but not ideal for exploring Georgetown on foot. Then again, if you are staying here, you probably won't mind paying a little extra for cabs or private cars.

phone: +1 202 912-4100

address: 3100 South St NW

Rivaling the Four Seasons to be D.C's most luxurious hotel, located on a quiet street between some nice restaurants on M St, and the Washington Harbor. The history of the building could not be more incongruous with the present—it was Georgetown's refuse incinerator, in the heart of the neighborhood's smoke-filled industrial waterfront. The bar and restaurant inside are humorously named after this inauspicious beginning: Fahrenheit and Degrees. On-site spa.

phone: +1 202 617-2400

address: 1050 31st St NW

An ultra-luxurious five-star hotel with fine dining restaurants, a rooftop lounge, spa services, and meeting rooms.
Connect
Internet access
Most, but not all of the cafes in Georgetown offer free WiFi.
If you don't have a computer or smartphone, the following libraries offer free access to computer terminals:
phone: +1 202 687-7452

address: 3700 O St NW

Open to the public, and has numerous public terminals on the first and third floors. All you need is a photo ID.

Georgetown Neighborhood Library

phone: +1 202 727-0232

address: 3260 R St NW

In a beautiful old building perched atop Book Hill Park, with views over the neighborhood and across the river to Arlington.
Go next
C&O towpath and park is a 184.5 mile trail that starts in Georgetown. A few minutes into your walk or bicycle ride, you are in the middle of a green and verdant linear park alongside the banks of the Potomac. As freeways and highways in the area aren't allowed to have billboards, you won't experience visual pollution as you traverse (although you will see and hear cars and planes). Nonetheless, much like Rock Creek, it's a great walk alongside nature.
Arlington, Virginia, originally part of D.C. proper, is a 10-15 minute walk or even shorter bike ride over the beautiful Key Bridge. After crossing the Key Bridge to Arlington, you can take the stairs on the east side at the end of the bridge to get on the Mount Vernon Trail, which heads east to the quiet refuge of Theodore Roosevelt Island, which sports some magnificent views of its own. Further along the trail, bikers and joggers enjoy spectacular river views of the monuments, going past the airport, Old Town Alexandria, and all the way to George Washington's estate at Mount Vernon.
Looking for less collegiate-style nightlife? head east to Dupont Circle or even further to Adams Morgan for the city's trendier clubs and divier bars, as well as the city's main live music venues. Or head north up Wisconsin to Upper Northwest for quieter neighborhood bars serving a slightly older (better-mannered) crowd.