Washington, D.C./Upper Northwest
The neighborhoods of
Washington, D.C.
's
Upper Northwest
rank among America's most wealthy and privileged. There are big attractions, including the outstanding National Zoo, the massive National Cathedral, American University, upscale shopping in Friendship Heights (Chevy Chase), and several nice wining and dining strips, which serve as good alternatives to more frenzied and chaotic
Adams Morgan
and crowded and traffic-congested
Georgetown
.
Understand
Glover Park
is the section of the Upper Northwest closest to downtown—just north of
Georgetown
, and has the bulk of the area's nightlife, which serves as a slightly older and less raucous complement to its collegiate neighbor to the south.
Woodley Park
has a strip with restaurants and bars and is also home to the National Zoo and the National Cathedral.
Cleveland Park
most notably, but also
Van Ness
and
Tenleytown
to the north along Wisconsin and Connecticut Ave., have popular commercial strips with restaurants, bars, and small stores. And in the west of Tenleytown, you'll find
American University
.
Further north is
Friendship Heights
, technically part of
Chevy Chase
, nationally famous for its wealthy and powerful residents, and locally famous for its high-end retailers on Wisconsin Ave, which spill north across the city border into
Maryland
.
Little known to travelers, and even most area residents, are the
Palisades
in the extreme west of the city, where you'll find some of the city's most expensive homes, the
C&O Canal trail
along the Potomac River, and a handful of fantastic, upscale restaurants.
Get in
By Metrorail
The Metrorail
Red Line
runs through this part of the city, and it is pretty self explanatory, given that the stations are all named after the neighborhoods and their major attractions.
Woodley Park-Zoo
for Woodley Park and the National Zoo,
Tenleytown-American University
for Tenleytown and AU, etc. The National Cathedral, Glover Park, and the Palisades, like
Georgetown
, are not served by Metro, and will require either a car, taxi, rideshare or bus ride.
By car
Driving is another option, though competition for parking spots can be fierce. You can usually find parking on side streets off of Connecticut and Wisconsin Ave, although you might have to walk a good ways from your car, and parking is usually limited to two hours in neighborhoods closer to downtown. The Palisades, along the extreme west of the city, are best visited by car, and it's quite easy to park there.
If driving in this part of the city, be aware that during weekday rush hours Canal Rd in the west becomes one-way and reverses directions during weekday rush hours (M-F 6:15AM-10AM inbound, 2:45PM-7:15PM outbound). Similarly, Connecticut's left lanes are reversible, so pay attention—you don't want to find yourself charging into oncoming traffic!
Taxis are generally not hard to catch along the main avenues (Wisconsin and Connecticut), but will be impossible to find elsewhere.
By bus
Metrobus operates service on the major thoroughfares in these neighborhoods, but frequent stops and slow traffic make rideshare a better option.
Routes
#31
,
#32, and #36
all run between
Georgetown
and the Friendship Heights Metro station along Wisconsin Ave. On the weekends after midnight, the buses run once every hour until 2AM.
#L1, L2, and L4
run the length of Connecticut Ave 5:30AM-midnight daily. The L2 continues into
Adams Morgan
, while L1 and L4 head further south along Connecticut to
Dupont Circle
and then on to the
West End
.
Routes
#N2-N6
all run along Massachusetts Ave from Dupont Circle to American University.
#D6
is the only reasonable way to reach the Kreeger Museum via public transport, which runs through
Georgetown
along Reservoir Rd, coming from
Capitol Hill
and
Dupont Circle
.
By foot
The Woodley Park/Zoo Metro stop is the closest stop to
Adams Morgan
. It's a half-mile (800-m) walk over the Calvert St Bridge from the station to the heart of Adams Morgan.
By bicycle
The upper northwest is a hilly region, which can pose challenges for cyclists, especially those traveling northwest (which is generally uphill). Capital Bikeshare stations and dockless bicycles and scooters are few and far between in the more suburban residential neighborhoods, although they can more often be found along Connecticut Ave. and some parts of Massachusetts Ave. Neither of those avenues have bicycle lanes, though, so either take to the sidewalk and risk terrorizing pedestrians or brave the high-speed car traffic and try not to get run over.
The Rock Creek Trail through Rock Creek Park makes for an excellent ride.
See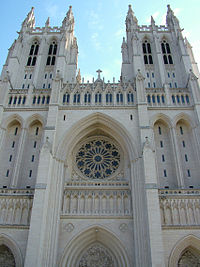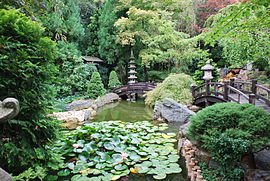 The Zoo and the National Cathedral dwarf any other attractions here in both size and number of visitors, but if you have a little extra time, the Hillwood Estate and Kreeger Museum are two of the city's greatest hidden gems.
Do
Concerts
Cinema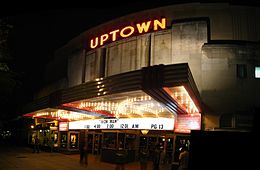 Parks
Rock Creek Park
Rock Creek Park is the largest park in DC.
Other parks
Buy
Luxury stores
There are many high-end luxury department stores on Wisconsin Avenue, centered around the Friendship Heights Metrorail Station, including Neiman-Marcus (5300), Ann Taylor (5300), Loehmann's (5333), World Market (5335), J. Crew (5335), Bloomingdale's (5400), Anthropologie (5406), Brooks Brothers (5504), and Saks Fifth Ave (5555).
The Collection at Chevy Chase
at 5471-5481 Wisconsin Avenue includes several additional high-end stores such as Jimmy Choo (5481), Tiffany & Co (5481), and Cartier (5471).
Discount clothing stores
Also along Wisconsin Ave near the Friendship Heights Metrorail Station are several discount clothing retailers including TJ Maxx (5300), Nordstrom Rack (5333), DSW (5333), Marshalls (5333), and H&M (5335).
Boutiques
phone: +1 202 686-5316

address: 5516 Connecticut Ave NW

A local women's clothing boutique specializing in natural fibers. They also have a range of other good gift buys like bath products, home decor, jewelry, etc. It's pricey, but the quality is very high.

phone: +1 202 8566

address: 3813 Livingston St NW

Upscale children's clothing and toy store.

Transcendence-Perfection-Bliss of the Beyond

phone: +1 202 363-4797

address: 3428 Connecticut Ave NW

A toy store with a selection of unique items, and quite the wild name.
Books
phone: +1 202 364-1919

address: 5015 Connecticut Ave NW

This is a quite possibly the city's favorite independent bookstore, with a non-exclusive focus on politics, a coffeeshop downstairs, and frequent, excellent lectures. It is far off the beaten path, about a mile north of the Van Ness-UDC Metro Station, but it's a rewarding destination.

phone: +1 202 363-6683

address: 4115 Wisconsin Ave NW

This is a bookstore wholly dedicated to language resources: language learning books, software, linguistics texts, teaching tools, etc. A great place for philology nerds.
Household goods
phone: +1 202 478-4000

address: 4500 Wisconsin Ave

You can pretty much buy anything to put anything in at this store.
Eat
Budget
Mid-range
phone: +1 202 827-8745

address: 2400 Wisconsin Ave NW

Italian restaurant and bar.

phone: +1 202 244-1330

address: 4000 Wisconsin Ave NW

Tapas are a fixture in D.C. ever since José Andrés came to town, and the Greek/Mediterranean places have taken note, calling their mezzes tapas. The focus on mezzes is welcome, though, as a large bunch of them almost always will be more satisfying than the standard, heavy Greek entrees. The brunch here is very popular, as are the panini at lunch time. Closing soon.

phone: +1 202 364-0404

address: 5037 Connecticut Avenue Northwest

Comet is another great pizza place in DC. However, this is not your average restaurant. There are ping-pong tables in the back, clam pizzas, and concerts on Saturday nights. Diners, Drive-Ins and Dives' Guy Fieri called in some of the best pizza he'd ever eaten. A local favorite! Try the wings! Also serves brunch on Saturdays and Sundays. Definitely kid-friendly.

phone: +1 202 966-0770

address: 3321 Connecticut Ave NW

A cozy Italian restaurant.

phone: +1 202 362-7777

address: 3407 Connecticut Ave NW

Texas-style brisket and bourbon.

phone: +1 301 244-6600

address: 3512-14 Connecticut Ave NW

Indique specializes in southern Indian cuisine, usually crafted into something just a little unique, and serves its customers in a really cool, attractive space.

Kotobuki

phone: +1 202 625-9080

address: 4822 MacArthur Blvd NW, 2nd floor

One roll of sushi costs $1.25-3, but it's actually good! There really isn't anything else you need to know, but the atmosphere, particularly for lunch, could well trick you into thinking you were in a little local dive in Osaka.

phone: +1 202 237-1432

address: 3500 Connecticut Ave NW

A well priced steakhouse.

phone: +1 202 333-7600

address: 2434 Wisconsin Ave

A traditional German restaurant not far from the Embassy, serving the best German food you will find in the D.C. metro area. Schnitzel is the specialty!

phone: +1 202 518-0018

address: 2653 Connecticut Ave NW

A French-American bistro in a city short on bistro cuisine is a nice find. The service is incredibly friendly, and the familiar bistro favorites are quite good, from the French onion soup to Boeuf Bourguignon, braised veal, pastas, and salads. At lunch they also offer inexpensive wood-fired pizzas from next-door Pizze. In a pretty old townhouse, it's equally amenable to a romantic dinner or a casual lunch.

address: 4201 Connecticut Ave NW

Arguably the best Vietnamese food within the city limits.

phone: +1 202 621-6719

address: 3433 Connecticut Ave NW

Belgian food including mussels, fries, waffles, and a great beer selection.
Splurge
phone: +1 202 342-9101

address: 4883 MacArthur Blvd NW

This is the one restaurant in the Palisades neighborhood that is famous throughout the city. Cuisine is New American seafood, although there are some great non-seafood entries as well. The seafood is incredibly fresh, and the dishes are inventive, such as an arctic char with green mole, plantains and "citrus braised pork belly." The adjoining seafood market has some of the highest quality fish in the city.

phone: +1 202 237-2300

address: 5120 MacArthur Blvd NW

Washingtonians like their Belgian mussels and pomme frite, and this particular restaurant serves them well, particularly those fries.

Makoto

phone: +1 202 298-6866

address: 4822 MacArthur Blvd NW

Makoto is an experience. It's a tiny, very classy Japanese restaurant, with a strict set of rules designed to combat the general breakdown of Western societal mores: conservative dress code (think non-casual business attire), shoes off at the door, no cell phones. The food and attentive service are outstanding, with attention to detail befitting a great Japanese restaurant.

phone: +1 202 234-4110

address: 2317 Calvert St NW

New Heights is a great place for a night of complex, inventive American cuisine. Don't skip dessert. The bar has an excellent selection of gins, which is refreshing, given the number of establishments around the city with great menus of cocktails or whiskies.

phone: +1 202 333-5641

address: 2340 Wisconsin Ave NW

Serves high-end southern cuisine, and is also a great place to relax and socialize at the bar, on the patio, or privately with friends. By D.C. standards, the clientele is wildly conservative!
Drink
The Upper Northwest is a much more friendly and comfortable option compared to the nightlife-centered districts. Gin lovers must check out the bar at New Heights (above).
Bars
Cafes
phone: +1 202 237 8989

address: 4224 Fessenden St NW
Sleep
Budget
phone: +1 202 244-5600

address: 4400 Connecticut Ave NW

A standard chain hotel with what you would expect (cable, WiFi, etc.). This is a pretty ideal, if boring, low-budget option for D.C. visitors.

Kalorama Guest House Woodley Park

phone: +1 202 328-0860

address: 2700 Cathedral Ave NW

Less than a block from the zoo, this is definitely the only hotel in the D.C. area where you can open your windows in the morning and hear monkeys howling in the distance. It's also a magnificent bargain for the location. No televisions or phones are provided in the rooms.
Mid-range
phone: +1 202 667-0218

address: 2647 Woodley Rd NW

One of Washington D.C.'s loveliest B&Bs set in a peaceful, safe & historic neighborhood. An excellent value steps to the Metrorail, neighborhood restaurants, Adams Morgan, Dupont circle, the National Zoo and National Cathedral. Hospitable owners and staff are an invaluable source for experiencing DC from an insider's point of view. A fresh, delicious buffet breakfast is provided every day.
Splurge
Connect
Almost all cafes and many restaurants and supermarkets offer a free WiFi connection. Computer terminals are accessible for free at the following public libraries:
Public libraries
phone: +1 202 282-3080

address: 3310 Connecticut Ave NW

phone: +1 202 282-3139

address: 4901 V St NW

phone: +1 202 244-3212

address: 4200 Wisconsin Ave NW
Go next