Wasserbillig
Wasserbillig
is in
Luxembourg
, located along the Moselle River, at the merging point with the Sauer or Sûre river. The town is interlocked with Mertert.
Get in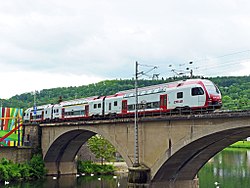 By car
Both Wasserbillig and nearby Mertert lie along the A1/E44 highway. Exit 14 of which serves Mertert, and exit 15 serves Wasserbillig. Alternatively, the N1 and N10 come together in Wasserbillig, following the same road until
Grevenmacher
, where the N1 heads for
Luxembourg City
, and the N10 heads for
Schengen
. To the north side of Wasserbillig the N10 connects to
Echternach
and
Vianden
, terminating near
Clervaux
By train
Both the and are located on CFL line 3, which connects
Luxembourg City
to
Trier
and runs every hour. Busses connect the Wasserbillig train station to
Echternach
,
Rosport
,
Grevenmacher
and Trier. Alternatively you could take the ferry across the Moselle to the German , which has a train station connecting to Konz and Trier in the east, and following the Moselle up until the
border tripoint
of Luxembourg, Germany and France.
Get around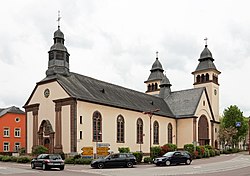 Rentabile Miselerland
is the region's go-to for renting bikes, which is a popular mode of transport, especially amongst tourists. They have rental stations in Wasserbillig and Mertert, as well as most other towns along the Moselle.
Rentabike Miselerland

phone: +49 6501 60 26 66

address: Moselstrasse 1, Langsur-Wasserbilligerbrück

Rentabike Miselerland

phone: +352 74 05 43

address: 8 Rue de la Sûre

Rentabike Miselerland

phone: +352 74 81 74

address: 31 Rue du Parc
See
phone: +352 26 74 02 37

address: Rue des Pépinières
Do
The official

Circular Walk of Mertert, passes by the Moselle River, through vineyards, and atop a nearby hill for a good view of the valley.
Buy
Esso

address: Autoroute E44 Luxembourg-Tréves

ExxonMobil's largest petrol station due to lower fuel tax.
Eat
phone: +352 74 82 90

address: 50 Grand-Rue

Bella Calabria

phone: +352 74 83 85

address: 2 Route de Luxembourg

phone: +352 26 74 03 03

address: 2 Rue Sandkaul, Mertert

phone: +352 74 94 95

address: 20-24 Route de Wasserbillig, Mertert

phone: +352 26 71 40 80

address: 1 Rue Haute, Mertert

phone: +352 26 78 21 31

address: 4 Place de la Gare, Mertert

phone: +49 6501 9698725

address: Moselstraße 57, Oberbillig
Drink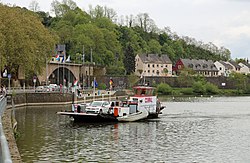 Café An der Klensch

address: 14 Grand-Rue

Café bei der Kierch

phone: +352 26 71 43 94

address: 44 Grand-Rue

Queens

address: 5 Rue des Bateliers
Sleep
phone: +352 74 05 43

address: 41 Rue des Romains

Camping du Parc

address: 31 Rue du Parc, Mertert

Hôtel-Restaurant Kinnen

phone: +352 74 00 88

address: 32 Route de Luxembourg, Mertert

Reza's Restaurant Moselbistro Gästehaus

phone: +49 6501 969630

address: Moselstraße 45, Oberbillig
Go next
Continue up or down the Route du Vin, either by car, by bike or on foot, on the Luxembourgish side of the Moselle River. Going south you will come across Grevenmacher, Remich and Schengen.
Both by car or public transit, you can easily get to Trier, from which most of Germany is easily reachable. On the journey there, you'll also come across the small town of Konz, best known for its open air museum.
Head up the Sauer, passing by Echternach, Diekirch, Ettelbruck and Esch-sur-Sûre.