Waterbury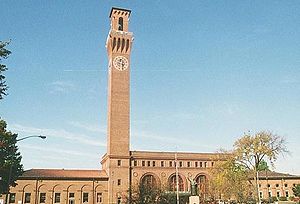 Waterbury
is a city in
Connecticut
.
Understand
Waterbury is the fifth most populous city in Connecticut (estimated at 110,000) and is historically known for the manufacturing of brass. This is reflected in the city's motto "Quid Aere Perennius?" ("What Is More Lasting Than Brass?") which is inscribed onto a marble frieze inside City Hall.

Get in
Waterbury is at the junction of two major highways: Interstate 84 (east-west) and Connecticut Route 8 (north-south). It is in Central Western Connecticut, on the Naugatuck River. Major Connecticut cities within a 35 minute drive include:
Hartford
and
New Britain
to the east,
Danbury
to the west (all three of which are located on I-84),
New Haven
to the south (via Connecticut routes 63 or 69),
Bridgeport
to the south (via Route 8),
Torrington
to the north (via Route 8), and
Meriden
to the east (via I-84 to I-691).
Waterbury train station
is on the
Metro-North rail line
which connects Waterbury to the train stations of several Naugatuck Valley towns to the south. Through connections at Bridgeport, MTA trains lead to coastal "Shoreline East" stations (to the east) and to Fairfield County stations (to the west) that terminate at Grand Central Terminal in
New York City
.
Get around

Waterbury is served by inter-city bus lines, and also has a fairly extensive local bus system, which provides service into the late evening. You can catch a bus at the Waterbury Green or from many other places in town. There are also cab services.

See
Mattatuck Museum Arts & History Center

phone: +1 203-753-0381

address: 144 West Main St

The Waterbury area's more than 300-year history is chronicled here and the main gallery is devoted to exhibiting the works of Connecticut artists. Among the exhibits is a collection of over 15,000 buttons which was donated by the town's now-defunct Button Museum. The museum occupies the former Masonic Temple building on Waterbury's historic Green.

Waterbury City Hall

address: 135 Grand St

Designed by famous architect Cass Gilbert, the City Hall building on Grand Street opened in 1915. It underwent an extensive renovation that brought back the original splendor of this 90,000-sq ft "Georgian Revival Style" municipal jewel. The Chase Building across the street and other nearby buildings make up the Cass Gilbert Historic District (so designated in 1978), one of the only places in the world where a collection of the architect's buildings are within walking distance.
Do
phone: +1 203-755-4700

address: 100 East Main St

The area's premier performance venue, the renovated Palace Theater opened in 1922 and boasts ornate domed ceilings and grand lobbies. Taking in this magnificent building is as much fun as the performance itself.
Buy
address: 116 Bank Street

The Connecticut Store is a gift shop which specializes in locally made goods, gifts, trinkets, and other items. It is always a neat place to visit!

phone: +1 203-755-5000

address: 495 Union St
Eat
Waterbury is fortunate to have many great choices in restaurants. A sampling follows below:
Drink
address: 357 West Main Street

Ború's Bar is one of the better Irish Bars in Waterbury. Young, inclusive atmosphere, quality beers and other drinks. Good burgers and steaks. Nice bartenders and folks in general are pleasant.

The Local Public House

address: 457 West Main Street, Waterbury, CT

The Local Public House is another excellent Irish bar in Waterbury. They pride themselves on a fine Guinness and they also have the local Hooker Irish Red on tap. A very laid back atmosphere, older crowd of really great folks.
Sleep
phone: +1 203-596-1000

address: 63 Grand Street

phone: +1 203-757-9901

address: 92 Woodlawn Terrace
Connect
Cope
Fulton Park, 371 Pine Street, Waterbury, CT
Consular services
phone: +1 203 755-4111

address: 20 E Main Street, Room 202
Go next