Waterloo (Ontario)
Waterloo
,
Ontario
, is one of three neighbouring cities, together with
Kitchener
, and
Cambridge
, forming a tightly-integrated metro area within the larger
Region of Waterloo
in
Southwestern Ontario
. Waterloo (population 15,000 in 2016) is known internationally for its two Universities: Wilfrid Laurier University and the University of Waterloo.
Understand
Waterloo is part of Canada's
Technology Triangle
, and many companies such as PTC, Sandvine Inc, BlackBerry (formerly Research In Motion (RIM)), Maplesoft, Open Text, Google and Sybase are either based or have branch offices here. Technology companies thrive due to the convenience of the University of Waterloo, which boasts the largest math and computer science undergraduate program in the world. The university is also very famous for its psychology program. Waterloo pioneered the concept of university co-op where students alternate terms of study with terms of paid work experience. Today it boasts the largest co-op undergraduate enrolment in the world.
Waterloo was once known as the "Hartford of Canada" due to the large number of insurance companies that once had their headquarters here. Insurance is still a major industry in Waterloo due to the presence of Manulife Financial and Sun Life Financial.
Farmland is quite close outside the city limits, and many Mennonites live close by.
St. Jacobs
is a small village immediately to the north of the city, with markets and stores that have come to be very popular.
The city of
Kitchener
is immediately to the south of Waterloo. These two cities, often referred together as "Kitchener-Waterloo" (abbreviated to "K-W"), are separate municipalities, but share a long, seamless border. If visiting Waterloo, take Kitchener's attractions into consideration as well. Waterloo's central business district is referred to as "Uptown", in contrast to Kitchener's, which is referred to as "Downtown". Note, however, that Uptown Waterloo is not particularly large compared to neighbouring cities' downtowns; Waterloo is essentially a suburban city. The distributed nature of the city does mean that Uptown Waterloo has maintained a small-town atmosphere (for now; plans to intensify the Uptown are afoot).
History
Waterloo began on land that was part of a parcel of 675,000 acres (2,730 km²) assigned in 1784 to the Iroquois alliance that made up the League of Six Nations. The rare gift of land from Britain to indigenous people took place to compensate for wartime alliance during the American Revolution. Almost immediately—and with much controversy—the First Nations groups began to sell some of the land. Between 1796 and 1798, 93,000 acres (380 km²) were sold to Richard Beasley, with the Six Nations Indians continuing to hold the mortgage on the lands.
The first wave of immigrants to the area comprised Mennonites from Pennsylvania. They bought the land from Beasley and began moving into the area in 1804. Abraham Erb, often called the founder of Waterloo, had come to the area in 1806 from Franklin County, Pennsylvania. He bought 900 acres of bush land in 1806 from the German Company and founded a sawmill (1808) and grist mill (1816); these the focal point of the area. The grist mill operated continuously for 111 years.
In 1816 the new township was named after Waterloo, Belgium, the site of the Battle of Waterloo (1815), which had ended the Napoleonic Wars in Europe. After that war, the new township became a popular destination for German immigrants. By the 1840s, German settlers had overtaken the Mennonites as the dominant segment of the population. Many Germans settled in the small hamlet to the southeast of Waterloo. In their honour, the village was named Berlin in 1833 (renamed Kitchener in 1916).
Get in
By car
From Highway 401, take exit 278 (if coming from the west) or 278A (if coming from the east). Take Highway 8 North to Highway 85 North (the
Conestoga Parkway
). There are four exits in Waterloo:
For Uptown Waterloo, exit Bridgeport Rd.
For universities, exit University Ave. E.
For destinations in north Waterloo, exit King St. N.
For destinations in north-west Waterloo, exit Northfield Dr. W.
By intercity bus
The
Charles Street Transit Terminal
in downtown
Kitchener
hosts
Greyhound
,
GO Transit
and
Megabus
(
Coach Canada
) intercity buses. From there, you can catch a ION light rail train into Waterloo.
After stopping at the Charles Street Transit Terminal, some Greyhound buses from Toronto continue on to Wilfrid Laurier University and the University of Waterloo.
Some
GO Transit
buses run from
Mississauga
and
Vaughan
to Wilfrid Laurier University and the University of Waterloo, after making a stop at the Charles Street Transit Terminal. On Fridays and Sundays, GO route 25F runs from Highway 407 Station (on Toronto subway Line 1 Yonge–University) in Vaughan. On Thursdays, Fridays and Sundays, GO routes 25B and 25C run from Mississauga Square One. These GO routes have few intermediate stops.
By plane
For travellers coming from afar,
Airways Transit
offers shuttle bus service between
Toronto Pearson International Airport
(
YYZ
and Kitchener/Waterloo. Pearson Airport provides flights to and from a large number of destinations, and is located approximately 1 hour away from Waterloo by car in good traffic conditions. Buffalo Niagara International Airport (BUF) just outside Buffalo is an alternative to Toronto. It is about 2 hours away and requires a border crossing, but flights are often much cheaper, particularly if travelling to/from the US or Caribbean.

By train
Kitchener Railway Station, near Downtown Kitchener, hosts VIA Rail and GO Transit trains. The railway station lies 650 metres east of ION Central Station, where one can take an ION light rail train into Waterloo.
The Waterloo Central Railway operates a summer tourist train service with vintage equipment to St. Jacobs and Elmira. The Waterloo stop is on the north side of Northfield Drive across the street from ION Northfield station; the WCR stop has a small shelter.

Get around
Street layout
Unlike a metropolis such as
Toronto
, it is relatively quick and easy to get from one point to another by car because the distances aren't far, and the traffic isn't too busy. Looking at a map of Kitchener-Waterloo, one of the first things visitors from other parts of Ontario will notice is that, far from forming a grid pattern, the streets are not straight, curving and wiggling in surprising patterns. For example, there are two streets, King and Weber, which are parallel for most of their length, but cross each other 3 times in K-W. The irregular road pattern dates to the earliest settlement in K-W; unlike most Ontario townships, whose roads were laid out in a grid pattern, Waterloo Township was laid out without road allowances, allowing settlers to build roads where they were needed.
King Street
is the main street that travels roughly North-South through the downtown of Kitchener and Waterloo. In Waterloo, it is labelled King St. North and South, with the transition at Erb Street (in Kitchener, it is labelled King St. East and West).
By public transportation
Grand River Transit
provides all public transit within the Region of Waterloo, which allows access to most centrally located sights in the twin cities of Kitchener and Waterloo.
ION light rail (route 301) connects Kitchener to Waterloo; in Waterloo it serves the following major destinations from north to south:
ION station
Destination
Conestoga
Conestoga Mall
Northfield
Waterloo Corporate Campus
Research & Technology
David Johnston Research & Technology Park
University of Waterloo
University of Waterloo
Laurier-Waterloo Park
Wilfrid Laurier University Waterloo Park
Waterloo Public Square (northbound only)
Waterloo Public Square
Willis Way (southbound only)
The following bus routes serve some areas away from the ION light rail line:
7 King runs along King Street south from Conestoga Mall through Uptown Waterloo into Kitchener.
12 Westmount runs along University Avenue, Westmount Road, Fischer-Hallman Road and Beams Road.
By taxi
There are three taxi companies that serve Waterloo and the surrounding area:
Waterloo Taxi (519-886-1200)
United Taxi (519-888-9999)
City Cabs (519-747-7777)
By bicycle and by foot
Waterloo is reasonably bicycle- and pedestrian-friendly, so travelling by bicycle or on foot is reasonable for shorter trips. Uptown Waterloo and the two universities are within walking distance of each other.
See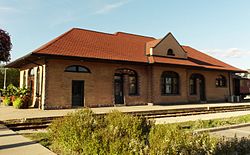 Do
Learn
University of Waterloo. Established in the 1950s, UW is one of Canada's youngest universities. It is well known for its co-operative education program and for fostering innovation. Several spinoff companies are well-known, such as Research in Motion and Open Text. It was also the starting point of Engineers Without Borders. Visitors might be interested in the Earth Sciences Museum in the CEIT building, and the Optometry Museum in the Optometry building.
Wilfrid Laurier University, 75 University Ave W (corner of King and University). WLU is best known for its School of Business and Economics; its Music, History, and Kinesiology programs are also well-known. The School of Music hosts at least one concert per week, admission to which is often free.
Conestoga College was founded in 1967 as the Conestoga College of Applied Arts and Technology, one of many such institutions established in that time by the Ontario government to grant diplomas and certificates in career-related, skills-oriented programs.
Buy
Being mainly a suburban city, you'll find strip malls and the like at just about every major intersection. If you're looking for somewhere more inspiring to shop, there is:
The Atrium

address: 33 Erb St. W.

This mall is a small but quaint house-like building close to both Waterloo Town Square and King Street, with various restaurants and stores to enjoy.
Eat
Going Uptown (the King/Erb area) will provide traditional and cultural foods for many price ranges.
Waterloo Region was one of the first municipalities in Canada to ban smoking in all restaurants and bars.
Budget
phone: +1 519-746-8788

address: 160 University Ave W

Indian food. The naan is very good there, they prepare it on the side of their clay oven. The butter chicken is amazing. The decor is bland, but the food is good. Around $10 for the curry dishes, and it comes with either naan or basmati rice.

Mr. Paninos's Beijing House

phone: +1 519-888-1039

address: 106 University Ave W

Quick place to grab Chinese eats near University of Waterloo. Under 10$.
Mid-range
Splurge
phone: +1 519-747-5622

address: 83 Erb St W, Building Two

Offers updated versions of classic Italian and Canadian cuisine.

phone: +1 519-725-3440

address: 677 Belmont Ave W, Kitchener

phone: +1 519-804-9989

address: 40 King St S

Upscale dining with live jazz every Wednesday through Saturday night.
Drink
Sleep
phone: +1 519-884-0100

address: 547 King St N

phone: +1 519-747-9400

address: 190 Weber St N

phone: +1 519-804-1130

address: 475 King St N
Budget
phone: +1 519-884-0710 ext 2771

address: 200 King St N

Wilfrid Laurier University rents out empty residence rooms in the summer under the pseudonym "Hotel Laurier". Single rooms come in as low as $40 per night; there are reduced rates for weekly or monthly stays, and further discounts for seniors, groups, and WLU staff and students. The address is for reception; lodging may be elsewhere in the area. Accommodations are available May to August only.
Mid-range
phone: +1 519-885-2626

address: 2 King St N

An 1890 hotel with modern amenities, this hotel is in the centre of Uptown Waterloo, on the corner of King and Erb Sts. Each of the 14 rooms has its own name and style.
Go next
The
Village of St. Jacobs
is in Mennonite country, and has many shopping opportunities including St. Jacobs Farmers' Market in the Market District south of the village along with many shops and vendors within the village itself. There are also a few attractions in the village.
phone: +1 888-899-2757
The
Waterloo Central Railway
offers a seasonal tourist service running a train of historic passenger cars, and a historic steam or diesel locomotive servicing 4 stops between Waterloo and
Elmira
including
St. Jacobs
. The WCR has one stop in Waterloo:
Northfield stop

address: 90 Northfield Dr W

No parking available.
The Elora Gorge is also a worthwhile getaway, being roughly 30km from Waterloo. Aside from exploring the cliffs carved by glacial meltwaters, you can go tubing, swimming, camping and canoeing.
Waterloo is within short driving distance of many southern Ontario locations, such as
London
,
Guelph
,
Niagara Falls
,
Toronto
, and
Stratford
. Towns on the shore of Lake Huron, such as
Kincardine
or
Goderich
, are great places to enjoy the beach in the summer.