Wayne (New Jersey)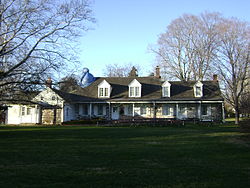 Wayne
is a city in
New Jersey
and home of William Paterson University.
Get in
You can drive a car or take the bus. Three NJ Transit lines run through this pickle of a town: the 197, the 744 and 748, with some others heading to Willowbrook but not serving further reaches of the town. Schedules and fares can be obtained on NJ Transit's
website
. The trip from Manhattan by bus takes about an hour to 1 1/4 hours.
See
Dey Mansion Museum

address: 199 Totowa Road

George Washington made his headquarters in Northern New Jersey at Dey Mansion. Washington's letters refer to Dey Mansion as "Head Quarters, Pracaness ". After the arrival of the French army in July 1780, Washington was urged by the French commander against immediately attacking New York City. Washington instead concentrated on coordinating allied war efforts. In 1781 he launched, in cooperation with the comte de Rochambeau and the comte d'Estaing, the brilliantly planned and executed Yorktown Campaign against Charles Cornwallis. The Yorktown campaign was critical in securing the eventual American victory.

phone: +1-973-831-5675

address: 725 Pines Lake Drive West

This is a lovely 30-acre rustic arboretum with many trails. It also includes several gardens, one of which is a sensory garden where you can taste, smell, feel and see selected plants.

Schuyler Colfax Historic House Museum

address: 2343 Hamburgh Tpk

Built in 1695-96 by settler Arent Schuyler, this is the oldest home in Wayne. It is one of a few colonial homesteads built before 1700 on the east coast, which was never sold out of original ownership for eight generations. Each generation produced military, medical, legal and governmental representatives, leaving behind records and artifacts. Visitors are invited to schedule an interactive, interpretive tour of the home. This house, which is Wayne's oldest, was built in 1695 by Ardent Schuyler, one of the leaders of the original settlement. William Colfax, who married Hester Schuyler in 1783, gave the house the Colfax name.

Van Riper Hopper House

address: 533 Berdan Ave

Built in 1786 by Uriah Van Riper for his bride Maria (Polly) Berdan, this New Jersey Dutch colonial house offers a rare walk back in time. The farmstead includes an historical herb garden, Archeology Laboratory, and Albert Payson Terhune Collection. Five lower rooms contain furniture representing different periods. Several artifacts make it easy to imagine succeeding generations living in the house until it was acquired by Wayne Township. Located on its original site, the museum represents the agricultural society that dominated Wayne for over 200 years. This historic house is on the state and national register. This historic building is one of three owned and managed by Wayne Township to preserve and display their heritage. This home was built in 1786 by Uriah Van Riper and is a good example of New Jersey Dutch Colonial architecture. Located at the same address, the Mead-Van Duyne house was built around 1740, and is, like the Van Riper-Hopper House, on the National Register of Historic Homes.
Do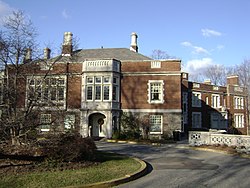 Clearview Cinemas

address: 1220 Hampburgh Tpk

See a movie in one of the 5 theaters. Also enjoy refreshments and candies at the snack bar or play at the mini arcade.

Ice Vault

address: 10 Nevins Road

Go ice skating or play ice hockey on the two ice rinks. Food and refreshments are also offered at the snack bar.

North Jersey Country Club

address: 594 Hamburgh Tpk

North Jersey Country Club is an 18-hole regulation length golf course. This medium-length layout has 3 sets of teeboxes for a fun but challenging golfing experience. Online tee times may be available at North Jersey Country Club or at nearby golf courses, usually offered at a discount from the normal rate.

Preakness Hills Country Club

address: 1050 Ratzer Road

This tree-lined course features narrow fairways. The terrain is hilly, so expect uneven lines. Tee times are only reserved for the weekends. Guests must be accompanied by a club member in order to play this course. This club once hosted a Senior PGA Tour event.

Santa Train Rides in New Jersey

address: Route 23 Southbound & West Belt Parkway

They run a 1½ hour rides in early December with Santa Claus & other cartoon characters. Children get a gift from Santa and have their picture taken.

T-Bowl Lanes

address: 300 Preakness Shopping Center

Enjoy the 20 lanes, bar, and arcade.
Buy
Willowbrooke Mall

address: 1400 Willowbrooke Mall

Shop around at various stores including Bloomingdales and Macy's. This is a sizable mall with a direct bus link to Port Authority in Manhattan.
Eat
Positano's

address: 245 Berdan Ave

Italian-style restaurant.

Bensi

address: 620 Hamburg Turnpike

Family-style Italian-American cuisine.

Nori

address: 87 Berdan Ave

Japanese-style restaurant.

Sunrise Bagels

address: 233 Berdan Ave

Taka

address: 777 Hamburgh Tpk

Japanese and hibachi.
Drink
Casey O'Tooles

address: 862 Hamburg Turnpike

Mixed drinks or beer.

Greenhouse Cafe

address: 611 Ratzer Rd

Offers bottled imported beer, beer on tap and wines. Has both a bar menu and a regular menu.

Sushi Lounge

address: 235 U.S. 46

You can have small plates, wines and liquors at the bar at this trendy location.

Tap House

address: 344 French Hill Road

Beers and grill-style food.
Sleep
address: 334 RT. 46 East

Residence Inn Marriott

address: 30 Nevins Road

Two bedroom suites and all include free WiFi, kitchen with appliances, and flat screen televisions. Residence Inn offers free breakfast each morning