Wayne National Forest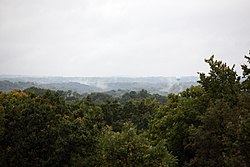 Wayne National Forest
is a United States National Forest in
Southeast Ohio
.
Understand
It is the only national forest in Ohio and is clustered in three areas along the Appalachian Mountains and the Ohio River. The southern cluster is primarily located in Lawrence County and spans from
Portsmouth
to
Gallipolis
and along the northern banks of the Ohio River. The northwestern cluster primarily spreads across Athens, Hocking and Perry Counties and includes
Athens
on its southern end. The northeastern cluster is located in Washington and Monroe Counties running from
Marietta
northeast along the Ohio River.
History
The grounds include many areas that were strip mined in the late 1800s. Accordingly, the forest includes areas experiencing various degrees of reforestation.
Landscape
The forest is nestled in rugged foothills of the Appalachian Mountain Range, north of the Ohio River Valley.
Flora and fauna
The Wayne National Forest boasts more than 2,000 species of plants, including hardwoods, pine and cedar as well as an endangered species, running buffalo clover.
Wildlife
includes bobcats, coyotes, eagles, hawks, osprey, wild turkey, turkey-vultures and songbirds as well as deer and beaver. Among
Bigfoot
researchers, the rugged forested hills are suspected to harbor a sizable Bigfoot population.
Climate
The climate changes considerably throughout the course of the year. In the winter months it is on average around during the day time and can dip in lower teens at night. In the summer the day time temperature ranges on average from about 77 to 90 °F, night time temperature are in mid 60s. the fall and spring have very mild weather. The rainiest months is normally April and May.
Ranger Stations
Because the forest is geographically separated into 3 separate regions, it is managed by 3 separate ranger units.
Get in
By plane
John Glenn Columbus International Airport (CMH

)

, take US-33, approximately 45 miles, from Columbus to the northwestern forest cluster.
Charleston Yeager Airport 45 miles to the southern forest cluster.
Pittsburgh International Airport (PIT

)

travel via I-70 west and I-77 south approximately 75 miles to the eastern forest cluster.
Also the Wayne National Forest is an approximately 2-hour drive from:
Cleveland Hopkins International Airport (CLE

)

, a United Airline Hub, via I-77 south or
Cincinnati/Northern Kentucky International Airport (CVG

)

, a Delta Airline Hub, travel east along US-50 or SR-32 to the forest areas.
By car
I-77, running north-south through Ohio from Cleveland to Marietta provides access to most national forest areas.
Interstates 64, 70 and 79 can also be utilized to map out a route from the east, west and south regions to the forest.
Fees and permits
Permits are required for offroad vehicles. No permits are needed for horseback riding or cycling.
Reservations are encouraged for developed campsites, and primitive camps only require a permit for groups of 75 people or more.
Plant Collecting, hunting, and fishing requires a permit or licence.

Get around
By car
By foot

The forest includes 300 miles of trails for hiking, biking, horseback and ATVs.

See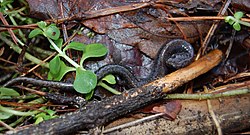 Vesuvius FurnaceA historic furnace that produced iron used in the American Civil War era.
Do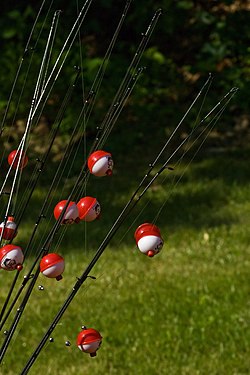 The Wayne National Forest offers a number of standard park activities such as,
Biking
,
Camping
,
Canoeing
,
Hiking
, Picnicking,
Fishing
, Swimming, and
Hunting
Lake Vesuvius Fishing DerbyA fishing derby held at Lake Vesuvius.

Wheelin' Sportsmen Fishing EventA fishing event for disabled anglers.
Buy
Eat
There are many locations in Wayne National Forest ideal for Picnicking.
More adventurous travelers may attempt to forage for food. Small amounts of mushrooms and blackberries may be foraged without a permit. Collection of rooted plants such as cohosh, ginger, and ginseng all require a
permit
, which costs $20 for either ginseng or all other approved plants in a single permit.
Drink
AthensOne of the largest college towns in southeast Ohio, and has a reputation for parties and drinking that is known statewide.
Sleep
Lodging
Burr Oak State ParkOffers Lodging
Bed and Breakfasts
Camping
Burr Oak Coveon the northwest tip of the Burr Oak Reservoir. Fee of $13/night during high demand seasons (roughly, Memorial Day to Labor Day). Camping free of charge at other times of the year.

Lake Vesuvius Recreation Area143-acre site, more than 25 miles of trails.

Lamping Homesteadis a 143-acre site, 6.5 acres north of Marietta.

Leith Run Recreation Areaon the northern banks of the Ohio River, approximately 20 miles north of Marietta.

Stone Church Horse Campincludes 21 miles of scenic trails for horseback riding. Fee of $10/night during high demand seasons. Camping free of charge at other times of the year, but campground is closed from December 15th through April 14th.

Timbre Ridge Lake100-acre lake
Backcountry
Stay safe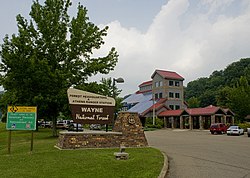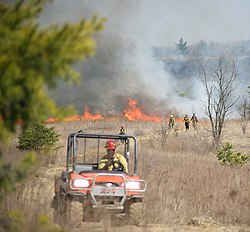 Much of this area is
not served by cell phone
towers and you will have no communications. Consider downloading maps of the forest in advance for
GPS apps
to allow for offline navigation, and bring a paper map of the area and a compass as a backup. Most stream
water
in the forest is not drinkable.
The area is popular with hunters and all terrain vehicle (ATV) users. Rumor has it that the area is also popular with
marijuana
growers, in and out of the Wayne National Forest. If you come upon a patch, change direction and move on slowly while looking for man-traps. Don't even think about getting close enough to pick any. You may be being video taped by law enforcement, or worse.
Exercise ordinary caution as in any outdoor activity.
Go next