Weißenburg
Weißenburg
is in
Middle Franconia
. The German spelling of the city's name should be read as "Weissenburg", with the "ß" character standing for "ss".
Understand
Weißenburg was a free imperial city for 500 years.

Get in
By train
With train from Nuremberg or Ingolstadt, you can take the regional train (not ICE) in direction Treuchtlingen. Weißenburg has an own train station.

By car
You can reach Weißenburg easy on the national highway "B2".

See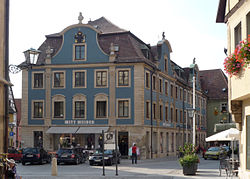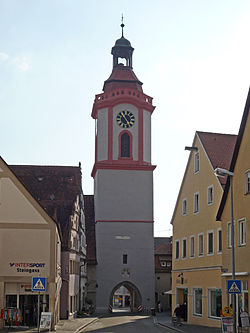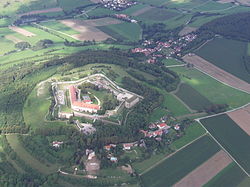 Wülzburgone of the best-preserved Renaissance fortresses in Germany

address: Am Römerlager 16

Roman fort remains and reconstruction.
Buy
Around the whole city you will find supermarkets called Aldi, Marktkauf, Norma, Penny.
In the old city of Weißenburg you will find clothes stores, bakeries and turkish fast food stores.

Eat
Lots of traditional restaurants around. The quality of food is generally quite high. Main courses about €8-15, half liter of beer for €3-5.
Al Forno Ristorante

phone: +49 9141 920420

address: Nördliche Ringstraße 37

phone: +49 9141 8737919

address: Rosenstraße 18

phone: +49 9141 9239172

address: Judengasse 25

phone: +49 9141 3844

address: Bachgasse 15

Original interior nearly untouched since 1890.

Hotel Restaurant Goldener Adler

phone: +49 9141 85560

address: Marktplatz 5

Hotel Restaurant Schwarzer Bär

phone: +49 9141 92426

address: Marktplatz 13

Löwengarten Restaurant

phone: +49 9141 8731963

address: Westliche Ringstr. 36

Greek and German food.

Mai Thai

phone: +49 9141 995759

address: Bismarckanlage 16

Steakhaus El Toro

phone: +49 9141 922730

address: Obertorstr. 5

Silbermühle - vino y tapa Restaurant

phone: +49 9141 9744001

address: Silbermühle 4
Drink
phone: +49 9141 3844

address: Bachgasse 15

This inn could also be among sights, the guest room is essentially in the state of 1890.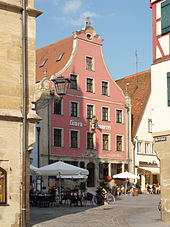 Sleep
phone: +49 9141 86460

address: Ellinger Str. 7,

phone: +49 9141 92426

address: Marktpl. 13
Go next
Brombachsee lake with three parts in the North with lots of spare time activities.
Gunzenhausen with nearby Altmühlsee
Altmühl nature reserve
Altmühl valley
Pappenheim
Dollnstein
Eichstätt
Fossa Carolina is a former 3 km long channel between Altmühl and the Rezat built in 793 near Treuchtlingen. It effectively connected the river systems of the Rhein heading to the North sea with the Danubian river system going to the Black Sea. This was the first of three attempts to connect the two rivers (a later one in the 19th century failed due to competition from railways, the current one dates to 1992).