Weißenkirchen in der Wachau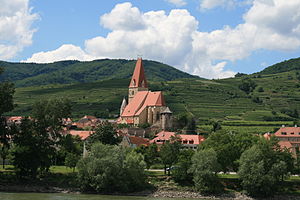 Weißenkirchen in der Wachau
is a small town in the
Wachau
valley, on the northern side of the Danube River.
Understand
Named after the large fortified church which dominates the town (
Weißenkirchen
= 'white church'), the town began in the 9th century as a monastic vineyard. Today it is still known for its excellent wines, and attracts many tourists travelling through the Wachau region.
phone: +43 2715 2600

address: Wachaustraße 242

Staff can help with reserving accommodation, and also have on hand town maps, hiking maps, and Heuriger schedules.
Get in
By car
Weißenkirchen is located midway between
Spitz
and
Dürnstein
on the
B3
regional highway, which follows the Danube River along its northern bank.
By train
A regional train passes through connecting
Krems
with Emmersdorf (four times daily) and Spitz an der Donau (three times daily). Use ÖBB's
SCOTTY
to look up train information online.
By boat
Get around
The town centre is very compact, although visiting nearby vineyards or sights may require a bit of a hike.
By bicycle
phone: +43 2742 22 99 01 (hotline)

After registration (online or by mobile), pick up a bicycle at any Nextbike location, and drop it off at the same or any other Nextbike spot. A map of pickup and drop-off points can be found here (click 'Wachau' for Weißenkirchen); a brochure for the Wachau region is available for download.
See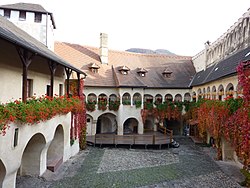 Pfarrkirche Mariae HimmelfahrtThe Gothic 14th-century fortified church dominates the town, and is additionally surrounded by a defensive wall with watchtowers. It was built in several phases between the 13th and 18th centuries. The smaller tower is the original church tower and dates from 1330, while the larger tower was built in 1531 as a defensive structure against Turkish invaders. The interior is a mix of late Gothic and Baroque.

phone: +43 2715 2268

address: Weißenkirchen 117

The 15th-century building is a venue for exhibitions by local Wachau artists.

Wehrkirche St. MichaelA succession of churches have been built in this spot atop a small Celtic sacrificial site. The current structure dates from around 1500 with later Baroque additions and renovations.
Do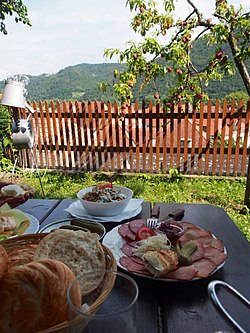 Eat
Most inns and hotels in the area also have good onsite restaurants; see the 'Sleep' section below for individual listings.
phone: +43 2715 2231

address: Wachaustraße 280

Serves regional cuisine with an emphasis on local fish and produce, using both traditional and modern recipes and techniques. In nice weather diners can enjoy the pleasant garden which directly overlooks the river.
Drink
phone: +43 2715 2276

address: Landstraße 38

The family-run vineyard has been operating since 1919, and has won multiple awards for its Grüner Veltliner as well as its Riesling. Their Heuriger serves typical regional cold dishes, with a few vegetarian options. It is situated in a pleasant garden, with a large play area for children, and has extra indoor seating for inclement weather.
Sleep
Budget
Gästehaus & Heuriger Turm Wachau

phone: +43 664 2013850

address: Auf der Burg 140

The comfortable guesthouse also operates a pleasant Heuriger. Free Wi-Fi and nearby parking.

phone: +43 2715 2503

address: Thurnhof 76
Splurge
Hotel-Restaurant Kirchenwirt Wachau

phone: +43 2715 2332

address: Kremser Str. 17

Has an onsite restaurant which can accommodate special diets, including vegetarian; the restaurant is closed from mid-November to mid-March. Free Wi-Fi, free parking, and pets permitted on request.

phone: +43 2715 2201

address: Freisingerplatz 54

The restored Renaissance castle is now a four-star hotel, open mid-April to November. Facilities include an outdoor pool, spa, and onsite restaurant. Free parking, free Wi-Fi, pets permitted.