Weimar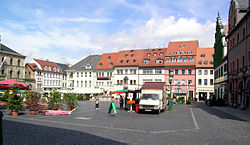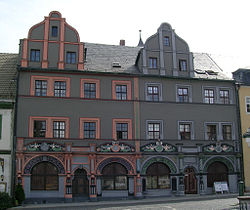 Weimar
is the town of Goethe and Schiller and is found in
Thuringia
(
Thüringen
) state,
Germany
. It is one of the all-time favorites with German school classes (or rather their teachers) because of the high density of both cultural (Goethe, Schiller) and historic (Weimar republic, a former Nazi concentration camp close by) sights.
Understand
Tourist-Information Weimar

phone: +49 3643 745-0

address: Markt 10
Get in
Weimar is a small town with lots of tourists, most of whom come in on buses for day-visits. Roads can be congested in the mornings and evenings.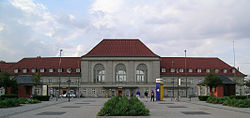 By train
The best and most convienent way is by train. Deutsche Bahn offers direct long-distance-train connections from
Berlin
,
Leipzig
,
Erfurt
and
Frankfurt
. Regional trains connect from
Göttingen
and
Jena
,
Gera
. is about a kilometre from Goetheplatz, in the city's center: you can
walk: A pleasant ten-minute stroll downhill is a good way to stretch your legs after the train-ride. Cross the square in front of the station and walk down Carl-August-Allee. Go around the right of the building at the end of this road (the Neues Museum), and continue walking in the same direction, now on Karl-Liebknecht-Straße, continue across the crossing and you soon find yourself in the city centre.
take a bus: lines 2, 3, 3A, 3B, and 6 will bring you to Goetheplatz within a few minutes. One-way tickets cost €1.60.
Travelers with Thüringen-Ticket and VMT-Hopper-Tickets can use this ticket on the local transport, too.
By car
Weimar is connected to the Autobahn A4.
By plane
The
nearest airport
(
ERF
) is in Erfurt and has been dubbed "Erfurt - Weimar airport" for tourism purposes but so far it has attracted mostly outbound holiday charter services.
Leipzig Halle Airport (LEJ) is the closest airport for all intents and purposes. It is an international airport, with most major cities one stop away. from the airport take the S-Bahn to either Leipzig or Halle main-station (if you arrive in Leipzig you have to go up the escalators to change to long distance and regional trains, as the tunnel only serves S-Bahn) and change onto long-distance or regional trains there. The Sachsen-Ticket is valid for the S-Bahn as well as for all regional trains (RE and RB) in Saxony, Sachsen-Anhalt and Thüringen, so unless you are in a hurry it is probably your best option.
Otherwise you can also arrive at Frankfurt Airport (FRA) and take a train from there. You may have to change trains in Erfurt, though. Flying to Frankfurt and taking the train from there is faster than connecting through Leipzig-Halle, at any rate.

By bus
Weimar also has some domestic bus lines passing through

Get around

Weimar is small and the best way to get around is by foot or by bike. The city has a public transport system but as a tourist you won't need it. At night taxis come in handy when you feel lost and they are used to cater to tourists.

See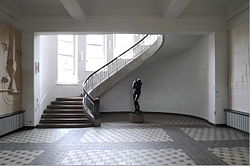 Weimar is one of the most historic sites in Germany. It was home of Goethe and Schiller, two of the most famous German poets and writers. The first fully democratic German constitution that was enacted was passed in Weimar's national theatre, hence the name Weimar republic for the period of 1919-1933 in German history. Later Weimar became one of the centres of the Bauhaus architecture movement along with
Dessau
.
The
Klassik Stiftung Weimar
is responsible for more than 20 sights.
Bauhaus-University Weimar and the Haus am Horn

address: Geschwister-Scholl-Straße 8

part of the Bauhaus Sites protected by UNESCO

StadtschlossHome of the biggest sponsor of Goethe and Schiller. Art gallery.

Anna Amalia BibliothekUnique library and art selection, famous for its rococo style. A fire in 2004 did great damage but the library reopened in 2007. Features the Rokokosaal (Historic Building and Rococo Hall)

NationaltheaterFoundation place of the first German democracy in 1918 and successor of the Weimar Hof theatre where Goethe's premiers took place. Well known theatre today.

Park an der IlmA picturesque garden with Goethes summer house. Lie down on the lawn and enjoy the scenery.

BelvedereA charming park with summer castle a short distance to the south of the city.

Goethe–Schiller MonumentThis is a very famous statue of two of the most important German writers.

address: Theaterplatz

Weimar is the birthplace of Bauhaus

address: Marienstraße 17

The composer Franz Liszt lived here. It is now a museum.

Park CaveA system of tunnels underneath the Park an der Ilm that can be visited.
Do
The best thing is to take a guided tour through the town as most buildings have a story. Either you have time or plan a tour through all buildings of interest.
Deutsches Nationaltheater und Staatskapelle Weimar (DNT)Weimar's cultural institution for opera, theatre and concerts. There are six stages across the city.

phone: +49 3643 430200

The nation of thinkers and poets (Land der Dichter und Denker) became a country of judges and hangmen (Richter und Henker) in the period from 1933-45. To complement the experience of Weimar, the cultural capital, make a trip to the Buchenwald Memorial. This is a good experience to see how close genius and nightmare of German history can come.

Weimar Haus: Das Geschichtserlebnis

address: Schillerstr. 16

This is an interactive multimedia tour (choice of languages) through Weimar's history from prehistoric times to the present. It features audio, video, wax figures and detailed sets you move through guided by famous historical figures. An excellent introduction to Weimar.

pèlerinages Kunstfest WeimarAnnual event during late summer, four weeks full of cultural events and activities.

ZwiebelmarktTraditionally a harvest market this is today Weimar's biggest fair, one weekend every year in mid October.

University of Music Franz Liszt Weimar

phone: +49 3643 5550

address: Platz der Demokratie 2/3

Listen to a concert.
Buy
phone: +49 3643 2510368

address: Jakobstraße 33

Buy or taste the gin they produce.
Eat
The market square is the home of the centuries-old and extremely tasty Thueringer Bratwurst, which can be bought at one of the many sausage stands during the day. It is widely considered a delicacy. The area is also famous for its cakes, such as the Zupfkuchen, all widely available generally costing around €1.
There are many good restaurants in the city catering to the tourist market selling all manner of cuisine, and with the compact nature of the city you can never be far away from the food you are wanting.
Pizzeria Da Antonio

address: Windischenstraße 33, Weimar

A friendly, cheap Italian restaurant with 90 main dishes to choose from, including 45 types of pizza and many salads or pasta dishes. Average dish price €6-7.50, 0.5l of soft drink or beer around €2.50.

phone: +49 3643 7468-28

address: Rudolf-Breitscheid-Str. 2a

phone: +49 3643 502755

address: Markt 21

Zum Falken

phone: +49 3643 505566

address: Trierer Str. 7

phone: +49 3643 851161

address: Burgplatz 1

phone: +49 3643 40158-1

address: Am Palais 1

phone: +49 36 43 77 93 37

address: Scherfgasse 4

phone: +49 3643 492331

address: Schützengasse 9

phone: +49 3643 4 62 88 35

address: Jakobstraße 5-7

phone: +49 3643 9002660

address: Frauenplan 8

Local bakery. You can observe the bakers while enjoying a sandwich, cake or coffee.
Drink
In the Hauptbahnhof there is a snack bar where you may find an excellent iced tea.

Sleep
DJH Jugendherberge Am Poseckschen Garten

address: Humboldtstr. 17

Near the historical graveyard, this hostel is a bit out of the way. A ten minute walk will bring you downtown, though, and bus-line #6 stops nearby too (Cranachstraße).

address: Geleitstr. 4

Very central, affordable but a little grungy. It is altogether quite small, so it's a good idea to book ahead of time if possible.

address: Goetheplatz 6

Central, Weimar's first private hostel. Prices from €13, a bed in a double costs from €20 (+tax, +linen fee).

address: Ernst-Busse-Straße 4

In the northern part of Weimar, 10 minutes drive from the city centre, and has its own free car park. Easy access A4 motorway (Autobahn A 4) or the local public transport system.

Best Western Premier Grand Hotel Russischer Hof

address: Goetheplatz 2

phone: +49 3643 8720

address: Beethovenplatz 1-2, 99423 Weimar

The hotel offers 143 rooms & suites.
Go next
The drive to Leipzig takes less than an hour.
With a direct connection (no change of trains),
Göttingen
can be reached in under two hours.
Halle, about 45 minutes away, has some great things to see. Largest city in Saxony-Anhalt, birthplace of Händel and has a few castles.