Wellington (Colorado)
Wellington
is a small town in the
Front Range
of Northern
Colorado
, with a population of 6,289 (2010 census), just off the map from its neighbor Fort Collins.
Understand
For most of Wellington's history, a real quiet western vibe hung over the small town. While nearby cities boomed, the population stayed much the same; In fact, the count was only around 500 for an entire century.
However, urbanization is affecting the dynamic of this once quiet place. Just like
Meridian, Idaho
and
Rio Rancho
, New Mexico, urbanization from nearby larger cities is leaving a permanent mark on Wellington. As the 21st century progresses, travelers to Wellington may find that the "small town feel" to be gone. Wellington is still that calm, connected town that invites the visitor to explore. While there maybe some divide between here and newer sections of town, generally one could find a friendly small-town atmosphere all the way around. Always feel free to ask for help here.
When to go
Between climate and popularity, the decision can be rough. However, the autumn has reasonably cool temperatures, while the visitation of Wellington is low. More specifically,
August or September
have the best conditions, and should work well with most schedules. While Wellington is not
that
busy, the summer months find thousands of travelers in Northern Colorado. Another option is potentially
May
, where some weekends are quite warm, but be careful for unexpected snowstorms.
Climate
There is one motto to sum up everything:
be prepared
. One moment the sun is out, the next it could be rainy or snowy. On average though, with an altitude of 5160 feet (that is just under a mile), one can expect year round temperatures close to , with highs approaching 80 °F in summer, but not making it to 40 degrees often in winter. Wellington is considered to be a Tropical steppe climate (Bsk), even though the town is in the middle of a continent. That should make a statement about the humidity here. Per year, one could expect to see 16 inches of rain over a period of only 35 days! Most of the time is sunny.
Of course, winter brings all the fury "mother nature" has to offer, and tends to close down roads. Oddly though, as mentioned previously, the highest snowfall is in spring, where a few blizzards can bring down feet of snow, just to have it melt the next day. Once again, be prepared!
History
The town of Wellington was established in 1903 along an old alignment of the
Lincoln Highway
, as well as the Burlington North Railroad, connecting Cheyenne to Denver. The population swelled in the 1910s, however became stagnant by the 1920s. As with every dream-filled city of the early 20th century, Wellington had high sails, and attracted a lot of business, and the gold mining helped. However, it mostly dried up, leaving the few hundred residents that stayed for over multiple decades.
In 2000, dinosaur bones were discovered near Wellington, attracting much scientific interest in the area. A new subdivision even had a street named for this finding. Between the late 20th and early 21st century, Wellington began to grow exponentially, as Fort Collins was beginning to crowd into surrounding cities, and often making it hard to draw a clear line between these cities. By the 2010s, Wellington growth skyrocketed. What used to have one traffic signal, for example, now had 4. Houses were being built in droves, businesses popped up such as Ridley's Markets, and average traffic increased three-fold. A local farm has gained attention for over-fed goats, a likely sign of prosperity in the urbanization era.
Get in
Wellington is increasingly considered a "bedroom community" being 10 minutes away from Fort Collins, and 30-40 minutes from Cheyenne. Going to Wellington from one of these cities may be much easier than directly going to Wellington when using intercity bus transportation.
By plane
There seems to be several low-maintence grass fields around Wellington, such as the Burnham Field and the Kellogg Airstrip, and these are most likely private, but there are no airports. There is some small ones outside of wellington.
Northern Colorado Regional Airport

address: 4900 Earhart Rd, Loveland

Between Loveland and Fort Collins, offers flights to Chicago, and sometimes Denver.

Denver International airport

address: Pena Blvd

Closest major airport with international flight destinations. Be wary of delays.
By car
The only real way to get into Wellington is by car, and recent growth makes Wellington more of an automobile-based town.
I-25 connects Wellington with a great collection of cities from Denver to Casper. There is construction south of town, and occasional traffic jams from Fort Collins and Denver.
CO-1 is a state road that comes into Wellington from the west, and connects with US 287 near Fort Collins. Always watch for winter road closures, however this route can be more preferable in summer for the scenery.
By bus
You cannot directly enter Wellington this way, however If you take a bus to Fort Collins, and rent a car there (or the same with I-25 cities such as Loveland, Cheyenne, or Denver), then this could lower your travel costs. Additionally, some companies will make stops in Wellington, however be prepared to request it and possibly pay more.
Greyhound Lines

address: 4315 E Harmony Road, Fort Collins

Greyhound connects with Cheyenne (arrives 1:55PM) and Denver (arrives 4:55PM).

Greyhound Lines (CYS)

address: 5401 Walker Road, Cheyenne

Buses come at 2PM (to Portland) and 4PM (to Denver).

Green Ride

address: 4315 E Harmony Road, Fort Collins

Also connects Cheyenne and Denver, but comes every 1½ hours or so. Has travel to Laramie.

Denver Shuttle

address: Denver International Airport, Cheyenne South McDonald's, Gering 10th and M Street

A Scottsbluff-based daily shuttle to cities in Colorado. These cities are not on a set schedule, and thus trips to Wellington may be allotted.
Get around
As in any small town, there are few options.
By foot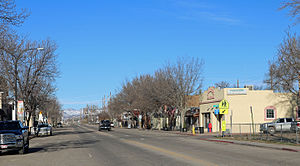 The original settlement of Wellington is very walkable. Most everything about the early town can be found within a few blocks. Also, parts of newer Wellington is not far, and can be a great way to explore.
By car
Numbered streets are orientated north to south, and increase to the east (i.e., 6th street is closer to I-25 than 4th street), and named streets are oriented west to east. Interestingly, most early streets are named for presidents (such as Cleveland Ave, Jefferson Street, Hamilton Road). You may may be stuck on Cleveland Avenue for a minute or two at the I-25 bridge. Most hotels and gas stations are on Cleveland or 6th.
By taxi
Service can be few and far in between, and can be even more sporadic at night. Taxis generally come from Fort Collins or another city.
Fort Collins Car

phone: +1 970 682-3976

address: 2601 S Lemay Ave #7, Fort Collins

Taxi service to surrounding towns.
Ridehailing is quickly rising as a popular alternative to a taxi, and Wellington is covered by Uber and Lyft. There is one locally-owned ride-hailing service:
ZTrip
See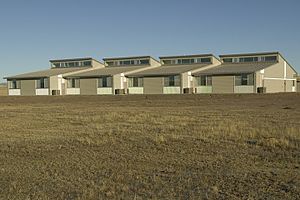 address: 8121 First St

phone: +1 970 490-4691

address: 2351 Busch Dr, Fort Collins

National company with local super brewery. The factory was supposed to be built in Scottsbluff, but Fort Collins/Wellington won the vote instead.

Bee Centennial Farm and Muesum

phone: +1 970 482-9168

address: 4320 E Co Rd 58, Fort Collins

This museum coupled with a farm was founded at Colorado's centennial in 1976. A nice place to learn about the history of farming.

National Black-footed Ferret Conservation Center

phone: +1 970 897-2730

address: Carr, Clorado

This conservation center has collected individuals of this endangered species over the years. Now you can see them up close in this safe home.
Do
West Side Golf

address: Mt Adams St, Wellington

9-hole disc golf course.

Douglas Reservoir

address: N Co-Road 15

A lake of recreational activity like canoeing, fishing, and straight up relaxing. Ask around, the locals know the best spots to set up.

Wellington Brewfest

address: Cetennial Park, 8548 W 4th Street

If you roll through here during the first week of June, this festival is one for the tastebuds. Local flavors and tryouts make this a worthwile trip for first-timers and beer veterans. In 2019, it was held on June 1.
Buy
phone: +1 970 568-3197

address: 7670 5th St

Regional chain that functions as a grocery store, much like a King Soopers; has deli, meat, fruits, vegetables, and other foods and drinks. The chain also has greeting cards and balloons.
Eat
Many national chains are available on 6th street and Cleveland Avenue, however Wellington offers some hometown food of many cuisines that is to remember, and should be a considerable alternative.
Budget
For those in a tight pinch, or wanting to spend less, consider the deli or shop in a local store for wholesome, affordable food.
Family Dollar

phone: +1 970 568-1134

address: 8099 6th St, Wellington

All the products for a picnic is found here.

Parlor inside Ridley's

phone: +1 970 568-3197

address: 7670 5th St, Wellington

Hot dogs, hamburgers, and fries, plus you can buy snacks from Ridley's. Yum!
American
While Wellington has a few good options, you may find solace in neighboring Fort Collins, in restaurants such as the Melting Pot.
T Bar Inn

phone: +1 970 568-9829

address: 3803 W Cleveland Ave, 80549

American grill and restaurant with comfort food with small live events. Classic and modern breakfast, lunch, and dinner is served.

Les's Barbecue

phone: +1 720 470-8134

While only open three days a week, the barbecue (inside of Ridley's) can offer a quick satisfaction. They have been mentioned on the town's website.
International
phone: +1 970 591-2253

address: 3706 Cleveland Ave

Bake shop that specializes in cupcakes, delivery, and special events. Whether eaten inside or have it delivered, deliciousness is one dessert away.

phone: +1 970 568-30111

address: 3810 Cleveland Avenue

Pizzeria with various styles, individual or with family/friends, and has outdoor seating for the warm days.

Papa's Table

phone: +1 970 568-4139

address: 3728 Cleveland Ave

Italian restaurant serving comfort food as well as healthy choices. See full menu .

Taco John's

phone: +1 970 568-3967

address: 7910 S 6th Street

Mexican chain founded in nearby Cheyenne, Wyoming has tacos, burritos, and the signature "potato oles". While generally not spicy, it's good to ask first.

The Biergarten

phone: +1 970 490-4691

address: 2351 Busch Dr #2

Restaurant and beer garden open on unusual days.
Mid-range
phone: +1 970 568-4065

address: 3724 Cleveland Avenue

Mid-range American bar serving various entrees and drinks. Games and shows nightly.

phone: +1 970 568-3082

address: 3750 Cleveland Ave

Upscale Spanish dining with classic Spanish foods such as burritos, but they also have high-end drinks such as margaritas.
Splurge
Drink
address: 3999 GW Bush Ave Unit 101, Wellington

Seemingly humble brewery with a wide range of options.

Tap Room Ride

phone: +1 970 490-4691

address: 2351 Busch Dr, Fort Collins

Just outside of the factory, expect high quality beer.

The Biergarten

phone: +1 970 490-4691

address: 2351 Busch Dr #2, Fort Collins

While listed earlier for food, it's also connected to the brewery, which is their main initative.
Sleep
Stay safe
As a bedroom community, the crime risk is higher than the same size town that is separate,
but not by much
, as Wellington is very rural yet. The true danger lies in the weather. Wellington is slightly under the "one-mile" marker of Denver. Altitude sickness and dehydration can become problematic for the tourist, and thus lots of fluids and rest is good for combatting the symptoms. Also, the weather can be quite unpredictable (see "Understand") . As in the rest of the United States, phone
911
for emergencies, and
511
for road info. For medical problems, the best bet is UC health in Fort Collins. However, if you have a small injury, or property problem, then the
Wellington Fire Department
address: 8130 3rd Street
a volunteer firefighting department, can help. If bringing along a pet,
Wellington Veterinary Hospital
phone: +1 970 568-7387
address: 7837 S 6th Street
Accepts walk ins, and offers a cheap alternative to vets in other cities. and
Tabby Road Animal hospitalAlso a good emergency option, with affordable prices.
Connect and cope
While Wellington is a friendly place, its size doesn't allow for international services, or much way of coping. The nearest consulates are in Denver. Here are a few ways to get by.
Officially, the area code is
970
in Northern Colorado, and is useful in most of Wellington, though there is some oddities, such as the use of
303/720
around Denver. When calling to nearby states, or around colorado, ensure to use:
719
for Colorado Springs,
307
for Wyoming, where many Colorado companies have their operations in
308/402
for Nebraska,
505/575
for New Mexico. For information numbers, see "Stay Safe" above. The zipcode for Wellington is
80549
.
Wellington Filling Station

phone: +1 970 568-7480

address: 3906 Cleveland Ave

Religious non-profit organization, built out of an old fuel-station, hence the name.

Dhrohman's Day Spa

phone: +1 970 568-7812

address: 3922 CLeveland Ave

Massage therapy, and a haircut!
Stay in touch
Owl Canyon Coffee

phone: +1 970 472-4259

address: 3745 Cleveland Ave

One of Wellington's few internet cafes, however, locals may appreciate it more if you just talked to them. There is wifi, coffee, and pretty much everything one would need to connect, just ensure you know the hours, as they don't run long into the afternoon.

Wellington Post office

address: 3829 W Cleveland Ave

The good old United States Postal Service (USPS).

Wellington News

address: 3725 Cleveland Ave

Wellington's local newspaper.
Public media
Radio and television stations are practically non-existant within the borders, however Wellington has a few owned by Townsquare Media.The town is easily within the coverage of many stations in Fort Collins and Cheyenne. Namely, rock stations such as the STAR, as well as Christian statons. The two major national networks are available nearby
KMAXA contemporary alternative rock station licensed to Wellington that also runs the news and community calendar.

KKPLThe sister station of KMAX, which was formerly an oldies format under KRRR (which became 104.9), and now is contemporary. Based in Cheyenne.

K-LoveRuns a section of contemporary hits. One can identify the call sign at :00-:03 past the hour when it is announced.

Air1Rebranded in January 2019, Air1 focuses on bits from bands under Elevation Worship. One can identify the call sign at :01 past the hour when announced.
KCDOA television station under CBS licensed to Sterling with a transmitter in Kimball (Nebraska). Provides Colorado News. Used to be owned by KGWN of Cheyenne, which handled Northern Colorado News.
Go next