Wertheim
Wertheim
is a city in
Baden Württemberg
,
Germany
. It is situated on the delta of the river Tauber flowing into the river Main. It borders on the Odenwald and the Spessart to the north across the river Main.
Understand
The main claim to fame of Wertheim is "Wertheim Village" a strip mall outlet center kind of place.

Get in
Get around
On foot
Walking will get you from one end of town to the other in about 15-30 min.
by car
Going by car is unnecessary in most cases.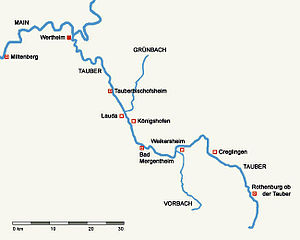 By bicycle
In the spring and summer, biking is also highly recommended. There are a lot of bike lanes and special bike roads with no cars.
From
Rothenburg ob der Tauber
(or from
Wertheim
in the other direction) you can start a popular bicycle tour by the "Lovely Tauber valley" (also "Charming Tauber valley"), about Weikersheim,
Bad Mergentheim
, Lauda and
Tauberbischofsheim
, till you reach just 100 km removed Wertheim. Recommended daily stages of the route "Charming Tauber Valley (Classic)":
1st day's stage - Rothenburg ob der Tauber to Weikersheim (or Bad Mergentheim)
2nd day's stage - (Weikersheim via) Bad Mergentheim to Tauberbischofsheim
3rd day's stage - Tauberbischofsheim to Wertheim
From
Wertheim
(or from Rothenburg ob der Tauber in the other direction), you can cycle back to the starting point with five recommended extra stages of the route "Charming Tauber Valley (Sportive)":
1st day's stage - Wertheim to Freudenberg
2nd day's stage - Freudenberg to Külsheim
3rd day's stage - Külsheim to Boxberg
4th day's stage - Boxberg to Niederstetten
5th day's stage - Niederstetten to Rothenburg ob der Tauber
See
address: Mühlenstraße 24

address: Rathausgasse 6
Do
Events
Summer festivalon the last three days of July.

medieval festivalat the castle Wertheim

Wertheimer Messelike Oktoberfest
Buy
Sleep
Go next