West Antarctica
West Antarctica
is the region of
Antarctica
that falls in the Western Hemisphere.
Regions
There are many regions of Antarctica, some of which are mountains and some of which are flatter areas. However, these regions do not have their own articles because they offer few points of interest, let alone places to eat and sleep.
Ross Dependency is the portion of Antarctica claimed by New Zealand. Home to the largest Antarctic research station, McMurdo Station, and the world's southernmost active volcano, Mount Erebus.
Marie Byrd Land is the largest area in the world that isn't claimed by any country. This area is very empty even by Antarctic standards.
Chilean Antarctic Territory contains the entire Antarctic Peninsula and overlaps with Queen Elizabeth Land and Argentine Antarctica. It contains the Union Glacier Camp, which is a stopping point for most trips to the South Pole.
Queen Elizabeth Land is the U.K.'s claim to Antarctica. It also contains the entire Antarctic Peninsula and overlaps with the Chilean Antarctic Territory and Argentine Antarctica.
Argentine Antarctica is another Antarctic claim that overlaps with the Chilean Antarctic Territory and Queen Elizabeth Land.
Coats Land is closer to the Antarctic Peninsula than Marie Byrd Land.
Ellsworth Land is close to Vinson Massif.
Bases
(Excluding bases in the Antarctic Peninsula region)
(Argentina) The world's southernmost research station built on solid rock (not on ice) and is home to the world's southernmost church.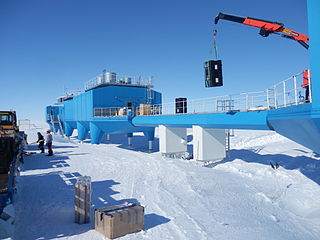 (U.K.) A research station that had been rebuilt 5 times and consists of 8 stringed modules. There are retractable gigantic skis on the bottom of the station, allowing it to be moved.
(Germany) A German research station on the Ekström Ice Shelf.
(South Africa) A South African research station consisting of 3 double-storied modules.
Other destinations
is home to Antarctica's highest point, Vinson Massif, at 4,892 m (16,050 ft).
is part of the Transantarctic Mountains. An aircraft fueling station for planes flying between the Union Glacier Camp and the Amundsen-Scott South Pole Station is nearby.
is a long range of mountains and is part of the Transantarctic Mountains.
is another part of the Transantarctic Mountains.
is also part of the Transantarctic Mountains and is in Marie Byrd Land.
Understand

The mainland of Antarctica is divided into two sides: the east and the west. While the Peninsula section of Antarctica is in the western portion of the continent, the Peninsula is not considered to be part of West Antarctica because it's a more popular tourist destination and has a climate not quite as extreme due to its location off the Antarctic Plateau, which East and West Antarctica sit on.
West Antarctica is the emptiest region of Antarctica, as there are only 4 permanent research stations here, compared to 17 in East Antarctica.

Weather

Due to West Antarctica's location on the Antarctic Plateau, most of this region lies at a high elevation, with ice miles deep. This means that what would already be a very cold area if it was at a low elevation is even colder. The high altitude, of course, brings health-related problems as well.

Landscape

West Antarctica is mostly on the Antarctic Plateau, and the Transantarctic Mountains is mostly in West Antarctica. West Antarctica has a high altitude, which gets even higher when getting closer to the Transantarctic Mountains. However, the terrain is generally flat on most parts of the Antarctic Plateau.

Get in
This region is extremely difficult to get into, like
East Antarctica
. Unlike the Peninsula to the north, expedition ships generally avoid going to West Antarctica; the only exception to this would probably be the Ross Sea. However, a blue ice runway exists on Union Glacier Camp. This camp is privately owned and operated by Antarctic Logistics & Expeditions LLC (ALE). Chartered flights from
Punta Arenas
fly tourists to the camp and run trips to the interior of Antarctica including the
South Pole
, Vinson Massif and Hercules Inlet.
Get around

Like the rest of Antarctica, transportation within bases can be done on feet, and transportation out of bases should be done on skis and/or base transport.

See
Bentley Subglacial TrenchThe lowest point in the world not covered by oceans at 2,555 m (8,382 ft), although it is covered by ice.
Mount SidleyAntarctica's highest volcano (extinct), at a whopping 4,181 m (13,717 ft).
Do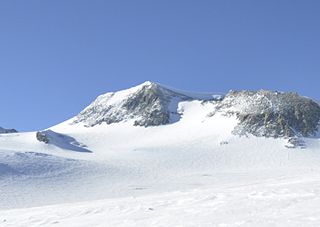 Vinson MassifThe highest point in Antarctica, Vinson Massif (Mount Vinson) stands at 4,892 m (16,050 ft); climbs can be arranged by international travel agencies such as RMI and Adventure Consultants for some tens of thousands of dollars (US) per person, and take at least 14 days round trip from Punta Arenas. Aside from the weather and the absurd difficulties involved in transport there, the climb is supposed to be pretty easy, especially by "seven summits" standards.
Mount TyreeThis is one of the second seven summits; in other words, it's the second highest mountain peak in Antarctica. As of 2017, only 15 people had climbed to the top of Mount Tyree, so there are probably no tours to Mount Tyree.
Antarctic Ice MarathonThe annual Antarctic Ice Marathon is the start of the World Marathon Challenge (7 Marathons on 7 continents in 7 days). Racers will run 2 laps starting at the Union Glacier Camp. There is also a half-marathon option.
Eat
Like anywhere else in Antarctica, food will be served in bases, and must be carried when outside bases.

Drink
At most places in West Antarctica, there is ice covering the ground, so those with the ability to melt ice should not worry about water.

Sleep
Unless someone at a base is willing for you to lodge, you will need to camp. Some excursions use Union Glacier Camp, a privately owned camp, as a base for their tourists.

Stay safe
Like the rest of Antarctica, West Antarctica is extremely cold and medical care is very limited. Medical insurances are strongly recommended and sometimes required.

Go next
The Antarctic Peninsula is the destination for any traveler who wants to say that they've visited Antarctica without having huge expenses. The peninsula in some ways more closely resembles some of the nearby Antarctic Islands than the Antarctic's interior.
East Antarctica is the other side of the continent.
The South Pole isn't part of either East Antarctica or West Antarctica, of course, but is adjacent to both sides of the southernmost continent.