West Mifflin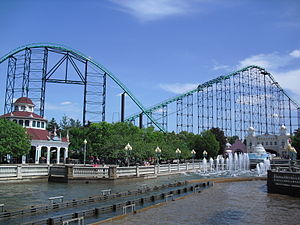 West Miffin
is a city in
Allegheny County
,
Pennsylvania
, about 7 miles southeast of
Pittsburgh
.
See
address: 4800 Kennywood Boulevard

A compact but extremely popular amusement park, founded in 1898. The park contains all the standard amusement park rides, including a Kiddieland, a few splash rides, and several rollercoasters; among them are the "Thunderbolt," routinely named as one of the best wooden coasters in the country by enthusiasts, the "Racer" and the "Jack Rabbit," two historic wooden coasters, and the "Phantom's Revenge," a huge and very intense steel coaster.

phone: +1 412 462-6666

address: 1000 Sandcastle Drive

A popular water park owned by the same folks as Kennywood; featuring plenty of swimming pools, body and tube water slides, and a water playground.
Buy
The Waterfront - a large outdoor mall with residential living areas, located in Homestead (just north of West Miffin) on property that was the site of the infamous "Homestead Works", a Carnegie/USS steel mill where union and management (in the form of "Pinkertons") literally fought it out in the late 19th century. Home to entertainment such as Dave & Buster's and The Improv comedy theater, restaurants such as P.F. Chang's and Bravo!, and shopping such as Macy's.
Century III Mall - at PA Route 51 and Mountain View Drive, and built, oddly enough, on a huge mountain of "slag" dumped from all the steel mills.
Eat
Hot Metal DinerPromises hungry customers a truly enjoyable dining experience. Rooted in years of working in and then owning her own restaurants, Owner Wendy Betten's food is infused with her love of the restaurant business and care for her guests. Hot Metal Diner's menu features fresh and flavorful dishes guaranteed to satisfy. The Hot Metal Diner serves breakfast and lunch daily 6AM to 3PM Located along Lebanon Road across the road from Hot Metal Harley Davidson near the Port Authority Garage and the Allegheny County Airport.