West Palm Beach
West Palm Beach
is a mid-sized city of just under 100,000 residents in the
South Florida
(Miami-Fort Lauderdale-West Palm Beach) Metropolitan area, which has over 5.5 million people.
Understand
West of the smaller, more famous town
Palm Beach
, West Palm Beach is mostly commercial but has some attractions and landmarks worth visiting.
Get in
By plane
Palm Beach International Airport

phone: +1 561 471-7420

address: 1000 Turnage Boulevard

This is a small, yet highly adequate airport. While the Miami and the Fort Lauderdale airports are busy, PBI is easy to get in and out of, and is about five minutes from downtown West Palm Beach. Travelers flying into South Florida or the Bahamas should strongly consider PBI. The airport serves airlines and general aviation aircraft. The airport has a 24-hour control tower and a U.S. Customs & Immigration port of entry facility. The general aviation traffic at PBI has a choice of three fixed base operators. North Palm Beach County General Aviation Airport (F45) is in the north portion of the county and provides easy access to the Florida Research Park, Jupiter, and Palm Beach Gardens.
By train
By car
West Palm Beach is easily accessible by Interstate 95 and the Florida Turnpike.
By bus
PalmTran
runs throughout Palm Beach County. At the corner of Quadrille and popular Clematis street you will find a popular hub, connecting many different routes.
By boat
Get around
By car
The easiest way to get around West Palm Beach and South Florida is by car. The city is set up on grid system, and is fairly easy to navigate. Downtown is roughly 2 miles north east of Palm Beach International Airport. Palm Beach County is served by Interstate I-95 and U.S. Highway 1 and US 441. It is also served by Florida's Turnpike.
In-Airport car rental companies include:
Outside-of-airport car rental companies with Shuttle include:
By taxi
Taxis are generally expensive, but available at almost any time and place.
Yellow Cab

phone: +1 561 682-2222

The largest company in the city.
By bus
Palm TranPalm Tran runs seven days a week (excluding holidays) serving more than 3,500 bus stops.

phone: +1 561 838-9511

A free trolley serving the Downtown West Palm Beach Clematis Street District.
By train
Tri-RailCommuter train which runs north and south parallel to I-95, connecting Miami, Fort Lauderdale and West Palm Beach. Tri-Rail provides access to South Florida's three major airports, and links to Miami's Metrorail.
See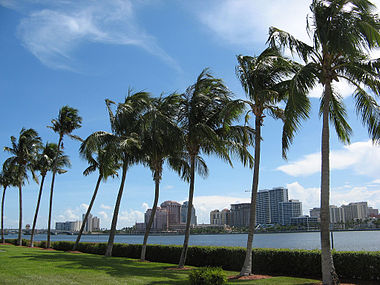 address: 1 Whitehall Way

This museum features the restored home of Henry Flagler, railroad entrepreneur co-founder of Standard Oil, and the man who conceived of Florida as a tourist destination. Tour his home ($10 per person) and have high tea ($28 per person).
address: 1451 S Olive Ave

its permanent collection features American Art, Chinese Art, Contemporary Art, European Art and Photography. Its masterpieces of 19th century and 20th century painting and sculpture include works by Brancusi, Gauguin, Matisse, Miró, Monet, Picasso, Davis, Hassam, Hopper, Manship, O'Keeffe, Pollock and Sheeler. The museum presents special exhibitions, lectures, tours and programs for adults and children throughout the year.

The Raymond F. Kravis Center for the Performing Arts

address: 701 Okeechobee Blvd

The Raymond F. Kravis Center for the Performing Arts is one of the premier performing arts centers in the Southeast with a growing national and international reputation.
Graffiti Street Art you will find one of the most beautiful and biggest graffiti street art of Florida if you walk around wpb downtown
Do
There are over 40 miles of
beautiful beaches
in Palm Beach County. The proximity of the Gulf Stream keeps the waters warm year-round although many miles are private a nearby public beach in the city of
Palm Beach
has lifeguards during the day, and is easily accessible. Flags by the lifeguard announce hazardous conditions (red for dangerous surf conditions, and purple for dangerous sea life).
For snorkeling, two places might satisfy. One is
John D. MacArthur Beach State Park
, on the north end of Singer Island. The beach contains a shallow reef full of fish. Be careful, shark and barracuda are seen occasionally. This park also has kayaking, music on Sundays, and some short hiking trails. Kayaking is popular in a calm inlet in the park, which is surrounded by mangrove swamps.
Another snorkeling spot is the '
Breaker's reef
on Palm Beach. The reef is nestled right behind the Breakers hotel. This reef is one long stretch that juts out into the ocean. You can park on the side roads near the Breakers, although it is illegal and police often tow out of town cars from this wealthy neighborhood.
A beach activity unique to Florida is watching space shuttles launch out over the ocean. Shuttles lifting off from Cape Kennedy are visible during daylight and night hours, although night and early morning launches are significantly more impressive. From most beaches, looking directly north up the coast will orient you correctly. Launches are visible from anywhere in Florida, but the ocean guarantees a clear view and night launches often reflect in the water.
There are bicycle paths throughout the area. One of the nicest is on the West (Intracoastal) side of Palm Beach. It runs from the middle bridge to the inlet that separates Palm Beach from Singer Island. This path is also suitable for roller blading.
phone: +1 561-790-2116

address: 12943 61st Street North

At this non-profit wildlife rehabilitation center, you can see over 90 animals and have a close encounter with over 22 large cats lions, tiger, panther, snakes and more. Money raised goes towards the care of the animals. Bring your camera. A fun and educational experience.

Lion Country SafariJust west of the city. There used to be several of these Safari Parks, but this is the only one to remain. Includes rides for children.
Buy
Shopping is a popular activity in West Palm, not least because the weather is so mild year-round. There are a number of places to shop, including:
CityPlace, two renovated blocks in downtown West Palm that now features dozens of high-end shops, including Brookstone; Pottery Barn; White House, Black Market; and more.
Clematis Street runs perpendicular to CityPlace, and is the older, trendy shopping district, featuring Ann Taylor and several unique, eclectic shops and some pubs, nightclubs and restaurants.
South Dixie Highway provides several blocks of second-hand shops, from thrift stores to high-end antiques.
Worth Avenue on Palm Beach Island is home to many luxury boutiques.
Downtown at the Gardens in Palm Beach Gardens has many restaurants, along with other stores selling clothing, like urban outfitters, and other shops. Includes Cobb movie theaters.
Eat
phone: +1 561-622-1000

address: 4350 PGA Blvd

Wine Bar and fine dining restaurant in Palm Beach Gardens. Farm-to-table cuisine that features local products. Over 250 wines available.
Budget
phone: +1 561-691-8550

address: 11701 Lake Victoria Gardens Drive, Palm Beach Gardens

Full grocery and cafe offering fresh and local produce, fresh and local seafood, grass fed beef as well as a butcher in the house, enticing array of salads and entrees prepared to eat-in or take-out, brick oven pizzas, custom sandwiches, full scale bakery, unique coffees, great wine and beer selections, nutritional supplements and spa products, and cheeses from around the world.

Pizza Girls

phone: +1 561 833-4004

address: 114 S Clematis St

A great place to grab a quick, expensive bite; offers gourmet pies, or pizza by the slice.

King Super Buffet

phone: +1 561 567-8886

address: 4270 Okeechobee Blvd.

Chinese food; large seafood variety.
Mid-range
phone: +1 561 868-7893

address: 319 Belvedere Road #12

Best sushi around; always ask for market price!

Rhythm Cafe

phone: +1 561 833-3406

address: 3800 S Dixie Hwy

The menu changes regularly in an eclectic setting.

ER Bradley's Saloon

phone: +1 561 833-3520

address: 104 S Clematis St

Decent bar food at the end of Clematis St in sight of the Intracoastal.

The India Palace

phone: +1 561 478-5606

address: 4778 Okeechobee Blvd

Great Indian food, at a moderate price.

phone: +1 561 366-9753

address: 700 S Rosemary Ave # 212

Local microbrewery cooks up excellent meals.

phone: +1 561 547-9799

address: 6803 S Dixie Hwy

Authentic Cuban cuisine. Open for lunch and dinner, with an all-night take-out window.
Splurge
Drink
Clematis by Night, sponsored by the City of West Palm, is a lively event each Thursday on Clematis Street until 9PM. There's live music, and the audience can purchase beer and wine -- poured by a (rotating) area non-profit, who gets to keep the profits.

O'Shea's Pub

phone: +1 561 833-3865

address: 531 Clematis St

A traditional Irish pub with a great beer garden on Clematis.

Blue Martini

phone: +1 561 835-8601

address: 550 S Rosemary Ave # 244

An upscale martini bar (martinis run about $15 apiece), featuring well-made drinks, doormen who are in love with themselves, and live music on the weekends.
Sleep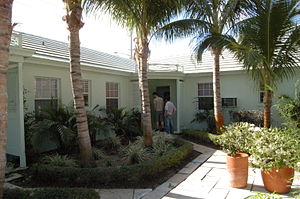 Budget
Studio 6 West Palm Beach

address: 1535 Centrepark Dr

Very much a budget hotel; don't expect luxury or even much in the way of comfort, but if you're on a tight budget it's a private place to sleep.
Quality Inn Palm Beach International Airport, 1505 Belvedere Rd,$79/night

phone: +1 561 659-3880

address: 1301 Belvedere Rd

Near CityPlace and the Kravis Center, Holiday Inn Palm Beach Airport features clean, comfortable rooms with beach-inspired décor and premium amenities like 32-inch LCD TVs, spacious work areas free wireless internet.
Mid-range
Hotel Biba

phone: +1 561 832-0094

A funky, sea-foam-colored hotel with colorful, ultra-modern decor about 3 miles south of Clematis Street. Hotel Biba bills itself as "a 43-room historic landmark boutique hotel." The hotel features Biba Bar, a hip nightclub featuring live music on the weekends.

phone: +1 561-682-9188

address: 2455 Metrocentre Blvd

Suites with full kitchens, free internet, flat screen TV. Guests have access to free parking, free hot breakfast, pool and fitness center.

SpringHill Suites West Palm Beach I-95

phone: +1 561-689-6814

address: 2437 Metrocentre Blvd

Extended stay hotel. Suites include free Internet, microwave, mini-fridge, and flat screen TV. Also available to guests are free hot breakfast buffet, free parking, pool, and fitness center.
Splurge
Stay safe
Driving -- Florida has "no fault" auto accident laws, which means you are responsible for up to $10,000 in damage to your car, even if you are not responsible for the accident. Make sure your rental car comes with collision insurance, or obtain separate insurance. Florida also has a very high rate of auto fatalities, so take extra care on the roads.
Crime -- Despite a dropping crime rate, the crime is very high for a city the size of West Palm Beach, it has been rated as the 14th most-dangerous city in the United States, but the areas of high crime are not anywhere near the areas that would be traveled by the everyday tourist.
Go next
The
Tiki Bar
is a casual bar on the Intracoastal about 2 miles north of West Palm, in
Riviera Beach
just off US 1. They feature live music 7 days a week. If you go, try the Grouper Tacos, an unforgettable taste treat. One plate serves 2 people.
Heading north about 5 more miles takes you to Blue Heron Blvd. Turn right, and cross the bridge. You'll find yourself on
Singer Island
, a small beach community that wants to be the next
Cocoa Beach
. Featuring clean, wide, white sandy beaches, several open-aired beachside restaurants, and a few large surf shops, this is a very relaxing place to get away from the trendy shopping and nightlife of West Palm.
There are a lot of other interesting cities surrounding West Palm, including
Jupiter
and
Palm Beach Gardens
to the north, Royal Palm Beach to West, Atlantic Ocean to East and
Delray Beach
,
Boca Raton
, and
Boynton Beach
to the south.