Westerly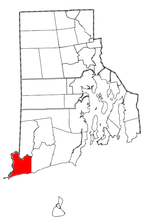 Westerly
is a town on the southwestern shoreline of Washington County, Rhode Island. First settled by Elder John Crandall in 1661 it is believed that John Crandall named the town after his birthplace in Westerleigh, England. Today Westerly has many references to his name. In 2010, this community had a population of 23,000, which covers 30.1 square miles (78 km²) of land and 44.7 square miles (116 km²) of water.
Westerly has a friendly atmosphere. Visitors from all over enjoy the calm beaches and the unique shops that the downtown area has to offer.
Understand
The Pawcatuck River surrounds Westerly on the Western border where it serves a dividing mark for Pawcatuck, Connecticut. Westerly's town crest originates from a special species of Salmon that once resided in the Pawcatuck river. Along Atlantic Avenue by the beachfront lays several salt ponds which serves as an outer wall to the distinct beaches that make this community a large tourist attraction during the summer months (May–September). This community doubles in size during the summer months due to the large attraction of families from all over New England.
Westerly is also known for its textiles and unique type of granite that is quarried from Bradford and Potter Hill regions of Westerly. Griswold Textile Print, Inc. has been family operated since 1937. This plant operates on the Pawcatuck River where they make all their prints in house.
Misquamicut Beach
Misquamicut Beach consists of the 3/4-mile State Beach area, two Westerly Town beaches and a Misquamicut Fire District Beach. Private businesses own their own beaches, and these are generally open to the public. All of the beaches come together to stretch for over from the Western tip at Watch Hill, and the Eastern tip at Weekapaug Point. This basin design allows for direct flow of Atlantic waves, and also allows beach-goers to have beautiful sunrises and sunsets. Off to the south from Misquamicut Beach you can see Block Island, Rhode Island some away and on clear days to the southwest you can see the northern tip of Long Island, New York. Behind the State Beach there is a saltwater pond that stretches for four miles to the breachway near Weekapaug. Atlantic Avenue is the main thoroughfare that runs parallel to the beach. At each end there are two roads that allow visitors to get to the beach, one Weekapaug Road, near the eastern end, and the other is Winnipaug Road, which is near the western end of the State Beach, and right near all sorts of restaurants, hotels, bars and beaches.
The dunes help to control the wind coming off of the water and prevent erosion of the already diminishing shoreline. A state law restricts any person to go onto the dunes at any time for they are fragile and impossible to replace. Many species of fish inhabit the waters, including tuna, bluefish and striper bass. Seals inhabit the waters in early spring, before heading north to Maine. Sunfish, a large 5-6 ft fish, enter the waters in late July early August to eat jellyfish who are also looking for warmer waters. Many whale sightings have occurred, as well as sharks, however none have come close and none are interested in humans. The largest Great White Shark ever caught was caught off of Block Island.
Climate
Summer temperatures and weather begin in middle May, and the season closes in middle September. Temperatures are usually in the mid to high 70s (°F) until mid-July, when temperatures tend to stay in the 80s. This continues straight through until early September. There is relatively no humidity because of the strong westerly winds that blow from Watch Hill. Water temperatures stay relatively cold until late June, and by August they are very warm yet still refreshing. Strong thunderstorms tend to form North of the beach and move South, however they move fast and rarely effect the coast for long. Wave heights are normally 2-3 feet, however this all depends on weather patterns and the tide. Misquamicut is no stranger to 10-20 foot waves in times of hurricanes and other storms.
Get in
By train
Amtrak, 14 Railroad Av., +1-800-872-7245. One of Rhode Island's three stations is in Westerly.
By plane
phone: +1 401-596-2357

address: 56 Airport Rd

Small regional airport designated for small aircraft. This airport is a main shuttle point for Block Island.
By bus
Ripta Flex Service. Transit designed to serve suburban and rural communities in Rhode Island. Reservation need to make with 48 hours in advance by calling the toll-free Flex Line at +1-877-906-FLEX (3539) or +1 401 784-9500, ext. 220.
Get around
The simplest way to get around Westerly is by a car. Since Westerly is not a large town it can easily be achievable to drive around all the sites and attractions that the town has to offer. Parking is available every where around the town. Downtown parking is free but beach parking is an average of $10.

By taxi
Wright's Taxi

phone: +1 401 596-8294

address: 31 Canal St

Also offers flat rates to destinations around Westerly and nearby attractions.
See
phone: +1 401 596-2341

address: 1 Granite St

The Granite Theater occupies a historic restored Greek Revival Church in downtown Westerly and offers Broadway productions from March through December. Shows are everyday of the week mainly 2-5PM and 6:30-8PM. Prices range from $11-20 depending on if it's a comedy or musical. Year round, the Granite Theatre will stage various forms of entertainment including Broadway plays, children's plays, lecture programs, and cabaret acts.

Wilcox ParkFeatures of a wide variety of trees, flowers and shrubs. Wilcox Park is a Victorian-era walking park that has been the center of Westerly's historic downtown since the late 1800s. The pond is the highlight of the park where ducks and birds swim. On the east side of the park there is a World War Memorial dedicated to those who have fallen. This memorial is distinct with its granite and blue stone paving. During the midsummer season, Wilcox Park is the setting for the annual Summer Pops Concert, which draws nearly 20,000 visitors from throughout the area.

address: Lighthouse Rd

There is parking on the premises and down on Bay Street, a 15-minute walk from the lighthouse. The lighthouse is not open to the public but in July and August, the museum is opened in the oil house on Tuesdays and Thursdays 1-3PM. In 1808, the first lighthouse was built here to warn the mariners of the rough reef that laid in the surrounding ocean. In time this lighthouse had begun eroding and a new lighthouse was built in the same area, but farther from the shore in 1856. This lighthouse still stands with a granite wall around it. You can go sit on the wall and enjoy watching the waves crash up on the rock. Seeing the lighthouse at sunset is a remarkable sight!

Westerly Public Library

phone: +1 401 596-2877

address: 44 Broad St

In downtown Westerly, the historic library opened in 1894. Their collection includes a wide variety of books, magizines, CDs, DVDs, and videos, altogether totaling about 170,000 items. Computers are available for use of anyone, and printers are also accessible. The library is a great place to study, read, and hold meetings. Kids will enjoy the Children's Room, and events held there such as story time. The staff is very friendly and helpful when it comes to research or finding a book you want.

The Westerly Post Office

phone: +1 401-596-9537

address: 5 High St

The historic Westerly Post Office was placed on the National Register of Historic Places in 1971. If you like fascinating sites and architecture, you should make your way to here during your visit to Westerly. The immensity and precise detail that has been put into the building since it was built 1913, is truly stunning. The architect, James Knox Taylor, used his Classical Revival style to show off the huge columns and steps leading up to the front doors. If you go here, remember to bring your camera.
Do
Marinas
Westerly Marina 41 Margin Street, +1 401 596-1727. A complete array of marina services is offered.
Watch Hill Boat Yard, 21 Pasadena Avenue, +1 401 348-8148. This traditional boatyard and marina offers 81 slips for boats of up to in length, and 27 moorings for sailboats of up to in length.
Fun
phone: +1 401 596-4225

address: 35 Railroad Ave

This popular night life attraction offers dinner, dancing, and music. Purchase tickets to one of their concerts, enjoy dinner, or dance in the Starlight Ballroom. 21+ unless special events otherwise noted.

phone: +1 401 322-0059

address: 100 Old Post Rd

This outfit offers sport fishing charters aboard a modern boat that is piloted by an experienced captain.

Napatree PointDuring the Hurricane of 1938, Napatree was hit hard by the storm surge. The hurricane destroyed all homes and roadways that were on of land. Today the land is a great beach spot where it is a walk from Watch Hill. This area is widely known for its bird watching spots and surfs spots. The land also holds, Fort Mansfield, an old navy post was only operational for a few years before it was sold to create homes in 1928. Today some of the fortified gun emplacements can be seen and structure of the buildings as well. Low tide reveals some of artifacts during that time. If you are visiting in the spring or summer it is recommended to leave your dog elsewhere because of the endangered Osprey that live there.

Bay Street, Watch Hill

phone: +1 401 596-7761

Like downtown Westerly, Bay Street offers clothing shops of all kinds, gift shops, and a deli.

Babcock-Smith House Museum

phone: +1 401 596-5704

address: 124 Granite St

The Georgian Mansion (circa 1734) is the former home of the Babcocks and Smiths. The mansion is elegantly furnished with pieces reflecting the Colonial Babcock years, the Victorian Smith years, and colonial restoration of 1928. It is open May 30-Oct 31: Sa 2-5PM. Price: $5 adults, $1 children under 12.

Duck Land & Water Tours

phone: +1 401 596-7761

address: One Chamber Way

Tours are half on land and half on water and a complete ride lasts for 60-70 minutes. You can enjoy historical sites and anecdotes while riding in the authentic, renovated World War II amphibious landing vehicle.

Pond View Racquet Club

phone: +1 401 322-1100

address: 252 Shore Rd

This location offers courts and facilities for tennis indoor and outdoor.

address: 17 Winnipaug Road

Great tourist stop with a climbing tower, paddle boats, and jet ski rentals. Also a souvenir shop.

phone: +1 401 322-0520

Misquamicut Beach. Seasonal water park with water slides.

phone: +1 401 322-9283

address: 321 Atlantic Ave

Provides all day fun for young kids, includes a carousel, ice cream and arcade center.

Misquamicut Beach Jet Ski Rental

phone: +1 401 596-6169

address: 17 Winnapaug Ave

$75 for a half hour and $125 for a full hour of jet skiing and paddle boats. Shop also has beach necessities towels, chairs, sunglasses, and Hermit Crabs!

Alley Katz Bowling Center

phone: +1 401 596-7474

address: 116 Granite St

Alley Katz has been the community bowling center of Westerly since it opened in 1960 as Holiday Lanes. It was bought in 1985 by Wood Foss, and was renamed Alley Katz. It has gone through many changes, and recently was renovated. Some of the improvements include electronic scoring systems and synthetic lanes. Fog machines and lighting systems were also installed. Within the bowling center is Cleats Sports Club, where bowlers can go to get food or refreshments. There is a special event for every night, which includes the most popular, Rock N' Bowl on Saturday nights from 9PM to midnight. During these events, music is played while music videos are shown behind the lanes via projectors, and the fog machines and lights are put to use. If you enjoy bowling and want to bowl more often, there are a variety of leagues you can join that take place throughout the week. These leagues are split into different categories, such as men's and women's, and also junior league. Alley Katz is a great and popular place for your kid's birthday party! There is also a game room near the entrance. Alley Katz is a family environment, where anyone can have a great time.

Cleat's Sports Club

phone: +1 401 596-4107

address: 116 Granite St

Cleats Sports Club was created in 1991. It is a bar and a restaurant, and serves breakfast, lunch and dinner. They have appetizers, burgers, sandwiches, grinders, and a wide selection of beverages. Five televisions are placed around the room, so you can view any sports game. There is also a pool table, where you and your friends can play a game for a dollar. Cleat's is in a great location, where you can eat food while watching sports, or while bowling!

Summer Pops

address: Wilcox Park

Since 1981, the Chorus of Westerly puts on the Summer Pops every June in Wilcox Park. Now, 25,000 people attend this event to start their summer. The concert features the Chorus of Westerly and the Boston Festival Orchestra, and closes with fireworks by Grucci.

Spring FestivalThe first annual Spring Festival was held in May 2011. This event lasts for 3 days and includes a variety of food and commercial vendors, festival games, major rides including a Ferris Wheel, a petting zoo, street entertainers, and live music. Fireworks kick-off the first night of the festival.

Fall FestivalSimilar to the Spring Festival in every way except for the season. The first annual Fall Festival was held in September 2011. This event lasts for 3 days and includes a variety of food and commercial vendors, festival games, major rides including a Ferris Wheel, a petting zoo, street entertainers, and live music. Fireworks kick-off the first night of the festival.

Shakespeare Festival

address: Wilcox Park

This popular event started 20 years ago and takes place in Wilcox Park in Westerly. It attracts over 20,000 audience members every year. In the summer of 2011, The Colonial Theater put on a performance of The Tempest. For the summer of 2012, they will put on a performance of Macbeth. The festival lasts 18 days, starting July 11-29.

Annual Virtu Outdoor Arts Festival

address: Wilcox Park

This annual festival started in 1997. Every year on Memorial Day weekend, about 180 artists present their works in the festival, where citizens can observe and buy various items such as paintings, sculptures, and jewelry. These works of art include visual and also performing arts. Food is also available, from fried dough to burgers and grinders.
Beaches
Rhode Island Beach entrance fees (2017):
Residents: weekdays $6 per car, weekends $7 per car.
Non-residents: weekdays $12 per car, weekends $14 per car.
Seniors: 50% discount from above rates
See
Rhode Island State Parks
for up-to-date information.
phone: +1 401 322-1206

address: 149 Atlantic Ave

Generally considered one of Rhode Island's finest beaches, You can find Misquamicut Beach Parking for $10-30 depending on the day. There are several private lots that are easier to access than the state lot. The water is beautiful. It's normally too cold in June, but warms up at the end of July and stays nice through the beginning of October. Activities include amusement parks with a carousel, mini-golf, go-carts, batting cages, kiddy rides, water slides, paddle boats and jet skis.

East Beach

address: Larkin Ave

Open daily. This beautiful beach, hidden from the road, is a great place to spend a gorgeous summer day. There is a sandy path from the road that leads down to the beach where you will find lots of space to sprawl out and read a book for the day or play football on the beach. This beach is hardly ever crowded as there is limited parking, located downtown, so many of the people at the beach are tourists that live within walking distance to the beach. Parking down town on Bay Street is slightly more expensive than the other beaches in town, about $20 on the weekends and $10 during the week, but completely worth it! There are also lots of shops on Bay Street as well as a few restaurants worth checking out.
Buy
Anya Blu

phone: +1 401 315-0700

address: 38 High St

A specialty boutique, Anya Blu has been voted "Best Hipster Clothing" by RI Monthly Magazine. Shop for brands that you won't find anywhere else in town.

phone: +1 401 315-2240

address: 119 Bay Street, Watch Hill, RI & 1 Railroad Ave

Christina's has unique merchandise that includes brands like this summer from Lilly Pulitzer, Free People, Eliza B, and many others.

phone: +1 401 596-4421

address: 27 High St

Established in 1947, Nigrelli's is a family owned and operated jewelry store. Choose from their great selection or have them make something custom for you. The service is great; everyone who works there is so friendly.

phone: +1 401 596-2314

address: 8 High St

Since 1934. Watches, diamonds and diamond jewelry, pearls, gold chains and tennis bracelets, sterling silver earrings and pendants, engagement and anniversary rings.

McQuade's Marketplace

phone: +1 401 596-2054

address: 106 Main St

Located on Main Street in Westerly, and also in Mystic, CT and Jamestown, RI, McQuade's is a well known grocery store. It is also a pharmacy and catering service. There is a butcher shop, baker shop, floral gift department, and a video rental section. They carry fresh seafood and produce, and pre-made "Heat and Eat" dinner items. They also see to specialty services such as cakes, catering, florist services and fruit and gift baskets.

phone: +1 401-348-1035

address: 109 Bay St

This small shop, located in the village of Watch Hill within Westerly, is a great place to stop by when you are walking around and are "looking for a new look." This store has many brands, ranging from Vineyard Vines, to Peter Millar, to Jack Rogers Sandals for the ladies. They cater to both men and women and have a wide variety of items and price ranges.
Eat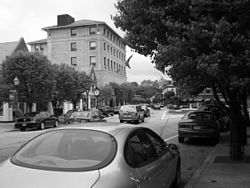 Breakfast
Christina's Place

phone: +1 401 596-3406

address: 75 Oak St

This small Italian has incredible breakfast meals with large portions. Prices are very reasonable.

Bagels and More

phone: +1 401 596-9554

address: 105 Franklin St

Fresh bagels make for a classic bagel sandwich.

Amanda's Pantry

phone: +1 401 596-7180

address: 169 Main St

Amanda's Pantry is one of the best breakfast restaurants in town. They are conveniently located on Main Street, the staff is friendly and helpful, and the food is excellent. They also serve lunch.
Lunch
Friendly's Ice Cream Shop

phone: +1 401 596-9552

address: 140 Franklin St

Classic meals for a low price.

phone: +1 401 596-2004

address: 15 Post Rd

(Route 1). Sandy's has a wide selection of the highest quality produce and the areas largest selection of organic products. The deli prepares wonderful fresh foods daily. Sandy's also has a variety of unique sandwiches and wraps made to order: Try a "Misquamicut," (hummus, sprouts, green peppers, choice of cheese on a spinach, wheat or tomato wrap next time you visit.

Ritacco's Market

phone: +1 401 596-1835

address: 84 Oak St

The classic Italian subs to their specialty. Grinders are a great value at $6.50 average.

Reale's Groceries

phone: +1 401 322-2323

address: 122 High St

One of two old, Italian grinder places in Westerly that are highly regarded. Features soft grinder rolls and they are well known for their meatball grinders. Outside of the meatball this is not the place to go for hot grinders as it is the only one on the menu, and they do not toast their grinders. They also have hard to find Italian meats, such as prosciutto and mortadella, which they feature in their loaded Italian grinder.

Ritacco's Market

phone: +1 401 596-1835

address: 84 Oak St

This is the second of the old Italian Westerly grinder places that have almost been around longer than cars (barely kidding). Here, they use very hard bread that they bake themselves every morning. They also sell Italian delicacies such as soupy and wandies. The hot grinders are the specialty here, they have meatball, steak and cheese, sausage and peppers amongst many, many more. They also toast every grinder unless you specify you do not want it toasted.

Hilltop Café (Pods)

address: 23 Canal St

Hands-down the best pizza you will find in Westerly. Not exactly a family-friendly atmosphere, but if pizza is what you are looking for Pod's is head and shoulders above everywhere else. There buffalo wings are also terrific, and they have a full service bar. Also, don't expect to be waited on hand and foot; the service will leave something to be desired.

The Cooked Goose

phone: +1 401 348-9888

address: 92 Watch Hill Rd

One of the best places in Westerly to get a sandwich! The Cooked Goose is a breakfast and lunch restaurant. Their menu consists of a variety of delicious sandwiches, along with baked goods, appetizers, soups, salads, and burgers. It is in the perfect location, right near the beach! They host parties and other events.
Dinner
phone: +1 401 596-4075

address: 2 Canal St

A great steakhouse in Downtown Westerly, Dylan's extensively tests various cuts, grades and producers in order to serve you the highest quality meat. Within walking distance to Downtown stores and Wilcox Park.

phone: +1 401 348-0511

address: 15 Railroad Ave

A small but very nice (with candle light and soft music) Thai restaurant.

phone: +1 401 348-5050

address: 130 F Granite St

This restaurant will please anyone who loves authentic Italian food. The unique murals on the walls provide for a real Italian experience.

Primetime Café

address: 1 West Broad St

Primetime is just across the Westerly/Pawcatuck border and has large picture windows that overlook the Pawcatuck River. They serve breakfast, lunch and dinner. They serve a limited menu, if variety is what you are looking for this is not the place for you. However, the portions could feed a small army. It is almost a hole in the wall, but it is definitely worth a try if you want to get away from the beach area.

Dunn's Corners Pizza

address: 271 Post Rd

They offer your average pizza and grinder selection, pastas, sandwiches and burgers. The burgers are a terrific bargain as you can get a good-sized burger for only $5. The grinders are a little bit light on meat, which is a shame because the bread is fresh baked and delicious. The buffalo chicken pizza is awesome; they mix buffalo sauce with pizza sauce for their own mix. DCP has the feel of a local place, and their prices are the cheapest in the beach area.

phone: +1 401 322-4070

address: 265 Post Rd

This restaurant will become a favorite for all who enjoy Western BBQ.

phone: +1 401 322-2045

address: 224 Post Rd

There's always a great atmosphere at Applebees, from the waiters to the decorations. It is a very community oriented restaurant, with their walls adorned with pictures and uniforms from local high school sports teams.

phone: +1 401 348-0055

address: 165 Shore Rd

Venice is a restaurant and banquet facility that is located near the beautiful seaside.

phone: +1 401 596-7871

address: 84 High St

In Downtown Westerly, offers Mediterranean dishes, steak, salad, and pasta.

Chen's Village Restaurant

address: 156 Granite St

Chen's offers quality Chinese food in a casual environment. What sets Chen's apart from the other Chinese restaurants in Westerly is the dark brown duck sauce. It may seem like a small detail, but it does greatly improve the experience. The service is good and quick and it is never over-crowded. This place offers the best Chinese dinner menu that you will find in Westerly.

phone: +1 401 348-6221

address: 62 Franklin St

This restaurant is best described as an intimate atmosphere but at the same time a homely feeling. Dishes here include a little of everything- international influences on pastas, seafood and steaks, make up this menu sure to have a little of everything for anyone.

phone: +1 401 348-8211

address: 74 Bay St

Surrounded by many shops, the ocean, and one of the oldest carousels in America, Olympia Tea Room is as beautiful as its surroundings. Closes during the winter; reopens in Spring.

phone: +1 401 348-9941

address: 300 Atlantic Ave

Family style seafood restaurant, open since 1997.

99 Restaurant

phone: +1 401 348-8229

address: 7 Airport Rd

A family-like environment, 99 has a wide-ranging menu.

Mario's Northend Pizzaria

phone: +1 401 596-9393

address: 61 Friendship St

Mario's is one of the many pizza restaurants in the town of Westerly; however it is one of the best. Not only do they have great tasting pizza, but they also serve soups, salads, sandwiches, grinders, seafood, wraps and many Italian dishes. An arcade was put in the restaurant, so your kids will love it! This is a great family environment.

Pizza Place

phone: +1 401 348-1803

address: 43 Broad St

Since 1998 the Pizza Place has provided the town of Westerly with arguably the best pizza around. This is the best place to eat after spending a day at the park, because it is located right in downtown Westerly. Not only is their pizza something to talk about, but their Foccacia Bread is loved around town. They serve salads, appetizers, red pizzas, white pizzas, pasta, and grinders.

The Brazen Hen

phone: +1 401 348-8100

address: 4 Canal St

This bar and grill allows for walk-ins, big groups, and service inside and outside. When you walk into this restaurant, you get the feeling like you are in an Irish Pub. You feel extremely comfortable in the setting and they have a pub-style lunch menu: many different sandwiches, wraps, Irish dishes, salads, soups and burgers. They seem to be quite well-known for the french fries.

phone: +1 401 322-1717

address: 336 Post Rd

This restaurant is home of the classic 19th century tavern that makes you feel alive when you stop in. You can stop by for a quick bite to eat, a full meal, or a beer. The bar scene here is quite nice, with plenty of huge flat screen TVs, live music and ice cold drinks on tap.

phone: +1 401 315-0788

address: 265 Post Rd

Its sister restaurant, "The Cooked Goose" is primarily for breakfast and lunch. This restaurant features all local seafood for lunch and dinner. You can go into this establishment and order pretty much any type of fish, clam, soup, chowder and they even have a raw bar. Though certain items can get a little pricy, just remember that fresh, local seafood might be worth the extra price.
Ice Cream
St. Clair Annex Ice Cream and Sandwich Shop

phone: +1 401 348-8407

address: 141 Bay St

In off season be sure to call ahead for hours. This family owned business was established back in 1887 and has been passed down 5 generations. There is inside dining and a pick up window to order ice cream from. Be sure to try one of their famous lobster rolls and the homemade ice cream in a wide range of flavors.

Downtown Creamery

address: 37 West Broad St

The Downtown Creamery is located in downtown Westerly, on the border of Westerly and Pawcatuck. This is a place where you can eat and enjoy your ice cream in a clean, friendly environment. One of the famous items on the menu is the "Big Kahuna."

Dusty's Ice Cream

phone: +1 401 322-4040

address: 61 Friendship St

Dusty's is one of the many ice cream shops in Westerly. They offer many specials and are famous around town for selling Del's Lemonade.
Misquamicut Beach
Cafe al Mare

address: 142 Atlantic Avenue

Local bistro with breakfast and lunch, along with all sorts of beverages.

Little Mermaid

address: 139 Atlantic Avenue

Beachfront snack shack.

phone: +1 401-348-8200

address: 65 Atlantic Avenue

Fine dining in Misquamicut.

Maria's Seaside Cafe

address: 132 Atlantic Avenue

Great dining right on the main drag in Misquamicut.

Sam's Snack Shack

address: 301 Atlantic Avenue

Beach Side Snack Shack. Excellent food. Breakfast, lunch and afternoon snacks

Seafood Haven

address: 668 Atlantic Avenue

Local seafood stop, order and eat outside. Great food.
Drink
phone: +1 401 596-1260

address: 62 High St

"Perks" is a coffee house by day, bar by night and has even been recognized by Best of RI Magazine to be the "Best Day to Night Hangout." On any given night there is live music at Perks whether it be a local band or an open mic night, a crowd is sure to gather. The place is decorated with comfy couches and living room furniture all around.

phone: +1 401 596-2610

address: 159 Atlantic Ave

This restaurant/bar is located right on the ocean's shore with three different dining areas and two cocktail areas located outside, one on the beach and one on the deck. Paddy's has specialty drinks made in souvenir glasses that you can buy once for about $20. There are DJ deck parties most weekend afternoons and nightly entertainment (check the online calendar for dates).

address: 89 Atlantic Ave

This restaurant/bar/hotel is located right on the Atlantic with a back deck leading onto the beach. They offer lunch and dinner menus, with a comprehensive seafood menu. At night, there is usually either a DJ or a band, which are listed on their website. Paddy's can be found just a few doors down, also right on the beach for those that like to move around.

phone: +1 401 315-2184

address: 42 High St.

Located the heart of Westerly's historic downtown district, this pub is family owned and operated and boasts an impressive assortment of micro-brews, craft beers, fine wines, and quality spirits from within the United States. They also offer an extensive menu of specialty pretzel sandwiches (including desert and gluten-free pretzels) which are made to order by hand. 'The Barley' is quickly becoming a favorite with locals and area musicians perform regularly.

phone: +1 401 212-7592

address: 63 Canal St

Small brewery producing tasty beers that you can try in a comfortable tap room. Be warned, if you buy the glass, the samples are quite big.

Sandy's Lighthouse Bar

Windjammer Bar
Sleep
phone: +1 401-596-2892

address: 110 Post Rd

phone: +1 401 348-8953

address: 70 Winnapaug Rd

Within walking distance to Misquamicut beach, The Breezeway offers modern guest rooms, suites and cottages situated on a peaceful, park-like setting

The Hotel MariaLocated across the street from Misquamicut beach, Maria's Suites offers 5 oceanview suites and guests enjoy resort privileges at the Breezeway Resort

Pine Lodge Motel

phone: +1 401 322-0333

address: 92 Old Post Rd

phone: +1 401 348-8200

address: 65 Atlantic Av

Point One Resort

phone: +1 401 348-0320

address: 26 Winnapaug Rd

phone: +1 401 447-638

address: 212 Shore R

Hilltop home with 11 rooms with ocean view. Minutes from the beach and a casino.

phone: +1 855 678-0364

address: 1 Bluff Av

Constructed in 1868, the Ocean House hotel was once an Victorian-style architectural masterpiece which became a must-have summer home to the wealthy of the 1900s. The hotel was deemed unsafe and beyond repairs and was torn down and rebuilt just as beautiful as the original even keeping some of the original architecture. 49 guest rooms. Amenities also include a spa with hair salon, indoor lap pool, state of the art fitness center and only a few steps away are views of the private beach. There is also one fine dining restaurant on the premises and three other places to grab food on the go.

Langworthy Farm Bed & Breakfast

phone: +1 401 322-7791

address: 308 Shore Rd

The B&B offers four rooms and two suites. Each room has a signature name like Weekapaug Room or Langworthy suite that are tastefully decorated and comfortable furnishings. Langworthy farm also has its own winery for wine tastings.

Paddy's Beach Hotel

address: 159 Atlantic Avenue

5 Rooms with beachfront decks.

Sandy Shore Hotel

address: 149 Atlantic Avenue

Sand Castle Inn

address: 141 Atlantic Avenue

Sea Shell Motel

address: 19 Winnipaug Road
Camping
Burlingame State Park is a large tourist attraction, and they allow camping, hiking, fishing, and biking. Located off of Rt. 1 North, it is about 15 minutes from Misquamicut and makes you feel at one with nature. State fees do apply, check out www.riparks.com for more information about rules and restrictions.
Jim's Trailer Park
allows space for around 35 campers. Located directly on Misquamicut Beach within walking distance of bars and restaurants. +1 401-322-0728. Call for availability and rates.
Stay safe

Never mix drinking with swimming, driving or any other activity. This may result in serious injury or death. Call Wright's Taxi at +1 401-596-8294 or Eagle Cab at +1 401-596-7300 if there is any question in your mind about your alcohol level. Westerly Police and Ambulance have a strong presence in Misquamicut.

Go next