Western Galilee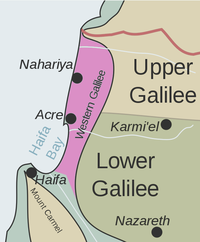 The Western Galilee is the most northern coastal region of Israel.
Cities
AkkoA historical city on the far north coast of Israel, a UNESCO World Heritage Site, and a pilgrimage site for the Bahá'ís.

Nahariyyathe northern terminus of the coastal railway line. A modern city with beaches and water activities.
Other destinations
Rosh HaniqraA dazzlingly white coastal rock cliff formation, close to the Lebanese border.
Understand
The
Western Galilee
aka
North Coast
of
Israel
extends along the Mediterranean Sea shoreline for 40 km, from the
Carmel Range
to
Rosh Haniqra
on the Israeli border with
Lebanon
, and inland across the coastal plain for 5-10 km until it reaches the hills of the
Upper Galilee
and
Lower Galilee
. It is a relatively isolated and tranquil region of great natural beauty, great opportunities for outdoor fun and full of historical and cultural interest. The "Bahá'i Holy Places in Haifa and the Western Galilee" in the region have been inscribed on the
UNESCO World Heritage List
.
Most people speak Hebrew, but many residents also speak Arabic or English.
Get in
Train, bus, car or hitch-hiking into the Western Galilee are the options you have. See
Akko
on more specifics.
A train extension to get to and from Karmiel, in the central Galilee, is scheduled to open in 2017.
Get around
By train
Nahariya railway stationThis station is the terminus of the main line from further South in Israel, providing direct Israel Railways service to Tel Aviv, Haifa and other points

Acre railway stationThis station is an intermediate stop on the same line as Nahariya

Kiryat Motzkin railway stationThis station sits on the same line as the Acre and Nahariya stations
By bus
Regular bus services also run along the coast until Rosh Haniqra.
By car
You should take highways 2 (south of Haifa) or 22 (north of Haifa) which are motorways, or highway 4 which is a more local road.
By thumb
Hitch-hiking is also possible and relatively easy north of Akko.
See
Apart from the sights within
Akko
and
Nahariyya
and the dazzling
Rosh Haniqra
, the following are of interest.
phone: +972 4 6937069

An idyllic, if sleepy, site on the coast. The secluded beach is known for its abundant sea life, including sea turtles during July and August when they come ashore to lay their eggs. North of the beach, the shore is lined with small rock formations which house a lot of sea life in their water-filled pools. You will see fishermen standing on the rocks, giving the illusion that they are standing on the water. Another sight is "Achzivland" - in the 70's Eli Avivi, an Israeli hipster, declared this piece of land next to the Achziv National Park an independent nation. Avivi's micro-nation has not been officially recognized by the Israeli government, but he will stamp your passport if you enter through the foreboding fence that surrounds this tiny bit of land. (Remember that proof of having been to Israel in your passport can cause unintended visa trouble with many Islamic countries.) Achzivland boasts its own private beach, a cheap hostel, and a museum.

Kibbutz Lohame Hageta'otThe kibbutz has as its western perimeter wall an actual Roman Aqueduct which is a great sight to behold.

Roman AqueductThis aqueduct has conquered time far better than the Ceasarea aqueduct, and it has almost completely been preserved in height and look on a distance of about 400 m. Best to walk in from , because probably from the museum you will not be able to climb on top of the aqueduct. You might also just walk straight towards the aqueduct from the highway – it is clearly visible from there.

phone: +972 4 9958080

Located in Kibbutz Lohame Hageta'ot, whose name means "Ghetto Warriors" since it was founded in 1949 by Holocaust survivors, Jewish partisans, and survivors of the Ghetto Uprising. The museum contains many things related to the Warsaw Uprising.
Do
Sea to Sea hike from the Mediterranean Sea to the Sea of Galilee. A 3-4 day hike, and a pleasant way to experience the Upper Galilee.
Akhziv Field School runs a tour of the Akhziv lagoon, where you can find sea creatures (like crabs and starfish) and the guide explains the ecosystem. Goggles recommended. (See below for location.)

Tel Kabri ExpeditionAn archaeological dig that takes place every odd year's summer. If you're studying archaeology it's great for field experience. It is for students who sign up only, no tourists are permitted.
Sleep
Not many remote accommodation options. Have a look at the main cities to find a place to stay.
Betzet Beach (camping)Not accessible in summer, but September to April. There are even some parasols (of the Banana Public Beach) there, against potential rain.

phone: +972 3 638 86 88, +972 4-952-2599

Great option for budget travellers. Most mini apartments come with bunk beds as well as multiple rooms and bathrooms. The common kitchen including stove and fridge are available for use. You have to call, as they don't do bookings via email or website.
Go next