Western Thrace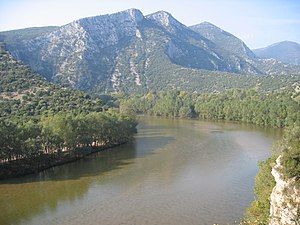 Western Thrace
is a region in
Greece
. In Greek, it is referred simply as Thrace (Greek: Θράκη), as there is no other Thrace in Greece.
Eastern Thrace
is part of
Turkey
.
Tourism in Western Thrace is developing along the seacoast from Abdera to
Maroneia
but many travelers on their way to
Turkey
still make few stops in the region. The archaeological sites of Abdera and Maroneia, the traditional settlements of
Xanthi
and
Komotini
, the
Rhodope Mountains
range, the
Nestos
river gorge and delta, are the most interesting features of Western Thrace.
Regions
Cities
— Coastal city with ferry links to Samothrace
(meaning 'Twin Walls') — A typical Greek town, but well worth a detour if you are interested in Byzantine and Ottoman styles of art.
— A charming 'Pomak' (Greek Muslims) village on a valley of the Rhodopes Mountains.
— A town with a 12th century Byzantine style church adorned with numerous frescoes.
— City with a Muslim/Turkish community
— the ancient Ismaros, the largest and most important of all Greek colonies of Western Thrace, mentioned by Homer in the Odyssey.
— The old town still preserves its traditional flair, attracting plenty of tourists from Thessaloniki and other Greek cities.
— An old town with pleasant cobbled narrow streets and old buildings
Other destinations

— Lake and site of Anastasiopolis a Byzantine archaeological site
— One of the wealthiest cities of Ancient Greece, birthplace of the philosophers Democritus, Protagoras and Anaxarchus, and the lyric poet Anacreon.
— One of the wealthiest cities of Ancient Greece,
— Marshes and wetlands across the Turkish borders attracting large flocks of migratory birds in autumn, when breeding is over in Europe.
— Heavily wooded hills providing a habitat for diverse wildlife not common in other areas of Western Thrace.
— The best seaside resort of Western Thrace.
— Comprises freshwater lakes and ponds that offer refuge for birds and various mammals. Further North extends the "Kotza Orman" (Great Forest), once a very large forest but today restricted to some fragments along both sides of the river.

Talk
Greek
is the native language of most the people of Thrace. Most of the Muslims in Thrace are ethnic Turks and speak Turkish as a native language. In villages north of Xanthi, Pomaks, who are ethnic Bulgarian Muslims, speak Pomakika (a dialect of Bulgarian). However, most people also speak passable English and some may speak German or other European languages.
Get in
By plane
The closest airport is "Alexander the Great" airport (
KVA
) in Kavala City. Flights, mostly charters, from all over Europe.
Alexandroupolis International Airport "Dimokritos" (AXD)

By road
is just 6 km southwest of on the Turkish side.
— The main border crossing between Greece and Turkey.
— Main border crossing between Greece and Bulgaria.
(Balkan Toresi) — This mountain pass provides quick access from central Bulgaria to Western Thrace, some 30 kilometres (19 mi) from Komotini, and to the Greek motorway Egnatia Odos. The distance from Kurdzhali to Komotini via Makaza is around 70 kilometres (43 mi) and takes approximately one hour and 15 minutes by car.
— The Greek border lies just 5 km away from the Bulgarian town Zlatograda. A very scenic route though driving can be a very hard experience.
By train
There was an international InterCity train jointly operated by the Turkish State Railways (TCDD) and Train OSE linking Istanbul's Sirkeci Terminal to Thessaloniki. Unfortunately the train service was terminated in 2011 due to cost cutting by Greek state-owned company Train OSE. Nowadays there are no trains from Greece to Turkey. You'd rather go to Istanbul's Main Bus Terminal (Büyük Otogar). There is at least one bus daily to Athens or Thessaloniki, stopping at Alexandroupolis, Komotini and Xanthi.
Some private companies running comfortable buses are Simeonidis Tours, Crazy Holidays and the low cost Alpar Tourism (20€).

— A village and rail border crossing between Greece and Turkey.
Get around
By car
The new super-highway
Egnatia
can get you anywhere in the region within an hour or an hour and a half for the most remote areas. It connects all the major cities in Thrace from
Xanthi
to the border crossing with
Bulgaria
in
Kastanies
north of Evros or the customs with
Turkey
to the east.
By bus
Even the smallest rural villages can be accessed by using a combination of local run buses.
By train
Frequent stops all along the region's sole train line and cities dotted along the Evros River. A scenic route for some but rather slow for the busy traveler.
By boat
SAOS will sail you to
Samothraki
daily or even more frequently during the summer period.
See

— A magnificent stone bridge
— A small but well preserved Macedonian tomb dating back to the first half of 4th century B.C.
(Thrakika Meteora) — Amazing rocky peaks surrounded by abandoned settlements. Access by car through a dirt road that starts east of Iasmos Town.
Do
Kayak or canoe descent of the river Nestos has become a popular sport and numerous hotels in
Stavroupoli
and nearby villages provide a trip package. Horse riding along the gorge is also available.
You can go for hiking in the Erimanthos Forest on the southern slopes of Rhodope mountains and spend the night in the basic cottages owned by the local park rangers.
Stay safe

Mosquitoes are a matter of increasing concern along the coastal marshes. As a rule the hotels do not provide anything and you have to buy specific products to protect yourself

Go next