Weston-super-Mare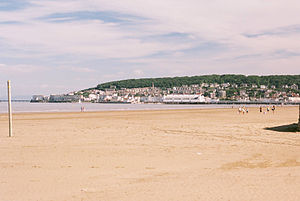 Weston-super-Mare
is a typical English seaside resort on the shore of the Bristol Channel, in the traditional county of
Somerset
, approximately south-west of
Bristol
, 35 miles west of
Bath
and 20 miles north of
Bridgwater
. The main attraction, Weston Bay, has miles of clean sandy beach and traditional seaside attractions.
Get in
By rail
Weston is accessible by train.
Weston-super-Mare station
lies on the mainline from Bristol to the South West. Direct trains are available from London, Birmingham, Gloucester, Cardiff, Taunton and Exeter, with connections from all parts of England, Wales and Scotland.
By coach or bus
National Express coaches connect to most parts of Britain. Buses connect directly with Bristol, Bath, Bridgwater, Taunton and Glastonbury.
By road
Weston lies approximately 3 miles off the M5 motorway, at junction 21.
By air
The nearest airport is (
BRS
). It is possible to get an airport bus to Temple Meads or Parson street railway stations in Bristol and take a train to Weston from there. Bus 121 runs direct, but slowly and infrequently. The quicker but more expensive option would be to take a taxi (£25).

Get around
Most of the major attractions lie within easy walking distance of the railway and bus stations. There are local bus services within the town provided by
First Bus
Taxi services are located centrally, and a trip from the town centre to the outskirts can be expected to cost around £5.
There are also two smaller rail stations that alight in more residential areas, Weston Milton and Worle, which are serviced approximately every half hour.
See
phone: +44 1934 417117

address: Winter Gardens Royal Parade, BS23 1AJ

Accommodation booking, discount tickets, travel information, maps, tourist leaflets

phone: +44 1934 620238

address: Marine Parade

The Pier suffered a devastating fire in 2008, but in October 2010 the £39-million rebuilt pier opened to the public. The Grand Pier includes multiple attractions including a Go-Kart Track, Robo Coaster and Ghost ride. Entry is £1. food and drinks are available and there is also a themed bar

address: Beach Lawns, Weston-super-Mare, BS23 1AT

The Wheel of Weston is a 40-meter high observation wheel which 30 pods are attached. Each pod can take 8 people, brilliant views of surrounding area on clear day.

address: Burlington Street

Illustrates the history of North Somerset from prehistoric times to the present day. Finds from Worlebury Hill Fort are on display and other exhibits include minerals, natural history, costume, a chemist shop, dentist and dairy. Shop and cafe

address: The Heliport, Locking Moor Road

Claims to be the largest dedicated helicopter museum in the world. Over 80 rotorcraft from all over the world. Many foreign helicopters are featured, in particular Soviet-era and Eastern European craft. Also helicopters from the Queens Flight, including a Wessex. Offers regular 15 mile summer Helicopter Experience Flights over the area.

phone: +44 1452 814213

address: Brean

National Trust-owned peninsula 2 miles to the south of Weston, jutting out into the Bristol Channel, with a Victorian fort and steep cliffs. Refreshments in Brean Cove car park.

The BeachHas two miles of sand, although at low water the sea can be nearly a mile away from the Promenade. There are designated areas for kite buggies, small land yachts and kite boards, while jet skiers, power boat users and other boats can launch from Knightstone slipway. Traditional donkey rides.

Marine LakeLocated at the northern end of the beach, Marine Lake is a small man-made lake filled at high tide by the sea. It has a beach as well as a concrete walkway around the landward side, and a causeway at the ocean side. Popular with families as the water is calm and fairly shallow.

phone: +44 1934 613361

address: Marine Parade

Over 25 displays allowing visitors to see aquatic life from local waters and regions of the world. An underwater tunnel lets visitors get close to the sharks, rays and other creatures as they swim by. Shop and cafe

phone: +44 1934-636734

address: Knightstone Harbour

Trips around Weston Bay lasting for an hour, and also a longer day trip to the nature reserve of Steep Holm and Flatholm Island in the Bristol Channel. The MV Balmoral and the PS Waverley occasionally call in at Weston. Details from Tourist Information Centre

Sand Bay

address: Kewstoke Road

Sand and shingle, salt marsh and site of Scientific Special interest at northern end. Cafe, restaurants, shops, toilets, a campsite and caravan park are all available.
Do
address: High Street

658 seat theatre hosting summer variety, concerts, dance, films, drama, local amateur productions and a Christmas pantomime.

The Winter Gardens

phone: +44 1934 417117

address: Royal Parade

Ballroom dancing, conferences, farmers' markets, fairs, wrestling in a pavillion opened in 1927.

address: The Centre, High Street

4 screen miniplex showing main feature films, online booking available

phone: +44 1934 645493

address: Wadham Street

200-seat community theatre and arts venue, with a programme of plays, concerts, puppet theatre, films and dance performance.

phone: +44 1934 635227

address: Beach Lawns, Sea Front

Two-day event in June with air displays and static exhibitions.

Sand Sculpture Festival

address: The Beach

Spectacular sculptures by artists from around the world. The largest may be as high as 10 feet tall and use up to 20 tons of sand.

address: The Beach

October - annual extravaganza of motorcycle stunts and races over a specially constructed sand course.

address: town centre and seafront

part of the Somerset carnival season, November annually

address: Highlands Lane, Locking Castle

Skateboard park, BMX area, sports halls and pitches

phone: +44 1934 642426

address: Marchfields Way, BS23 3QP

Sports hall, indoor climbing wall (term time Mondays only 5-6PM), all-weather floodlit artificial turf pitch, outdoor floodlit courts, gymnasium, multi-use games area, outdoor grass pitches, fitness suite.
Buy
High Streetmain shopping centre

phone: +44 1934 644111

address: High Street, Salisbury Terrace, BS23 1HL

38 shops and a cafe.
Eat
There are many fish and chip shops, cafes and other fast food outlets in and around the High Street and sea front. Also a small number of Indian and Chinese restaurants and take-aways.
address: 25-27 St James Street, BS23 1ST

Japanese restaurant serving fine cuisine and sushi

address: 14 Knightstone Road, BS23 2AN

Situated in the oldest building in Weston is this family-run restaurant specialising in steak and fish.

Bengal Raj

address: 8-20 Boulevard, BS23 1NA

Indian restaurant.
Drink
A range of traditional style pubs and national chain outlets, many serving food, concentrated around the High street area and sea front.

Sleep
Large numbers of guest houses, also self-catering accommodation and a few independent hotels.
Go next