Westport (Ireland)
Westport
is a heritage town in
County Mayo
in the Republic of
Ireland
. It's on the west coast directly under the shadow of the holy mountain of Croagh Patrick.
Get in
Westport can be reached quite easily in 3.5h by train from Dublin, by road, or by plane to Knock Airport.
The train station is located just outside of the town on the Galway road and the
timetables are online
.
Get around

Westport is small enough to get around by foot; however most people use Westport as a base and then you will have to think about getting a car, bike or hiking around by foot.
The public transport around Westport is not all that good, so you may need to get a car. It's easy enough to rent via one of the mainstream agencies, or you can try getting a taxi. Bikes can also be rented quite easily.
Hitchhiking is also done a lot here and it is quite easy to get a lift up to, for example, Achill - or Croagh Patrick.

See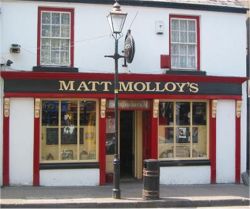 Croagh PatrickOne of Europe's best know places of Pilgrimage, some pilgrims climb barefoot in the memory of St. Patrick, who spent forty days and forty nights fasting on the summit more than one and a half thousand years ago. Magnificent views of Clew Bay, with an island for every day of the year, provides inspiration for many walkers and visitors throughout the year.

phone: +353 98 27766

One of Ireland's top Day Visitor Attractions. It is a Georgian mansion and the home of Lord Sligo and is open from April to September.

Clew BayA beautiful bay filled with hundreds of small islands. These are actually semi submerged drumlins from the last ice age. The road along the north end of the bay leads to Achill Island, whilst the road along the southern rim goes back to Croagh Patrick and onto Louisburgh, terminating at Roonagh where one can get a ferry to Clare Island.
Do
GolfWestport Golf Course is a world class 18-hole championship golf course at Westport Golf Club. All hotel courses will be delighted to arrange tee times, caddies, transport and an early breakfast.

FishingWestport is renowned for its deep-sea fishing and there are many courses which show you the way. Local boats are available for hire. The boats are skippered and fully equipped with fishing tackle.

CyclingThe Great Western Greenway is a dedicated cycling and walking route that departs Westport to the north, generally following the path of the old Great Western Railway. It connects Westport to Newport, Mulranny and Achill Sound. Bicycles are readily available for hire, and most of the hire companies will drop you to one part of the Greenway and collect you from another.
Eat
Ardmore Country House Hotel & RestaurantWell known for its excellent cuisine which uses only the best local produce and is especially well known for its preparation of seasonal seafood and beef dishes.

The Castlecourt HotelThe Orchard Restaurant Head Chef, Alain Gaulier, brings a continental touch to the Westport cuisine scene. Served here is a mix of Irish and French cooking. Their restaurant has room to seat 240 people.

The Clock Tavern

phone: +353 98 26870

address: High St

This is a Tudor tavern in the heart of the town (the town's clock) and is well known for its traditional Irish meals. Tourist menus available in German, French, Spanish and Italian. A mix of live music most F-Su nights. A family owned premises, offering the highest quality food and a quality pint of Guinness.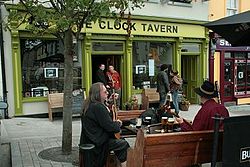 phone: +353 98 29771

address: High St

A relaxed and intimate bistro-style restaurant which serves classic Italian food from the home of the chef/owner (Angelo).

The HelmFamily run bar and restaurant located at the Quays overlooking Clew Bay.

The Quay CottageA tiny waterside cottage that has been gutted and converted into an atmospheric restaurant and bar. There are three dining rooms that can, in total, seat around 80 people. West coast seafood is a speciality, but all manner of vegetarian and meat dishes are also served. Reservations advised.

phone: +353 98 26528

The Sheebeen is a unique thatched waterside pub and restaurant just outside Westport past the harbour. Seafood is a speciality here and there are many daily specials to choose from.

The Creel Restaurant & Coffee House

phone: +353 98 26174

address: The Quay

Casual dining with a varied selection of daily specials and home-cooked desserts & cakes. The Seafood Chowder with freshly-baked traditional brown bread is said to be popular. Wine licence.
Drink
The Quays

The AsgardIn Westport harbour which is about a 10 minute walk from the centre with a nautical theme. it serves bar food and can be pretty busy.

Matt Malloys

phone: +353 98 26655

address: Bridge St

Located centrally, is always busy, and is pretty much well known for its traditionally music and is well worth getting early as it is usually packed. Owned by Matt Molloy of the Chieftains, considered one of the best Irish flute players today.
Sleep
Go next
Castlecourt Hotel the club here is called, originally "the Castle"