Wheeling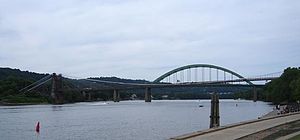 Wheeling
, also known as the "Friendly City" or the "Nail City", is a city of 31,419 people (as of 2000) in
West Virginia
.
Get in
Wheeling is located in the northern (or western) panhandle of West Virginia, between
Ohio
and
Pennsylvania
, approximately 45 miles southwest of
Pittsburgh
and 120 miles east of
Columbus
.
By Plane
Wheeling-Ohio County AirportThough this airport is open for public use, no commercial airlines service it.
The closest commercial service is located at
Pittsburgh International Airport
(
PIT
), which is approximately 40 miles northeast of Wheeling in Western Pennsylvania.

By Car
Interstate 70 is the primary route for reaching Wheeling from the east or west. Travelers in Northern Ohio and Western Pennsylvania can reach Wheeling via OH Route 7 or WV Route 2. Wheeling can be reached from Southern Ohio and Southern West Virginia via WV Route 2, or Interstate 79 and Interstate 77 for points further south. U.S. Route 250, U.S. Route 40, and WV Route 88 are other major highways that pass through Wheeling.
Wheeling Suspension BridgeThe first bridge to span the Ohio River, built in 1849 with a length of 1,010 feet, which was largely responsible for the influx of people to the area. At the time of its construction, it was the largest suspension bridge in the world, although that title was quickly usurped in 1851 by the Lewiston-Queenston Bridge. It remains, however, the oldest vehicular suspension bridge still in use.

Vietnam Veterans Memorial Bridge
By Train
The nearest passenger rail service is in Pittsburgh, PA, and is provided by Amtrak's Pennsylvanian and Capitol Limited routes. Wheeling can then be reached by car or connecting bus service provided by Amtrak.

By Bus
Greyhound Bus Lines. The city's bus station is located in the Intermodal Center Garage at 1405 Main Street in downtown Wheeling. Two daily services are available from Pittsburgh. Greyhound in Wheeling can be reached at the phone number +1 304 232-1500.
Get around
Since Wheeling is a small city, transportation options are limited.
By Car
Car is by far the most efficient way to get around Wheeling. Traffic in Wheeling is non-existent, outside of congestion related to road construction or vehicle accidents, so driving through Wheeling can be accomplished with a great deal of ease.
Interstate 70 runs east to west through the city, and provides primary access to all of the area's major roadways. I-70 enters the city by crossing a back channel of the Ohio River at Wheeling Island (Exit 0), providing access to U.S. Route 40, and the Wheeling Island Racetrack & Casino. I-70 then crosses the main channel of the Ohio River, entering downtown Wheeling, and then continues east through Wheeling Tunnel.
U.S. Route 40 (Old National Road) is the main commercial thoroughfare in Wheeling, traveling east to west through the city, and has several interchanges with I-70. State road 2 is Wheeling's primary north to south road, running roughly parallel to the Ohio River the entire length of the city. Route 2 is a limited-access freeway south of downtown, and becomes a two-lane surface street north of downtown. Interstate 470 is a spur to I-70 that begins in the Elm Grove section of the city (Exit 5A), and spurs south, crossing the Ohio River in the South Wheeling section of the city, and merging with I-70 outside of St. Clairsville, Ohio (Exit 219).
By Bus
By Taxi
Wheeling's primary taxi company is Yellow Cab, and they can be reached at the phone number
+1 304 232-1313
.
See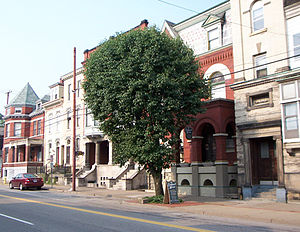 phone: +1 304-233-1600

address: 823-R Main St

Wheeling contains more Victorian architecture than any other city in the US, much of it having undergone extensive restoration. Tours available 1 to 3PM Saturday and Sunday, from May through December, beginning every half-hour from the Hess House at 811 Main Street. High tea and meals also available in a Victorian dining room. In early October, an open house is held in which Victorian buildings and private homes are made available to tour. Tours $3 - $8, meals $12 - $17.
Eckhart House, 810 Main Street, +1 304-232-5439 or +1-888-700-0118. Called Wheeling's "Crown Jewel", Eckhart House is a restored 1892 three-story Queen Anne town home with most of its original architectural features intact. Gift shoppe on-site. Tours are available 1 to 3:30PM Wednesday through Saturday for $3. Parlor teas available.
West Virginia Independence Hall

phone: +1 304-238-1300

address: 1528 Market St

Open 10AM to 4PM Monday through Saturday. Called the "birthplace of West Virginia" because the Wheeling Convention was held here in 1861, during which 32 counties in Virginia voted to secede and join the Union. Restored interiors, an interpretive video, audio tours, authentically-costumed guided tours, and an exhibition on West Virginia's statehood featuring dramatic displays with period artifacts.
The Ohio River riverfront is flanked by the 11-mile lighted Wheeling Heritage Trail if you want to walk, jog, rollerblade or bike by the water's edge. At the boat landing is Wheeling Heritage Port, an award-winning riverfront amphitheater that hosts events between May and October, like band concerts, holiday celebrations, an Italian festival, a chili cook-off and movie nights.
address: 1015 Main St

A 1928 movie theatre - the oldest and largest in West Virginia - which is home to the second-oldest country music program in the country, Jamboree USA. Weekly country music shows on Saturday night, touring Broadway musicals. Dinner show packages available.
phone: +1 304-232-6191

address: 1025 Main Street, Suite 811

Established in 1929, and today offering 11 concerts annually in their Masterworks series, Pops series, Symphony on Ice concert and free outdoor summer concerts. Tickets are $12 - $56 (student price $5), subscriptions are $93 - $218 (student price $15 - $218).
phone: +1 304-233-SING

address: 1228 Market St

Shows begin at 7PM on Saturday. Variety shows provided by local talent - including the Ohio City Revue, the Friendly City Band, and Elvis impersonator Earl Brown - in the restored Victoria Theatre.
phone: +1 304-843-1812

Palace Road off US-250. Guided tours available from 10AM to 8PM April through August, and 10AM to 5PM September through March. Located in a community called New Vrindaban, founded in 1968, which is a replica of Vrindaban in India. The Palace of Gold has been called "America's Taj Mahal". Gift shop, organic vegetable garden, snack bar, health shop, and award-winning rose garden on-site. Guest lodge and cottages available. Admission $6.
phone: +1 304-234-4625

address: 1315 Main St

Part of the East Coast Hockey League, the Nailers play October through April at the WesBanco Arena in downtown Wheeling. The Nailers are the "AA" minor league affiliate of the Pittsburgh Penguins and the Philadelphia Flyers. Tickets start at only $10.
phone: +1 304-243-4085

address: 1801 National Rd

406 acres including a swimming pool with waterslide, playground, boating, pedal boats, miniature golf, ice skating, tennis, soccer, and an outdoor aviary.
phone: +1 304-243-4000

Route 88 N. 1700 acres of parkland with dozens of activities, including shopping, golfing, miniature golf, swimming, pedal boats, tennis, horseback riding, fishing, skiing and snowboarding, walking trails, museums, a zoo and planetarium, floral gardens, and a resort.
Good Zoo and Planetarium. Over 80 species of animals from North America, South America and Africa, nestled in 30 acres of flowers, trees, hills, and valleys. Also features an indoor Discovery Lab where kids can learn about animals; a barn petting zoo with llamas, donkeys, deer and other animals; a 1.5-mile train ride past the ostrich exhibit; a wetlands walk; and a planetarium with family programs and an annual Astronomy Day.
Schrader Center. An environmental center constructed with environmentally-sensitive building products using environmentally-friendly building processes. Includes an exhibit hall, bird observation areas, a children's awareness area, and programs throughout the year.
Stifel Fine Arts Center, 1330 National Road, +1 304-242-7700 or +1-888-696-4283. dance and fitness, music, live theater, movies, choral singing, and the only hands-on art center in the region. Workshops and classes available.
Oglebay Institute Glass Museum. Over 3,000 examples of Wheeling glass made from 1829 to 1939. A highlight is the Sweeney Punch Bowl, the largest piece of cut lead crystal ever made, at five feet tall and 225 pounds. The Carriage House Glass gift shop offers the area's largest selection of West Virginia decorative glass.
National Imperial Glass Museum

phone: +1 740-671-3971

address: 3200 Belmont St

In Bellaire OH. Open 11AM to 3PM Thursday through Saturday, from April to October. Features an extensive array of Imperial glassware, including Candlewick, Carnival and glassware donated by the National Imperial Glass Collectors Society and the former Bellaire Glass Museum.
phone: +1 304-232-1812

address: 1400 Main St

In the Artisan Center. Open 11AM to 7PM Monday through Thursday, 11AM to 9PM Friday and Saturday, and Sunday by appointment. General store representing the 1800s to the present, with items made in Wheeling. Gift shop on-site.
phone: +1 304-242-8133

address: 144 Kruger St

A restored Victorian-era schoolhouse with thousands of toys from dolls and dollhouses, to toy soldiers, trucks and cars, trains, planes and ships, Western toys, space toys, cartoon characters, ride-on toys and more. Interactive displays, operating O and HO gauge train layouts, a room dedicated to Ohio Valley history and culture, a restored railroad caboose, and a gift shop on-site. Guided and self-guided tours available.
Point Overlook Museum

phone: +1 304-232-3010

address: 989 Grandview St

Illustrates Wheeling's history with photographs, maps and illustrations.
Historic National RoadThe nation's first federally-funded interstate highway, which began in Cumberland, Maryland and eventually reached Saint Louis Metro East in Illinois. The highway crosses the West Virginia panhandle from Little Wheeling Creek near Mt. Echo over Wheeling Island to the Ohio border. To drive it, follow the Historic Route 40 markers.
Events
Celtic Celebration, Artisan Center. Held during a weekend in early March. Music, dancing, crafts and food.
SpringFest, Oglebay Park. Held during a weekend in late April. 50,000 blooming tulips, daffodils and hyacinths, along with hand-crafted home and garden accessories for sale.
African-American Jubilee, Wheeling waterfront. Held during the last weekend in June. African-American food, fashion show, live music, arts and crafts.

Upper Ohio Valley Italian Heritage FestivalHeld during one weekend in late July. The largest Italian festival in West Virginia, and the third-largest in the country. Bocce tournament, pasta exhibit, wine competition and tasting, ethnic foods, arts and crafts, carnival midway, live entertainment.

American Heritage Glass and Craft Festival, Oglebay Park. Held during the first weekend in August. Traditional crafts, music and food, with costumed guides describing Wheeling's history.

Wheeling Heritage Port Sternwheel FestivalWheeling riverfront. Held in mid-September. "Anything that Floats" raft race, food, live entertainment, children's playground, and lots of sternwheelers on display.

Oktoberfest, Artisan Center. Held in mid-September. German food, music, and lots of beer.
OglebayFest, Oglebay Park. Held the first weekend in October. An artist's market with over 100 artisans, a harvest market offering West Virginia food products, chrysanthemum display, parade, fireworks display, live entertainment, dancing, juried arts and crafts show, home-cooked and ethnic foods, German Rathskeller and the Ohio County Fair.
Winter Festival of Lights, Oglebay Resort & Conference Center. Held from early November through early January, from dusk to 11PM. One of America's largest light shows since 1985, with a three-mile drive covering around 125 acres. Trolley tours available.
Do
phone: +1 304-639-3657

SDS puts on multiple Karaoke and Dj events throughout the Ohio Valley on a weekly basis. Schedule will be posted on Website. In addition, SDS provides the in house sound and light system for Yesterdays Draught House and Stage at 1056 Main St. Historic Downtown Wheeling. Shows are every Friday and Saturday night as well as occasional weekday events.
Foggy Bottom Family Fun Center, 68 East Cove Avenue, 304-242-PUTT (7888). Open Sa 11AM-11PM, Su 11AM-8PM. The area's largest mini-golf course and the only laser tag arena, as well as indoor batting cages, an arcade, and a cafe serving hoagies and pizza. During October, the Festival of Fright with three haunted houses is available on weekends from dusk to midnight.

Elm Grove Lanes

phone: +1 304-242-5800

address: 100 East Cove Ave

Open 9AM to 10PM Monday through Wednesday, Th 11AM-12AM, F 11AM-1AM, Sa 9AM-3AM, Su 11AM-8PM. Bowling alley featuring "extreme bowling" from Thursday to Saturday nights, when the black lights are turned on and the lanes glow.

Wheeling Island Hotel, Casino & Racetrack

address: 1 S Stone St

On Wheeling Island, +1-877-WIN-HERE (946-4373; gaming center) or +1-877-WHEELING (943-3546; hotel reservations). Open 7AM to 4AM. Over 2,400 slot machines, multi-line nickel games, video lottery games including Keno, 20 poker tables, and greyhound racing. Four restaurants and hotel on-site.

Mt. Wood House (The castle)

address: Rt 40 East&West Acsessable on Mt. Wood Rd. Just North on Stone Blvd

Mt. Wood Overlook is called "The Castle" by locals or "Stone House" to some people. It was going to be a house until the owner's wife had died so he was heartbroken and stopped building it and sold it to the city and opened it to the public.

Collect fossilsAbout four and a half miles northeast of Wheeling are a series of boulders from the Monongahela Group along Long Run, where late Pennsylvanian fossils can be found. The most common local fossil is the fern Pecopteris, but others include fish, the gymnosperm Cordaites, horsetails, the scale tree Lepidophyllum, and seed ferns.
Learn
The local newspaper is The Intelligencer and Wheeling News-Register, 1500 Main Street, +1 304-233-0100 or +1-800-852-5475 (both local), .
Wheeling Jesuit University, 316 Washington Avenue, +1-800-624-6992, . A Jesuit, Catholic, liberal arts university offering over 30 majors.
Buy
address: 17 Sunnyside Ct

Home decor, kitchen essentials, bedding sets, garden decor, bath and body, collectibles and figurines, and more.

phone: +1 304-455-3570

address: Proctor Creek Road in Proctor

Reproduction folk toys.

phone: +1 304-455-1728

address: Proctor Creek Road in Proctor

Quality honey, beeswax, bee products and services, honey bee hives and equipment, bee shows and educational demos.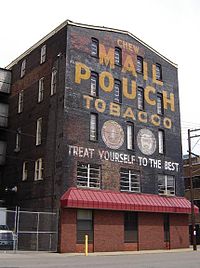 Shopping Centers
phone: +1 304-234-3878

address: 2200 Market St

Fresh food, gift shops, galleries, antiques and restaurants, housed in and around two market houses - an 1853 cast iron columned market house (the only one in the country) and an 1890 brick market house.

phone: +1 304-243-4000

Route 88 N. Seven gift shops, including Carriage House Glass (the area's largest selection of West Virginia decorative glass), Gourmet in the Gardens (gourmet and regionally produced food products) and the Palm Room seasonal plants and fresh flowers, herbs and hanging baskets).

phone: +1 304-232-1810

address: 1400 Main St

A renovated building with a three-story atrium in downtown Wheeling, housing retail shops, galleries, historic exhibits, and working demonstrations by local artisans.
Eat
Coleman's Fish Market, 22nd Street and Market Street in the Centre Market, +1 304-232-8510. Open Monday through Saturday. Fish, shrimp rolls, deviled crab, chicken, coleslaw and fries. Try the fish sandwich (fried fish on white bread) and clam strips. $2 - $3.

Generations Pub

phone: +1 304-232-7917

address: 338 National Rd

Popular local restaurant with live bands on Wednesday, Friday and Saturday. Appetizers, salads, sandwiches, pasta, steak and seafood.

Michael's Beef House

phone: +1 304-232-2231

address: 2200 Market St

Old-fashioned meaty sandwiches (roast beef, ham, turkey, corned beef, pastrami, reuben and more).

TJ's Sports Garden Restaurant

phone: +1 304-232-9555

address: 808 National Rd

Open daily from 11AM to 1AM (F,Sa to 2AM). Sports bar with a television at each booth. Appetizers, salads, sandwiches, beef, chicken, seafood, pasta, desserts.

Undo's Family Ristorante

phone: +1 304-233-0560

address: 753 Main St

In Benwood. Authentic, homemade Italian food. Soups, steaks, chicken, seafood, pizzas. Try the escarole soup and veal osso buco.

Ye Olde Alpha Restaurant

phone: +1 304-242-1090

address: 50 Carmel Rd

Neighborhood restaurant since 1932.

Pizza Villa

phone: +1 304-233-1160

address: 236 1/2 29th St

Serving the Valley's best pizza for over 40 years. A unique crust loaded with toppings for a great price. Try the take n bake pizza that you can cook at home.
Sleep
Budget
Comfort Inn Wheeling East, I-70 (exit 11) and Dallas Pike in Triadelphia, +1 304-547-0610. 106 rooms. Outdoor pool. Complimentary continental breakfast. Average price $44 - $70.

Haven Inn

phone: +1 304-845-2144

address: 302 Wheeling Ave

In Glen Dale.

phone: +1 304-843-1600 ext 11

Palace Road off US-250. Open April through November. 38 rooms, temple guest rooms, and 12 cottages. Buffet breakfasts, lunches and dinners available. Rooms and guest rooms are $30 peak season, $15 off-season; cottages are $125 - $150 excluding holidays.
Mid-range
Best Western Wheeling Inn

phone: +1 304-233-8500

address: 949 Main St

80 rooms. Fitness center, spa, on-site Riverside Restaurant.

phone: +1 304-233-0440

address: 795 National Rd

104 rooms. Outdoor garden, exercise facility. Complimentary breakfast bar and USA Today.
Holiday Inn Express East, I-70 (exit 11) in Triadelphia, +1 304-547-1380. 115 rooms. Fitness center, outdoor pool. Complimentary continental breakfast. Average price $75 - $121.

McClure House Hotel and Conference Center

phone: +1 304-232-0300

address: 1200 Market St

170 rooms. $90. Temporarily closed in March 2006, but due to re-open soon.

Super 8 Motel

phone: +1 304-243-9400

address: 2400 National Rd

55 rooms. Exercise room. Complimentary continental breakfast.

Holiday Inn Hotel & Resort Weirton

phone: +1 304-723-5522

address: 350 Three Spring Dr
Splurge
Oglebay Resort & Conference Center

phone: +1 877-436-1797

address: 465 Lodge Dr

212 rooms and 49 cottages. Indoor pool, outdoor pool at Oglebay, jacuzzi, sauna, fitness room, Wolff tanning bed, massage therapy, golf club with driving range. Four restaurants on-site. Complimentary newspaper. Packages include Mountaineer Buffet Breakfast. $135 - $275 peak season, $99 - $170 off-season.

phone: +1 304-232-5050

address: 1 S Stone St

151 rooms. Island-themed rooms with marble showers. 9 2-room suites and first-class end suites available. Fitness center. Breakfast-in-bed room service available. On-site casino, racetrack and restaurant called The Pointe.
Bed and Breakfasts
Bonnie Dwaine Bed and Breakfast

phone: +1 304-845-7250

address: 505 Wheeling Ave

In Glen Dale. 5 rooms. Fireplace, whirlpool tub. Gourmet candlelight breakfasts.
Cabins
phone: +1 304-233-7055

Waddles Run Road. 2 chalets. Fully-equipped kitchens, gas fireplace, deck. Sleeps 8 - 10. $698 - $798 weekend, $1099 - $1399 weekly.
Go next