Whistler
Whistler
is near
Vancouver
in
British Columbia
. Boasting the largest ski area in North America, Whistler is a popular winter skiing and outdoor sports destination. The official name for the municipality is the
Resort Municipality of Whistler
.
Understand
Before the skiers and snowboarders came, Whistler was a logging town called Alta Lake. The area was known for its snow and a group of investors hatched a plan to build a ski resort in the hopes of attracting the 1968 Winter Olympics. The Olympic dream didn't come through immediately, but the first ski resort opened in what is now the Creekside area in 1967 and a second resort opened on Blackcomb mountain in 1980. Intrawest, the then-owner of Blackcomb Mountain, bought out Whistler Mountain in 1997 and merged the operations as a single ski area.
Whistler got its Olympic wishes in 2010, as it hosted most of the ski and sliding events for the 2010 Winter Olympics and all of the skiing events for 2010 Winter Paralympics.
Climate
Not surprisingly for a ski resort, Whistler gets its fair share of snow and cold weather. Winter temperatures average about 0°C during the day and -6°C overnight in the village with snow typically on the ground from December into April. Summer days can be quite warm, with temperatures reaching the high Celsius 20s, but nights tend to be cool. As with the rest of the
Lower Mainland
, there is significantly more precipitation from November through April than other times of the year.
Get in
By car
Whistler is connected to the rest of British Columbia by the
Sea To Sky Highway
(Highway 99), a beautiful but windy and, at times narrow, road. The highway was significantly upgraded and widened prior to the 2010 Winter Olympics and is now much safer compared to the past, when it had a slightly dangerous reputation, but care should still be taken when driving, especially in winter conditions. The section along Howe Sound between Vancouver and Squamish is probably one of the most scenic routes to be found anywhere. Typical driving time from Vancouver is about 2-2.5 hours. There are a number of
rideshare sites
available where you can find people to share the journey and costs. If you have time go back the long way to Vancouver by the Dufffey Lake Road through Lillooet & Fraser Canyon: Fantastic Alpine Lakes the small "Marble Canyon", Semi-Arid Lillooet - long needle pines & sage brush: an extension of the Sonorian Desert, and the down the Fraser River back to the Lower Mainland and Vancouver's west coast marine Rain Forest.
By bus
Snowbus

phone: +1 604 331-7850

Provides Wi-Fi and protein bar en route. Two departures per day both directions. Stops in Vancouver: Airport (from Whistler only) Broadway & Maple, Comfort Inn Hotel, Canada Place, Hyatt Regency, Comfort Inn North Vancouver; Whistler: Whistler Creekside, Gateway Bus Loop.

Perimeter Bus

phone: +1 604 717-6600

Runs direct from the airport to Whistler with their YVR-Whistler Express service. 6 daily departures in winter. 5 daily departures at other times.

phone: +1 604 349-1234

address: (bus stop) Gateway Bus Loop at Whistler Village

No-frills bus service but still offers free luggage and bike transports. Stops at Vancouver: Hyatt Regency Vancouver (year-round); UBC, Sheraton Wall Centre, Broadway & Granville (winter only). Whistler: Gateway Bus Loop

address: Squamish BC

phone: +1 604 255-7272

address: 680 Industrial Ave. Vancouver, BC, V6A 2P3

phone: +1-604-966-2041

Service from Vancouver Airport and most downtown Vancouver hotels. Drop-off in Whistler is available to Gateway Loop, Creekside, most hotels & condos, and any private Whistler address.
By taxi
Whistler Resort Cabs
, +1 604-938-1515, provides taxi service from Vancouver and Vancouver International Airport to Whistler for $255.
If a number of people are travelling together it is possible to go by limo for $350-400 with room for between 6 and 10 people.
By plane
The nearest large airport is Vancouver International Airport (
YVR
). There are bus and limousine companies that provide direct shuttle service from the airport to Whistler. Tickets for Snowbus (Tourism BC Visitor Centre) and Pacific Coach Lines (SkyLynx counter) can be purchased in the arrivals hall. Car rental is also available at the airport (in winter, always request snow tires and inspect to confirm they were installed).
Visitors arriving from the United States may find flying domestically to Seattle-Tacoma International Airport (SEA

)

or Bellingham International Airport (BLI

)

and taking bus services across the border to be a cheaper option. The bus journey will be upwards of 5 hours. Quick Shuttle offers bus services.
Whistler does have two small air facilities — a heliport and a seaplane base. They're mainly used for sightseeing but do have a few regional chartered flights.

phone: +1 604 932-6615

address: 8069 Nicklaus N Blvd

Harbour Air provides sea plane flights to Vancouver and Victoria.
, 9940-9990 Heliport Rd. Helijet provides service between Whistler and Vancouver.

Pemberton, 45 minutes north of Whistler, also has a small (international) airport with charters service.

Get around
The town of Whistler sprawls out around the valley, but the heart of the Whistler experience focuses on the European-style villages built around the base of the gondolas. Most of the accommodation, restaurants, bars, shops and the Blackcomb and Whistler gondolas are in
Whistler Village
and the Upper Village, at the foot of Whistler and Blackcomb. Village North (Blackcomb Village), built around the old base of Blackcomb, is smaller but still has a number of restaurants and hotels. Whistler Creekside is built around the original gondola on the south side of Whistler Mountain.
The easiest way to get around most of Whistler is
by foot
. Whistler Village and the Upper Village are mostly pedestrian walkways and small enough that you can walk anywhere. A short trail (5-10 minutes) links it with Village North and there is also an extensive system of trails that links Whistler Village with many of the parks, golf courses and beaches in other parts of the valley. Cars are best used if you're trying to reach some of the outlying areas. If you do use a car, the main road through town is Highway 99.
By bus
Operated by BC Transit, the
Whistler Transit System
, +1 604 932-4020, is Whistler's public transit system and is considered very good for a city of its size. It runs regularly from 5:30AM to 3AM all year. Commuter services are also offered to Pemberton and Squamish. Flat fares are $2.50 for all, or a day pass for $7. There are three routes which are free services: route 4 (winter), route 5 (year-round) and route 8 (summer). A book of ten adult tickets can be purchased for $22.50, or $18 for seniors over 65 and students up to grade 12, from the visitor centre and other authorized outlets. A transfer is available on request from the driver for connecting buses.
By bike
In the summer months there are many bike rental outfits. A valley trail connects 99% of all areas within and around Whistler. This is a paved 2- lane trail system that is very pleasant and fast to get around on. More advanced trails head north to Pemberton and south to Squamish for those who may be more adventurous.
By taxi
Whistler Taxi +1 604-932-3333
Whistler Resort Cabs +1 604-938-1515
See
Take in the view from the top of the mountain. The Whistler and Blackcomb Gondolas run daily almost year-round (they are closed for maintenance during October-early November). The views from the top are quite spectacular. Sightseeing tickets cost $52.45.

Brandywine Falls Provincial Park

address: Hwy 99

A 70m waterfall and subsequent canyon along Brandywine Creek. From the parking lot, it is a 10-15 minute walk along a good trail to the viewing platform. Unfortunately this is not accessible by public transport.

Squamish Lil'wat Cultural Centre

address: 4584 Blackcomb Way, Whistler, British Columbia

Showcases the art, history and culture of the Squamish and Lil'wat First Nations

phone: +1 604 932-2019

address: 4333 Main St, Whistler, BC

Shows the wildlife, history and development of Whistler. Also showcases the advancement of skiing equipment, Olympic bids, the Olympic torch, Olympic memorabilia and the Olympic movement.
Do
Whistler-Blackcomb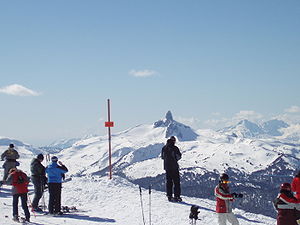 If skiing or boarding is your thing, it's hard to be disappointed with
Whistler-Blackcomb
, +1-800-766-0449 (toll-free) or +1 604-904-8134. With 37 lifts servicing over 200 runs on two mountains and a vertical drop of over 1,500 meters (5,000 feet), Whistler-Blackcomb is the largest ski resort in North America and consistently ranks as one of the top three ski destinations in North America. The variety of terrain is huge — ranging from beginner areas to chutes and trees and groomed cruising runs to alpine bowls heaped with powder after a fresh snow fall — so there should be something to suit everyone. On the freestyle side of things, it has four terrain parks, a snow cross track and a superpipe.
If you are staying in Whistler Village or are parked in the day lots, the closest access point for both mountains is the two gondolas from Skiers Plaza in Whistler Village. The ride up takes 20-25 minutes and lineups can be long during the morning. Whistler Creekside has a gondola that accesses the southwest side of Whistler Mountain. This is a long walk from the Village so it is only useful if you are staying in the Creekside area or have a car. Village North has a couple of lifts that access Blackcomb Mountain and a beginners area. The gondolas start operation at 8:30AM and stop between 3PM and 4PM, depending on the time of the year. Snow conditions are available from the Snow Phone at +1-800-766-0449.
Both mountains open the fourth weekend of November and the main season runs until late April. Conditions permitting, the resort will keep one of the mountains open until early June for spring skiing. An adult lift ticket costs $89 at peak times of the year (typically over Christmas and during March), with slightly cheaper rates at other times. Spring skiing tickets are cheaper at $47. Lift tickets are also available at the 7-Eleven convenience store in
Squamish
(on the drive up from Vancouver), where they are sold at a small discount.
The Blackcomb Glacier opens for a few hours a day from mid-June to early August, but there are only a few runs as most of it is used by summer ski and snowboard camps.
After you ski, you will find out that the ski resort is actually popular and big.
Other activities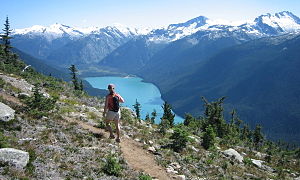 Backcountry skiing and cross country skiing are popular in Whistler as well. There is cross country skiing around Lost Lake, including night skiing if the conditions are right, and Backcountry Skiing throughout the valley, particularly off of the tops of Whistler and Blackcomb. The Callaghan Valley is just south of Whistler (turn left before Function Junction) and will host the Nordic Skiing events for the 2010 Winter Olympics. Callaghan Country hosts guided ski touring, snow shoeing, and cross country skiing tours in this region. Heliskiing is an expensive but worthwhile endeavour if you crave making tracks where few others do. Several operators make Whistler's miles of backcountry terrain available to visitors.

Whistler Mountain Bike Park

phone: +1 604 904-8134

address: access from Skiers Plaza

During summer, the skiing paradise turns into a biker's paradise with a handful of lifts carrying bikers and bikes up the mountain. There are over 50 runs and 4,900 feet of vertical catering to all skill levels. Tracks include single trails and fast race tracks with spectacular jumps and some Northshore elements have been built. Bikes can be rented at the base of the Whistler gondola.

Lost Lake Park

address: turn-off near the end of Blackcomb Way

Lost Lake is a great place to relax in the summer and is a popular spot with the locals. There's a beach, the water is warmer than the other lakes in the valley and there are miles of trails for walking or cycling. It's also a popular spot for cross-country skiing in the winter.
Golf is a popular activity in Whistler and it has a driving range & 3 championship caliber courses, & two more amazing courses under Mount Currie in nearby Pemberton.
address: 8080 Nicklaus North Blvd

Chateau Whistler

address: 4612 Blackcomb Way

address: 4001 Whistler Way
There are a number of hiking trails in and around Whistler. For the casual walker looking for a pleasant walk through an ancient grove of cedar trees, Cougar Mountain provides an easy hour loop. More aggressive day hikers might head to Brandywine Meadows, a six-hour trip up much steeper terrain. And multi-day backpackers also have a variety of options including the Helm Creek trail to Garibaldi Lake and the Black Tusk. Of course, the ski lifts and gondolas of Whistler Blackcomb operate in the summer to offer hikers a relaxing short cut into back country.
Whistler also offers some excellent sport and trad/gear rock climbing. Within the city limits there are several small, single pitch crags collectively known as Nordic Rock. The area offers 23 vertical routes, most of them sport, up to 20m long ranging in difficulty from 5.8 - 5.13a (French: 5 - 7c+). For more information on the routes in Whistler and area, check out any of the quality guide books describing the climbing in the Sea to Sky corridor.
There are a number of companies that specialize in outdoor adventure travel such as whitewater rafting, fly fishing, ATV (all terrain vehicle) tours, snowmobiling, dog sledding and many other types of activities. Depending on your particular tastes, some or all of these can be extremely entertaining and are generally professionally run. Tour operators include:
Whistler Tennis ClubRates start at $32/hour for indoor courts to $16/hour for outdoor courts.
Bear WatchingWhistler is famous for its black bears, with up to 70 living around the village. They can be seen on the mountain bike park occasionally. For a better chance of viewing them, an organised bear tour is a good option.
Learn
phone: +1 604 938-9843

address: 301 - 4204 Village Square

Tamwood International operates a number of carefully designed and managed English Language schools, Camp programs and Work Experience programs across Canada.
Buy
As is common to tourist-centric villages and towns, Whistler village has a number of shops. In general, the shopping is better and you'll find more variety in nearby Vancouver, so if you're on a budget, your money is likely to go farther in Vancouver. On the other hand, many of the stores in Whistler village are a pleasure to visit and the outdoor setting makes browsing (or shopping) more enjoyable than the large malls found in Vancouver.
Whistler Ski Butlers Rental DeliveryLearn to ski or snowboard or re-visit the slopes of Whistler Blackcomb mountains again in style with this equipment rental service company.

phone: +1 604-905-4100

address: 126 - 4340 Lorimer Road

Family Bike Shop. Another specialty is proper bike fitting.
Eat
Whistler village has a variety of restaurants ranging from very cheap fast food to expensive, and covering a number of styles. Regardless of what type of food you're looking for, the best way to find good food in Whistler is to take a walk around the village.
Whistler's on-slope food is surprisingly good and varied. Though you'll pay a small premium for the high altitude service, your udon bowl ($10) or salmon steak ($12) is similarly priced to the village below and though the seating arrangements may be less comfortable than what you'll find in the village, the dining views can't be beat. One special on-hill treat is the enormous waffles topped with berries, cream, and chocolate at the Crystal Hut on Blackcomb Mountain.
Budget
phone: +1 604-938-1990

address: 4205 Village Square

Cozy cafe tucked away behind the bookstore. Eggs, scrambles, french toast, oatmeal for breakfast. Burgers, sandwiches and chili for lunch. Family friendly with high chairs and a small play area with toys. Licensed if you want a beer with your meal.

Lift Coffee Company

phone: +1 604-905-6621

address: 223-4293 Mountain Square

Coffee shop with a good selection of fresh salads, soups and sandwiches, also offers Whistler Brewing Company beers. The patio is great on a sunny day.

phone: +1 604-932-4845

address: 202-4208 Village Square

Coffee shop with a selection of wraps, burritos and baked goods.

phone: +1 604-962-1182

address: 4174 Village Stroll

Freshly made artisan bread and a large selection of baked goods. Mostly sweet, sometimes savoury, often decadent. Includes some flourless, gluten-free and vegan choices. Also serves coffee, tea and soda/juice drinks.

The Old Spaghetti Factory

phone: +1 604-938-1081

address: 4154 Village Green

An old fashioned Italian restaurant, serves meals with a free loaf of bread per table, and tasty big dishes. The food is delightful, not to be missed. Serves lunch and dinner.
Mid-range
phone: +1 604-905-2739

address: 4355 Blackcomb Way

phone: +1 604-938-1879

address: 12-4314 Main St

Mediterranean inspired dishes with pizzas from their wood-fired oven, pasta, chicken, pork and fish. There are also burgers on the lunch menu and some brunch options. The pizzas and garlic calamari are recommended.

earls

phone: +1 604 935-3222

address: 200-4295 Blackcomb Way

One of a large chain of restaurants. Serves a lot of good appetizers and decent cocktails, in an average price range.

phone: +1 604 938-9416

address: 201-4295 Blackcomb Way

A unique and delicious stir fry restaurant. Pick from a wide variety of ingredients, customize your sauce, and watch them stir fry it up in front of you. Save room for the complimentary rice. Beware of your eyes being bigger than your stomach though, as it adds up quickly!
Splurge
phone: +1 604 932-4540

address: 4222 Village Square

Oyster & seafood trays, venison & steaks. Reviewers found the food was good, although expensive, and recommended the wine list.

phone: +1 604 932-2223

address: 301-4293 Mountain Square

Japanese teppanyaki.

phone: +1 604 902-8687

address: 4111 Golfers Approach Suite #201

Walk-about dining tours, guiding groups to several gourmet Whistler restaurants for a delicious multi-course dinner paired with fine BC wines.
Drink
One of the true joys of Whistler is to go to one of the many bars after a long day of skiing or outdoor activities. The bars are where many of the visitors gather and the atmosphere is laid back and easygoing.
You'll find almost any type of drink at the many bars, restaurants, cafes and clubs in Whistler. If you like beer, try a local "micro-brewery" beer at one of the pubs in the village.
phone: +1 604 932-6613

address: 4122 Village Green

Restaurant and nightclub with pool tables, big screen TVs and a large dance floor.

address: 170-4320 Sundial Cres

Irish-style pub with good food and live music nightly after 8PM.

Dusty's Bar and BBQ

phone: +1 604-905-2146

address: 2040 London Ln

Bar and restaurant with the feel of a big cabin, features great barbeque and rock music. Popular for après.

Garfinkel's

phone: +1 604 932-2323

address: 4308 Main St

Nightclub located in the village

Garibaldi Lift Co.

phone: +1 604-905-2220

address: 4165 Springs Ln

Popular spot for apres ski with its patio looking out at the base of the mountain and Skiers Plaza.

Merlins

phone: +1 604-938-7700

address: 4553 Blackcomb Way

Your run-of-the-mill pub, with darts and table hockey.
Sleep
Pemberton
is located 20 minutes north of Whistler and offers additional lodging options.
Budget
phone: +1 604-932-4660

address: 2113 Nordic Dr

In "Nordic Estates", about 4km from Whistler Village. Walking distance to a bus stop which goes to Whistler Village. Sanitary, but minimally maintained in proportion to the rock-bottom price.

Hostelling International Whistler

phone: +1 604-962-0025

address: 1035 Legacy Way

Great, clean, modern facility opened July 1st, 2010. Staff are super friendly and there are daily activities organized by the hostel. 20-30min from Whistler Village Regular and frequent bus service from 5AM to 3AM. Taxi fare from the village is around $20 (Request Van & split fare 6 ways:) )

phone: +1 604-932-3644

address: 2102 Lake Placid Rd

Well situated about 300m from the Creekside gondola station (Whistler Mountain) and commercial area. While shops and restaurants (and ski lifts) are within walking distance, the main village area is a 40 minute walk, however the area is served by buses which come every 15 minutes (high season), or 30 minutes (low season). If staying at this hostel be sure to eat at the Southside Diner, which occupies the ground floor and is one of the very few remaining establishments from the pre-Intrawest Whistler era.
Mid-range
Splurge
Apartments
Camping
Whistler is surprisingly short of organized places to camp. Most of those that exist are outside of town:
Cal-Chek Forest Service Campground

phone: +1 604 902-0510

Cool cable suspension bridge across the Cheakamus River.
Connect
phone: +1 604-905-1280

address: #6, 4340 Sundial Cres

Internet access at terminals and wireless. Plus related services like CD burning, photocopying, and fax service. Free local calls on courtesy phone. Also various espresso and cold drinks, and snacks. Look for 10% discount cards on the reception table. Located right on skier's plaza at the foot of both gondolas, next to Black's Pub, tucked into the Sundial Hotel.

phone: +1 604-935-8433

address: 4329 Main St

Offers free internet access, in addition to the usual library services. Located on the opposite side of Village Gate Blvd from the plaza at the base of Whistler mountain.
Go next
North on Highway 99 will take you to the village of Pemberton and the Pemberton Valley. Attractions include Nairn Falls, the alpine beauty of Joffre Lakes Provincial Park and a number of natural hot springs.
Garibaldi Provincial Park, which has many hiking and backcountry camping opportunities, has access points north and south of town off Highway 99.
Squamish, 45 minutes south of Whistler on Highway 99, has rock climbing, rafting/kayaking, eagle watching, a railway museum and many more outdoor activities.