White Plains
White Plains
is a city in
Westchester County
,
New York
.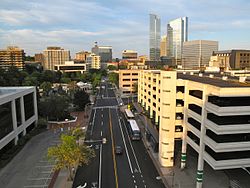 Get in
By plane
By train
Metro North
commuter train from Grand Central and 125th St. in
New York City
and other points south, or from Brewster, Wassaic, and other points north on the Harlem line.
By bus
There is a network of Westchester County buses in the
Bee Line system
.
By car
White Plains has several major highways passing though it.
Interstate 287, which connects to the Tappan-Zee bridge to the west, and Interstate 95 in the east, has several exits which can drop you in many different parts of White Plains.
It is frequently congested due to ongoing construction.
Without traffic, you can make it to Manhattan in 30 minutes.
Get around
Take the train from or to Manhattan. Buses connect White Plains with Stamford and locations throughout Westchester. Taxi cabs are available at the train station and by appointment elsewhere in the city. Train and bus schedule information is available
here
.
See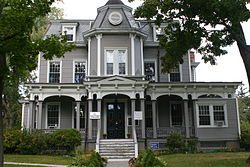 As for tourist attractions, White Plains has several locations listed on the National Register of Historic Places. It also does well-run Saint Patrick's Day parade and New Year's Celebrations. The Library is top notch. Liberty Park is also worth a visit.
Elijah Miller House

address: North White Plains

The Elijah Miller House is a historic home in North White Plains, New York. The house is an 18th-century Rhode Island-style farmhouse that was used during the Revolutionary War by General George Washington as a headquarters command post during the Battle of White Plains. The house, which is now a museum, was home to the average Colonial Westchester Ann and Elijah Miller family and contains many artifacts for public viewing.

White Plains Armory1910 – Erected on the site of the first Westchester County Courthouse. A monument in front of the building commemorates the first public reading in New York of the Declaration of Independence, on July 11, 1776.

White Plains Rural CemeteryIncorporated in 1854, although in use as a cemetery from 1797. The cemetery office occupies the structure that was the first Methodist Church in White Plains (1795, rebuilt in 1797 after a fire on the day of its original dedication).

Percy Grainger Home and StudioOccupied by the composer from 1921 until his death in 1961, and by his widow, Ella Ström-Brandelius, until her death in 1979. It is now maintained as a museum by the International Percy Grainger Society.

In addition to the above:The Bar Building, Good Counsel Complex, Leo Friedlander Studio, Mapleton, Peoples National Bank and Trust Company Building, Presbyterian Rest for Convalescents, Soundview Manor, and Woman's Club of White Plains are also listed on the National Register of Historic Places.
Do
There are a number of malls in White Plains, including the upscale Westchester Mall, as well as the Galleria and White Plains Mall. A popular place to go in White Plains is the Metro North station, which can deposit a traveler into the heart of Manhattan via express train within 35 minutes. If you find yourself in White Plains for any prolonged period, you may want to take advantage of this option.
There are many places for entertainment in White Plains. Niche.com gave White Plains an A+ rating in its "Things To Do" category. The city often holds free movies and concerts (small band performances), especially during the summer. During the summer, there is also a farmers market located down the block from city center. City Center is a large complex with shopping and a large movie theater.
Maple Moor Golf Couse

phone: +1 914 995-9200

address: 1128 North St

Maple Moor named for the abundance of maple trees on the land. This property was originally part of the Griffen family farm. Howard J. Griffen settled the farm in 1879 and built on it a cider mill and four-story barn. Griffen's son later became mayor of White Plains. The course was designed by Tom Winton. When acquired by the Westchester County Parks Commission in 1925, there was already a 9-hole golf course on the property. By the end of 1927, all 18 holes were unveiled to the public. Maple Moor also has practice greens and a catering facility in the clubhouse.

Saxon Woods Park

phone: +1 914 995-4480

address: 1800 Mamaroneck Ave

Saxon Woods Park is a 700-acre property offering a variety of recreational facilities including trails, a standard and miniature golf course, an 18-hole golf course, a miniature golf course, the county's largest swimming pool, a children's aquatic playground and picnic areas. It is also the site of the county's only playground that is accessible to the disabled. In colonial times, the park area was called Saxton Forest, after William Saxton, who operated a saw mill on the western branch of the Mamaroneck River. Local usage changed the name to Saxon Woods. The park contains a trail system that connects the southern section to the upland wooded northern part of the park, characterized by mature hardwood forests. The trails are very popular with hikers, cross country skiers and horseback riders. The entire system extends along the Hutchinson River Parkway to Twin Lakes Park and north to Maple Moor Golf Course. It also links to the Leatherstocking Trail and Colonial Greenway and contains archeologically sensitive areas.
Buy
Although there are little to no native products to White Plains, most major retailers are located in town. Departments stores abound, and shoppers have a wide array of choices from upscale stores in the city's shopping malls to 99-cent stores downtown.
phone: +1 914 421-1333

address: 125 Westchester Avenue

An upscale shopping mall in White Plains. Anchored by Nordstrom, Neiman Marcus, and Crate & Barrel.

phone: +1 914 682-0111

address: 100 Main St

An enclosed shopping mall in downtown White Plains. Features 100+ shops including Macy's and Sears.

Bloomingdale's White Plains

phone: +1 914 684-6300

address: 175 Bloomingdale Road

A luxury department store.
Eat
White Plains has all of the major chains represented here. So you can choose between Legal Seafood, PF Chang's, the Cheesecake Factory and Applebee's in case you haven't eaten at one of them in another typical Edge City. There are a lot of local Italian restaurants of varying quality along with the standard Greek diners and ubiquitous middling Chinese fare. For high end Italian try Mulinos. The Indian restaurant on East Post Rd. just received an excellent in the New York Times review. For affordable fare stick with one of the several diners. Many of the restaurants have had formal write ups in the times which can be Googled. The Old White Plains Mall has an Asian supermarket with prepared Chinese and Japanese food at a reasonable price, and Whole Foods has quality prepared foods as well.
In addition, there are a variety or restaurants along Mamaroneck Ave. from upscale restaurants to quick fast food.

Drink
There is a cluster of bars on Mamaroneck Ave between Maple and Main St. which is the center of White Plains nightlife. If the Irish pubs in this vicinity do not quite suit the bill there is another small cluster of bars down East Post Road as you head to South Broadway.

Sleep
Go next
According to a 2015 Niche.com article, White Plains ranks as the best town to live in New York and the 13th best place to live in the United States. White Plains is the center of the county and is convenient to
New York City
. An express train takes less than thirty minutes to
Midtown Manhattan
. The bus can be taken into the
Bronx
(try the Zoo, Botanical Gardens or Arthur Avenue). Westchester County Airport is ten minutes away.