Whitehorse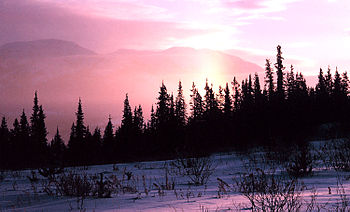 Whitehorse
is the capital of the
Yukon
.
Understand
Whitehorse has been the capital of the Yukon since 1953, and has a population of around 30,000 (2019), which is about 75 percent of the population of Yukon territory. The city is along the banks of the Yukon River. It is in a rain shadow area, so Whitehorse is Canada's driest city.
Whitehorse's downtown and Riverdale areas occupy both shores of the Yukon River, which originates in British Columbia and meets the Bering Sea in Alaska. The city was named after the White Horse Rapids for their resemblance to the mane of a white horse, near Miles Canyon, before the river was dammed.

History
Archeological research south of the downtown area at Canyon City, has revealed evidence of use by First Nations (Aboriginal people) for several thousand years. The surrounding area had seasonal fish camps, and, in 1883, there was a portage trail used to bypass Miles Canyon. Before the Gold Rush, several different First Nations passed through the area seasonally and their territories overlapped.
The discovery of gold in the Klondike in August 1896 set off a major change in the historical patterns of the region. Early prospectors used the Chilkoot Pass, but by July 1897, crowds of neophyte stampeders had arrived via steamship and were camping at "White Horse". By June 1898, there was a bottleneck of stampeders.
On their way to find gold, stampeders also found copper in the "copper belt" in the hills west of Whitehorse. The first copper claims were staked in 1898 and 1899. Two tram lines were built, one 8 km (5 mi) stretch on the east bank of the Yukon River from Canyon City to the rapids, just across from the present day downtown, the other was built on the west bank of the river. A small settlement was developing at Canyon City but the completion of the White Pass railway to Whitehorse in 1900 put a halt to it.
The White Pass and Yukon Route narrow-gauge railway linking Skagway to Whitehorse was completed in 1900. By 1901, the Whitehorse Star newspaper was already reporting on daily freight volumes. That summer there were four trains per day. Whitehorse was booming.
Until 1942, rail, river, and air were the only way to get to Whitehorse, but in 1942 the US military decided an interior road would be safer to transfer troops and provisions between Alaska and the US mainland and began construction of the Alaska Highway. The entire 2,500-km (1,553-mi) project was accomplished between March and November 1942. The Canadian portion of the highway was only returned to Canadian sovereignty after the war.
In 1953, the city was designated the capital of the Yukon Territory when the seat was moved from Dawson City after the construction of the Klondike Highway.

Climate
Whitehorse has a dry-summer subarctic climate. However, because of the city's location in the Whitehorse valley, the climate is milder than other comparable northern communities such as Yellowknife. With an average annual temperature of −0.1 °C (31.8 °F), Whitehorse is the warmest place in the Yukon.
At this latitude winter days are short and summer days have just over 19 hours of daylight. Whitehorse has an average daily high of 20.6 °C (69.1 °F) in July and average daily low of −19.2 °C (−2.6 °F) in January.

Get in
Get around
Whitehorse TransitBus service on 6 routes weekdays from morning until early evening and Saturdays during business hours.

Whitehorse Waterfront TrolleyIt provides transport along a short rail section along the Yukon River; it is chiefly tourist-oriented and is not integrated into the municipal transit system. It runs from the Rotary Peace Park on the south end of the city centre, up to the north end of the city centre at Spook Creek Station. The trolley is closed indefinitely.
The
Trans-Canada Trail
runs through the city, and there are some bike trails.
Taxis are metered and cost $4.50 plus $2.25/km; a trip from downtown to the airport is $18 (as of 2018).
phone: +1 867 633-5600

address: 508 Wood St

A small rental fleet of mountain bikes for rental.

phone: +1 867 393-2228

address: 128 Goldeneye St

Whitehorse's largest taxi fleet (30 cars).

phone: +1 867 335-9156
See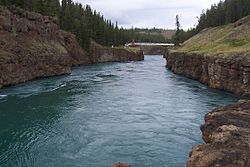 S.S. Klondike National Historic Site

phone: +1 867-667-4511

A sternwheeler paddleboat, turned into a museum.

Miles CanyonThe Miles Canyon Basalts are volcanic rocks exposed and easily accessible at Miles Canyon on the Yukon River south of Whitehorse. The former White Horse Rapids (now a hydroelectric generating site) represented the head of navigation for paddle-wheel river boats which could proceed no further. The townsite of Closeleigh (now the City of Whitehorse) was chosen because of this obstacle to navigation.

phone: +1 867 667-2709

address: 1124 Front St

Local historic museum, opened in the 1960s in former Government Telegraph Office building. The Yukon Historical Society operates the MacBride Museum (1124 Front St.), the MacBride Copperbelt Mining Museum (Mile 919.28 Alaska Highway, +1 867 667-6198) and the MacBride Waterfront Trolley (1127 Front St, +1 867 667-6355). Programs include museum tours, recreational gold panning and the occasional live music event.

phone: +1 867 667-8855

address: Kilometre 1423 (Mile 886) Alaska Hwy

A research and exhibition facility tells the story of Beringia, a 3200-km landmass which stretched from the Kolyma River in Siberia to the MacKenzie River in Canada during the Pleistocene era. Archeologists and paleontologists believe this non-glaciated crossing played a crucial role in the migrations of many animals and humans between Asia and the Americas.

phone: +1 867-456-8000

address: KM 10/Mile 6 Takhini Hotsprings Road

Open-air hot springs.

phone: +1 867-668-4792

address: 30 Electra Crescent

Automotive and air transportation museum. Home of the world's biggest wind vane - a DC-3 mounted on a pivot pedestal, with the nose always pointing into the wind.

phone: +1 867 668-2555

address: 3rd Avenue and Elliott Street

Local history museum, pioneer stories and artefacts.

phone: +1 867 633-5965

address: Whitehorse dam

The longest wooden fish ladder in the world allows migratory salmon to bypass a Yukon Energy hydroelectric station. View fish through the underwater window and learn about salmon and other species from displays inside the interpretive centre. A fish hatchery, located just downstream from the fish ladder, operates year-round; the fish are tagged and stock various waterways.
Do
phone: +1 867-667-4386

address: 200 Hamilton Blvd

The main centre for indoor recreation activity in Whitehorse. Includes, among other things, a large aquatic centre and three skating rinks.

address: Quanlin Dün Cultural Centre

A winter festival showcasing Canadian and Yukon musical acts since 1979. At its peak, this was a multi-stage event featuring well-known Canadian performers. The festival then fell on economic hard times, but returned in 2018 after not being held at all in 2014, 2015 or 2017.
Yukon International Storytelling FestivalA summer festival with storytellers from around the world. Workshops are also held during the festival.

Whitehorse Cross Country Ski ClubA popular cross country skiing facility with 85 km of groomed trails. There is also a large indoor wax room, washrooms and changeroom facilities and saunas for getting toasty warm apres ski. Plus 20km of single track trails for mountain biking in summer.

phone: +1-867-456-8004

Two escape rooms for 2 to 7 people.
Buy
address: 205 Main St

Gift shop. Souvenirs, art.

phone: +1 867 667-HERB

address: 504-B Main St

Natural products from local sources include skin care and aromatherapy products. Herbal teas.
Eat
phone: +1 867-668-6871

address: 411 Alexander St

This bakery and café offers excellent organic breads and other baked goods, hand-made chocolates, and fair trade coffee. A hot daily special and hearty soups are also offered during lunch time hours.

The Chocolate Claim

address: 305 Strickland St

This café is more expensive, and well known for their chocolates and desserts.

address: 305 Main St

Serves coffee from beans locally roasted by Midnight Sun Coffee Roasters. Sandwiches, wraps, and pastries are also available.

Tokyo Sushi

address: 204B Main Street

This restaurant provides a reliable source of satisfactory Japanese food. It features a large menu, average prices, friendly staff, and ample Japanese pop music.

phone: +1 867-668-4050

address: 206 Jarvis Street

Italian food.

address: 2112 Second Avenue

Good breakfasts. No WiFi.

Big Bear DonairGood kebabs, amazing range of hot sauces.

address: 2180 Second Avenue

Vegan cafe (lunch-only).
Drink
Sleep
Accommodation in Whitehorse ranges from hostels to B&Bs, to motels and quality hotels. They tend to get full quick so advance bookings are recommended during summer.
Budget
The Beez Kneez Bakpakers Hostel

phone: +1 867-456-2333

address: 408 Hoge St

A hostel in a house in a residential area near downtown. Has free internet and free coffee but no TV. Kitchen, BBQ, and laundry available.
Mid-range
Chilkoot Trail Inn

phone: +1 867 668-4190

address: 4190 4th Ave

Not the best place in town and Wi-Fi is poached from somewhere else (but it's there), but rooms are spacious and have kitchenette and TV.

Midnight Sun Inn Bed and Breakfast

phone: +1 867 667-2255

address: 6188 6th Ave

Each of the four theme rooms has a private bathroom, hairdryers, telephone, TV, Internet access and work desk. One of the highlights of the facility is the large lounge area with a full kitchen, laundry and a 32" TV. It is near the scenic clay cliffs, which have hiking and walking trails. No pets, no smoking.

phone: +1 867-668-4500

address: 411 Main St.

No pets.
Splurge
phone: +1 867 660-5253

address: Lot 76 McClintock Place, Marsh Lake

As featured on Martha Stewart Living and listed by National Geographic Traveller as Top 150 places to stay for 2009, this lodge located 35 minutes by car from Whitehorse, Yukon is the top rated accommodation and conference centre in the Yukon.
Connect
phone: +1 867-667-5239

address: Front and Black Street

Provides free public Internet and computer access. 30 minute sessions available. You may call to book in advance.

Visitor Information Centre

address: 100 Hanson Street

Free WiFi
Go next
Drive West on the
Alaska Highway
towards
Haines Junction
to visit the
Kluane National Park
, or drive South and then take the Klondike Highway towards Carcross and
Skagway
to see and the .
Alaska Direct Bus Line offers bus service to
Alaska
.