Wiesbaden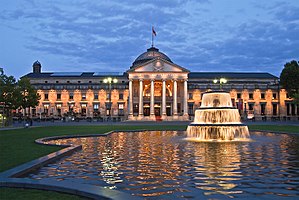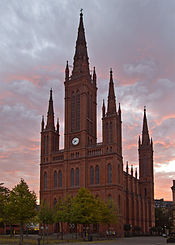 Wiesbaden
is the capital of the
German
state
Hesse
. Wiesbaden is a historic spa city which has catered to people from countries near and far for many centuries. At one time, Wiesbaden boasted 26 hot springs. Fourteen of the springs are still flowing today. Even the "old" Romans knew of the "Aquis Mattiacis".
Today it is part of the larger Rhine area and profits from its proximity to the
Frankfurt Airport
and the business centre of
Frankfurt
. During peak times (trade fairs, conventions, etc.) a lot of business travellers stay in Wiesbaden instead of in
Frankfurt
and relax from the busy metropolis in this smaller city with a charming old city.
Get in
Wiesbaden is very well connected by many highways from Frankfurt, Cologne or Mainz. Trains travel frequently and are very enjoyable. Travel times by car are roughly 15 minutes from Mainz), 35 minutes from Frankfurt, or 2 hours from Cologne (Köln).
By plane
From Frankfurt Airport (FRA)
A taxi from
Frankfurt Airport
(
FRA
) to Wiesbaden costs around €60, S-Bahn is a much better deal at €4.35 one-way and goes every 15 minutes. No bus service.
From the Terminal 1, follow the signs to the regional train station "Frankfurt(Main) Flughafen Regionalbahnhof" which is in the basement of the Airport building. Usually Wiesbaden is the terminal station for the S-Bahn and regional train so you can easily find the correct platform. Note: There are two train stations at the airport; in the basement the regional train station (S-Bahn & fast regional trains) and near the motorway the "Frankfurt(Main) Flughafen Fernbahnhof" for mid-/long-distance trains (ICE and IC).
The long-distance train station is a longer walk (about an extra 10 minutes). It has much less frequent and more expensive service to Wiesbaden.
Please see additional notes in the sections below regarding train tickets.

Buying RMV Tickets

Buying your ticket:
The new vending machines sell both RMV (local travel network) and DB (long distance) tickets. To buy a ticket e.g. for the S-Bahn, make sure you are in RMV mode.
After having named your destination, choose "Einzelfahrt Erwachsene" for a single trip and the screen should display €4.35 if you are at the airport or €7.80 if you are in Frankfurt. Insert € coins or bills. All machines accept credit card or EC card, too. The printed ticket is already validated and you can board the S8 or S9 for Wiesbaden. (S1 and SE10 from Frankfurt city as well). Don't hesitate to ask for help if you need it! There is also a RMV information desk at the airport's short-distance train station.

From Frankfurt-Hahn airport (HHN

)

This airport is located in Hahn 100 km (60 mi) West of Wiesbaden. A taxi would shoot your Ryanair bargain down, so the recommended option is a bus to Mainz (9 connections per day, 1 hour ride, €13) and from there a S-Bahn or RB to Wiesbaden (3 trains per hour, €2.60). See the: timetable HHN–Mainz There is unfortunately no direct bus HHN-Wiesbaden. Another option is a bus to the actual airport of Frankfurt which has S-Bahn connections to Wiesbaden as well – slightly slower and more expensive. You can also take a taxi (9 km) to Traben-Trarbach and take the train from there (via Koblenz).

By car

If you start in Frankfurt, take the A66 until Wiesbaden-Erbenheim (Exit 6). Here you follow the signs to Wiesbaden City Center and Wiesbaden Kurhaus.
If starting from the Frankfurt Airport follow signs for Wiesbaden, which takes you on the A3 until the Wiesbadener Kreuz, where you switch to the A66 until Exit 6.

By train
Frankfurt-Wiesbaden

S-Bahns heading to Wiesbaden are S1, S8 and S9. Slightly faster is VIA's regional train (StadtExpress) which departs at the . All these trains cost €7.60, travelling by ICE is more expensive and not faster. If you are travelling in a group, ask for group prices. Get to the train station a few minutes early to allow time to figure out the ticket machine; don't hesitate to ask for help if you need it.
On trains marked IC or ICE, you can buy a ticket from the conductor on the train at a slightly higher price. However, in common with most areas in Germany, there are no ticket-sales staff on local trains (marked S-Bahn, RB, SE or RE) in the RMV tariff area and you must buy your ticket from a machine (or ticket office) before boarding the train. Such trains are patrolled regularly by ticket inspectors, sometimes plain-clothed, but always carrying identification, and you will be fined at least €40 if found without a ticket on a local train.

Cologne-Wiesbaden

If you are travelling to or from Cologne (Köln) Airport (CGN), an unforgettable experience is the ICE high-speed train run. The direct Wiesbaden-Köln ICE reaches a top speed of . However, there are only two direct trains a day in both directions; the morning trains depart 6:24, while the evening trains depart 16:45. The journey takes about one hour. There are several other indirect trains available with one connection, the travel times for these is between 1:30 and 2:15.
If you are able to buy a ticket a day or more in advance, you will get the best price on long-distance ICE trains with the Sparpreis (Savings Fare), however on busy days those fares may be sold out. Go online or look for the red ticket machines at any big train station. More information and online purchase are available here: If you buy a Sparpreis ticket in the DB Reisezentrum, they charge €5 per person and direction.
Another interesting option is the route through the Middle Rhine Valley. You can either take regional trains or long distance trains and pass through towns like Boppard, Koblenz, Bingen or Rüdesheim, enjoying the sight at vineyards, medieval castles and the Rhine river.

Train and Bus Links

Wiesbaden trains and busses operate under the RMV Travel Network (Rhein-Main-Verkehrsverbund). If you already have a RMV ticket to Wiesbaden, you can use the bus lines without extra charge to reach your final destination. Some train tickets come with a "+City" option which includes municipal transport as well.
Wiesbaden Bus information can also be found here: english
Deutsche Bahn the German National railway.

Get around

Once you are in the city centre it's pretty comfortable to just walk around. There's a main pedestrian area (Fußgängerzone) which is similar to an open-air mall, but more relaxed. Shops line the street and alleys, and it's mostly closed off to cars. Many shops, cafes and restaurants can be found in this area. Be sure to walk around the "Old City" (Altstadt) as well.
If you want to go further out of the city centre, you can use the developed bus system. Buses travel frequently and on time. It is possible to buy tickets on the bus, just ask the driver (because of possible language barrier issues, just say the name of the street you want to go to). Your trip will cost you a minimum of €1.60 (adult), but probably no more than €2.60 (one way). At the ticket machines, five such single tickets are available at a reduction as "Sammelkarte". There's also a one day ticket ("Tagesticket"), with which you can go wherever you want, available at the ticket machines (or the bus driver) at €6.30 for adults and €3.70 for children, respectively. Weekly tickets are available for €21.90, and have the added bonus of one other adult and all of your own children (up to 14 y.o.) travelling for free from 7PM weeknights, and all day Saturday and Sunday (and public holidays). (Dec. 2013)

See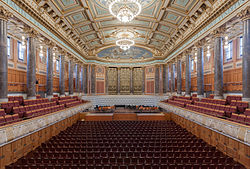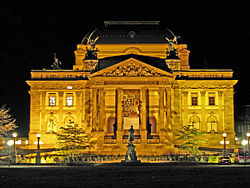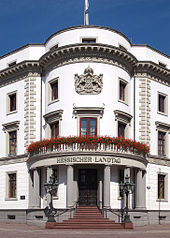 One of the most attractive buildings in Wiesbaden is the
Kurhaus
situated in the city center. Built for emperor Wilhelm around 1900 it serves as wellness and leisure time centre. It also offers a pretty garden where you can walk around or relax. Next to it are two further important buildings: the famous casino and the theatre.
Kurviertel:
Kurhaus– the spa house in Wiesbaden from 1907 in neo-classical style.

Kurparkthe spa park behind the Kurhaus is a public English landscape park includes a lake.

Bowling Greenis a place in front of the Kurhaus and State Theatre with two pools, one of each in the middle of three shells cascading fountain stands.

Hessisches StaatstheaterIt was built by order of Kaiser Wilhelm II between 1892 and 1894. The theatre auditorium is a revival of the Baroque style and has 1041 seats. The magnificent and majestic foyer in Rococo style was added in 1902.

Warmer Dammbehind the State Theatre is a public English landscape park includes a lake.

Villa Clementinewas built in 1882 in the roman-pompeian style for a factory owner Meer and his wife Clementine. Today: Literaturhaus (House of Literature).

Englische KircheEpiscopal Church St. Augustine of Canterbury
Kranzplatz/Kochbrunnenplatz:
Kochbrunnenthe water temperature of about 66 °C.

Hessische StaatskanzleiFormer Hotel Rose at Kranzplatz, it was the greatest Hotel in Wiesbaden.
At the Schloßplatz:
phone: +49 611 350-294

Since 1946: Hessian State Parliament building (Hessischer Landtag).

MarktkircheProtestant Market Church

Neues RathausNeo-Renaissance façade.

Altes Rathaus

Marktbrunnenof 1753
Wiesbaden-Biebrich:
address: Rheingaustraße 140, 65203 Wiesbaden

The Biebrich Palace is a Baroque residence (Schloss) in the borough of Biebrich in the city of Wiesbaden, Hesse, Germany. Built in 1702 by Prince Georg August Samuel of Nassau-Idstein as the summer residence, it served as the ducal residence for the independent Duchy of Nassau from 1816 until 1866.

Sektkellerei Henkel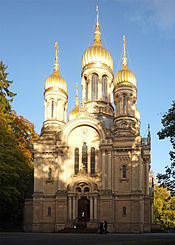 Neroberg and Nerotal:
NerobergbahnThe is a water ballast funicular railway. It is the last and the only water ballast funicular train in Germany. You can get tickets from the ticket controller. This can also be a good starting point for a hike in the Taunus forest.

LöwenterrasseView from the terrace of the lions

Monopteros

Towerand 'experience hollow' (Erlebnismulde)

Russian Orthodox Church of Saint Elizabeth

address: Christian-Spielmann-Weg 1

with its five golden domes, common local name Griechische Kapelle, "Greek chapel".

Manfred von Richthofen's graveVon Richtofen famously flew a red Fokker Tri-plane in which he made 80 aerial kills during WWI. He became the leading fighter pilot of his age in the fledgling "art" of aerial combat, the ace of aces. Recent forensic study indicates he was killed by an Australian soldier's rifle shot during a low-level dog fight. Von Richtofen is buried along with other family members in a cemetery in Wiesbaden, relocated from Berlin. As a result of de-emphasizing Germany's militaristic history many locals do not know of von Richtofen's presence in their community. Enter the Sudfriedhof ("Southern") Cemetery on Siegfriedring Strasse. After you enter under the arches turn right on the gravel path. Just past the buildings on the right there is a semi-circlular gravel path that enters the Westhain Section. Follow the path counter-clockwise about 40 yards ( 35 meters ) to the most Northwestern point on the semi-circle (there is a map on the wall under the arched cemetery entrance - although the von Ricthofen family graves are not marked on it). Manfred, Lothar and other family members rest on the left side of the path - commemorated with a large stone family marker and individual stone markers in the ground. Manfred and Lothar both received the highest German military honor of its time - the order "pour le Merite".
Wiesbaden-Frauenstein:
Goethestein13.5 m-high stone obelisk and beautiful view to Rheingau
Do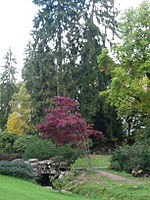 Opelbadgreat swimming pool on Wiesbaden's own hill the Neroberg Mountain.

Kletterwald NerobergA climbing park that features obstacles to be navigated individually or with accompanying guests. Obstacles and routes vary in difficulty and intensity.

Neroberg Lookoutfor a great view overlooking Wiesbaden. You can either drive up and park near the top, take the Nerobergbahn (Nerobergbahn) (cable car) up to the top from Nerotal (Street off the end of Taunus St and Nerotal) or simply walk up. There is a quite frequent bus service from both the railway station (Wiesbaden Hauptbahnhof) and the bus stop next to Kurhaus to the Mountain Railway`s lower terminus (Prices: Adults €2.50 one way, €3.30 return. Simply hop on line 1 to Nerotal and leave at the final stop, which is right next to the mountain railway. Children €1.25 one way, €1.65 return. See their flyer for further details (timetable, group fares, etc.).

SpaWiesbaden is famous for its spas.

Kaiser-Friedrich ThermeIf you like sauna and wellness you really have to plan one day for relaxing at the Irish-Roman Bath in the city center. This old spa (clothing free) lets you feel like Caesar with its old Roman frescoes and its four saunas, swimming pool and whirlpools.

phone: +49 611 31-7080

address: Leibnizstraße 7

– Bathing Area with Indoor Pool 435 m2 and Outdoor Pool 450 m2, with water massage recliners. Sauna Area with Fireplace Sauna, Sauna Loft, Adventure Shower, Lodge Sauna, Crystal Sanarium, Finnish Sauna, Crushed Ice Fountain/Cold Water Basin, Steam Bath, Adventure Shower, Mental Relaxation Sauna and Whirlpool.

Lamduan MassageTraditional Thai massage. A bit pricier than Thailand, but €18 will buy you a half-an-hour back, neck and shoulder massage. Be prepared for a bit of back cracking! They have private "booths" separated only by hanging sheets, but you will find the atmosphere inside quiet and relaxing. It is imperative to tell them beforehand if you have any medical conditions. At the end of your massage they bring you a cup of jasmin tea and a hot cloth for your neck and shoulders which is very refreshing! You are also supplied with a clean set of clothes (loose-fitting pants and a t-shirt) to wear during the massage.

Hessisches Staatstheater Wiesbadenusually produces plays only in German, however offers operas in their original languages. One of the top tier theaters in Germany.

Amelia Earhart Playhouse

Wiesbaden English Language Theater (WELT)

phone: +49 1525-2468588

WELT brings the world of English language theater to Wiesbaden

Galli Theatre

Caligari Filmbühnea wonderful arthouse movie theater. The selection is great as they show films from different countries, usually not dubbed (subtitles are hardly known in Germany). Free seating for €5.50 every day.

Hollywoodplays English movies, on Tuesdays. It's one company but they have three buildings across the city. English movies usually play at the one in the city centre. Their program is available online. Look out for posters with OV (Original Version) or OmU (Original mit Untertiteln).

Wiesbaden Magic History TourTake a unique Guided Walking Tour with the Wiesbaden Magic History Tour. Learn about Wiesbaden's many historic spots (Palace Square, Market Church, State Theater, Kurhaus and Casino, Roman Gate,) be amazed by several clever magic tricks and get the inside scoop on local bars and restaurants. The English-speaking tour finishes at a local pub for a complimentary drink.

RheinsteigStart from Schloss Biebrich the hike down the Rheingau and Middle Rhine Valley.
Buy
Pedestrian zone: Kirchgasse and Langgasse:
Karstadt

address: Mauritiusplatz, Kirchgasse 35-43

A department store, the chain of which is found all throughout Germany. In addition to what you'd expect in such a store, there is also a restaurant cafe on one of the upper floors as well as a grocery store in the basement.

Kaufhof

address: Kirchgasse

Another department store but more expensive than Karstadt and pretty much the same choice.
Luisencenter, Kirchgasse: stores include Karstadt Sport and Saturn (electronics).
phone: +49 611 411407-0

address: Bahnhofsplatz 3

An attractive mall with underground parking. Stores include Saturn (music, videos, electronics) and several quick dining establishments.
MarketWednesday and Saturday on the Dernsches Gelände or Schloßplatz at Neues Rathaus (New city hall).
Eat
Taunusstraßevery good restaurants

Goldgassepizza, pasta and more classy italian style.

Moritzstraßeinexpensive Döner restaurants
Thai Express

address: Langgasse 36

They also have the best homemade lemonade in town.

Sombrero Latino

address: Adolfstraße 3

Argentinean restaurant.

phone: +49 611 54 24 10

address: Goldsteintal 60

Good food in a wooded valley setting. Good indoor and outdoor seating. Service sometimes suspect.

phone: +49 611 406196

address: Wellritzstraße 9

Turkish Restaurant

Palmyra

phone: +49 611 522121

address: Taunusstraße 15

Syrian restaurant

phone: +49 611 23835808

address: Taunusstraße 22

Japanese sushi and small dishes. Fixed price, all you can eat, order a number of small dishes in 10 minute tact over an iPad.
Drink
Scotch n Soda

address: Goldgasse

A family run pub and steakhouse with a Scottish theme, old friends make the best antiques. Great food and drink in the Altstadt.

Gestüt RenzA nice bar in the Nerostraße with events on the weekend.

phone: +49 611-300849

address: Michelsberg 15

The pub, with its cosy decor, quality Irish and German beers and friendly, chatty staff has the traditional feel of the great old Dublin pub. The Irish Pub is well-known for nightly entertainment and live music and its vibrant and friendly atmosphere enjoyed by our international guests and German regulars alike. It's a pub, with great-tasting Guinness and Kilkenny beer, where you immediately feel at home.

phone: +49 611-9101201

address: Wilhelmstraße 38

An "American Style" sports bar featuring menus rife with American bar food, from burgers to nachos and everything in between. Come to watch European and American sports on their many flat screen TVs, or huge projector screen. Sometimes they offer Karaoke.

phone: +49 6134 230411

address: Peter-Sander-Straße 39

Massive dance-club with multiple rooms and floors, offering a unique variety of music, from Hip-Hop and Rap, to Techno and Country.
Sleep
Budget
phone: +49 611 450 20 80

address: Kaiser-Friedrich-Ring 81

Renovated budget hotel with free WiFi.
Mid-range
phone: +49 611 991780

address: Spiegelgasse 3

Family run hotel with just 15 rooms right in the centre. Excellent fresh and hand made breakfast. Free wifi and own parking facilities.

phone: +49 611 5760

address: Aukamm Allee 31

4 star hotel with 130 rooms in a quiet part of the city.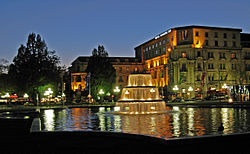 Splurge
Connect
phone: +49 611 1729 930

address: Marktplatz 1
Go next