Wigan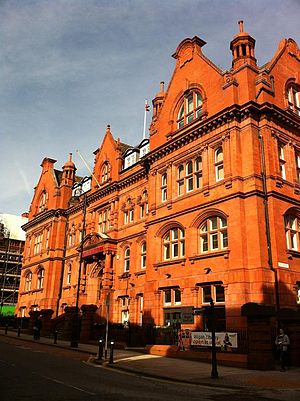 Wigan
is a town and metropolitan borough in
Greater Manchester
, England. In 1974 the town of Wigan and its surrounding districts were merged into Wigan Borough, and detached from Lancashire to become part of the Greater Manchester region.
Understand
Wigan is a Celtic town that was known as
Coccium
, meaning "the red fort". The town's etymology is uncertain but many sources say it is named after a Keltic man named Wigan, whereas some sources say it is from Welsh
gwyg
"vetch". Whatever the meaning, one thing is certain - this is a historical town.
The town grew rapidly during the Industrial Revolution, a period that transformed all of
North West England
, which became famous for its mills and mines. Wigan mainly produced cotton and clothing in the mills, and many of them still survive today. Coal was mined at Ashton-in-Makerfield (still referenced in the modern-day street name Slag Lane) which was in the urban district of Ashton-in-Makerfield (back then it was separate from Wigan).
Wigan Pier is a wharf on the Leeds & Liverpool Canal, made famous by George Orwell's novel,
The Road to Wigan Pier
. It is located in the town and is now a major tourist attraction.
Singer, ukulele player and comedic actor George Formby was born in Wigan in 1904 and the local accent is evident in his performances. He had immense success in the music hall and on screen and radio in the 1930s and 1940s, initially just in the UK, but later worldwide. His distinctive shabby-chic style and humorous ditties remain recognisable and popular among many Britons. There is a statue commemorating Formby's achievements in the town's Grand Arcade shopping centre.
Nowadays, it is mostly a town known for its heritage and nightlife, with the Robin Retail Park the town's most successful.
Get in
By air
Manchester Airport
(
MAN
) is in reasonably close proximity, some 25 miles (40 km) away with access directly by rail every hour from Wigan Wallgate via Manchester Piccadilly (55-minute journey).
Liverpool John Lennon Airport (LPL) is almost equidistant but best accessible from Wigan by train to Liverpool Lime Street and then connecting bus to the airport. This could take 2 hours or more.

By rail
The town has two railway stations: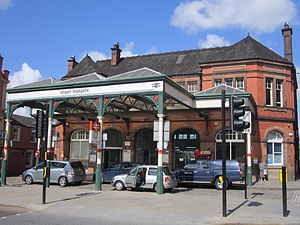 , which is run by Northern Rail and Transport for Greater Manchester, deals with local services with 5 trains per hour to Manchester, Bolton, Salford and Rochdale. Suburban rail stations of Wigan, Bolton, Salford, Manchester and Rochdale are also served.
By road
The M6 runs north-south through the Wigan districts of Orrell, Standish and Ashton in Makerfield. The M61 is also nearby, the nearest exit being J6. This will take you via rural Westhoughton in Bolton Borough and then through to Aspull in Wigan Borough and into Wigan town centre.
The M58 provides quick and easy road access to Liverpool.

By bus
Wigan is well served by buses from around Greater Manchester and beyond, including direct services (daytime estimates, evening & Sundays will vary) to Manchester (every 30 mins from Wigan, every 20 mins from Leigh and hourly peak from Lowton), Salford (every 15 minutes), The Trafford Centre (every 30 minutes) Bolton (every 7–8 minutes), Chorley (every 15 minutes), St Helens (every 15 minutes), Warrington (every 30 minutes), Skelmersdale & Ormskirk (20 minutes) and Preston (hourly).
This is alongside local high frequency services to Kitt Green, Worsley Hall, Platt Bridge, Orrell, Pemberton, Leigh, Hindley, Ince, Higher Folds, Hawkley Hall, Ashton in Makerfield, Golborne, Lowton, Tyldesley and Atherton in the Wigan Borough. Most services operating in the Wigan Borough and out to Bolton, Salford, Manchester and the Trafford Centre are operated by First Manchester or SLT.
Other services operating beyond Greater Manchester are operated by Arriva, Prestonbus, Strawberry or Stagecoach, the exceptions being some local services to Golborne and daytime routes to Bolton. First Manchester operates a Sunday 113 between Wrightington and Wigan only as it does not extend out of Greater Manchester into Preston or Lancashire on Sunday.

Get around

The borough is large and spreads across with Ashton In Makerfield and Golborne in the south to Appley Bridge and Standish in the north, Leigh and Tyldesley in the east to Pemberton and Orrell in the west. It has some 305,000 residents and is the second largest of Greater Manchester's boroughs, after Manchester. The bus network is generally your best bet, but there are taxis and several suburban railway stations in the borough, such at Pemberton, Orrell, Bryn, Gathurst, Appley Bridge, Ince, Hindley, Hag Fold and Atherton.
If you don't want to stray from the town centre, you can easily get around on foot without too many problems, though some find Wallgate and Standishgate a little hilly. Wigan walking directions can be planned online with the walkit.com walking route planner.

See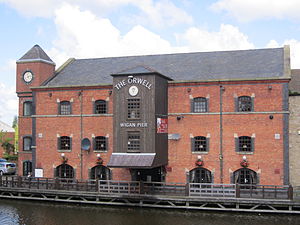 Wigan PierWigan's main tourist attraction, though this is meant to be an ironic joke, perpetuated by the early 20th century comedian George Formby. The city is inland, and the "pier" itself is a small wooden overhang where canal barges used to load cotton from nearby mills. It has its own visitor centre and a pub called the Orwell. Trencherfield Mill has been redeveloped with canalside apartments and the heritage centre, where one can discover the largest working mill engine in Europe and the history of the factory workers of Wigan in the early 20th century.
Do
Watch football ie soccer at

The DW Stadium

address: 15 Loire Drive, WN5 0UH

Wigan Athletic play in the Championship, the second tier of English football. They share the stadium with Wigan Warriors RLFC. The stadium (capacity 25,000) is a mile west of town centre.
Watch rugby league: Wigan Warriors also play at the DW Stadium. They play in the Super League, the European top tier of rugby league.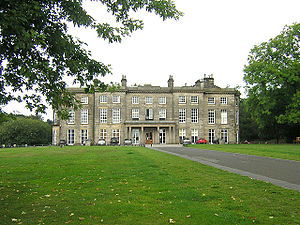 Haigh Woodland ParkA large country park owned by the local council, it is well worth a visit. Apart from the historic hall, there are acres of well kept grounds and parkland, and two golf courses, the Balcarres of 18 holes and the Crawford of 9. Both courses have been renovated at a cost of millions of pounds, and provide a good test for a golfer in beautiful and serene surroundings. As well as lots of space to ramble, there are a kid's playground, stables, shops and cafe and in the summer, there are usually inflatable fair attractions such as bouncy castles and slides. Owing to ramblers, golfers and the like, the park does get busy, especially in warmer weather, but is well patronised all year round. The Leeds and Liverpool canal runs through the country park in its circuit along the Douglas Valley and loops around Wigan on three sides. The canal towpath is navigable by foot in the whole of Wigan borough and passes through a diverse mix of rolling countryside, suburbia and traditional industrial landscapes of renovated cotton mills. There are many pubs along the towpath for the thirsty walker.

Museum of Wigan Life

address: Library St

Details life in Wigan from the days of it being the Roman settlement of Cocchium to its present status as second largest borough of the Greater Manchester region.
AMF Bowling is located on the fringe of the town centre offering affordable, cheap fun for the family. It is situated across from Staples and the HSS hire shop.
The Empire Cinema multiplex on Robin Park is good for catching the latest releases and is located near the shopping and eating areas of Robin Park, and the DW Stadium.
Pennington Flashes in Leigh and has a lot of space for ramblers, bird watching facilities and a golf course.
Three Sisters Racing Circuit
, Ashton-in-Makerfield is a popular venue for motorbike and karting events. The area also has a nature reserve and kids play area and is well worth a visit on event day.
Wigan Roller Rink
: just outside the town centre, the roller rink is a venue to go roller blading to music in a specially designed venue, much similar to ice-skating but without the cold. The roller rink is the only one of its kind in Greater Manchester.
Libraries are all over the place, so you can access the internet and take out books from them.
Buy
Wigan's shopping choices are great and the town centre is now located in the UK top 100 shopping destinations, and is one of the safest town centres with awards from the retail consortium.
The GalleriesThis shopping mall has indoor and outdoor shopping with stores such as Argos, Internacional, New Look, Desire, Varanni, H Samuel, Mary Jane Fashion, Claires accessories, Ryman, The Works, Superdrug, Duffer Menswear,Evans, Bon Marché, Wallis, V2 clothing, Exit fashion, Scotts, Toni & Guy, Clarks, Shoe Zone, Home Bargains, Ethnic Emporium, Hair Pavilion, Glamour Point, Dr Kruger and the Wigan Athletic store.

StandishgateOn the main street of Wigan, festooned with favourites such as a Marks & Spencer department store, WH Smith, Miss Selfridge, CEX, Wilkinsons department store, Caffé Nero, Starbucks, Game, B&M Bargains, Gamestation, a large Primark store and Piers department store.

Grand Arcade CentreAshopping mall housing a 125,000-sq-ft Debenhams department store and an extended entrance to Marks & Spencer. Fashion stores such as Next, Topman, Topshop, River Island, Hurley, Bank, Republic, Skopes, Monsoon, Accessorize and TK Maxx. The centre also has Ann Summers, Orange, O2, Vodafone, Waterstones, Chisholm Hunter, JD Sports, Sports Direct, The Body Shop, the Wigan Warriors rugby team store, the Carphone Warehouse, Boots, Clinton Cards, Schuh and Timepiece. Look out for the statue of George Formby strumming his ukulele.

Makinson ArcadeA small shopping arcade is home to a mixture of independent and high street retailers as well as some upmarket. Messi, Thorntons, Body Shop Clothing, Kings and Swarovski.

Wigan MarketConsists of an outdoor market and large indoor market with many a bargain to be found with clothing, food, drink and household goods, electronics and souvenirs all available.

WallgateThe main street in entering the town with both train stations located here. This street has shops such as Cash Converters, Alans clothing and Bikes and is the gateway to Market place, the shopping centres and Standishgate, the hub of the town centre.

Robin Retail ParkA large shopping complex just outside the town centre located near the DW Stadium and Robin Park arena. It is nearby an Asda Walmart Supercentre (one of the largest in the north west) and B&Q supercentre. It has stores such as Pets at Home, JD, JJB, Next, Poundstretcher, Matalan, Boots, Wickes, Argos, Sports Direct, Thorntons/Birthdays, Sleepmaster as well as being located near a McDonalds, Burger King and local pub the Red Robin for food and drink. It also contains a pizza hut, Jamal Indian restaurant, Frankie and Benny's, Gala Bingo and Empire Cinema with a 3D screen.
Try to take home a tin of "Uncle Joe's Mint Balls". These sweets are made in the area and can be found on the shelves of Harrods in London amongst other places! See next section.
Eat

The local delicacy is the meat pie, so you may wish to try one from one of many of the dozens of Galloways, Hampsons, Greggs, Sayers or Glovers in the town centre. Other options are available at fast food outlets. There are 2 Subway stores, McDonalds, KFC and an array of pubs and bars serving food such as Mortimers, The Moon Underwater, The Tavern, and Revolution.
Cafés are also a prominent feature of Wigan with the Grand arcade shopping centre housing Coffee Delight (formerly BB's), La Petit Four French café and a Costa Coffee. The Galleries has Bruccianni's, Lancashire Tea House and Continental Diner. On Standishgate there are Caffé Nero, Starbucks and Santo's to choose from. In the indoor and outdoor markets there are many independent cafés, sandwich bars, and stalls selling fresh food.
Robin Park hosts the Red Robin Pub with combined "Wackey Warehouse" for family fun and affordable pub food, as well as national chains such as Frankie & Bennie's, Pizza Hut and Burger King. There is also an Indian curry house called Jamal that serves excellent curries at a fair price. The local Asda is also home to an Asda Cafe and there is a nearby McDonalds across the road.
Wigan is also home to Uncle Joe's Mint Balls, a local sweet made in the town by Wm. Santus and Co. The factory is on Dorning Street and they also have an outlet in the town centre, selling sweets in a variety of containers and also branded goods.

Drink
Wigan's night life is legendary and many travel from miles around to sample its atmosphere. The main attraction is King Street in the town centre - a venue so rambunctious, it is gated at one end to prevent traffic from hitting drunken revellers spilling out of the myriad pubs and clubs on a mere few hundred yard stretch. The town centre contains one of the largest concentrations of clubs and bars in the UK. It is home to clubs such as Jumpin Jaks, Walkabout, Prive, The Hub, Liquid, Envy, Mortimers, Ibiza, Baa Bar, Club Nirvana, WN1, Bentleys, Madisons, Maloney's, Revolution, Last Orders, Pada Lounge, Indiependance, Number 15, Chicago Rock Cafe, Boulevard and Bar Fever.
Wigan Pier Night Club is another landmark, selling many albums and packed every week with revellers for MC, Trance, Dance and Rave music. They also hold an under 18's night. Not long ago the club was infamous in Wigan for drugs and violence with the crowds it drew from all around Wigan, Bolton, Manchester and other surrounding areas.
There are many converted old banks on Wallgate but the most interesting establishment may be the John Bull Chop House. Set in the Wiend (a back street behind JD Wetherspoon on Library Street), the pub is 4 old cottages knocked through and was a seafood shop, dating back to the 1700s. It is an architectural curiosity, full of sloping floors and ceilings and old style brick work. The pub is generally popular with the biking/rockers fraternity and serves many guest beers. Don't be put off, they are an extremely welcoming crowd and will give you the best night out in Wigan with no hint of trouble. It has a renowned jukebox and hopefully you'll like rock tunes, as that's all you will get out of the oversubscribed jukebox all night. The pub had one of the most well known landlords in Wigan, Harold Burgess. Harold struggled with ill-health for many years and his wife Margaret ran the pub until his death. His funeral had a 100-motorbike escort. Following Harold's death, Margaret retired but their daughter Victoria has taken up the mantle to keep the John Bull as it has been for close on 30 years. Harold's Licence plate from over the door is framed inside just as you approach the bar in tribute to him.
The Anvil on Hallgate near the bus station is a traditional friendly boozer, with fantastic beer at very reasonable prices. The pub covers most sporting events and is a magnet for Wigan rugby fans. The Tudor house on New Market Street, a slightly dingy but very atmospheric late bar, appeals mostly to students and the 'alternative' crowd. Real ales are available here. The Swan and Railway, directly opposite North Western station, is a very traditional pub with an attractive mosaic interior, offering a good selection of beers. Just to the north of the town centre, Standishgate and Wigan Lane are the focal point of the 'Lane' pub scene. There are many pubs along here but the most popular are the Royal Oak and the Bowling Green. Both have a wide selection of British and Continental beers and regularly feature music an buffets. The Bowling Green in particular has a fine interior and timeless atmosphere.
The Tavern, The Boulevard, Chicago Rock Cafe, Jumpin Jaks, Club Nirvana and The Tudor all regularly host gigs. Club Nirvana also hosting weekly indie club nights (Northern Lights each Friday) and under 18's rock nights every Thursday. An alternative under 18's night is held at Liquid on Tuesday for dance music and WN1 on Wednesday.

Sleep
There are many hotels in the borough of Wigan to suit all price ranges. In the town centre on Riverway just past the Grand Arcade there is the Wigan Oak Hotel ideal for anyone sampling the night life, shopping or experience of the town centre, or here visiting.
Premier Inn has hotels just outside the town centre in Standish, Orrell and Marus Bridge with rooms from £52-€70. Taxis can be taken from just outside North Western train station and cost around £5-6.50.

phone: +44 1942 826888

address: Riverway

City centre modern hotel. Special 'Real Deal' from £79.95 per couple for one night including three-course dinner, bottle of house wine and full English breakfast.

The Park InnThere are also additional independent B&Bs around the borough, all with easy access to the town centre.

phone: +44 1942 832895
Connect

Wigan is well-served by all major UK mobile telephone networks.

Stay safe
Wigan is statistically the safest area of Greater Manchester however being part of a large city region it has areas best to be avoided.
The Norley Hall, Marsh Green and Worsley Hall estates in the west of the town can be intimidating with a lot of youth trouble.
Areas in the east such as Ince, Scholes, Hag Fold and Platt Bridge are also known as hotspots for trouble in the Wigan area.
Theft from cars does happen, so don't park on backstreets around Ince-in-Makerfield or Scholes.
In an attempt to curb antisocial behaviour, Wigan Council have fitted Luma Mini on 4m and 6m-tall steel posts. LED street lighting is seen as a way to curb antisocial behaviour. However, this may pose a safety problem for drivers if you are not used to high-intensity light - the Luma is very bright. It can be recognised by its bird beak-like shape.
The safest areas to be are the likes of Orrell, Lowton, Tyldesley, Hindley Green and Standish. The town centre is also safe with high police profile from Greater Manchester Police (GMP) at weekends as well as CCTV.
Wigan also has a small population of Asians (Indian, Pakistani, Sri Lankans) so the advice given on respect in those countries articles applies.

Respect
Wigan's geographical status is a highly sensitive issue that is best not to mention to people you don't know. Some people consider the town as part of Lancashire (as it was pre-1974) but many Millennials consider it to be a part of
Greater Manchester
and do not identify with Lancashire.
In certain areas, like
Leigh
,
Atherton
and
Tyldesley
, some of the population do not consider themselves to be Wiganers and would prefer to be independent of the Metropolitan Borough of Wigan. A small part of Tyldesley called Boothstown was moved to
Salford
in 1994, and remains there politically to this day.
Go next