Wikivoyage:Past events/Pyeongchang 2018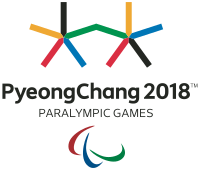 The Pyeongchang article provides a more comprehensive guide to those visiting the city, and the Gangwon article provides a comprehensive guide to the wider region. It is recommended that Pyeongchang 2018 article be read together with the articles of the host cities.
The city of
Pyeongchang
in
South Korea
was the host city of the
XII Paralympic Winter Games
held 9–18 Mar 2018.
The 2018 Winter Paralympics were expected to have 670 athletes from 80 countries. Competitions were held in six Winter Paralympic sports, with 80 medal events in total. Snowboarding will be expanded into a separate discipline for 2018, with 10 medal events.
Pyeongchang hosted the XXIII Winter Olympic Games from 9-25 Feb 2018.
Most of the Paralympic events were held in the venues used for the Olympic Games.
North Korean interest
North Korea
made a last minute offer to be involved in these games, and sent a delegation. However, unlike the Olympics, they did not march with the South Koreans under a unified Korean flag.
Prepare
Tickets
People wishing to buy tickets in North America can visit CoSport's website to purchase tickets for events.
Other ticket resellers outside of the US (Kingdom Sports Group, Cartan, etc.) are also selling tickets. Check these companies' websites to receive updates and make purchases.
Prices for Paralympic sporting event tickets range from ₩16,000 to 50,000. Opening and closing ceremony tickets range from ₩10,000 to ₩140,000.
Tickets are available at dedicated Winter Paralympic Games counters operating at Seoul's two main airports - Incheon International Airport and Gimpo International Airport - and 19 high-speed railway stations.
They are also available at Seoul City Hall, Gangwon Provincial Office, Gangneung City Hall and at a selection of other Government organisation locations.
As of January 19, tickets to the Paralympic Games were 70% sold. (155,000 tickets out of a total of 223,353 allocated).
Visas
Accommodation
Rooms were scarce and expensive during the Olympic period,
but availability is likely to be better during the Paralympics Games.
The official POG website
has some useful links.
Communication
There are several SIM card offers for tourists. You can rent a SIM card at airport or order a prepaid SIM card. Offers for prepaid SIM cards with international delivery:
Korea SIM card
,
Egsimcard
,
Simcard-Korea
Also, because of national security reasons, Google Maps is not really functional in South Korea. Be sure to use
Kakao Map
(click menu at the top-left, Settings , App Settings , Languages ). English mode is available, but it can be cryptic to a foreigner to find the way.
Get in
By air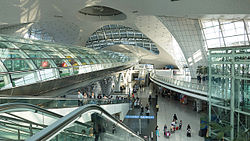 Incheon International Airport
in
Seoul
is the main international gateway for the country, and most visitors to the Paralympics will enter here.
The closest international airport is nearby in
Yangyang
.
By train
A new high-speed rail line from
Seoul
and
Incheon International Airport
opened in December 2017.
Korail
runs hourly express
KTX
trains. Journey time is slightly under 1½ hours. During the Olympic period, there was a direct KTX train from the ICN airport, so check the
timetable
for more info. There is a foreigner-only train pass 'Pyeongchang Korail Pass', which allows the passengers to ride any train operated by Korail, including the KTX.
By car
Car use near the venues will be
restricted
. If you are planing to use a car, then detailed research is advisable.
By bus
A. PyeongChang Mountain Cluster
PyeongChang Olympic Stadium
Alpensia Ski Jumping Centre
Alpensia Biathlon Centre
Alpensia Cross-Country Skiing Centre
Olympic Sliding Centre
Yongpyong Alpine Centre
Jeongseon Alpine Centre
Phoenix Snow Park (P, C
Public transportation: Transfer to the transfer parking lot (Jinbu, Yonggye, Bokwang, Jeongseon) via Jinbu Station (KTX), Changpyeong, Jinbu.
Transfer: Transfer parking (Jinbu, Yonggye, Bokwang, Jeon Line) After parking, shuttle bus to the venue or stadium.
B. Gangneung Coastal Cluster
Gangneung Hockey Centre
Gangneung Oval
Gangneung Ice Arena
Gangneung Curling Centre
Kwandong Hockey Centre
Public transportation: Transfer to the transfer parking lot (Gangneung Station, Seosan, Hongje, Seongsan, North Gangneung) via Kangnung Station (KTX), Gangneung Express)) Intercity Bus Terminal Transfer to the parking lot (Gangneung Station, Seosan, Hongje, Seongsan, North Gangneung).
Get around
All the various ways of getting around Pyeongchang are described in the Pyeongchang article. This section describes specific transportation issues relating to the Paralympics.
==See and do==
The Paralympic events take place from 9-18 Mar at the various venues.
Venues for the games are in two locations; the Pyeongchang mountain cluster and the Gangneung coastal cluster. All of the venues are within 30 minutes drive of each other.
Venues in Pyeongchang Mountain cluster:
Pyeongchang Olympic StadiumThe stadium is also called the Alpensia Olympic Stadium. It is beside the Alpensia Ski Jumping Center. There are 60,000 seats (including standing room) in the stadium. It held the Pyeongchang Ski-Jumping FIS continental cup competition in 2009, 2011.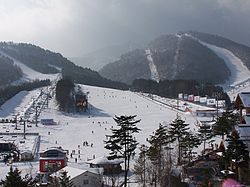 Alpensia Biathlon CenterBiathlon is a combination of cross cross-country skiing and shooting. The athletes ski a certain distance with the gun on their back and fire in a designated range. Paralympic biathlon includes standing events, sitting events (for wheelchair users), and events for visually impaired athletes. Visually impaired athletes use a rifle that uses sound to indicate to the athlete how accurate their aim is, and shoots a laser beam at the target. The Alpensia Biathlon Centre of Pyeongchang has 7,500 seats (4,500 seats, 3,000 standing rooms). The IBU Biathlon Worldcup 2008 and IBU Biathlon World Championship 2009 were held in this stadium. The course size is '4km/3.3km/3km/2.5km/2km/1.5km' length, 8m width and has 47m difference in elevation (749–796m). The shooting range is 82.5m x 50m.
Alpensia Cross-country Skiing CenterPara Cross-country skiing for athletes with an impairment is about gliding across a snow-covered field in the shortest possible time frame. Athletes are classified into sitting, standing, and visually impaired categories for this discipline.
The Winter Paralympic Games present 20 events for men and women, respectively with categories of visually impaired, sitting, and standing. The stadium has 7,500 seats (4,500 seats, 3,000 standing room). The FIS Far East Cup 2011, 2012 and 2013 were held in this stadium. There are two courses (A course, B course) in this centre. Both courses have 3.75/3.3/2.5/2km length, 8m width and 54m (751–805m) difference in elevation.
Yongpyong Alpine CenterParalympic Alpine Skiing features the following disciplines: Downhill, Super-G, Super Combined, Giant Slalom and Slalom. Athletes are classified into Visually Impaired (B1-B3), Standing (LW1-LW9) and Sitting (LW10-LW12) categories. Slalom has a course that demands short and abrupt turns while Giant Slalom has a course with greater turning radius. Super-G and Downhill have fewer turns and include wider gates in some segments of the course. Skiers speeding down the slope in these events can reach the speed of 100 km an hour. The stadium has 6,000 seats (2,500 seats, 3,500 standing room). This stadium held the FIS Alpine Ski World Cup 1998, 2000, 2003, 2006, FIS Alpine Ski Continental Cup and Winter Asian Game 1999 and IPC Alpine Ski World Cup for the disabled in 2006. This stadium will hold Alpine slalom and Alpine giant slalom. Alpine skiing slalom and giant slalom course has 1,191m length, 410m difference in elevation and 34.4% average gradient. Snowboard Cross and Banked slalom course has 583m length, 410m difference in elevation and 36% average gradient.
Venues in Gangneung Coastal cluster:
Kwandong Hockey CenterPara ice hockey is fast-paced, highly physical and played by male and female athletes with a physical impairment in the lower part of the body. It follows in principle the rules of the International Ice Hockey Federation (IIHF) with modifications. Instead of skates, players use double-blade sledges that allow the puck to pass beneath. Players use two sticks, which have a spike-end for pushing and a blade-end for shooting. A Para ice hockey game is played between two teams consisting of 13 players and two goalkeepers per team. Kwandong means 'East of Daegwallyeong'. This arena seats 6,000.
Gangneung Ice Hockey CenterThis stadium is called for Yulgok Hockey Center. Yulgok is a pen name of Yi I who was a famous confucian of Korea in the 16th century. Because his birthplace is Gangneung, this stadium name after his pen name. It has a three-story audience. The size of ice-rink is 60m (length) x 30m (width). The stadium has 10,000 seats.
Gangneung Curling CenterEach Wheelchair Curling team is comprised of both men and women athletes. Each event has 8 ends. When an athlete throws the stone along the ice, an athlete of the same team holds the wheelchair so that the wheelchair stays firm. Although the feet of the player who throws the stone must not contact the surface of the ice, the wheelchair wheels must be placed on the surface of the ice. To throw the stone, athletes may use their arms and hands, or their "delivery stick". Unlike standard curling, sweeping is not permitted. The specifications for each sheet of the curling arena are 45.720m (length) x 5.00 m (width). A distance between the center of two houses is 34.747m and a diameter of the house is 3.658m. There are 3,500 seats in the stadium. This stadium has already held the Winter Asian Game 1999, ISU 4 Continent Figure Championship, ISU Short-track Speed Skating World Championship 2007, WCF Female's World Curling Championship 2009 and ISU World Junior Figure Championship 2011.
Stand-alone venues:
Bokwang Snow ParkSnowboarding is a sport that uses boards to glide down the slope. Para Snowboard is an adaptive version of Snowboard for athletes with impairments. Athletes are classified into the upper limb(s) impairment (SB-UL) category and the lower limb(s) impairment (SBLL-1, SBLL-2) category. 10 events will be competed, including Snowboard Cross (men/women) and the Banked Slalom (men/women). This stadium can accommodate 18,000 persons
(10,200 seats, 7,800 standing room).
Events
Alpine skiing (30 medal events): Para Alpine events at the Winter Paralympics include downhill, slalom, giant slalom, and super-G (the same events that are on the Olympic program). There are visually impaired, sitting, and standing classification events in each for men and women.
Para Biathlon (18): a combination of skiing and shooting
Cross-country skiing (20): 800 m sprints or up to 20 km, depending on the athletes' class and gender.
Ice sledge hockey (1): six-man teams propelling themselves on sleds using spikes and two hockey sticks. Games are three 15-minute periods and are played on Olympic-sized rinks
Snowboarding (10): in snowboard. cross, often abbreviated SBX, athletes get three runs down a course and their best run determines their placement in the head-to-head brackets. In banked slalom, athletes get three runs, and the fastest run determines the results.
Wheelchair curling (1): co-ed teams playing six ends, and overtime if the teams are tied. Athletes throw the stone, or use a stick, to get it as close as possible to the center of the target. There is no sweeping.
Venues
Mountain Cluster
:
Alpensia: The Alpensia Resort in Daegwallyeong-myeon will be the focus of the 2018 Pyeongchang Winter Paralympics.
Alpensia Resort – Biathlon, cross country skiing
Main Olympic Village – Athletes Village
Pyeongchang Olympic Stadium – Awards and Opening and Closing Ceremonies
Stand Alone Venue:
Jeongseon Alpine Centre – alpine skiing and snowboarding
Coastal Cluster:
Gangneung Curling Centre – Wheelchair Curling
Gangneung Hockey Centre – Para Ice Hockey
Calendar
In the following calendar for the 2018 Winter Paralympics, each blue box represents an event competition. The yellow boxes represent days during which medal-awarding finals for a sport are held. The number in each yellow box represents the number of finals that are contested on that day.
March 2018
9th
10th
11th
12th
13th
14th
15th
16th
17th
18th
Gold
Medals
Total>
Opening Ceremony
●
Alpine skiing
6
6
6
3
3
3
3
30
Biathlon
6
6
6
18
Cross-country skiing
2
4
6
6
2
20
Para ice hockey
bgcolor=#3399ff
bgcolor=#3399ff
bgcolor=#3399ff
bgcolor=#3399ff
bgcolor=#3399ff
bgcolor=#3399ff
bgcolor=#3399ff
bgcolor=#3399ff
bgcolor=#ffcc00
1
Snowboarding
5
5
10
Wheelchair curling
bgcolor=#3399ff
bgcolor=#3399ff
bgcolor=#3399ff
bgcolor=#3399ff
bgcolor=#3399ff
bgcolor=#3399ff
bgcolor=#3399ff
bgcolor=#ffcc00
1
Buy
The only credit card that can be used inside the Olympic Park and at other venues is Visa. Cash can also be used.

Stay safe
South Korea generally has a good deal of security. Gambling is prohibited in Korea. Pyeongchang has a population of 43,500 so this city is categorized as a small city in Korea. The crime rate in Pyeongchang is 91.0 per 10,000 people which is the average rate of Korea, so it is not a city to pay extra attention. Moreover, Gangwon-do Province Police has a high arresting rate of crime.
However, visitors need a basic sense of safety. Especially, during a big event such as Winter Paralympic games, it is important for travellers to beware about pickpockets, beggars or violence. For visitors' safe travel, there are some emergency contacts. In Korea, civil servants can speak English basically, so visitors can solve many civil complaints without any problems if they report it in English.
Fire, Medical Emergency, Rescue

phone: 119

Emergency Sickness Consultations and Hospital Information

phone: 1339

Reporting a crime

phone: 112

Government Call Center

phone: 110

Missing Persons/Run-aways

phone: 182

Women Hotline

phone: 1366, 1577-1366 (in country only)
Violation of Human Rights, Discrimination

phone: 1331

Korea Legal Advice

phone: 132

Cyber Defamation Hotline

phone: 1377

General Information Center for foreigners

phone: 1345

Korean government has operated the General Information Center for foreigners. It provides venues for complaints or some information needed for foreigners who come to Korea. Visitors can use it by online (Hi-Korea website) and phone (1345). The online service is provided in 4 languages (Korean, English, Japanese, Chinese). The Call-center's consultation is provided in Korean and other 17 languages. It is available from 09:00-18:00.
Go next