Williamsburg
Williamsburg
is a city in southeast
Virginia
. Settled in 1632, it was the capital of Virginia from 1699 to 1779 and in 1926, John D. Rockefeller Jr commissioned a restoration project to bring Williamsburg back to its former colonial glory. During this period, 700 modern homes were demolished, colonial buildings were renovated, and more than 400 buildings were reconstructed on their original foundations. Today, the
Colonial Williamsburg
district in the center of town is a popular tourist center and people visit in droves to immerse themselves in the nation's colonial history.
Get in
By plane
The main airport servicing Williamsburg is
Newport News/Williamsburg International Airport
(
PHF
), in Newport News. This airport is serviced by Delta and American Eagle.
Williamsburg is also within one hour's drive (via I-64) of both Richmond International Airport (RIC), in Richmond, and Norfolk International Airport (ORF) in Norfolk. Both airports offer a wider range of airlines and more competition, which may result in lower ticket prices.


By train
Williamsburg Amtrak Station is just north of the central district at 468 North Boundary Street. Amtrak trains run to Richmond, Washington DC, New York City and Boston via the Northeast Regional line.

By car
Williamsburg is easily accessed by car with Interstate-64 running northeast to Richmond and southwest to Newport News, Hampton, Norfolk and Virginia Beach.
For a more scenic view, VA State Route 5 from Richmond runs along the James River past many of the fabled James River Plantations. US Route 60 and VA State Route 143 parallel I-64 for much of its length east and west of Williamsburg and are alternative routes into the city.

Get around
Public transportation is limited to
Oleta Coach Lines
and the
Williamsburg Area Transportation (WAT)
buses. They stop at the transportation center (the Amtrak station), the visitors center, and various spots throughout the town. They are mostly designed to serve the community, but the Yellow line goes to
Busch Gardens
and Water Country USA.
Most people get around by car. Recently, construction projects to widen Richmond road has created constant traffic jams.
The intersection of Richmond Road, Boundary Street, Jamestown Road, and Duke of Gloucester Street (non-vehicular, but with many pedestrians) near Colonial Williamsburg and the historic district is the most notorious (and confusing) feature of Williamsburg driving. Dubbed by locals as Confusion Corner, right-of-way confusion can result in accidents or close calls. For tourists in this area, traffic heading west on Jamestown Road and east on Richmond Road toward Boundary Street and have right of way; all other traffic must stop or yield. This intersection is at the corner of the College of William and Mary's campus, so be alert for pedestrians in this area.
Free parking in the restored area is difficult to find, and is generally limited to two hours. Colonial Williamsburg offers hourly and daily parking in numerous short-term lots near the restored district. Parking at other shopping areas is generally free, though it can get crowded at peak seasons.
The Commonwealth of Virginia and Department of Motor Vehicles
has certified local bus company Oleta Coach Lines, Inc for a bus route from the Williamsburg Transportation Center to shopping malls around the Hampton Roads area. The
Williamsburg bus route
runs from Williamsburg to Hampton, to Newport News then back to Williamsburg. It runs twice on Tuesdays.
See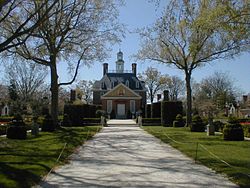 phone: +1 757 221-4000

The campus is just at the end of Colonial Williamsburg's Duke of Gloucester Street. The Christopher Wren building, where Thomas Jefferson attended classes, is one of the college's original academic buildings and is open to the public, with tours provided by a group of student volunteers. If you're approaching campus from Colonial Williamsburg you will find the College's Sunken Garden just on the other side of the Wren building. The Sunken Garden is a gorgeous place to walk, sunbathe, and play frisbee. It's an impressive sight and a favorite haunt of students and local residents, as well as being a prime example of 20th-century Colonial Revival architecture.

Colonial WilliamsburgAmerica's largest outdoor living history museum. A fully operational 18th century city with tradesmen and tradeswomen working in their shops. The ticket prices vary depending on the length of your stay and begin at $36 for a one-day pass for adults. Enjoy a step back in time and see how 18th-century people of all social classes would have lived. Participate in a court proceeding, tour the Governor's Palace, and see how the American Revolution affected the people of this historic town.

James River PlantationsA collection of historic sites located in and around the Williamsburg area. Some such as Berkeley, Chippokes, Lee Hall, and Shirley are open for guided house tours on a daily basis. Others, such as Bacon's Castle and Smith's Fort are open for guided tours for certain months throughout the year. Edgewood, North Bend, Piney Grove, Sherwood Forest and Westover are open for self-guided grounds tours and for guided group house tours by appointment.

Colonial ParkwayRuns between Jamestown and Yorktown, passing directly through Williamsburg along the way. Jamestown and Yorktown each feature both a national park site containing the actual historical site, and a privately run living history museum near the historical site designed to amplify understanding. Visitors should be wary of the signs, which are designed to draw attention to the more expensive living history museums rather than the true historic sites. National Park admission of $10 (adults) will get you to the sites of the original Jamestown Fort (signsposted as Historic Jamestown) and of the Yorktown Battlefield (last entrance 16:30). Free guided tours directed by park rangers run at posted intervals, typically last about 45 min, and are the best way to truly understand the historical context of the sites. During summer, Jamestown is an active archeological dig site, with visitors allowed within feet of the edge of the excavations, and opportunity to talk with workers and ask questions about the dig. By contrast, the Jamestown Settlement and Yorktown Victory Center are large, privately run living history museums which feature actors in period dress illustrating life in Colonial times. Like the national park sites, they offer a single entry fee providing admission to both locations. ($20 adults).
Do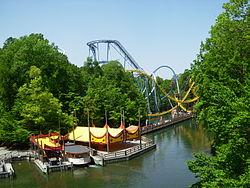 Buy
Williamsburg offers a good mix of shops and malls, selling arts and crafts, fashion boutiques, as well as upscale outlet malls.
A Touch of Earth

phone: +1 757-565-0425

address: The Gallery Shops, 6580 Richmond Rd

Craft gallery featuring a fine selection of jewellery, pottery and crafts.

Christian Outlet Store

phone: +1 757-564-6278

address: Williamsburg Pottery Factory, Building 8

America's largest Christian store selling bibles, books and Christian art.

Carolina Furniture

phone: +1 757-565-3000

address: 5425 Richmond Road - The Shops at Carolina Furniture

Great bargains to be had at this furniture store, carrying lines from Ralph Lauren, Hickory Chair, Henredon Century and Baker.

Prime Outlets at Williamsburg

phone: +1 757-565-0702

address: 5715 Richmond Rd

One of the top 10 outlet malls in America, Prime Outlets feature 120 stores offering 25-65% off brand name merchandise. Open daily M-Sa 10AM-9PM, Su 10AM-7PM.
Eat
There are many places to eat in Williamsburg. They are mostly located in two areas: Merchants Square and a small stretch of Richmond Road. Richmond Road contains many of the chain restaurants found all over the east coast. In Merchants Square you will find The Trellis, The Blue Talon, The Cheese Shop, The Fat Canary, Lenny's, and Aromas, among others. The Trellis and Blue Talon are popular places for more expensive gourmet cuisine. The Cheese Shop, Lenny's and Aromas are best for lunch and they are also well worth visiting. The Gazebo, on Bypass Road, is a great place for breakfast. Colonial Williamsburg has a few taverns where historically costumed staff serve colonial fare. They are good places to eat and a must-visit for any Williamsburg tourist. Just be warned that most restaurants and shops close at 8PM. Additional options can be found within the historic district in
Colonial Williamsburg
.
Budget
phone: +1 757 221-2918

address: Gooch Dr

Coffee shop in the college. It is only open when class is on. The Grind also has a variety of cheap and tasty sandwiches and baked goods. Tends to be vegan/vegetarian friendly and to use organic ingredients.

Wine and Cheese Shop

phone: +1 757-229-6754

address: 1915 Pocohantas Trail - Village Shops at Kingsmill

Varied selection of international wine and cheeses, go for a sandwich made with freshly baked bread.

National Pancake House

phone: +1 757-220-0361

address: 7105 Pocahontas Trail

Serving more than pancakes, this family run restaurant offers a wide selection for breakfast and lunch served in generous portions.
Mid-range
Berret's Seafood Restaurant and Taphouse Grill

phone: +1 757 253-1847

address: 199 S Boundary St

Their seafood is excellent, and the crabcakes in particular are outstanding. Large wine list, beer on tap and they are open late. Run by the same folks who operate Nick's Riverwalk Restaurant in nearby Yorktown. If seafood takes your fancy, visit either or both of these restaurants.

phone: +1 757 476-2583

address: 420 Prince George St

Specializing in "serious comfort food", the Blue Talon has a wide selection of homey favorites.

Peking Mongolian & Japanese Restaurant

phone: +1 757-229-2288

address: Bypass Road - Kingsgate Shopping Center

Voted #1 "Best of Williamsburg" for 16 years in a row, Peking is famous for their buffet, which includes a made-to-order Mongolian grill, Chinese and Japanese hibachi bars, and a full appetizer bar, vegetarian bar, salad and dessert bar.

Red Hot and Blue

phone: +1 757-259-1670

address: 1622 Richmond Rd

Enjoy the best of the south with this feel good Southern restaurant serving St. Louis-cut hickory smoked ribs, BBQ platters with pulled pork, beef brisket or chicken, Mississippi Delta catfish, southern chicken, sandwiches, salads and more. Open at 11AM.
Splurge
Fat Canary

phone: +1 757 229-3333

address: 410 W Duke Of Gloucester St

Food and wine are uniformly excellent, be sure to try the lamb. Staff are friendly and attentive.

The Trellis

phone: +1 757-229-8610

address: Merchants Sq., 403 Duke of Gloucester St., Colonial Williamsburg

Fine dining restaurant that has received mixed reviews of late regarding the quality of food. The service and ambiance are still up to par, so try for yourself.
Drink
There are three bars, called the delis, which are conveniently all located at the intersection of Richmond Road and Scotland Street.
The Green LeafeServes an impressive variety of beers (and tasty food) and it is significantly more expensive than the other two.

The College DellyHas outdoor seating.

Paul's DeliServes good stromboli, which is even better when shared with friends and washed down with a pitcher or two of beer. The delis are right next to campus and they are very popular with William and Mary students.

Corner PocketThe best place to play pool while you drink.
Sleep
Additional lodging options can be found in
Colonial Williamsburg
that offer benefits for guests visiting the historic district.
Go next
Busch Gardens Williamsburg - a few miles southeast of Williamsburg, this amusement park features roller coasters and other thrill rides and was voted the world's "Most Beautiful Park" for 20 consecutive years by the National Amusement Park Historical Association.
Newport News - about 20 miles southeast of Williamsburg on I-64, Newport News is home to the massive Newport News Shipbuilding, a shipyard that was founded in 1866. It is where many American aircraft carriers, submarines and other military ships are built.
Richmond - about 50 miles west of Williamsburg on I-64, Virginia's current capital city was settled in 1607, served as the capital of the Confederacy during the Civil War, and today offers a wealth of Civil War history.