Williamsport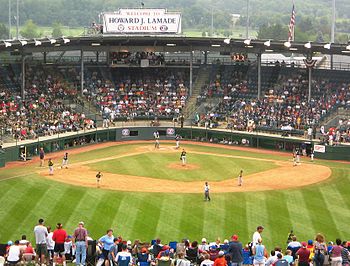 Williamsport
is a city in the
Pennsylvania Wilds
of
Pennsylvania
.
Understand
Some major area attractions are in communities that are separate from the city of Williamsport. Most notably, the Little League
Baseball
complex—including the headquarters, the museum, and the Little League World Series stadiums—is located in the borough of South Williamsport, on the other side of the Susquehanna River from Williamsport proper.
Get in
By car
Williamsport is connected to two Interstates: I-180 and I-99. I-80, which terminates at Interstate 80 south of Williamsport, is the road you'll use if you're coming from New York or Philadelphia. From Pittsburgh, you'll use I-99, which is not entirely completed and still has some non-expressway gaps, so expect construction and some confusion. (You might spot signs saying "Future I-99 corridor" on the drive in). Points north should use US-15, which will one day be I-99. The area north of Williamsport is sparsely populated though, so there will probably be little in the way of delays, just a rather scenic mountain drive.
By plane
Williamsport Regional AirportThe main airport servicing the area. Options are extremely limited, with only one destination served: American Airlines flies to their hub in Philadelphia. Because American has a monopoly on the airport, flying to Williamsport can be an expensive endeavor.
See
phone: +1 570 326-1486

address: 525 Montgomery Pike (US 15), South Williamsport

Lots of Little League trivia and memorabilia, along with profiles of distinguished ex-Little Leaguers. Audio tour guide available for rental ($3) in Arabic, Chinese, Dutch, French, Japanese, Korean, and Spanish, as well as separate English versions for adults and children.
Do
phone: +1 570 326-1921

address: games are held at Lamade Stadium or Volunteer Stadium, 539 Montgomery Pike, South Williamsport

Held every August, the LLWS pits sixteen teams of 11-12 year olds from around the world in a tournament to prove the best team. It's very popular among people of all ages and the atmosphere is electric for every game. Tickets are available first come, first served for all games except the World Championship Game. Those tickets are distributed by a lottery system, but seating beyond the stadium fences is always available.
Buy
phone: +1 570 326-5764

address: 107 West Fourth Street

Otto's Bookstore sells new books and has been in business for 170 years making it one of the oldest bookstores in the country.
Eat
address: 33 East 3rd St

33 East is one of the area's most popular "fine dining" establishment. The food is excellent (albeit a little pricey), as is the atmosphere and service. Brought back to life after a complete and utter restoration, 33 East is a delight to your senses.

address: 229 West Fourth St

A very good local restaurant/microbrewery - it makes a nice change from the plethora of chain eateries in the city. The food and drink are both excellent, but it's best to make reservations for evening. It can get busy.

address: 407 West Fourth St

The Peter Herdic House, one of the most famous Victorian-style mansions left over from the prosperous logging days of Williamsport's history (which used to have more millionaires per capita than anywhere else in the world) is now an inn and fine dining restaurant. The menu is seasonal, and ranges from Parmesan Crusted Shrimp and a side Pear, Walnut and Gorgonzola Salad to Salmon in a Dijon Cream and Homemade Linguine Carbonara with Broccoli. Reservations are recommended, but walk-ins are also welcomed.

Pazzo Restaurant

address: 326 Court Street

Pazzo is a very small corner restaurant which is extremely unique with a seasonal menu. Examples include a sushi-style Duck Roll, Baby Arugula Salad with Prociutto and Mozerella and a Balsamic Glaze, and always-changing desserts. The atmosphere is very dark and cozy, with a baroque almost-gothic feel with crimson walls, large ornate mirrors, and a diamond/joker theme. House-made garlic breadsticks are served free with a side of olive oil and salt and pepper. The establishment is fairly esoteric as it lies in an ally, but for those who know it it's a favorite.

address: 341 East Fourth St

Best Italian restaurant in the area, hands-down. The atmosphere is nice, too.

The Golden Strip

address: East Third Street

The Golden Strip (as the locals call East Third Street) has the highest concentration of stores and restaurants in the city. Most of the eateries are part of chains, so if you're looking for anything from McDonald's to TGIF to Red Lobster, it's right along this half-mile stretch of road.

address: 217 W 4th St

The Coffee and Tea Room is a coffeehouse, a cafe, an art gallery, and a cultural meeting place. It offers a large selection of specialty drinks including cappuccino, mocha, latte, cocoa, full-leaf tea (many styles available) and a special Kona Blend freshly brewed coffee. They offer a selection of muffins, scones, bagels, cookies and cinnamon rolls, each baked fresh daily. For sustenance, the Coffee and Tea Room offers a variety of wraps, panini sandwiches, salads, and soups, each individually-inspired. An internet-connected computer is free to use as is WiFi access. Tarot card readings also take place here and earthy clothes and objects can be purchased in the front of the restaurant. The seating consists of unique chairs, sofas, and armchairs in individual settings - from two to six or so.

address: 12 West Fourth Street

Authentic Italian food, from bread to pastas and desserts, home-made and absolutely the best in the region. Menu has both traditional Italian cuisine as well as unique dishes that are sure to please the palate. Atmosphere is cozy but elegant and the owners will make you feel at home!
Go next