Winchester (England)
Winchester
is an historic cathedral city in the
English
county of
Hampshire
within the
South East
region. Erstwhile capital of England, it was from here that Alfred the Great governed the newly unified country. Visitors appreciate Winchester first and foremost for its cathedral, but also for its other ancient buildings, its medieval centre, its markets and museums.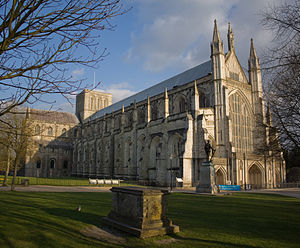 Understand
Winchester has a long history: there has been continuous settlement on the site for over 2,000 years.
Winchester began as a Celtic hill fort, pre-dating the Roman invasion of Britain in 43 CE. After the Roman conquest, the town grew and became known as
Venta Belgarum
. After prospering under Roman imperial rule for several centuries, Winchester discovered a new identity as an important Saxon city. King Alfred the Great named Winchester as the capital, first of the Kingdom of Wessex and later all of England south of the Danelaw - despite the growing importance of
London
, it remained so until the Norman invasion of 1066. During the Middle Ages, Winchester was renowned for its woollen goods, among other produce.
Winchester is now an attractive and peaceful cathedral city deep in the southern English countryside, close to London and
Southampton
.
A visitor staying in London but with a day to spare and a desire to see more of England could do much worse than simply travelling to Winchester by train (which is a pleasant way to see the Hampshire countryside) and spend the day wandering around this ancient city.
Get in
By plane
The most convenient airports for Winchester are (in order of distance):
By taxi
There are couple of Winchester based taxi companies providing long distance transfers from major airports, towns, bus and rail stations to Winchester:
Winchester Taxi Company
,
Winch Taxis
,
Airport Taxis Winchester
and
Winchester Taxi Link
provide online taxi booking facilities.
Taxi fare is approximately £75 from Heathrow, £90 from Gatwick, £120 from Luton, £20 from Southampton, £55 from Bournemouth airports.
By train
Winchester station
is on the main line from
London
to
Southampton
,
Bournemouth
,
Poole
and
Weymouth
. It is also served by long-distance services from
Reading
,
Oxford
,
Birmingham
and places further north.
From London, trains to Winchester depart from
London Waterloo
; there are several trains an hour which take about one hour for the journey. A "cheap" day-return adult ticket between Winchester and London Waterloo is typically around £22.
Train times (from any location) can be found on the
National Rail Journey Planner
or by calling 08457 48 49 50 from anywhere in the UK.
Engineering works can occur, particularly at weekends. Double-check your journey with
South West Trains
before you travel. If engineering works are occurring, consider taking the coach instead - it may be faster than the replacement bus service offered by the train company and is invariably cheaper.
By bus
National Express
operate services to Winchester from cities throughout the UK including
London
. Advanced ticketing is required. National Express coaches drop off in the Broadway.
Megabus
, which requires online pre-booking, offers cheap daily tickets to Winchester from London on the routes to
Southampton
and
Bournemouth
. The drop off location is St. Catherine's Park and Ride car park, 15 minutes' walk from the city centre.
For those with a special interest in cathedral cities,
Wilts & Dorset
operate the branded
Cathedral Connection
between
Salisbury
and Winchester, taking in some very attractive countryside en route. Despite its branding, this is a rural bus service (number 68) with no need for advance ticketing; it operates six times a day (M–Sa) and takes about 1 hour 30 minutes for the journey. Timetable details can be found on the website, or by telephoning 01722 336 855 from anywhere in the UK.
By car
The town is close to the M3 motorway from London to Southampton, with the A34 providing access from the Midlands and the North. Winchester and its city centre are generally regarded as car-unfriendly; an excellent
Park and Ride
site is just off junction 10 of the M3 (if you are heading southbound, exit at junction 9 and follow the signs) and buses provide a link to the city centre every 10-15 min taking under 10 min for the journey. Operates M–F 7:30AM–6:30PM; Sa 8AM–6PM; no service Su; £2.70 per car (including all passengers' bus fares).
On foot
Winchester is at the western end of the
South Downs Way
and hikers starting out on or completing the 100-mile trail are a common sight in the city.
Get around
If you are planning to do any visiting or exploring beyond central Winchester, you will probably want to obtain a decent map of the area. You should ensure that any map you buy clearly shows the national grid reference lines, and explains how to use them, as grid references are frequently used to indicate out of town locations. The best maps for this purpose are those published by the Ordnance Survey (Britain's national mapping agency) and the following maps cover all the locations mentioned below:
Ordnance Survey Landranger 185. This map covers the area around Winchester at a scale of 1:50000 and is best for exploration by car or cycle.
Ordnance Survey Explorer 132. This map covers the area around Winchester at a scale of 1:25000 and is best for walking.
These maps can be found in any good local bookshop, or can be
bought online
.
By foot
Most of the things to see and do in Winchester, and the places to eat, drink and sleep are within easy walking distance of each other and the rail station. There are several attractive walks in the surrounding countryside, particularly towards Twyford along the Water Meadows, and on Old Winchester Hill.
By bus
Winchester has a reasonable bus service, both within the town and to the surrounding area, although frequencies can be quite low with little service in the evenings or on Sunday.
phone: 0845-121-0180 (non-geographic number)

operate most of the bus services in the city and surrounding area.

phone: +44 1202 338421

operates the Bluestar 1 from the city to Southampton

phone: 0871 200 2233 (non-geographic number), +44 871 200 2233 (from outside the UK)

provide an impartial online travel planner and telephone query service for all local bus services.
By car
Winchester is quite small and a car is unlikely to be necessary for getting around. In addition, town centre parking can be difficult; if visiting for the day consider using the Park and Ride described above. Visitors with mobility problems can arrange to borrow a wheelchair or electric scooter through the Shopmobility office situated in the Brooks car park, off Friarsgate Street.
See
Winchester's city centre is known for its narrow pedestrian streets and overhanging medieval buildings. Besides the cathedral, the main landmark is the
Statue of King Alfred the Great
, first king and nominal founder England. Nearby is the Victorian
Guild Hall
, which hosts many events throughout the year. Also of special interest are the
Pentice
, a group of old shops arcaded at the front, and the
Butter Cross
, dating back to the 15th century and built with a tax levied on people caught eating butter during Lent. The
River Itchen
, a crystal clear chalk stream, flows through multiple channels in central Winchester, seemingly just to surprise visitors by its tinkling presence at every turn.
Landmarks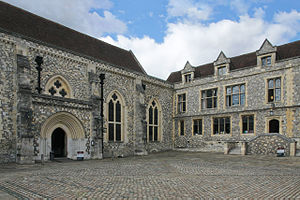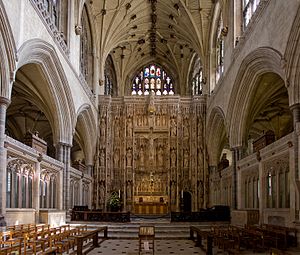 Museums and galleries
Do
Walks
Three Castles PathA 60-mile (100-km) walk from Windsor to Winchester. This walk is inspired by the journeys of King John between the two cities via the castle he built at Odiham at the time of Magna Carta, and passes through a variety of attractive scenery including parkland and forest, heath and downland, quiet streams and picturesque villages. For more information see the web site, or get a hold of a copy of the book The Three Castles Path by David Bounds and Dave Ramm ().

South Downs WayA 100-mile (160-km) bridleway running from Winchester to Eastbourne. It offers spectacular views of the South's countryside.
Parks and gardens
Abbey GroundsLocated off the Broadway between King Alfred's statue and the rear of Winchester Cathedral. These are formal gardens through which the Itchen flows, and include a children's play area.

Cathedral GroundsThe green space around the Cathedral contains part of the burial ground, and is a popular meeting spot. The main grounds are around the western entrance of the cathedral, and there is also green space on the southern side.
Fairs & festivals
Art and MindFestivals and symposia began in 2004, bringing some of the world's most eminent thinkers and artists to Winchester for events examining the way we experience music, myth, dance, film and visual art.

Winchester Chamber Music FestivalA festival of chamber music and song which takes place at the Discovery Centre every year at the end of April or beginning of May. It is presented and performed by the London Bridge Ensemble, one of Britain's most exciting and brilliant chamber groups and is co-directed by the Ensemble's highly-acclaimed cellist, Kate Gould, who received her early music training in Winchester. There are concerts, a photographic exhibition, a masterclass, an informal sharing of work by local schools, and local restaurants hosting the festival club with discounts for ticket holders. There's also a special accommodation package at one of the local hotels. Ticket prices vary but include a Festival Pass and am allocation of free tickets for young people aged 8-22.

Winchester Hat FairBritain's longest running festival of street theatre. In a typical year, over 30,000 people flock to the city streets to watch this festival of street theatre which combines a mix of circus, clowning, outlandish performances, craft stalls, workshops and world music. First weekend in July, Th-Su (main day Saturday). Free; but expect to see lots of hats being passed around for donations (hence the name).
Cycling
Winchester Cycle FairHeld in June every year - times vary - that celebrates all things cycling, including a short gentle bike ride around historic points of interest.

phone: +44 1962 847474

Hire a bicycle in Winchester at BikeAbout at the Gladstone Car Park near the Railway Station. Members of the scheme can borrow a bike as many times as they like. Terms and conditions pn the Winchester Miracles website or by telephone.

Cheesefoot HeadEnjoy the splendid views around Cheesefoot Head on the off-road cycle track, unsuitable for beginners.
Theatre
phone: +44 1962 840440

address: Jewry St, SO23 8SB
Buy
The compact city centre of Winchester is unusual in retaining a number of independent bookshops, boutiques, toyshops, galleries, antique and foodshops, particularly in the Upper High Street and in the roads off the High Street such as Parchment Street, Southgate Street, Great Minster Street and The Square. Winchester is not a major shopping centre; if you want the large chains, go to
Southampton
,
Reading
or
London
.
Cathedral ShopHoused in an old Coach House 25 m from the West Front of the Cathedral, this shop offers a range of gifts, many of them unique to the cathedral.

address: Middle Brook St

Winchester hosts what is reputedly the country's largest farmer's market, now every second Sunday, Middle Brook Street. The extended trading hours have eased the crowds and made it pleasant to stroll around taking advantage of free samples of local produce on offer at many stalls.
Eat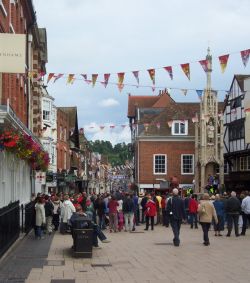 There are lots of places to eat in central Winchester, particularly in Jewry Street, the High Street and the Square, and a good way to find one is simply to keep your eyes open as you visit. The prices are best guesses for a meal including drinks & tips.
Budget
The RefectoryIn the walled garden opposite the cathedral's west front. An excellent volunteer run restaurant opposite the main entrance to the cathedral, offering a good selection of homely English dishes at reasonable prices.

Cafe Monde

address: 22 The Square, SO23 9EX

A popular, friendly and reasonably priced contemporary cafe serving breakfasts, Fairtrade coffee and light lunches.
Mid-range
Splurge
phone: +44 1962 851555

address: 1 Chesil St, SO23 0HU

This Grade II listed building was built in 1450, given to the city by Mary Tudor, and now holds the Chesil Rectory, which received a Michelin star in the early 2000s. The restaurant is a member of the Hampshire Fare group, who strive to use local producers for their supplies.

phone: +44 1962 844465

address: 88 Chesil St, SO23 0HX

This restaurant serves high quality 'Modern British' food with locally produced ingredients. It is a few minutes from the main high street in what was once a pub. In 2011 the Black Rat was awarded a Michelin star.

phone: +44 1962 841414

address: 14 Southgate St, SO23 9EF

A town-house bistro in the centre of Winchester, popular with locals and visitors. See also 'Sleep' below.
Drink
England is known for its public houses, and Winchester - being the ancient heart of England - is no exception. Winchester has a good selection of city centre pubs, many of which are noted in the Real Ale bible 'The Good Beer Guide', and a few that are worth taking a stroll and the time to discover.
This plethora of pubs means that Winchester is not saturated with one type of beer. It is in the enviable position that there are many brewers represented in the city. Although the best approach is to wander around and to go into the one you like the look of, there are a few that may not reveal their delights until you venture inside.
Sleep
There are many different places to sleep in Winchester. The following can only be a set of suggestions. The prices quoted may be negotiable.
Connect
Telephone
Winchester's area code is 01962 when dialed from within the UK or +44 1962 from outside the UK.

Go next
The area around Winchester contains some very attractive scenery and some interesting attractions. Use of a car (or a bicycle) is a near necessity for exploring most of these, although with patience and careful use of a bus timetable some are accessible by public transport.