Windhoek
Windhoek
is
Namibia
's capital and largest city (population ~400,000). It is in the geographic centre of the country at an elevation of 1,600m. This is the city where most safaris travelling through Namibia begin, and also the first point of entry in Namibia should you arrive by airplane.
Understand

The city was spelled Windhuk during the German colonial time and is sometimes still referred to as such in German. The name is pronounced wind-hook, as "oe" in Dutch and Afrikaans is pronounced like "u" in German.

Talk
English is spoken throughout Namibia (it is the country's official language and is also the medium of instruction in most schools), although in many urban areas
Afrikaans
(similar to Dutch) is used as a lingua franca, as 50% of the Namibian population speak Afrikaans.
German
is widely used in tourism. Oshiwambo is spoken by 50% of Namibians as a mother tongue.
Radio and television are also predominantly in English.
Other languages include Otjiherero, Damara/Nama, Setswana, SiLozi, and Rukwangali.
Get in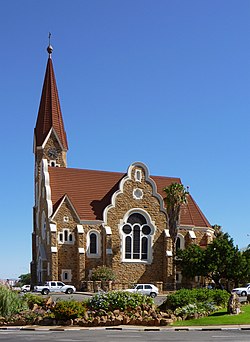 By car
The B1, which runs from the north to the south and the B2 (Trans-Kalahari) which runs from the east to the west through Namibia are the primary land routes into Windhoek. Northern towns served by the B1 include Oshakati, Otjiwarongo, and Okahanja. Southern towns include Rehoboth,
Keetmanshoop
and
Lüderitz
. From the west the B2 connects
Swakopmund
and from the east it connects Gobabis.
By minibus-taxi
This is the easiest way to get to Windhoek for people without a car. Minibuses run from everywhere in Namibia, and through some combination of different routes, one can always find their way to Windhoek. The Engen petrol station north of downtown (Rhino Park) is the rank for southern and western destinations such as Mariental, Swakopmund, Keetmanshoop. For northern destinations such as Otjiwarongo, Oshakati and Rundu go to Hakahana Service Station, Katutura. However, it is easier to arrange for a minibus to take you (check opposite SAA in Independence Avenue).
By plane
If you're arriving in Namibia by airplane, this is most likely to be via Hosea Kutako International Airport. It's a relatively small airport, with a handful of gates and no aerobridges. Airside there are a few souvenir shops, and a bistro with fairly average food in a large common waiting hall for all flights. Landslide there is a nice cafe outside of departures with good coffee, burgers, toasties and at reasonable prices. There is a official taxi booth landside in arrivals. Even though the airport is small, the queues can still be fairly long for security and immigration clearance - both incoming and outgoing. Car hire is available at the airport with all the majors. The airport is approximately out of town, so give yourself plenty of time to travel to the city centre. A taxi to the city will be about N$300 per person and will drop you at your doorstep. If you are travelling in a group you can negotiate a bulk price. For a similar price you can probably book a transfer through your hotel to be met at the arrivals. The road between the city and the airport is tarred, but there are no services. Fuel is available at the airport and in the city - there is not much between. Watch or baboons and other wildlife if you are driving in Namibia for the first time.
Travelling between international and domestic airport will take about half a day, due to customs, passport control, road time, and another check-in. Luggage will not be routed from one airport to another!
By train
TransNamib
, via their
StarLine
passenger service, operates trains from Windhoek to a few destinations in Namibia. All trains depart in the late afternoon or early evening (between 4 and 8 PM) at a time when the ticket office is already closed. You cannot buy a ticket on the train; in fact, you cannot enter the platform without a ticket. Trains are scheduled 2-5 times per week, depending on destination and season, on the following routes:
These are not dedicated passenger trains but convey passengers via special coaches hooked on the back of freight trains. They are therefore a relatively slow method of transport, as the train will stop at every tree to hook and unhook freight cars. The trip Windhoek-Swakopmund ( by road) takes a scheduled 9 hours, the trip to Keetmanshoop takes almost a day. Tickets are cheap, though, even in business class, and the passenger coaches are comfortable and have an airline-style seating. Their air-conditioning, video entertainment, and vending machines are not often operational, though. Most trains travel at night; bring a sleeping bag against the cold.
The Desert Express is a luxury
tourist train
that traverses Namibia regularly, taking tourists to such destinations as
Walvis Bay
,
Swakopmund
and
Etosha National Park
. Buses are used to transport visitors from train stations to the various sights.
Windhoek railway station

address: Bahnhof St
By bus
Book a few days in advance at least to be sure that you have a seat.
Get around
On foot
Most hotels and hostels are close to the city centre, so you can easily walk to most shops, restaurants, clubs and sights. After dark it is not safe to walk, though.
By car
Traffic in Windhoek generally flows freely, and driving is generally well ordered. Parking garages are located in the shopping centres and and some street parking is available too.
There are a number of car rental agencies operating in Windhoek:
phone: +264 61 306 553

address: 124 Andimba Toivo Ya Toivo St

Adozu Car Hire

phone: +264 61 23-6634

African Car Hire

phone: +264 61 22-3246

Avis (City)

phone: +264 61 23-3166

Avis (Airport)

phone: +264 62 54-0271

Budget (City)

phone: +264 61 22-8720

Budget (Airport)

phone: +264 62 54-0225

Imperial (City)

phone: +264 61 22-7103

Imperial (Airport)

phone: +264 62 54-0278
By taxi
There is no scheduled public transport in Windhoek but there is a system of
shared taxis
that do not have fixed routes. Everybody in the taxi is driven to their intended destination, in the order the driver thinks is best. Taxis have their registration number, a letter and up to three digits, prominently displayed. Taxis looking for passengers will hoot. To catch a taxi, point your hand into the direction you want to travel. Once the driver stops, tell him your destination. If it is not en route to his other passengers' destinations, he might refuse. Just wave down the next taxi.
As these taxis primarily run between the townships and the main industrial/commercial areas of the city, it can be difficult to find one in posh suburbs at nightover the day domestic workers take a taxi there. The standard fare for destinations that are on the "route" or close to the route is N$12, destinations more "out of the way" are charged double. After midnight every tour costs double, and people recognisable a tourists will generally not travel for the normal fee. If the driver says nothing about the price, give N$12.
Shared taxis are generally in bad technical shape, and their aggressive driving is legendary. If you feel uncomfortable with that, there are
radio taxis
(on-demand) that do not pick up other passengers while they drive you. Most of these taxis have to be pre-booked via telephone; they'll come and get you wherever you are. They tend to gather at popular restaurants and nightspots. Make sure you agree on the price before taking them; most will ask for at least N$80 to go anywhere around Windhoek. These taxis also can take you out of Windhoek and to the airport.
Here are some taxi company numbers:
phone: +264 81-2572188

phone: +264 61-302007

Lima Transfers

phone: +264 81-1273232 (Eduard)
See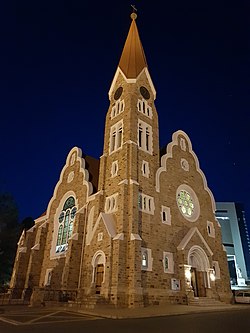 Parliament of NamibiaFormerly the legislative assembly during the apartheid days, this is now the home of the National Assembly. There is also a new building next door for the National Council.

National Gallery of Namibia
Dictator street names Though Namibia isn't a dictatorship, there are a few dictators with whom Namibia's first President was quite friendly during the days of the struggle for independence (and still is). There are two in Windhoek, both downtown: Fidel Castro St. and Robert Mugabe Ave.
Christuskirche In the middle of a big traffic circle where Robert Mugabe Ave. and Fidel Castro St. meet, at the gates of the Parliamentary compound. The old Lutheran church. The circular stained-glass window in the facade and all the other stained-glass windows in the church were donated by Kaiser Wilhelm II, as a gift to the colony. In the 1990s, a tourist noticed that all the windows were installed with the sun protection on the inside, prompting authorities to re-install all of the windows, properly.
Do
AJ du Plooy Sports Fields

address: Socrates Street, Academia

Soccer and rugby fields, tennis courts, basketball court. Also suitable for a picnic. Not all amenities are in good shape but it is free to use for everyone. Not safe after dark.

address: on farm Monte Christo north of Windhoek

Two hunting trails (rubber animals, of course) of circa 2 km each. There's also a camp site. Fishing on the Otjiseru river is also possible but as it is the outflow of the heavily polluted Goreangab Dam you cannot eat the fish. The owners expect that you throw it back into the water, anyway.

Cats UnlimitedThey guide conservation expeditions concentrating on big cats just outside of Windhoek.
Learn
Buy
There is a craft market in Post Street Mall in central Windhoek, though prices are quite high. There is another in Independence Avenue outside the Hilton Hotel.
You can get cheaper prices in the craft market in Okahandja, which is about an hour north of Windhoek, if you are travelling that way.
There are a number of arcades and small shopping centres in the centre of Windhoek. Between them you can find pretty much anything you need. There is also a larger mall called Maerua Mall in the south end of the city (Jan Jonker Road), easily accessible by taxi.
For arts and crafts you can visit Jennys Place located at Bougain Villa 78 Sam Nujoma Drive, Klein Windhoek. Telephone +264 61 269152. It is the largest arts and crafts shop in Namibia. They sell everything from paints, face paints, canvases, beads, ribbons, costumes, scrapbooking supplies, brushes, spraypaint, decoupage, wooden blanks, pewter and the occasional oddity such as glow in the dark spraypaint, gifts and decorations. They also provide a variety of art classes such as painting, card making and scrap booking. It has a calm and tranquil atmosphere and a great place to meet other crafters.
Keep in mind that many places – shops, restaurants, and internet cafés included – are closed on Sundays or stay open only until 1PM. Note also that alcoholic beverages aren't sold after 19:00 (weekdays) and after 13:00 on Saturday (through until Monday morning). On public holidays only restaurants and night clubs are open, all ordinary bars have to close.
Supermarkets and other shops close in the evenings.
Cafe le Pain

address: General Murtala Mohammed Avenue, Eros

A somewhat extravagant bakery with (for Namibia) ridiculous prices but lots of interesting produce. Very friendly staff. The shelf will only fill up from around 09:00 in the morning, ideal for a brunch at home, not ideal for the early birds.
Banks
ATMs are widespread and common throughout the city. Expect a limit of $5000 on withdrawals most ATMs, and some as low as $2000. Usage fees for foreign cards at around $25.
Standard Bankhas master card / visa card ATMs

Nedbankhas master card / visa card ATMs

First National Bankhas master card / visa card ATMs
Supermarkets
Supermarkets in Namibia have just about anything you might want from back home, though the brand names may be different.
CheckersThere are a couple of outlets in Windhoek. The one in the city centre stocks just about all the supplies you could need

ShopriteShoprite has many supermarkets in Windhoek and all over Namibia.

SparThere are now 27 Spar supermarkets in Namibia.

Pick n PayPick N Pay have supermarkets all over Namibia.
There is a small outdoor market in Post Street Mall, a pedestrian street between Wernhil park and Independence Avenue. This is a good place to shop for souvenirs and wood carvings. Prices here will be a lot cheaper than in the shops. Feel free to negotiate.
Eat
Brückenhaus

address: opposite Avis Dam

Large helpings of tasty meat and chips, very few veggies, thus a very Namibian restaurant. Several really monstrous portions with kilograms rather than grams of meat will get your table a round of Jägermeister if you can finish them. One of the few places in Namibia where you can get craft beer. There is a beer garden, kids have a pool and a small playground. Very friendly staff.

Joe's Beer House

phone: +264 61 232-457

address: 160 Nelson Mandela Ave

Windhoek's largest restaurant, seats several hundred people, and is packed essentially every day. You'll meet busloads of tourists, noisy families, local celebrities, all colors and all ages. Due to its size it can be a bit chaotic, as well as a tad impersonal. The place also features an amazing collection of odds and ends on display, from old bottles and farming equipment to a Mini Cooper that managed to cross Africa. Typical Namibian cuisine with a lot of tasty meat and not many vegetables. Huge portions; the average person will be full from a bar snack.

Luigi and the Fish

phone: +264 61 256-399

address: 320 Sam Nujoma Dr

A nice restaurant and bar, many travellers here. It describes itself as having the biggest menu in Namibia, with a mix of game, beef, pork, seafood, pizza and vegetarian dishes. On Fridays and Saturdays you need to book in advance.

Old Continental Cafe

phone: +264 61 307 176

address: Pedestrian passage between Lüderitz Street and Independence Avenue

Small downtown eatery for breakfast and lunch. Lebanese-style cooking, dishes are somewhat spicy. Try the soup of the day.

PepperCorn

phone: +264 61 254-154

address: Shop 59, Maerua Mall

Try to get a seat in the lounge and have a drink before and after the meal.

Sardinia

phone: +264 61 225-600

address: 47 Independence Ave

Italian restaurant with great pizzas, hot dishes and excellent ice cream.

Taste of India

address: Hosea Kutako Drive

Tasty Indian food but terrible ambiente, plastic chairs and tables, next to a parking lot. Still, this is much better and cheaper than Indian restaurants elsewhere in town.
Drink
Blitzkrieg Bunker Bar A loud rock and metal bar. Despite the risqué name, a perfectly friendly place with laid-back staff and a good crowd. Writing anywhere on the walls with a marker pen is not discouraged.
Bump Located in the Southern Industrial section of Windhoek, Bump features a spacious outdoor area, mid-sized dance floor and a large bar. Although the music is often limited to house and rave music, the service is friendly. Popular with the Afrikaner crowd.

Chez Ntemba

address: Dr Kenneth Kaunda Street

Popular with locals and the only place to go out on Sundays because other places are closed or dead quiet.

J&J Gambling House

address: Luther Street

Popular bar in the town centre. J&J can get a bit rough from time to time: Hookers, drunkards, people selling contraband, but security is good.

Old Location Ohungi and Restaurant

address: Purcell Street, Windhoek West

One of the few watering holes that are neither shabby nor extravagant. Outside tables. The restaurant is a stall in front of the bar, offering meat until the wee hours of the morning.

phone: +264 61 40 2253

address: corner of Tal Street and Sam Nujoma Drive

Popular with tourists and the local artist's scene. Live music (Rock and Jazz) of varying quality, but often good and always entertaining and free. Tuesdays Karaoke. Occasionally there is a rock concert in a separate hall for which there is an admission fee.
The Wine Bar Located on a hill overlooking Windhoek with fantastic sunsets, perfect for that romantic occasion. The staff give excellent service and have good knowledge of the wines being served. You may also purchase wine here.
Sleep
Budget
Mid-range
Splurge
Protea Hotel Furstenhof

address: Dr. Frans Indongo Street

Luxury hotel downtown with a pool and beautiful view of the city.

address: 129 Independence Ave

Four star hotel downtown with a "casino". The Avani and Hilton are both on Independence Avenue downtown, almost across the road from each other. The rooms at Avani aren't as plush as the Hilton, but it does have the shopping centre and cafe attached which adds some amenity. Mostly guests at the Avani, where as the Hilton draws on a wider demographic of guests, locals, and ex-pats.

Windhoek Country ClubLuxury resort and conference centre in the south end of the city.

HeinitzburgBoutique hotel in an old castle above the city

Hilton Hotel

address: Rev. Michael Scott St

Namibia's only five-star hotel. Luxury, certainly when compared to the alternatives, well equipped, excellent service, city center location. The conference area is a hub for the city's business activities, and the pool bar buzzes with residents and visitors.
Connect
The
area code
for Windhoek is (061). When calling Windhoek from outside Namibia do not put a '0' between the country code and the area code.
It is cheaper to buy
mobile phone starter packs
than rely on roaming. Starter packs, including SIM cards and airtime, can be purchased throughout the city at less than N$20.
There are a number of well-equipped
Internet cafés
in Windhoek.
Internet Cafe

address: Wernhill Center

Large number of computers with good connection speeds. Also has a few terminals for Skype calls.
Stay healthy
Due to its high elevation of about 1,600m you can be sunburnt easily, even on the (few) cloudy days. Wear a hat and sunscreen.
Windhoek is not within the endemic
malaria
area. The mosquitoes can still be a pest during rainy season (Nov-April). Repellents are available at every supermarket.
Stay safe
Windhoek is generally safe for tourists but the usual precautions should be taken. Do not walk around displaying jewelry or electronics. Take a radio taxi at night. Do not visit the townships unaccompanied, or after dark.
Be careful with the traffic. Many drivers ignore red lights, zebra crossings, and a lot more. For a car that wants to turn, a green pedestrian traffic light means nothing, and generally people in cars are deemed to be more important than people on foot, and therefore have the right of way.

Cope
General emergencies
Medical emergency / Fire station: +264-(0)-61 211111
Crisis emergency services: +264-(0)-61 303395,
City Police: +264-(0)-61 302302, +264-(0)-61 2902018,
Police: +264-(0)-61 10111
Hospitals
Lady Pohamba Private Hospital: +264-(0)-83 3359000,
Roman Catholic Private Hospital: +264-(0)-61 2702911
Mediclinic Private Hospital: +264-(0)-61 4331000
State Hospital: +264-(0)-61 2039111
Embassies