Winslow (Arizona)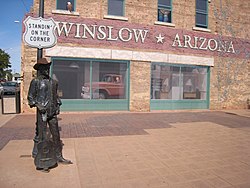 Winslow
is a small town on
Route 66
in
Northern Arizona
. While the town itself is of limited interest, it is a convenient gateway to a number of regional attractions.
Understand
Get in
Winslow is on Interstate 40 (I-40), which follows the roadway of old Route 66 through much of Arizona. Several state and local highways connect the town to
Phoenix
, about 150 miles away, which is a major commercial air hub. To get to Winslow from Phoenix, you'll just have to drive.
address: 303 E 2nd St

The daily Southwest Chief Chicago-Los Angeles line stops in Winslow. The westbound train arrives at 8:50PM and the eastbound train arrives at 7:09AM. This stop has no ticket office and no Quik-Trak ticket machine so tickets must be purchased at another station or online.
Get around
There is no public transportation. There is one privately-owned taxi service and one hire car firm in Winslow.
Winslow Shuttle

phone: +1 928-289-2570

address: 140 Papago Blvd

phone: +1 928-289-1993

address: 1001 N Minnatonka
See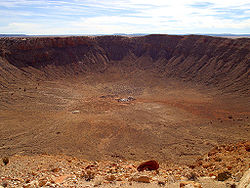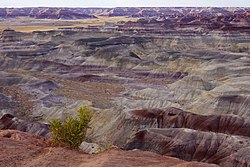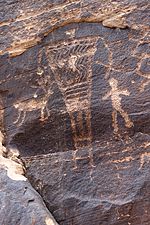 Meteor CraterThis is an exceptionally well preserved meteor (impact) crater, although not the largest in the world as sometimes claimed. The crater was formed approximately 50,000 years ago by an explosion estimated to be the equivalent of 2.5 megatons of TNT, or 150 times the force of the atomic bomb that destroyed Hiroshima. The meteorite itself was estimated to be 150 feet across and weighed approximately 300,000 tons. Although most of the meteorite itself vaporized upon impact, large chunks of nickel-iron remnants have been found in the surrounding area. It is historically important, as this was the site that informed much of the early theoretical work on the nature of meteorite impacts. Apollo astronauts trained here due to its similarity to lunar topography. The site is privately owned, and includes a well-done visitor center with a number of interpretive exhibits and short trails to viewpoints.

phone: +1 928-289-4106

This park preserves over seven separate ruined pueblos, and over 300 archeological sites. The park hosts interpretive programs throughout the year, and has a number of hiking trails as well as a year-round campground.

Take It EasyWinslow owes much of its fame to the Eagles' hit song of the 1970s, "Take It Easy," with lyrics that talk about "standin' on a corner in Winslow, Arizona." If you want to relive the song, the town has erected a small exhibit at Standin' on the Corner Park in the downtown area; go there and see if a girl in a flat bed Ford slows down to take a look at you.

phone: +1 928-289-5861

address: 212 N Kinsley Ave

A small museum with exhibits detailing the history of the Winslow area.

Brigham City ghost townFounded by Latter-day Saints in 1876, the town was abandoned in 1881 due to flash flooding. It is now on the register of National Historic Places, and 37 buildings have been partially restored.

Little Painted Desert County Park

address: Hwy 87

A gem of a park, with a good view of the Painted Desert. The view is particularly beautiful in the early morning and late afternoon.

Rock Art Ranch House and Museum

phone: +1 928-288-3260

address: Territorial Rd

Over 3000 petroglyphs are located on what is now a working cattle and buffalo ranch. The petroglyphs are listed on the National Register of Historic Places, and have been determined to cover a period spanning 6000 years produced by several Native American cultures. Personal guided tours are offered by the ranch owner Brantley Baird and his ranch hand Clem Rogers.
Do
McHood Park / Clear Creek Reservoir

phone: +1 928-289-2855

address: Hwy 99

Offers opportunities for canoeing, fishing, swimming, and picnicking. Clear Creek Canyon, a deep rock canyon with petroglyphs, is accessible only by canoe. It is possible to camp here; see listing below.
Buy
phone: +1 928-289-5861

address: 214 N Kinsley Ave

Specializes in regional Navajo and Hopi arts and crafts, and books of local interest.
Eat
Casa Blanca Café

phone: +1 928-289-4191

address: 1201 E 2nd St

Serviceable, inexpensive Mexican food. A different opinion says this is one of the great bargain foodie road warrior stops if you want AzMex home cooking. Outstanding sopapillas, huevos rancheros and homemade salsa. Local dining at its finest. Kid friendly, family oriented, mobbed by locals.

phone: +1 928-289-2888

address: 303 E 2nd St

High-end drinking in the desert with a competent and capable barman. Perfect, a bit pricey, to wash that road dirt from your throat. Very classy and original.
Groceries
phone: +1 928-289-3126

address: 1601 N Park Dr

Has a hot and cold full-service deli for self-catering options, as well as a pharmacy onsite.

Walmart Supercenter

phone: +1 928-289-4641

address: 700 Mikes Pike

Has a full grocery store, deli and pharmacy.
Drink
phone: +1 928-289-0787

address: 1500 E 3rd St

Live music and karaoke on some weekends. A nice, relaxing place where locals meet with friends.
Sleep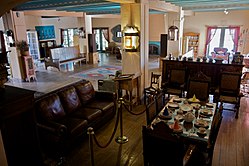 Lodging in Winslow can charitably be described as "functional" – geared to the thousands of travelers passing by on I-40 who need a place to sleep and nothing more. The usual motels and motor lodges (Best Western, Days Inn, Super 8, etc.) cluster near the exits, with little to choose among them. For a bit of flavor of the old town and Route 66, try the La Posada Hotel.
Camping
McHood Park / Clear Creek Reservoir

phone: +1 928-289-2855

address: Hwy 99

Grills and restrooms available, but no hookups or water connections. For park description, see listing above.

Homolovi State Park Campground

phone: +1 520-586-2283 (reservations)

Open year-round, showers and toilets available. For park description see listing above.
Connect
phone: +1 928-289-4982

address: 420 W Gilmore St

Has public access computers, and wi-fi throughout the building 24 hrs/day.
Cope
Go next
Nearby destinations include: