Winterswijk
Winterswijk
is a small city and municipality in the far east of the
Achterhoek
region of
Gelderland
,
The Netherlands
.
Understand
Winterswijk, which name means something along the lines of "Place where
Winter
lives", was founded around the year 1000 and remained an isolated part of the country until 1830, when a road from
Borken
to
Zutphen
via the city was built. Ten years later, a wave of migration hit the town. Many of its citizens moved to the
United States
, particularly
Michigan
. After 1870 the town became a producer of textiles and eight years later a railway connecting the town to Zutphen was established to benefit this textile trade. One of Winterswijk's most notable citizens has to be
Piet Mondrian
, who lived in Winterswijk from 1880 to 1892. During this period, Mondrian started the painting career that would make him famous.
Get in
By car
When travelling from
Utrecht
, use the A12 in the direction of
Arnhem
. After driving past Arnhem and Zevenaar, use Oud-Dijk interchange to turn onto the A18 heading for
Doetinchem
. Follow the A18 and turn right onto the N18 when the A18 ends. Follow the N18 until you find Lichtenvoorde, and enter the town using a right turn onto the Richterslaan. Go straight on at the two roundabouts that follow and take the second right, followed by a left turn after that. Go straight on at the roundabout that's now in front of you and follow the road that you then find yourself on, the N312. This road will take you directly to Winterswijk.
By train
From any location in the country, take a train to
Arnhem
or
Zutphen
. From these two cities you can take a train to Winterswijk. Trains from either location go to Winterswijk every 30 minutes.
Get around
Winterswijk can best be travelled by bike, though taking a car or bus, especially when visiting nearby locations outside of the city, might be recommended. When using a bus, use
9292.nl
, a website created by Dutch public transport companies which will help you plan your journey.
See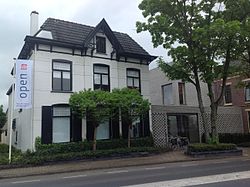 phone: +31 543 515 400

address: Zonnebrink 4

The former house of Piet Mondrian, which has been turned into a museum.

Jacobschurch

phone: +31 543 522 303

address: Markt 1, NL-7101 DA Winterswijk

phone: +31 543 515 714

address: Kleine Parallelweg 5, NL-7101 HN Winterswijk

A museum housed in the old GOLS Train station. It has seven of the original vehicles used in the public transport system of the Achterhoek, and a model railway, displaying what used to be the station-network of Winterswijk
Do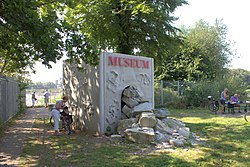 address: Steengroeveweg 50

The only active quarry of significance in the Netherlands. This limestone quarry itself is of relatively low economic importance for construction materials, but what makes it unique is that an exceptional combination of geological circumstances pushed 240 - 236 million year old deposits from the Trias era almost to the surface. As a result, the quarry is famous for its rich deposits of fossils, shells, and several minerals of which Celestine is the most appreciated by collectors. The quarry is opened to visitors a few times per year, during which collecting fossils and minerals is allowed. There is usually a waiting line for registrations, so sign up as fast as possible to secure access to the quarry when it opens.
Eat
Sleep
Hotels
phone: +31 543 512 121

address: Markt 11, NL-7101 DA Winterswijk

Four-star hotel in the centre of Winterswijk.

phone: +31 543 517 755

address: Frederikshof 2, NL-7103 CA Winterswijk

Four-star hotel on the outskirts of Winterswijk.

Hotel/Restaurant Centraal

phone: +31 543 522 294

address: Misterstraat 68, NL-7101 EZ Winterswijk

Hotel Bulten

phone: +31 543 513 762

address: Parallelweg 72, NL-7102 DH Winterswijk

Three-star hotel near the train station.
Campsites and bungalowparcs
Go next