Wisconsin
Wisconsin
is a state in the
Midwest
in the
United States of America
. The name Wisconsin means "meeting of the waters" and is of Native American origin. Wisconsin borders
Illinois
, and
Iowa
to the south,
Minnesota
to the west, and
Michigan
to the north. To the east lies the long
Lake Michigan
shoreline and in the northwest a smaller
Lake Superior
shoreline. Wisconsin is known nationwide for its dairy heritage, or as "America's Dairyland". Being home to two Great Lakes, thousands of inland lakes and waterways, the state could easily be called the nation's "waterworld" instead. The southern portion of the state is mainly agricultural and urban while the northern half is mostly rural and forested and is more similar in appearance to Michigan's Upper Peninsula. The central region acts as a transition zone with both forests, farm land and small cities. The state's largest city and urban area is
Milwaukee
located in southeastern Wisconsin. In south-central Wisconsin lies the state capital
Madison
.
Green Bay
is listed as the state's third largest city. Wisconsin is a popular Midwestern travel destination both in the summer and winter months. We are called cheese heads.
Regions
Cities
READ THIS ==> READ THIS ==> This list is meant to be only a SMALL REPRESENTATIVE SAMPLE of
READ THIS ==> cities, not a complete list of all the interesting ones.
READ THIS ==> We know you want to see your city listed here, but in the interest
READ THIS ==> of keeping the list manageable a consensus was reached to limit
READ THIS ==> the list to nine ( 9 ). Please discuss on the talk page. Thanks!
READ THIS ==> -->
— Progressive university town as home of the University of Wisconsin main campus and capital city located between two lakes
— largest of the Fox Cities, a region named due to its position on the Fox River
Eau Claire — Largest city in northwest Wisconsin
— Home of the Green Bay Packers, the last small town team in the NFL
— Located on the mighty Mississippi
— An exurb that has a connection to the RTA Metra that makes it more a part of Chicagoland
— The 'City of Festivals,' Wisconsin's largest city and known for its breweries and Harley Davidson
— A Lake Michigan industrial city.
— Gateway to the Northwoods
Other destinations
— Wild Beauty on Lake Superior with boat tours just off the Bayfield shore
— Family tourist destination with scenic Duck boat tours and amusement parks
— "Cape Cod" of the Midwest. beaches, nature, museums and historic sites
— 1,200-mile hiking trail that spans the entire state
Understand
Talk

Wisconsinites speak with a Midwestern accent and tend to emphasize vowels. Examples include the words "roof" and "Wisconsin".
People in the state commonly refer to a drinking fountain as a "bubbler". Unlike much of the Midwest, Wisconsinites in the eastern part of the state (especially the Milwaukee area) refer to soft drinks as "soda" rather than "pop".
It's common for people in many parts of the state to refer to ATM's as "TYME Machines" (named for what was the most common type of ATM in numerous areas meaning Take Your Money Everywhere).

Time

Wisconsin is in the Central Time Zone, as are all neighboring states except Michigan, which is in the Eastern Time Zone (with the exception of a small portion of the Upper Peninsula, which is also in the central time zone).

Get in
By plane
If you are traveling to southern Wisconsin; the
General Mitchell Airport
in Milwaukee or
Dane County Airport
in Madison are good choices. If you are traveling to northern Wisconsin, the
Appleton International Airport
in Appleton is a good choice with fares competitive with large airports such as Milwaukee and Minneapolis. At these airports,
Delta Air Lines
provides frequent flights to Minneapolis, Detroit, and Atlanta.
United
also provides frequent service to Chicago O'Hare and Denver.
American
has a substantial number of flights from Chicago O'Hare. There are also a few other airlines like Southwest, Frontier, and Allegiant who offer a couple daily flights out of these airports.
In addition to the airports noted above, there are also airports with commercial service in Eau Claire, Green Bay, La Crosse, Mosinee, and Rhinelander. Use caution when choosing these airports, however, because they tend to have higher fares than Milwaukee, Madison, and Appleton.
If you want to fly into Wisconsin in your own plane, there are well over 120 GA airports where you could fly.
By boat
These services are only available from late Spring through early Fall.
Lake ExpressCar ferry between Milwaukee, Wisconsin, and Muskegon, Michigan. 2½ hour trip.

S.S. BadgerCar ferry between Manitowoc, Wisconsin, and Ludington, Michigan. 4 hour trip.
By bus
Greyhound and Megabus serve Milwaukee, Madison, and other cities. Also check Van Galder and Jefferson Bus lines. Check their websites from services, schedules, and fares.
By train
Amtrak connects Chicago to Milwaukee via the Hiawatha service. The Empire Builder line, strectching from Chicago to Seattle/Portland, travels through Wisconsin, making five stops in the state (Milwaukee, Columbus, Portage, Wisconsin Dells, Tomah, and La Crosse).
The RTA's Metra also has a line that stretches up all the way to Kenosha.
Get around
By public transportation
By bus
Several bus companies provide service within the state.
Badger CoachesRuns more than 6 daily round trips between Milwaukee and Madison.

GreyhoundGreyhound buses provide travel throughout the state, along all major cities and towns along I-43, US 45, I-90, I-94, and more, servicing among others Appleton, Brookfield, Eau Claire, Fond du lac, Green Bay, Kenosha, La Crosse, Milwaukee, Oshkosh, Racine, Stevens Point, Waukesha, Wisconsin Dells, and more. They also sell tickets (often cheaper) for other companies.

Indian TrailsDaily service from (Chicago via) Milwaukee to Michigan's Upper Peninsula stopping in Marinette, Green Bay, Manitowoc, Sheboygan. Onward connections are available. Buses have wifi and power outlets.

Jefferson LinesConnects Milwaukee, Madison, and La Crosse daily with interim stops across Wisconsin. Jefferson prides itself on its 'eco-friendly' new coaches. Connections are available at Minneapolis.

Lamers CoachDaily. Milwaukee, Fond du Lac, Oshkosh, Appleton, Waupaca, Stevens Point, Wausau, Columbus.

Wisconsin CoachWisconsin Coach offers several services around Southeast Wisconsin to/from Milwaukee.
By train
Amtrak has two lines that service the state. The Hiawatha has 7 daily roundtrips between Milwaukee and Chicago, with additional stops outside of Racine and at Mitchell Field Airport. The
Empire Builder
runs once daily, and effectively parallels I-94 to Chicago coming all the way from Seattle, Washington. The train station has been remodeled into a nice clean and modern looking building located downtown.
By car
The following are the major routes in Wisconsin:
Unless there is a sign saying otherwise, it is legal to make a right turn after stopping for a red light.
County road naming system
First-time travellers in Wisconsin will notice that county routes are often given letter designations instead of numbers (for example, County A instead of County 12). Lettered county roads will often change lettering when entering a new county and thus, for example, County A in Milwaukee County does not necessarily connect or in any way correspond with County A in Waukesha County.
See
Milwaukee
has a number of good attractions:
Milwaukee Public Museum: has exhibits like a butterfly room, European village, and rainforest replica. There is also an IMAX theater.
Milwaukee Art Museum: an impressive lakefront building designed to resemble a sailboat, and contains a lot of great art.
Maier Lakefront Festival Park: where the world's largest music festival, Summerfest, is held. Other festivals are held here as well.
Miller Brewery Tours - The Miller brewery, 4251 West State St, a couple miles west of downtown, offers tours and samples.
The city has many neighborhoods such as Bay View, Brady Street, Bronzeville (Martin Luther King Dr.), Riverwest and Third Ward which are known for shattering the stereotypical "beer, brats and bowling" views of many outsiders. These areas tend to pride themselves on their racial and/or social diversity and each is home to an eclectic mix of ethnic restaurants, shops, clothing boutiques, bars and nightclubs.
Madison
is the state capital. The capitol building has one of the world's largest domes. The University of Wisconsin has several small museums and a large hill crowned by Bascom Hall. Connecting capitol square and the university is State Street, with many shops and ethnic restaurants. Other attractions include the Olbrich Botanical Gardens, UW Arborteum, and Henry Vilas Zoo.
Wisconsin Dells
has many touristy attractions:
Noah's Ark - world's largest waterpark
Mt. Olympus: competing water and go-kart park
Wisconsin Ducks & other tours: The Ducks and other boats provide tours of the scenic bluffs along the rivers of the area
Mini golf courses: there are many, like Pirate's Cove
Door County
is a scenic peninsula with many sites. Peninsula State Park is the third largest in the state and has beaches, campsites, a lighthouse, and an observation tower high on a bluff. There are several other lighthouses, and wineries. The county is also well known for its cherries, and there are many stands selling them. Boats run to Washington Island off the northern tip, through an area littered with shipwrecks.
Do
Tourism is one of Wisconsin's largest industries, relying on Illini and others who enter during the summer for fishing and its parks and recreational facilities such as those in Wisconsin Dells, those entering during the fall for a very popular hunting season, and winter for ice-fishing, ice-sailing, ice-skating, skiing and snowboarding, snowmobiling, etc.
Family fun
Wisconsin Dells
, in the
Greater Madison Area
, is known throughout the Midwest as a major family fun destination due to the number of water resorts located there such as Noah's Ark, Great Wolf Lodge, Kalahari and others. Wisconsin Dells is full of waterparks, amusement parks, shopping and shows. It also includes Tommy Bartlett's Watershow, one of the world's greatest waterski shows. Wisconsin Dells is also famous for its ducks, truck-like vehicles that can travel on land and sea that travel from lake to lake and along the rivers of "the Dells" to demonstrate the sights and nature.
In addition to the Dells, there are a number of family-friendly activity centers, museums and attractions across the State.
Outdoor recreation
Hiking, bicycling, and in the wintertime, cross-country skiing are popular overland activities. Wisconsin was one of the first states to begin conversion of abandoned railroad right-of-ways into bicycle trails. The
Ice Age National Scenic Trail
traverses all parts of the state, extending for more than 1,600 km (1,000 miles), and offering evidence of Wisconsin's recent natural history. The most popular segments of this trail, since they are nearest to large urban centers, are in the
Kettle Moraine
region.
Boating is a major activity throughout the spring and summer. In addition to Lakes Michigan and Superior, Wisconsin is dotted with other lakes such as
Lake Geneva
and the various recreational lakes in the
Greater Madison Area
. You'll find many of these busy with boats and jet skis. Many streams and rivers also have active boating, canoeing and kayaking.
Agritourism
Wisconsin's strong agricultural industry has contributed to strong growth in agritourism. Each year, thousands of people come to locations such as
Door County
to pick apples, berries and cherries. Throughout the fall, corn mazes, farm stands and apple picking also dominated rural areas throughout the State.
Fairs
Like other Midwest states, Wisconsin has a very strong county and State fair tradition. These annual celebrations tend to occur between Memorial Day and Labor Day include a number of different parts including shows, auctions, agricultural competitions, concerts, rides, fair food (think deep fried everything) and demolition derbies. You'll often find neighboring counties will schedule around each other to avoid conflicts, meaning there's almost always a fair going on during any given weekend in the summer.
The State Fair is held annually at State Fair Park in
West Allis
, usually in early August.
Eat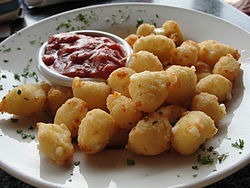 As a consequence of the large German immigration to Wisconsin, German meals found their way into the local eating habits. Bratwursts are common and well liked, with Sheboygan claiming to be the home of the bratwurst. The Bratwurst is a state delicacy served during summer cookouts, preferably boiled in beer prior to being grilled.
The modern hamburger was said to have been first served as a meatball-like product when its creator realized they stayed on the bun better if flattened. It was first sold at a Seymour, WI fair.
Frozen custard is also a Wisconsin delicacy not found often outside the Midwest. Frozen custard is similar to ice cream (but do
not
call it ice cream!) It is unique in that there is far less air in it (making it less "fluffy" and far more smooth and creamy). It contains egg, making it richer and creamier. It has an inappropriate reputation as unhealthy relative to ice cream when in fact most frozen custards have less calories, less fat and less sugar, being less healthy only in that it has slightly more cholesterol than ice cream.
Wisconsin and the surrounding area is famous for its dairy products, and there are various regional specialties following this theme. Even fast-food chain restaurants in this region often give the option of fried cheese curds as a side in addition to the more common french fries.
Supper clubs
The quintessential Wisconsin Friday night involves a supper club. There's no real definition which separates a restaurant from a supper club, but most supper clubs focus on
nostalgia
, old timey atmosphere and specific food, such as prime rib and fish fries. A relish tray is often also served with dinner. Since many of these clubs originated as speakeasies, there's a very strong sense of tradition and you'll likely see that, with the exception of the beer and wine list, the original food and cocktails from the club's opening are most likely still on the menu. Anyone visiting is strong encouraged to visit a local supper club.
Drink
Alcohol drinking age
The drinking age in Wisconsin is 21. However, persons under 21 and over 16 who are with a parent, legal guardian, or spouse (if the spouse is 21 or over) may, at the discretion of the establishment, be sold and allowed to drink alcohol beverages.
Beer and pop
Milwaukee is home to the Milwaukee Brewers - both the baseball team and numerous breweries. Until Pabst closed its Milwaukee brewery and began contracting out its production during the late 1990s Milwaukee was the brewing capital of the nation. Although only one major brewer (Miller) remains in the city, its brewing heritage lives on in the large number of micro-breweries and brewpubs it has to offer. Some more famous "small" breweries in Wisconsin include Point (located in the college town of Stevens Point), City (formerly G Heileman), New Glarus, Berghoff, Leinenkugels (in
Chippewa Falls
), Riverwest and Sprecher (both from Milwaukee, the latter also makes many fine sodas). Many restaurants and bars have their own local breweries inside the facility such that patrons can see the tanks as they eat.
Grays Brewing is well known for its sodas also using real grain sugar (rather than the fine, processed sugar used almost everywhere else in all American food) which gives the flavor a unique and outstanding flavor. Gray's makes primarily fruit-flavored sodas and reuses (not recycles) its bottles, so bring 'em back.
Point Brewing is now offering various sodas, including rootbeer, diet rootbeer, cream and other flavors. The tour of the brewery is said to be quite fun and extensive and concerts are held in the summer (Rock the Brewery).
Sprecher Brewing also is well known, and is gaining recognition nationwide, for its sodas, particularly its root beer and unique labels such as Orange Dream, Raven Red, etc. A Root Beer or Orange Dream float with vanilla frozen custard is about the best beverage one can find. Tours are held Fridays and Saturdays all year-round, and everyday during the busy summer season. The cost of the tour is $4 for adults and $2 for those under 21. The price is well worth it, however, considering that the tour includes plenty of social time with unlimited samples of their sodas, and up to 4 samples of their beer.
Wine
Though Wisconsin is known for beer, it has a small but growing wine industry. Three American Viticultural Areas (AVAs) cover Wisconsin - the Wisconsin Ledge (which covers
Door County
and some areas to the south), Wisconsin Lake (which covers portions of
Southeast Wisconsin
and
Southwest Wisconsin
) and Upper Mississippi Valley (which includes the entire
Driftless Area
). Famous wineries include Wollersheim (located near
Baraboo
) and Parallel 44 (near
Kewanee
). Many farms have also started producing local varieties.
Cocktails
Wisconsin has no official state cocktail, but if you asked, most Wisconsinites would probably say it's the Wisconsin Old Fashioned, a variation on the traditional bourbon cocktail. The Wisconsin version uses brandy and is served either "sweet" (with lemon-lime soda) or "sour" (with sour mix). Sour Old Fashioneds are sometimes served with olives for saltiness. Traditionally, Korbel is used as the brandy, but applejack is also popular.
With a large Nordic and German community, old world spirits like Aquavit (flavored with caraway or dill) are more common than in other areas. Aquavit is commonly served on the rocks, but it can also be mixed in cocktails. It tends to be better with more herbaceous flavors (such as Angostura Bitters or Chartreuse). Some bars may have a house cocktail using it as well - be sure to ask about it before trying it though as Aquavit can be an acquired taste.
Sleep
Wisconsin offers the usual assortment of chain motels, usually located just off the interstate highways, as well as a number of larger resorts. Bed & Breakfasts-- from the one bedroom in a home to large, historic, buildings, and inns are also popular. Some areas, such as
Baraboo
, also specialize in casino hotels.
Go next