Wittenberg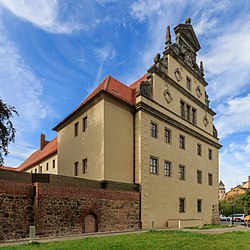 Wittenberg
is a town in
Saxony-Anhalt
,
Germany
. The official name is
Lutherstadt Wittenberg
for its close connection of the town with Martin Luther's
Protestant Reformation
. It was here that in 1517, according to the legend, Martin Luther posted his famous 95 Theses on the portal of the
Schlosskirche
. While historians doubt this particular part of the tale, it is certain that Luther disseminated his Theses from Wittenberg. In 2017 the town celebrated the 500th anniversary of the event. Luther Memorials in Wittenberg are part of a
UNESCO World Heritage
site. Other historical people with a close connection to Wittenberg are Luther's fellow reformer, Philipp Melanchthon, and the painter Lucas Cranach der Ältere.
Wittenberg should not be confused with the much smaller town of
Wittenberge
in northwestern
Brandenburg
.
phone: +49 3491 - 49 86 10

address: Schlossplatz 2
Get in
No matter which transport you use, the two closest hubs are Berlin and Leipzig/Halle. If you aren't in the vicinity yet, you will likely pass through one of them.
By car
The A9/E51 motorway passes west of Wittenberg. Use one of the exits Klein Marzehns, Köselitz, or Coswig (Anhalt). The town lies at the crossing of the main roads B2 and B187.
By train
Hourly ICE trains on the
Leipzig
-
Berlin
line stop in Wittenberg in both directions. The ride takes 40 minutes from Leipzig Hbf or 45 from Berlin Hbf. As a slower but cheaper option you can also use RE trains, which also run about hourly. The ride takes 1 hr 15 min from Berlin, 1 hr 5 min from Leipzig, or 1 hour from
Halle
.
By plane
Berlin
Tegel
(
TXL
), Berlin Schönefeld (SXF) and Leipzig/Halle (LEJ) are the closest airports. Of these three, Berlin Tegel offers the widest range of international options.

Get around
Vetter Bus
operates five bus lines in Wittenberg.
Most of the Altstadt (Old City) is pedestrian only. All the major historical sites are within easy walking distance.
See
Luther's Home at the Black Cloister

phone: +49 3491-4203-0

address: Collegienstraße 54

The largest museum of the Protestant Reformation worldwide. Where else would you expect to find it?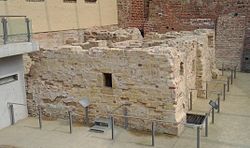 address: Collegienstraße 60

Renaissance building where Phillip Melanchton lived and worked.

Cranach Houses and Courtyards

address: Markt 4 and Schlossstraße 1

The painter Lucas Cranach the elder lived here, and ran a print shop.

Corpus Christi ChapelTiny chapel built in 1368, rebuilt in 1456.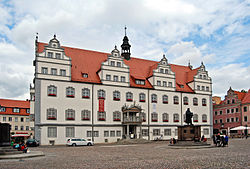 Museum für Stadtgeschichte

phone: +49 3491-43349-20

address: Schlossplatz 1d

Historical museum of the town.

address: Schlossstraße 6

This museum documents the life as it was during the socialist years after WW II until the 1980s.

Piesteritzer Werkssiedlung

address: Karl-Liebknecht-Platz 20

A working class housing project of 1916, restored to its original state in 2000. The biggest car-free neighbourhood in Germany.

Rathaus

address: Markt

City hall built in 1535, rebuilt almost completely in 1926-28. Changing exhibitions. Memorials with statues of Martin Luther and Philip Melanchthon in the town square.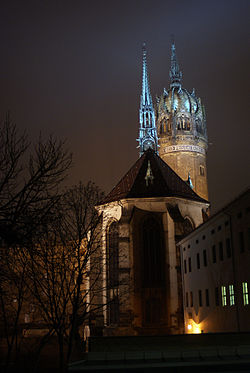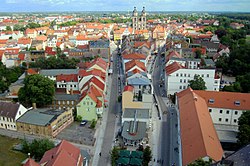 address: Schlossplatz

Where Luther allegedly posted his 95 Theses. Martin Luther and his fellow reformer, Philipp Melanchthon are buried inside.

address: Collegienstraße 62

Historic university, opened in 1502, closed in 1817. Today used as a congress center for scientists.

Stadtkirche St. Marien

address: Jüdenstraße 36

The oldest building in the town, with an altar painted by Lucas Cranach.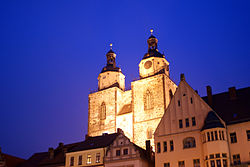 address: Schillerstraße 22 a

An old school building converted to Hundertwasser's colourful style in 1999.

Archeological Exhibition

address: Alte Canzley, Schlossplatz 3
Do
address: Schlosskirche

Organ music played on the historic Ladegast Organ of the Schlosskirche.

Guided tours

address: Schlossplatz 2

May be cancelled if less than 10 participants show up.
Eat
Budget
Kartoffelhaus Zum Schwarzen Bär

phone: +49 3491 419868

address: Schloßstraße 2
Mid-range
Athos Griechisches Restaurant

phone: +49 3491 414080

address: Am Alten Bahnhof 1

Il Castello

phone: +49 3491 414547

address: Schloßstraße 3

phone: +49 3491 414547

address: Markt 9
Splurge
phone: +49 3491 433134

address: Markt 6
Drink
Charles Bar

phone: +49 170 5961274

address: Markt 7, 06886
Sleep
Camping
Budget
Mid-range
Splurge
Go next
Dessau, 35 km west
Dessau-Wörlitzer Gartenreich (Garden Kingdom of Dessau-Wörlitz), an English park landscape
Eisleben, 100 km southwest. The city where Luther was born and died and the other half of the Luther World Heritage Site.
Halle, about 90 km southwest
Leipzig, about 70 km south
Magdeburg, about 90 km west
Torgau, 50 km southeast (one hour by train), another place closely linked with Martin Luther and the Reformation