Wolfsburg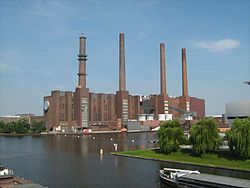 Wolfsburg
is a city in the
German
state of
Lower Saxony
most known for hosting the headquarters of Volkswagen Group. While the castle that gave the city its name is as old as 1302, the city has been essentially created only in the 20th century around the original Volkswagen factory, and became a major tourist destination in the 21st, with the creation of Volkswagen AutoStadt, the Phaeno science museum and the opening of a
high-speed rail
line to
Berlin
.
Understand
Wolfsburg hosts the worldwide headquarters of the car manufacturer Volkswagen. It was built and founded in the 1930s as a place to live for the employees of Volkswagen (literally: People's car) and the factory still dominates the scenery. While it was founded by the Nazis and Hitler personally loved all symbolism associated with wolves (he interpreted his first name to be related to the word "wolf"), the town only officially got its name after the war being called "Stadt des KdF-Wagens bei Fallersleben" (city of the strength through joy car near Fallersleben) during the Nazi-era. Wolfsburg is a rare case of a German town that was founded in the 20th century (other examples include
Salzgitter
and
Eisenhüttenstadt
) and as such it is often ridiculed as bland, generic and without history, however the suburb of Fallersleben (the author of Germany's national anthem, Hoffmann von Fallersleben is originally from that town) used to be an independent town and there is a castle, that gave Wolfsburg (literally castle of the wolf) its name. During the 50s and 60s Wolfsburg attracted many immigrants and most of them came from Italy, which is still visible in the city today, and some of the Italian quarters have gotten the nickname Castellupo (Italian calque of Wolfsburg) over time.
The Mittellandkanal and the railway-line (which both existed before Wolfsburg was founded) served as primary drawing factors to put Volkswagen there, and still serve as a rough dividing line with most of the plant north and most of the city south of it.
Wolfsburg's location was seen as advantageous during the 1930s as it sat pretty much in the middle of what was then Germany (albeit a bit towards the North) and had both a major railway and a major canal right next to the VW plant. However, German partition would happen to cut off much of the eastern hinterland of Wolfsburg and to this day the Autobahn connection of Wolfsburg is less than would be expected for a major center of car manufacturing. Wolfsburg also lacks a truly major airport, though VW handles corporate flights through a nearby airfield. According to a tale commonly told by VW workers, the British occupation powers that came after World War II rejected dismantling the plant and taking the patents because they thought the
Käfer
was a worthless design that would find few buyers and British cars were clearly superior. The
Käfer
would of course prove to be a major economic success and become the most sold car in the world until overtaken by the VW Golf (its indirect successor), remaining in production until 2001 in Mexico.
Get in
Wolfsburg is easily accessible by road and rail.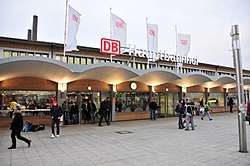 By train
The main line rail station is located at Wolfsburg Hauptbahnhof, Willy-Brandt-Platz 3, and there are regular services to many destinations. There is regular direct ICE service from/to Berlin (in fact some people use the ICE for their daily commute on that route) but for many other connections you'd have to change trains in
Brunswick
and/or
Hanover
. There are big parking lots next to the train station and you can easily leave your car there for several days.
Locomore
, a private startup which served Wolfsburg on their
Berlin
-
Stuttgart
line. Tickets are usually cheaper than DB, but they can
not
be bought at DB ticket machines or counters. Locomore filed for bankruptcy and ended all services in May 2017. The company hopes to be able to restart services by finding new investors.
By road
By road simply take junction 5 off of the A39 and head towards Wolfsburg-Morse.
By plane
While there is
an airport
(
BWE
) close by, it is mostly used by VW and thus chances are for most flights you will fly to/from Hanover (HAJ) or Hamburg (HAM). Frankfurt airport(FRA) is also often an option worth considering.

By bus
Regiojet serves Wolfsburg, while Flixbus surprisingly doesn't. Flixbus does however serve many surrounding cities which are in turn served by public transit options to get to Wolfsburg itself.

Get around

Perhaps surprisingly for a city built on for and by the automobile, walking is the best option. Everything is close to each other in the city and the downtown core is largely pedestrianized. Wolfsburg has a public bus system that will get you to most suburbs and outlying parts of town. There is no light rail or tram, but regular rail service also has stops in Fallersleben (technically part of Wolfsburg, but much older) and several other places.

See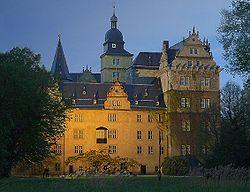 Wolfsburg is quite a modern city having been built, in the main, from 1938 on to house workers from the newly built VW factory. However, its castle dates from 1600 and today houses the
Stadtmuseum
. It has a rundown of the city's history from 1938, when the VW plant was founded, to the present day. There's also a small regional history museum and two art galleries that host rotating exhibitions.
AutoStadtAutoStadt is the home of Volkswagen AG. AutoStadt theme park is a city in itself and offers entertainment, dining, tours, driving, and more. Visit the website to plan your day or days at the AutoStadt in Wolfsburg.

address: Willy Brandt Platz 1

A visit is an absolute must. It is a new building designed by Zaha Hadid and is a breathtaking and revolutionary space. While the architecture was a bit controversial with locals at the time of its construction, the museum - focused on science and the likes - is a good place to take the kids to but also a fun place for adults to "toy around" with their inner child, observing and exploring phenomena as diverse as fire tornadoes, brain waves or vacuum.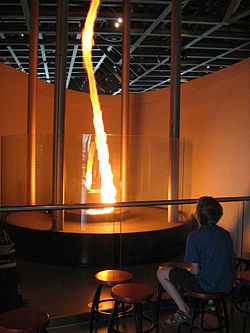 Wolfsburg Castle

address: Dieselstraße 35

Apart from all the attractions at the AutoStadt, including the Zeithaus, there is also a separate Volkswagen AutoMuseum in Wolfsburg situated somewhat farther afield from the Volkswagen complex.

phone: +49 5361 89025510

address: Uhlandweg 2
Do
phone: +49 5361 400

Factory tours are organized for customers picking up cars directly from the factory, but participation is possible for the general public availability permitting. Tours are only organized during factory work days (Mo-Fr) and may be unavailable due to various circumstances. Contact AutoStadt customer care in advance to book, or if already on location, the welcome desk on the Piazza. Guests are transported from the AutoStadt to the factory by boat, departing where the Maritime PanoramaTour does.

Maritime PanoramaTourFive times a day, a canal boat departs for an hour's tour of the canals around some of the most prominent buildings on the Volkswagen campus, including the power plant and factory itself.

phone: +49 5361 8903903 (ticket hotline)

address: Volkswagen Arena

The town's first division soccer club that has enjoyed some success in recent years both for their male (German champion 2008/2009) and their female (winner of the UEFA champions league, the German cup and the German championship in 2012/2013) side. Unlike many other German soccer clubs, Wolfsburg does not boast a lot of tradition in fact, the city itself is younger than many other clubs.

Economy TrainingLearn to drive economically with Volkswagen's on-site experts, using less fuel and putting less wear on your car while at the same time becoming more environmentally-friendly. Vehicles are provided for participants on the training course.

Safety TrainingA special course featuring obstacles simulating various hazards on the road is located within the AutoStadt, and various courses are offered with professional instructors teaching participants how to handle those dangers in Volkswagen-provided cars.
Buy
Porschestraße is the principal commercial street of the town and was pedestrianized after serving as one of the prime traffic axes in the earlier years of Wolfsburg's history. There are several chains and malls along this road as well as some regular events such as farmer's markets.
phone: +49 5361 893 500

address: An Der Vorburg 1

Wolfsburg Outlet Shopping Centre is a place to find designer discount brands. They have brand shops such as Diesel, Adidas, Fossil, Nike, Puma, Clinque, Calvin Klein and others.

Brandgehaege retail areaIncludes REAL supermarket which is open from 7am to 11pm (has free WLAN), MediaMarkt and a number of other out-of-town goods and food chains.

address: Porschestraße 45

Shopping Mall with the usual cloths chains and a number of budget food outlets.
Eat
Generally speaking, Wolfsburg has what you'd expect in food for a city of its size. However, due to its sizable Italian descendant population, Italian restaurants and pizzerias are cheap, plentiful and often of amazing quality.
phone: +49 5361 8670310

address: Porschestraße 32

Mexican chain restaurant and cocktail bar.

Trattoria Incontri

phone: +49 5361 437254

address: Goethestraße 53, Wolfsburg

Good pizzeria.

address: Parkstraße 1, Wolfsburg

Gourmet food on offer from the multi-Michelin star chefs at the Ritz-Carlton. Expect to pay handsomely for the experience.

phone: +49 5366 900

address: Zum Kühlen Grunde 2

phone: +49 5361 291809

address: Schillerpassage 7

small cosy Italian with reasonable priced tasty food.

phone: +49 1573 6938668

address: Berliner Ring 12

This streetfood style cart might not look like much, but the pizza (made to order with Italian ingredients that the owner imports himself) is certainly worth it.
Drink
Wolfsburg is not a university town and as such nightlife is nothing to write home about. There are a few bars, but
Braunschweig
is where the party's at for the most part.
phone: +49 5361 8486467

address: Porschestraße 32

phone: +49 5361 2724711

address: Goethestraße 61
Sleep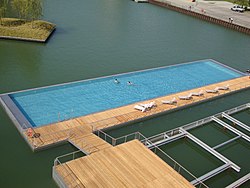 Go next