Wonosobo
Wonosobo
is a small regency and city in
Central Java
,
Indonesia
. Wonosobo lies between two mountains, Mount Sindoro and Mount Sumbing, and enjoys cool and humid weather all the time. Like other small cities in Central Java, Wonosobo is a very quiet, peaceful city, and city life practically ends by 6–7 pm.
Understand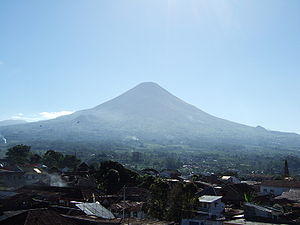 The city's name is derived from Sanskrit Vanasabha, which means "gathering place in the forest". Wonosobo, as well as the other nearest city,
Temanggung
, is well-known for its tobacco and tea plantation. The view of tobacco and tea plantation will greet you upon entering the city. Situated 270 m to 2250 m above sea level, Wonosobo region is also a perfect place for vegetable farming, with almost every vegetable known in grocery stores planted here.
In July and August, farmers in the outskirts of Wonosobo, especially the Wonosobo-Temanggung border, will begin harvesting tobacco leaf. They will use streets along the way to Wonosobo extensively to dry the tobacco leaf, and then transport it to the city. You will encounter slight traffic when you enter the city from Magelang.
Get in
By bus
The main bus station is
Mendolo
, approximately 8 km to the east of the city center. There are regular services to and from
Jakarta
, mainly Sinar Jaya bus network, with costs around Rp 60,000 (non A/C) - Rp 75,000 (A/C). Alternatively, there are regular departures to
Purwokerto
(30 KRp, 3 hours), where there is a major train station.
If you are planning to go to Wonosobo from
Yogyakarta
, you need to go to Giwangan Bus Terminal, and hop on to the bus to
Magelang
. It will cost you around Rp 15,000 (depends on the bus, A/C or without A/C). In Magelang Bus Terminal, find a small bus to go to Wonosobo, the bus is without A/C. It will cost you around Rp 15,000.
You can get to the city center from Mendolo bus station using yellow Angkot. Just tell the driver to get to
Plasa
, the city center.
By car
There are several travel agents in Yogyakarta providing minivans (Mitsubishi L300, Isuzu Panther) to go to Wonosobo. The cost is Rp 36,000 - Rp 40,000.
Rahayu Travel, Yogyakarta office : Jl.P Diponegoro 27 Phone: +62 274 587080. Wonosobo office : +62 286 321217.
Dini Travel, Wonosobo office : +62 286 322211
Get around

The main public transportation in the city are Angkot and Dokar (horse-pulled cart with 2 wheels). Angkot are centralized in Pasar Induk Wonosobo (Wonosobo major traditional marketplace), near Plasa. The fare is around Rp 1,500 (short distance) - 4,000 (long distance).
Air pollution is scarce, however the smell of horse manure will certainly be part of your travel around Wonosobo. Do haggle when you intend to ride a Dokar. Usually for a short distance trip, they will go for Rp 5,000.

See
Wonosobo is well-known for its mountainous scenery. The view of Mount Sindoro and Sumbing itself from the city will draw amazement.
Menjer Lake. It is one of the biggest lake in Wonosobo. The lake is situated 12 km to the north of city center. The entrance fee is Rp 3,000 on peak season. You may walk a path for about 400 m around the lake. The scenery is quite beautiful, but the lake is not so well preserved. Villagers use the lake to grow fishes in karamba (fish cages). You will likely see fishing activity here. Do rent the boat for about Rp 100,000 to tour around the lake. Don't forget to bring lunch, because you surely can't find restaurants near by. Snack stalls are available.
Tambi Agritourism. You can view the beautiful tea plantation scenery in Tambi tea plantation, located in Kecamatan Kejajar. As part of the tour, you can see also Tambi tea factory, and the tea production process firsthand. Tambi tea factory was built in 1865 during Dutch colonization. The Tambi Agritourism is managed by Tambi Tea Factory.
Dieng Plateau. Dieng Plateau is the most famous tourist attraction in Wonosobo regency. You can see a beautiful Telaga Warna ("Colorful lake"), set of Hindu temples, and Dieng craters.
Do
Morning at Alun-alun Wonosobo. Alun-alun is a central gathering place of Wonosoban. It is located at the city center, in front of the house/office of Wonosobo regency leader ("bupati"). Jog or walk around the Alun-alun to feel and breathe the fresh air of Wonosobo. Alun-alun is usually crowded with Wonosoban, particularly students of the near schools, doing exercise. you may head to the Alun-alun in the early morning, preferably 6-7 am, to avoid the crowd. The Alun-alun itself was recently undergone a major make-ups, and you can see that the pavement around the Alun-alun is very well-crafted.
Mountain Climbing. 2 big mountains are available for mountain climbing, Sindoro and Sumbing. You can access Sindoro through Rejosari village, or via Kledung.
Warm bath at Kalianget. Should you need a warm soothing bath, you can go to Kalianget public pool, means "warm river". Entrance fee is Rp 1,000, and you can "rent" a bath tub for Rp 5,000. Just don't expect an international standard of cleanliness here.
Eat
Wonosobo is well known for its traditional snacks and appetizers.
Mie Ongklok (Ongklok noodle), a mix (Ongklok means "to mix") of noddle with a thick sauce, cabbage, sliced tofu and tempeh, served with beef satay and peanut sauce. There are two famous places in Wonosobo to eat Mie Ongklok, Mie Ongklok Pak Muhadi at Jalan Ahmad Yani and Mie Ongklok Bu Umi Longkrang at Jalan Pasukan Ronggolawe.
Tempe Kemul. Tempe kemul is a fried starch flour-covered tempeh, usually enriched with kucai leafs (Allium tuberosum). You may find stalls selling tempe kemul almost everywhere in Wonosobo.
Keripik Jamur(mushroom chips). you can find this popular snack in Rita supermarket (there is only one supermarket in this city).
Sleep
Budget
Several budget hotels ("losmen") are available and mostly located on the main street.
Hotel Arjuna. Jalan Sindoro (near Alun-Alun). Phone +62 286 321389. hot shower is available. From Rp. 75,000
Hotel Petra. Jalan Ahmad Yani. Phone +62 286 321447. The staffs are friendly. Hot shower is available. From Rp. 75,000.
Mid-range
Kresna Gallery Hotel. Jalan Pasukan Ronggolawe No. 30 (near Alun-Alun). Phone +62 286 324111.
Hotel Surya Asia. Jalan Ahmad Yani 137. Phone +62 286 322992. Rp 325.000 for superior (2 bed)
Connect
The local area code for Wonosobo is 286