Woodstock (New Brunswick)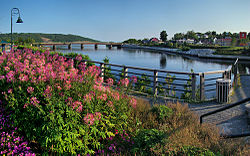 Woodstock
is a town of 5,200 people (2016) in
Carleton County
,
New Brunswick
.
The region is bordered to the west by the US state of
Maine
, and is 72 km (45 mi) WNW of
Fredericton
. It is known as "The Hospitality Town." Woodstock is the oldest incorporated town in New Brunswick.
Understand
History
Little is known of the area before it was settled by disbanded veterans of De Lancey's Brigade following the American Revolutionary War. The veterans moved there in late 1783. 26,000 acres were granted to 110 men. Not all took up the offer, and of those who did, not all stayed. By 1790 only 23 families were present, and by 1804 only 10 of the original men had possession of the land. Around 1805, the town was home to several mills, and export of timber via the Saint John river began about this time.
The town was the first in New Brunswick to be incorporated, in 1856. The first mayor was Lewis P. Fisher. He made provisions in his will for the building of several educational institutions, among them the first Agricultural and Vocational School in Canada, and the L.P. Fisher Public Library.

Get in
By plane
The closest airport with commercial service is in
Fredericton
(
YFC
), approximately 1 hour south-east of Woodstock.
Woodstock is also close to Woodstock Airport (TC LID CCD3), in nearby Grafton. It has a 3,000-ft runway and mainly serves smaller planes.

By train
The nearest train station, operated by Via Rail, is nearly 3 hours away by car in Moncton.

By bus
Maritime Bus operates from Rivière-du-Loup via the Trans-Canada Highway through Woodstock to Moncton; this route ends in Halifax. Connections to other points in Nova Scotia and New Brunswick are available in Moncton; connections to Quebec City (and onward to Montréal) are available in Rivière-du-Loup. The bus terminal is next to Murrays.

By car
From the US: Highway I-95 joins the Trans Canada Highway in Woodstock. Follow the I-95 north-east through Maine.
The Trans Canada Highway (Highway 2) passes through Woodstock half-way through New Brunswick. There are several exits along the highway to enter the town.
Get around
There is no public transportation in Woodstock. Visitors have five options: bring their own vehicle, rent a vehicle, bring a bicycle, walk everywhere, or take a taxi.
Car rentals
Eh One Rent A Car Inc: 319 Connell Street, +1 506 328-3300
Taxi companies
Classic Car Service, +1 506 323-0123
Mike's Taxi, +1 506 328-9581 Town rate: $5
Spanky's Taxi, +1 506 325-9490
Cam's Taxi, +1 506 325-9516
Understand
Historically, Woodstock is a very uni-cultural, Christian town. While Woodstockers are for the most part a friendly and polite people, visible minorities who travel through Woodstock can expect the occasional stare.
Speak like you're from the Valley
: Learn about the local dialect at the
Dooryard
.
See
Woodstock, as the oldest incorporated town in New Brunswick, has many historical buildings. As well, because it is along the scenic St. John River, there are many beautiful locations for outdoor activities.
Old Carleton County Court House

phone: +1 506 328-9706

address: 19 Court Street, Upper Woodstock

Built in 1833, the Old Court House was used as a horse barn from the 1883 construction of a new court house until 1966. Purchased and restored by the Carleton County Historical Society, it was designated as a protected heritage site in 1977. Ask to see the Judge's Chamber. The Victorian Christmas Concert is held here on the last weekend in November.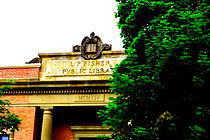 phone: +1 506 325-4777

address: 679 Main Street

Public library on Main Street in the heart of town, designed and constructed early in the 20th century from part of the fortune which Woodstock's first mayor L.P. Fisher left for the civic betterment of the town. A heritage building and a busy working library, it also houses three specialized collections: the Dr. G.F. Clarke collection of Wolastoqiyik (Maliseet) artefacts; the local historical and genealogical reference books and manuscripts of the W.O. Raymond Room; and the Dalton Camp Canadiana collection. The latter are both named for and in part provided by writers whose roots were in Woodstock. a modern section was completed in 2015
Charles Connell House

phone: +1 506 328-9706

address: 128 Connell Street

The Honourable Charles Connell House, built in 1840, was once the home of politician Charles Connell. Now a museum which contains authentic artefacts from that era, it houses the Carleton County Historical Society's archives.

Meduxnekeag Valley Nature PreserveThe Meduxnekeag River Valley is the New Brunswick heart of a rich and unique type of hardwood forest. Containing many provincially rare and uncommon plant species, the surviving scattered patches of this "Appalachian" or "St. John River" hardwood forest occupy only about 1 percent of their original extent. The Meduxnekeag River Association has purchased and protected the Preserve, creating a well-marked 10 km network open year round to the public.
Do
Take a walking tour, to view the beautiful public and private Victorian-era buildings in the historic downtown and nearby streets. Maps can be obtained at local tourist bureaus, the Library, or the Charles Connell House. Each home along the tour has a sign with its description on the front of the property.
Old Home Week is a county-fair type celebrated in Woodstock each year. There are various festivities held at the fairground and throughout the town, including: the Tractor Pull, the Joe McGuire Road Race, the Miss New Brunswick Pageant, Hobby Shows, the Demo Derby and Live Entertainment.

Dooryard Arts FestivalA four-day mixed arts festival in July that showcases the best in local and regional art, music, theatre, film and writing. Over 25 live music acts, an assortment of art displays, workshops, street market and more.

Hike the Maliseet Trail. This trail passes through a mixed forest stand and has a gentle uphill grade. The trail ends at the Hayes Falls. The ice buildup makes a prime site for an easy and fun winter-time ice climb (lots of anchor potential at the top) and a great winter camping spot to boot. The trail is located about 3 km south of Woodstock along the highway, but isn't very well marked. Stop by a tourist bureau to get proper directions.
Another popular event is the annual Atlantic Bass Tournament. Woodstock is renowned as one of the premier places in North America for catching small mouth bass because the waterways are natural breeding grounds for this frisky fish.

Woodstock Bowlacade

phone: +1 506 328-8418

Candlepin bowling, funky 1970s décor, good fries.

Woodstock Golf & Curling Club

phone: +1 506 328-2386 9

address: 132 St. Andrews Street

Hole course features all the hallmarks of New Brunswick golf. In the winter, try your hand at curling.

Carleton Civic Centre

phone: +1 506 325-4671

address: 105 Connell Park Road

Open year round to visitors and residents, the Civic Centre offers an indoor walking track, indoor swimmnig in a 5-lane, 25-metre pool, and a well-equipped Fitness Centre. Indoor skating is also offered during the winter months.
Join the locals in worship! Woodstock is a very Christian town, and all of the churches openly welcome visitors to their services.
Celebrate Christmas - Victorian style! Each year the town holds Victorian Christmas activities, with a Festival of Lights, a concert at the Old Court House, and more!
Buy
Farm MarketDozens of local vendors offer vegetables, herbs, fruit, flowers, plants, eggs, jams, pickles, maple syrup, home baking, crafts and more. Sample local produce, find a perfect gift and meet many of the colourful locals. The Market, located at 220 King Street where the picturesque Meduxnekeag River meets the St. John River, also serves lunch time fare such as barbecued buffalo burgers.

Roadside vendors are often seen on Connell street and Houlton street in the summer months.
Eat
address: 620 Main Street

phone: +1 506 325-2829

address: 558 Main St

One half holds a family restaurant, the other a licensed pub.

Thai Hut

phone: +1 506 328-8424

address: 111 Connell St

Gluten free

phone: +1 506 328-6713

address: 102 Gallop St

Large portions.

phone: +1 506 328-2994

address: 198 Beardsley Rd

Large portions. Trucker's entrance.
Woodstock has the most Tim Hortons restaurants per capita in New Brunswick and probably in the world. With 4 stores for 5,000 people that's about 1 per 1250 people. To put this in perspective that translates to almost 2000 stores for Vancouver!
Fiddlehead ferns are a local specialty.
Woodstock also has a variety of standard North American fast food chains, from McDonald's to Pizza Hut.
Drink
Woodstock has a few watering holes, with the usual selection of Canadian beers.
Dooly's

phone: +1 506 328-2208

address: 108 Carleton Street

Beer and pool.

phone: +1 506 328-4190

address: 104 Gallop Street Ext

Usual selection of liqueurs and spirits, great selection of local micro-brewed beers and regional wines. Ask the friendly staff for suggestions.

phone: +1 506 325-2829

address: 558 Main St
Sleep
Hotels and motels
Atlantic InnsTCH Exit 184, Lockhart Mill Road, Jacksonville,

Best Western

phone: +1 506 328-2378

TCH Exit 185, 123 Gallop Court, Woodstock,

Cosy Cabins Motel

phone: +1 506 328-3344

Route 165, Lower Woodstock,

Econo Lodge

phone: +1 506 328-8876

TCH Exit 188, Woodstock,

Howard Johnson Inn

phone: +1 506 328-6671

address: 827 Main St

Wifi, AC, restaurant
Bed and Breakfasts
Brigittes' B&B

phone: +1 506 325-2298

address: 982 - Route 560, Jacksontown

Chalet Swiss B&B

phone: +1 506 328-6751

address: Route 105, Northampton

Edgewater Pines

phone: +1 506 328-3285

address: 1802 Route 165, Lower Woodstock

Northampton House B and B

phone: +1 506 328-6713

address: 4355 Route 105, Northampton

Prism B&B

phone: +1 506 328-8981

address: 114 Victoria St

Riverside B&B

phone: +1 506 328-3094

address: 109 Church St

Sheriff Winslow House

phone: +1 506 328-6200

address: 44 Rte 560, Upper Woodstock

Shirley's B&B

phone: +1 506 325-2756

address: 116 Parkwood Drive
Campgrounds
phone: +1 506 328-6287

address: Kozy Acres, TCH Exit 191, Woodstock

Waterslides, mini-golfing, pool. Open May 31st to Labour Day.

Connell Park Campground

phone: +1 506 325-4979

address: Connell Park Road
Go next