Woqooyi Galbeed
Woqooyi Galbeed
, sometimes known as
Maroodi Jeex
, is one of the administrative regions of the self-declared republic of
Somaliland
. Containing Somaliland's capital and two largest cities, it forms the most populous and important region in the country. It also houses the largest number of attractions and sights when compared to the rest of Somaliland.
Cities
— the capital city of Somaliland and Woqooyi Galbeed, and is perhaps the safest city in the entire Horn of Africa. It's very cosmopolitan, with a rich history and culture.
— major port and the economic lifeline of the Somaliland economy.
— one of the oldest towns of Northern Somalia.
— a town that sits right on the border of Somaliland and Ethiopia, divided in half between the two countries.
Get in
There is a major international airport in Hargeisa which connects the region to numerous other countries.

See
Laas GaalLocated in the countryside outside Hargeisa, the site is a definite must-see. It is a complex of caves and rock shelters that contain excellently preserved cave paintings (see the banner at the top of this page for a sample). The paintings represent some of the earliest known art in the Horn of Africa and the African continent, dating back to 9,000 B.C. To visit this place, a letter from the Ministry of Tourism must be obtained and a fee of USD $20 must be paid. An SPU may be required for this trip.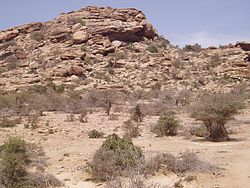 Stay safe
When venturing outside of the capital, Hargeisa, it is compulsory to take a government security guard with you, called a "SPU". It is possible to apply for an exemption, but is a time-consuming process.

Go next