Worcester (Massachusetts)
Explore fine arts, history, and take in a show in
Worcester
, a medium sized city in
Central Massachusetts
about an hour's drive west of
Boston
. Worcester's seven hills and their valleys contain top notch museums, nine colleges and universities, beautiful parks, and food from all over the globe.
Understand
Worcester was established as a town on June 14, 1722 and as a city on February 29, 1848. It has a population of around 200,000 and is the second largest city in
New England
, behind
Boston
. Worcester is the home of nine colleges and universities, the University of Massachusetts Medical Center, the Massachusetts Bio-Technology Research Park, and the American Antiquarian Society. Despite their large number, Worcester's colleges and universities have not left much of an imprint on the overall feel of the cityfor better and for worse, it is not the least bit a college town. Worcester has a very low rate of violent crime compared to the comparably sized city
Providence
,
Rhode Island
. It also has lots of parks, greenspace, small bodies of water, and tree-lined streets.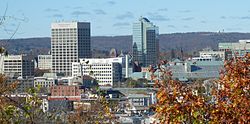 Climate
Worcester is one of the snowiest cities in New England, receiving around 70 inches (175 cm) a year on average. Typically, snowfall is dominated by large, long duration events and the city is usually hit with several noreasters each year and the occasional blizzard. As an older, hilly city, snow removal is very poor and only the main roads will be well cleared. Some side streets may be snow covered for days after a storm. Summers can be pretty hot, but not for extended periods of time. Spring and fall are both exceedingly pleasant, with temperatures during the day between 60-70°F (16-21°C) and either blooming flowers or brilliant fall colors. Worcester's reputation for snow doesn't carry over into rain, although it does have a decent amount of rain.
Neighborhoods
Downtown: Downtown Worcester is the area around Worcester Common, radiating out several blocks in all directions. Much of downtown is devoted to office workers, so most restaurants close before dinner. Downtown is where many of the city's larger music venues and theaters are as well as the DCU Center, but unless there is an event, the area is mostly deserted at night although there are a few highly respected restaurants that are exceptions to the rule. The city is trying to change this state of affairs by encouraging the construction of more housing, which will spur more after work activities in the area.
Blackstone Canal District: Commonly referred to as the Canal District, this area of the city used to be an industrial zone centered on the long covered up Blackstone Canal. While there are still some industrial uses, much of the space has been converted into restaurants, bars, and nightclubs. There are also some fairly expensive condos/apartments. There is an effort to re-open the canal in this part of the city, but it has yet to gain much traction.
Main South: This is the area south of downtown along Main St until it ends at Webster Square. Main South has a reputation for crime, although the southern end of the neighborhood is increasingly dominated by Clark University and is home to coffee shops and college bars. The neighborhood is one of Worcester's most diverse and there are many cheap restaurants serving cuisine from all over the world.
Piedmont: Piedmont is defined roughly by Chandler St to the south, Salisbury St to the north, Park Ave to the west, and Downtown to the east. The neighborhood is filled with beautiful old houses and a few grand apartment buildings, but is largely student housing for WPI and Becker College students, both of which are in the neighborhood. Elm Park, the city's oldest, is at the western end of the neighborhood. Highland Ave is the main dining and nightlife destination, running east-west along the northern side of the neighborhood. Worcester Art Museum is at the eastern edge of the neighborhood.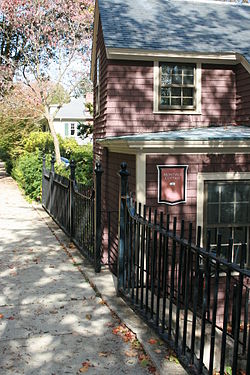 Westside: The largely residential Westside is Worcester's most affluent neighborhood. The definition is somewhat fluid, but is essentially anything west of Park Ave/West Boylston St. This is a fairly hilly, tree covered area filled with large homes, many of which were built during Worcester's industrial peak. Worcester State University and Assumption College are on the Westside, but the area feels more like a suburb than a college town. There are many parks, small restaurants, and even a few lakes.
Greendale-Burncoat: This is the area north and northeast of downtown. There are a lot of factories in the valley stretching north of downtown while the hills above it are filled with residential areas. Green Hill Park, the largest in the city, is here as is Greendale Mall and quite a few restaurants. Great Brook Valley, the most dangerous part of the city, is found at the fringe of Greendale-Burncoat, but there is little that would take a traveler here.
Eastside: People visually associate Worcester with two things: hills and triple deckers (boxy, narrow, 3-floor houses). Both of these are found in abundance in the Eastside. There is very little flat ground in this part of the city. Worcester's main dining area, Shrewsbury St, is at the northern end of the neighborhood as is UMass Medical School. The eastern boundary is Lake Quinsigamond and the southern boundary is Route 20. The Ecotarium is here as are Quinsigamond State Park and Lake Park.
South Worcester: South Worcester is home to the College of the Holy Cross and everything south of it. For travel purposes, the developed parts of the town of Auburn are here which includes most of the city's hotels and Auburn Mall.
Get in
By plane
Logan International Airport
(
BOS
) in Boston or T.F. Green Airport in Warwick carry the bulk of passengers in the area, although they are each around an hour away from the city. Or, you could fly into Bradley International Airport in Hartford which is a little over an hour west of the city. There is train service from Boston to Worcester. Worcester does have its own airport, but its not well served.
phone: +1-888-359-9672

address: 375 Airport Drive,

Served by JetBlue and American Airlines, with Delta service slated to begin in 2019. Service to and from Fort Lauderdale, Orlando, Philadelphia, New York City, and Detroit (slated to begin in 2019). The airport is located on a hill and is a few miles from Downtown, but is well connected with WRTA bus and taxi services.
By train
Worcester only has one train station, , which is downtown next to the city's main bus terminal. From here you can also walk to the Blackstone Canal District or Shrewsbury St.

MBTA's Framingham Worcester Line: $12.50 one-way. Often takes an hour to an hour and a half, between South Station in Boston and Union Station in Worcester, depending on if on a local or express train. MBTA Commuter Rail is generally not reliable in extreme winter weather so plan around that if necessary. The Worcester line is also susceptible to warping in warm weather, which forces the trains to slow down sometimes in the summer. Trains to Worcester are infrequent in the morning while trains to Boston are infrequent in the evening.
Amtrak, 2 Washington Sq. (Union Station). There is a daily train from Boston to Chicago, the Lake Shore Limited, that stops in Worcester. This train also arrives from Chicago every day, but Amtrak does not accept boardings at Worcester in the direction of Boston (though you may ride from Boston to Worcester). In most cases, train travel to Worcester is most reliably and conveniently made by traveling to Boston on Amtrak, then on MBTA to Worcester (or vice versa).
By bus
address: 2 Washington Sq.

If traveling to Boston, be sure to specify South Station unless you're going to the Airport. Connections to Greyhound stations; local trips to Springfield, Boston, Hartford, and beyond.

phone: +1 508-754 1102

address: 2 Washington Sq.
By car
Worcester is well served by highways. Interstate 290 runs through Worcester and connects to Interstate 495, Interstate 190, Interstate 395, and Interstate 90 (the Massachusetts Turnpike). Most visitors to the city will arrive by car. Traffic on I-90 near Worcester can move very slowly at almost any time of day, especially on holiday weekends. Once you arrive, parking probably won't be an issue as there is ample street parking and public parking lots and garages.
Get around
Many of Worcester's points of interest are far spaced from one another. The only practical way to get around is by car (or bike). Public transit in Worcester is focused mainly on commuters. Cabs are often more expensive per mile than cabs in other cities. If you're there for more than just a visit, bicycles are available from many used stores and are the best way to get around and explore. Buses in the city usually run every 30 to 60 minutes, with some running only every two hours depending on the route. Fare is $1.75; true day-passes are no longer offered—available now is an 8-ride pass good for one person, good one day only. Buses on certain routes are often a half-hour or more late, but be at your stop early as they often fly by a few minutes early in order to catch up for previous late stops.
By bus
Worcester does have a bus system, but it can be infrequent and confusing to navigate. Depending upon where you are going, the bus system may be an inefficient way to get around the city as nearly all routes run in a spoke-like fashion from the terminal adjacent to Union Station. Planning a route with ample time for connections and schedule deviations is essential. Real-time stop predictions
are
generally available.
Taxi
Yellow Cab

phone: +1 508-754-3211

Red Cab

phone: +1 508-792-9999, +1 508-756-9000
On foot
Worcester is surprisingly hard to navigate on foot. The city covers a large area by New England standards and despite having a "downtown," the focal points for visitors are spread throughout the city, making them hard to reach on foot. Throw in poor sidewalks and aggressive drivers and you can understand why there aren't very many pedestrians.
By car
The most efficient, if not the most enjoyable way to get around the city. Driving in Worcester is not for the timid. Although Boston may get the most attention for aggressive drivers in New England, Worcester is by most measures worse. An insurance study ranked Worcester as the worst city to drive in in the United States, based on accident rate. Traffic is not nearly as bad as in Boston, but there are significant backups at rush hour and lane markings may be nonexistent in parts of the city. Road quality is good on most roads, but unpaved streets still exist in some areas.
There is no street grid to help orient yourself and driving here will probably require a GPS or someone else using a map to direct you. Interstate 190/290 can become very congested at rush hour (4-6 pm). Streets in the core city like Park Ave, Highland Ave, Main St, and Cambridge St, can be backed up at nearly any time of day, even on weekends.
See
There is a surprising amount to see in Worcester. Many travelers might only consider it worth a day trip, but this would be mistaken. The Worcester Art Museum alone is big enough to occupy an entire day. Leaving aside the city's museums, you may still want to take a stroll through one of the city's historic parks or college campuses.
Museums and galleries
Worcester has a museum for everyone. In addition to the
Worcester Art Museum
, there is an interesting little history museum and a science and nature center that is great for kids. The
Museum of Russian Icons
is in nearby Clinton.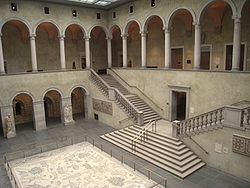 phone: +1 508-759-4406

address: 55 Salisbury St

The Worcester Art Museum (WAM) is one of the most under-rated attractions in New England. If it weren't for its proximity to the much better known Museum of Fine Arts in Boston, WAM might get more recognition. WAM is the second largest art museum in New England, covering four floors and every period from ancient Egypt to today. The museum acquired the collection of the defunct Higgins Armory museum, giving it the largest collection of arms and armor in the United States. While WAM does not have the space to display the whole collection, they do put on a series of rotating exhibits featuring pieces from the collection integrated with other related art. If you arrive before noon on Saturday, admission is free.

EcoTarium - A Museum of Science and Nature

phone: +1 508-929-2700

address: 222 Harrington Way

Great zoo with a Polar bear and working, kid-sized diesel train and more. $10; Seniors, students ages 3-18 $8. Planetarium, train, tree walkway are extra.

phone: +1 508-753-8278

address: 30 Elm Street

Small museum in a beautiful old building that presents the city's history. Worcester Historical Museum features a rotating art exhibit and a section dedicated to the various manufacturing industries that built the city. Also has a room dedicated to the "smiley face," which was invented in Worcester.
phone: +1 508-753-8278

address: 40 Highland Street

Historic house museum that is part of the Worcester History Museum. Admission to the house is included in admission to the history museum, just keep your ticket and present it at the mansion. Former home of the Salisbury family, once the wealthiest in the city. The house is now the oldest structure in the city, having been built in the 18th century. The tour covers the history of the house and the family who built it, but also touches on aspects of life in the very early history of Worcester.
address: 38 Harlow Street

Gallery and artist studio that showcases local artists
phone: +1 508-755 5142

address: 660 Main Street

Art gallery displaying local contemporary works.
Landmarks
Architecture buffs and photographers will appreciate Worcester's collection of historic buildings and monuments.
address: 455 Main St

Worcester City Hall is a sight to see. Built in 1898 at the height of Worcester's industrial prominence, City Hall was built in the Italianate style and has an imposing granite exterior.

Burnside FountainIs known to locals as "The Turtle-Boy Love Statue". The fountain features a boy and a turtle engaged in what any reasonable observer would have to conclude is an obscene -- or at least nonconsensual -- act. Not many, if any, people know what it truly represents, so judge for yourself.

Soldiers' Monument60-foot (18-m) monument built in 1874 in honor of Worcester's Civil War dead.
Parks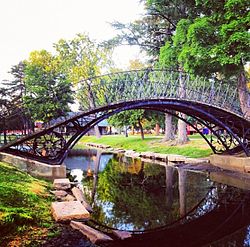 phone: +1 508-793-7601

address: 950 Main St

Century-old trees & 40 plant species share space at this campus woodland offering trails & a garden. Part of Clark University.

City ParksThe city boasts many parks for the enjoyment of residents and visitors from the largest Green Hill Park to Elm Park and Institute Park which hosts many outdoor concerts during the summer season.
address: 284 Highland St

The grand old lady of Worcester parks. The land the park sits on was purchased by the city in 1854 making it one of the first purchases of land to be set aside for a public park in the U.S. The park is undergoing renovations, but the old iron bridge over the pond in the middle has been restored.
:*
Newton HillPart of Elm Park, but you must cross Park Ave to get to it. Newton Hill has a disc golf course and trails leading to the top. The view would be impressive if not for the trees.
Institute ParkSweeping park overlooking Institute Pond, built on donated land in 1887. Holds many festivals and concerts throughout the summer.
Green Hill Park

address: 50 Skyline Dr

This 480-acre (210-ha) park is by far the largest in the city. In fact, it's so large, you may forget that you're in the middle of a city at all. Green Hill Park is on top of a hill northeast of downtown and has walking trails, a lake, the Massachusetts Vietnam Veterans Memorial, and a public golf course complete with club house restaurant.
Hadwen Park50-acre park in South Worcester that has easy hiking trails and some wildlife.
Colleges
Worcester is home to many colleges and universities. A lot of the campuses are newer, with fairly dull contemporary architecture. However, the city's three oldest private institutions are quite pretty. Look for lectures open to the public at all three while you're in town.
address: 1 College St

Worcester's oldest and prettiest institution of higher education. Explore the warren of old brick buildings perched on a hillside overlooking the city.
Seelos TheaterThis theater shows a selection of Oscar-nominated and blockbuster movies once a week during the semester for free. Open to the general public. In fact, most of the audience is usually non-students.

Cantor Art GalleryCampus art gallery showing both historical and contemporary works for the benefit of the community.
phone: +1 508-793-7711

address: 950 Main St

Clark University maintains a scenic campus in the heart of Worcester's Main South Neighborhood.
Worcester Polytechnic Institute

address: 100 Institute Rd

The older parts of this campus are perched on a ridge line between Highland Avenue and Institute Park.
Do
Worcester has a plethora of activities for visitors to enjoy. In the spring, summer, and fall, there is nearly always some sort of festival happening. Worcester also has a track record of attracting solid musical performances. Pop stars at the DCU Center, classical at Mechanics Hall, and metal at the Palladium. Worcester's sports teams are all minor league, but offer affordable entertainment.
Festivals
First Night WorcesterDec 31-Jan 1. Usher in the new year. Cultural events throughout downtown. Fireworks. Children's parade. International food court

Worcester St. Patrick's Day Parade, Mid-March. Park Ave. One of the largest Irish parades in the state.
Albanian Festival, early June, alternating odd numbered years, St. Mary's Albanian Orthodox Church. Largest Albanian festival in the country
Grecian Festival], early June, alternating even numbered years. St. Spyridon Church. One of the largest Greek Festivals in New England with over 25,000 attendees
Summer Nationals, July 4 weekend, hot rods and fancy cars take over Green Hill Park and downtown Worcester (the organizers have put the event "on hold" for 2017)
Italian Festival, mid-August, Mt. Carmel Church. Very popular annual festival in the city.
Latin American Festival, Mid-August, City Hall, Downtown Worcester. One of the largest Latin American festivals in New England.
Pet Rock Festival, early September, held at Quinsigamond Community College. Largest non-profit animal benefit in New England. Held annually to make money for shelters and other animal related services. "They can't talk so we will."

StART on the StreetSeptember, Park Avenue. Huge street festival featuring over 200 local vendors and artists, food, and live music and performance art. StART also holds StART in the Park (spring) and StART at the Station (Christmas time).

CanalfestCelebrate the Canal District every September with this street festival. Food stalls, artists & other vendors, displays, a giant raffle, canal replica, kayak rides, and street performances.

Paulie's New Orleans Jazz & Blues Festival

address: 152 Green St

Held every June, come hear live Jazz and Blues music.
Sports and outdoors
Worcester TornadoesFitton Field. May-Sep. Playing baseball in the Canadian-American League, they began playing in Worcester in 2005 and won the Canadian American Championship against Quebec in just three games. People seem to love the Tornadoes.

Worcester Green Hill Municipal Golf Club

phone: +1 508-799-1359

address: 2 Green Hill Av

Apr-mid Dec. 18 hole, 6487 yds, Par 72, CR-70.4, S-122. Public.

phone: +1 508-755-6880

address: 10 North Lake Av

This state park has a public beach, sailing center, fishing spots, and a picnic area, right in the city.

address: 243 Stafford Street.

phone: +1 508-755-3291

address: 15 Upland St, Auburn

Grab a tee time at this public golf course that is also the launch site for Robert Goddard's first rocket.

address: 299 Barber Ave

Central Massachusetts' largest indoor rock climbing gym with around 14,000 square feet of climbing area, and climbing walls from 15 to over 40 feet. Though many hardcore climbers frequent the gym, the terrain difficulty ranges from beginner to expert, and there is a separate beginners area and a wall just for kids also. Don't worry if you've never climbed before, this place is super welcoming and the staff is great! A small retail shop near the main desk sells climbing accessories and clothing. Upstairs there is a lounge area complete with free Wi-Fi, and a yoga room that can be used for stretching when yoga classes are not practicing. Waiver forms are needed for anyone who wants to climb, and minors need a parental signature.

Crystal Caves Family Entertainment Center

phone: +1 508 832-0797

address: 790 Southbridge St, Auburn

Mini golf, batting cages, homemade ice cream.

phone: +1 508-753-6087

address: 414 Massasoit Rd

Hike the well-marked trails in the largest urban wildlife refuge in New England.

Blackstone Canal District Wagon TourExplore the history of the Blackstone Canal and Worcester's transformation from an agricultural village into an industrial powerhouse. Tours leave from Kelley Square on Thursday evenings in July and August.
Arts and theater
Entertainment arenas
phone: +1 508-755-6800

address: 50 Foster St

Over 14,000-seat arena. Convention facilities, concerts, trade shows, sporting events. Most major acts passing through the area will perform at the DCU Center.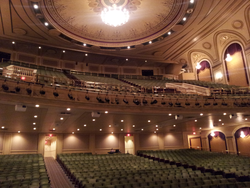 phone: +1 508-770-0101

address: 554 Main St

2300-seat theater. The Hanover was built in 1904 as Franklin Square Theater and hosted Burlesque acts and travelling Broadway shows. It was soon converted to a movie theater and stayed in business until 1998. After a lengthy fundraising campaign, it reopened in 2008 and was named after a local insurance company which provided seed funding. Today it has returned to its roots as a space for live performances, hosting prominent speakers and Broadway shows.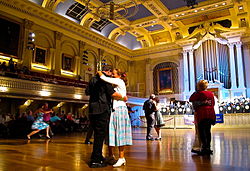 phone: +1 508-752-5608

address: 321 Main St

Pre-Civil War era concert hall. Grand Hall seating 1,600. Concerts (classical, jazz, popular music), lectures, business meetings. Mechanics Hall was built in 1857 by the workers of Worcester for educational and cultural activities. In 1864, the Hook Organ was installed and it is now the oldest unaltered four keyboard organ in the Western Hemisphere. The hall fell into disrepair in the 20th century and was almost torn down during a wave of urban renewal. It was saved and restored in the late 1970s.

phone: +1 508-754-1234

address: 10 Tuckerman St

Neo-classically-designed, triangular-shaped building, next to the Worcester Art Museum, contains a breathtaking 550-seat main hall adorned with magnificent plaster detail and ornate gold leaf. A pristine circular auditorium seating 200 and six fireplaced turret suites, each with a different architectural motif including Colonial, Dutch, Moorish, and Renaissance revival styles.

phone: +1 508-797-9696

address: 261 Main St

Built in 1928 as the Plymouth Theater, this popular venue holds about 2500 for concerts. The Palladium holds a variety of acts, but the majority are metal/rock.
Learn
Worcester has a fair number of high schools, colleges and universities in its region.
Buy
Despite being the second largest city in New England, Worcester is not a shopping mecca. There is one small mall in the city that's of no interest to travelers. Downtown used to be home to many department stores and then a large indoor mall. The mall has since been torn down and the department stores are gone. There are three malls in the suburbs of Auburn, Millbury, and Berlin, but these also aren't of much interest to the traveler. Worcester does have a few interesting stores to check out though. There is no main shopping district; shops are spread throughout the city.
phone: +1 508-832-6000

Shopping and eating, includes stores including Macys, Forever 21, Sears, and Filenes Express. Ice skating: indoor rink

That's Entertainment

phone: +1 508-755-4207

address: 244 Park Av

If you have any interest in comic books, sci-fi, horror, fantasy, roleplaying, etc., check this out.

Hung Thinh Oriental Market

address: 15 Parker St

Sells whole, frozen durian.

address: 420 Pleasant St

Cool punk/skate shoppe, sells good records, skateboards, t-shirts, DVD, VHS, cassette tapes, mixed cassette tapes, skate decks (local and int'l), trucks, wheels, bearings, pants, hats, mystery boxes, etc. There's a quarter pipe inside (!) and they do lots of cool events on the regs.

Bahnan's International Marketplace

phone: +1 508-796-5365

address: 344 Pleasant St

Mediterranean grocery store carrying everything you can't get at the supermarket. Obscure (for North America) spices and other ingredients can be found here as well as many other items such as tahini that can be found in supermarkets, but are significantly cheaper at Bahnan's. There is also a bulk feta section where you can choose your cheese by origin and ask for a specific amount. Prices for the cheaper options are about half what you would pay elsewhere in the region. Bahnan's also has a small cafe in case all this shopping makes you hungry.

phone: +1 508-755-5055

address: 356 Shrewsbury St

Hip new and used clothing boutique on trendy Shrewsbury St.

phone: +1 508-459-1049

address: 122 Main Street

Funky downtown consignment shop.

Ed Hyder's Mediterranean Market

phone: +1 508-755-0258

address: 408 Pleasant St.

If you need a fancier version of something from Bahnan's, head a few doors down to Ed Hyder's, another fully stocked Mediterranean market that also sells wine.

phone: +1 508-856-9401

address: 7 Neponset St

Small mall within the city limits that is primarily of interest to residents. Has a Best Buy and TJ Maxx.
Blackstone Canal District
phone: +1 508-799-4700

address: 7 Harrison Street

Consignment shop in a renovated mill building in the Canal District.

phone: +1 508-753-1434

address: 19 Harrison St

Unique home decor shop in the Canal District

phone: +1 508-753-7303

address: 138 Green St

Huge and eclectic consignment shop in the basement of the old Crompton Loom Works. Crompton Collective carries everything from vintage furniture and statuary to souvenirs made by local artists. You don't have to spend any money to make this worth a visit, just browsing the alcoves is a good time on its own.
Eat
Worcester provides a dining experience to suit all tastes. Everything from massive, opulent fine dining restaurants to "is this even a restaurant?" holes in the wall can be found here. Major global cuisines (Chinese, Indian, Italian, Mediterranean, Mexican, Thai, and Vietnamese) are quite common. You can even find Afghan, Salvadorian, and Polish food scattered around the city. Shrewsbury St. is the city's emerging "Restaurant Row," where you will find the greatest concentration and variety of dining options.

Budget
Worcester is full of cheap places to eat. Most of these will get you a meal for under $10.


Bakeries
Worcester is packed with neighborhood bakeries. Most people probably have a tribal loyalty to whatever their favorite is. You can find places that have been around for generations and hark back to the city's industrial heyday as well as newer, trendier spots.

Breakfast

Worcester is the center of the diner universe, being the hometown of the Worcester Lunch Car Company, which built most of the classic diner cars people associate with mid 20th century America. For breakfast the wealth of diners opens up and it is near impossible to choose. Here are some of the most cool and comfy:

Mid-range
Some of the most popular restaurants in the city are in the $10-20 price range.


Splurge

Worcester's fanciest dining establishments will set you back at least $20 and probably more than $30 per person.


Drink
Worcester has a nightlife option to suit everyone. You can attend a lecture or poetry reading at a coffeeshop, find a bar to quench all thirsts, dance the night away in a nightclub, or take in some live music.
Bars
Worcester has a lot of bars as a result of its large college population. Unfortunately for the traveler, this makes many of them feel rather samey. For anyone interested in the raucous college set, the
Blackstone Canal District
is a good place to look, especially Water St. Still, with this many bars there are some unique and interesting spots that tipplers should explore.
Vincent's

address: 49 Suffolk St

Where else can you get meatball subs and $2 Gansetts served by shirt and tie wearing bar staff? Vincent's has only been around since 1997, but it certainly feels much older. The inside is dark and dingy and the walls are covered with taxidermy. They usually have live music at night and its always free. The beer selection is pretty terrible, but they have strong cocktails and fussing about the drinks quality is missing the point. Vincent's does serve food. Your options consist of a meatball or sausage sandwich, ziti with meatball or sausage, wachusett potato chips, or a "cheese plate" which consists of a sleeve of saltines and a bunch of cheddar. In the summer, take advantage of the back yard which includes a wooden shack withe a porch to sit on, a covered patio, and a fairly well manicured lawn. Vincent's is in a residential area across the street from a large and possibly abandoned warehouse so although it might seem like you've gotten lost, you have actually found one of Worcester's hidden treasures.

address: 89 Green St

Live Music and drinks

address: 34 Green St

Not actually a dive bar, despite the name and appearance from the outside and lack of signage. Inside you will find a dark, intimate atmosphere with a well curated selection of mostly American craft beer. The narrow, dingy interior is partially a relic of its previous incarnation as a dive bar, but is decorated with diving paraphernalia (get it?) There is an enormous back porch lined with hop trellises/drink shelves to enjoy in the warmer months. From the porch, you can enjoy the huge mural decorating the back of the building and a view of downtown Worcester's skyline peeking out from behind the elevated railroad tracks. Cash only, does not serve food, but there's usually a food cart parked out front.

address: 144 North Main St

Frequently wins the award for Worcester's best bar. Big and always changing selection of craft beer from all over the world. Armsby Abbey and its sister bar Dive Bar are the only places to regularly carry Hill Farmstead beers on tap in the entire state. That, combined with Armsby's ever-changing line up of American craft beers and Belgian ales make it a destination for beer lovers. Armsby also has a large cocktail program with a frequently changing lineup and very knowledgeable bar tenders. It is decidedly not cheap, but is a bargain for visitors from larger cities.

phone: +1 508-753-9543

address: 148 Grove Street (90 Prescott Street)

Legendary rock nightclub. Entertainment every night. It is on an unpaved drive behind an old factory building north of downtown. Look for the big neon "Ralph's" sign. There is actually a diner car here. Inside you can get a burger, hot dog, or chili. Emphatically not a craft beer bar. $2 Gansett drafts are the mainstay here. The main bar area is filled with ridiculous decorations, including a coffin.

Hotel VernonKelly Square. $1 drafts (Gansett, Bush, Pabst), pool, darts. A backroom decorated to look like the inside of a ship (the Ship Room). It is beneath a "rooms by the week" hotel. Had a speakeasy in the basement during the Prohibition, still partially intact. Hotel Vernon is considered by some to be a dive bar, but is also one of the most eclectic places to have a drink in the city. The bar attracts college students, townies, aging hipsters, white collar office workers, and people from the rural areas surrounding the city.

Guertin's, Off Canterbury Street. Beautiful woodwork, $1.50 drafts.

phone: +1 508-753-4030

address: 124 Millbury St

Nick's might be the classiest bar in the city if you ignore the location in one of Worcester's seedier areas. Not a great beer bar, but they are known to have good/strong cocktails. There is no drink menu, the bartenders can make most anything and even choose a drink for you crafted to your personal tastes. Staff is formally dressed and there is a great lounge for listening to Jazz music. Lots of wood.

phone: +1 508-459-9090

address: 1 Exchange St

Worcester's only dedicated wine bar. It is in the heart of downtown across the street from the DCU Center.

Breen's Cafe

phone: +1 508-799-2808

address: 18 Cambridge St

Comfortable neighborhood pub with a small food menu and a few beers on tap. The crowd is mostly regulars, but its a welcoming place. Drinks are cheap and strong. This is a good place to sit with friends and contemplate the Schlitz-holding leprechaun painted on the ceiling.

The Blarney Stone

phone: +1 508-753-3410

address: 79 Maywood St

Worcester's quintessential college bar draws a lot of Clark University students, but is more than friendly to the general public seeking a cheap beer and a low key environment. The draft list includes local/regional favorites like Wormtown and Switchback and you won't pay more than $5 for a beer. They even have $1 jello shot if the mood strikes. Next door is a pizza place and you are more than welcome to bring food over.
A number of restaurants mentioned in the eat section also have good bars.
The Boynton
has one of the largest selections of craft beer in Worcester.
O'Connors
is a popular Irish pub with an decent beer selection.
Smokestack Urban BBQ
also has an extensive beer selection and outdoor seating.
Bocado
has a large wine selection and is known for their sangria
phone: +1 508-756-6873

address: 536 Main St

Cocktail bar with an extensive menu of drinks and the ingredients to make you pretty much anything. The Muse also features local artists for wall decor and maintains a good list of draft beer. Also known locally for their selection of amari.
Breweries
Worcester should probably have more breweries than it does. Three is not a great showing for the second largest city in New England. However, Worcester gets the most out of its three existing breweries, all of which are incredibly popular and make beer the city can truly be proud of.
address: 26 Cambridge Street

Worcester's newest brewery. Only open for growler fills, samples, and pints on Friday evenings and Saturday afternoons. Typically, you will find four beers on tap covering a surprisingly deep range of styles for a startup brewery. 3Cross has a bicycle motif with most of the beer names having some kind of cycling reference and there are plenty of places to hang up a bike inside. The logo is also a bike wheel. The taproom is pretty big and located in a basement so it stays cool all the time which is great in the summer, but its not summer very much in this city. There is sometimes a hot dog truck in the parking lot and you're allowed to bring food in.

phone: +1 774-239-1555

address: 72 Shrewsbury St. Unit 4

2014 Grand National Champion at the U.S. Open Beer Championship. Wormtown just moved to a bigger space with a dedicated taproom on Worcester's restaurant row. They don't serve food, but there are dozens of restaurants right up the street, including two in the same building. The tap room is bright an airy and the back wall is lined with huge windows so you can see into the brewery. Samples, full pours, and growlers are available. There is also an outdoor seating area with tables and a few couches for the warmer months. Wormtown is known for their aggressively hoppy IPAs, especially their flagship Be Hoppy and the over 8% alcohol Hopulence Double IPA.

phone: +1 508-926-8251

address: 455B Park Ave

Tiny taproom attached to Peppercorn's restaurant brewing an ambitious range of beers. You can't get a full poor in the brewery, but walk into the attached bar at Peppercorn's and they will have several Flying Dream's options on tap.
Coffee
Worcester is not a coffee drinkers' mecca. There aren't many non-Dunkin Donuts options to begin with and those that do exist probably won't excite anyone from Seattle, yet there are a few places with a decent atmosphere where you can get your fix.
Bean Counter Coffee Bar & Bakery

phone: +1 508-754-3125

address: 113 Highland St

Worcester's most popular coffee shop on bustling Highland St. Very close to WPI's campus. Also a good spot for baked goods.

phone: +1 508-756-9446

address: 932 Main St

Funky coffee shop on the door step of Clark University. Acoustic Java is your classic cramped college coffehouse. They have crammed an impressive amount of seating into this tiny space in an old storefront in Main South. The coffees served are their own roasts and they offer espresso drinks and will give you a real mug to drink from. Beware, the quality is inconsistent since the place is staffed mostly by students. Acoustic also has a food menu featuring sandwiches, wraps, and salads which is quite vegan friendly. Acoustic has live music on occasion (hence the name).

phone: +1 508-926-8800

address: 335 Chandler St

Large cafe with tons of coffee and smoothie options down the street from Worcester State University. Also serves a few draft beers and wine. There is a light food menu (salads, sandwiches) as well. NU hosts a series of monthly science lectures and occasional live music.
Oddly enough, two of the better places to get a coffee in Worcester aren't primarily coffee shops.
Crust Artisan Bakeshop
in the downtown serves Northborough's
Armeno Coffee Roasters
, although they do not have an espresso machine.
Birch Tree Bread Company
is a huge bakery in the old Crompton Loomworks building that also has good coffee options and an espresso machine.
Sleep
The city of Worcester itself doesn't have very many hotels. There are a few downtown and a few clustered around UMass Medical School on the Eastside. There aren't any unique or boutique hotels, just standard chains aimed at business travelers and parents of college students.
phone: +1 508-754-5789

address: 363 Plantation St

2 miles from downtown, near all major business centers and universities. Worcester's fanciest hotel.

phone: +1 508-363-0300

address: 72 Grove St

Business hotel in Gateway Park near WPI.

phone: +1 508-757-0400

address: 110 Summer St

phone: +1 508-753-5700

address: 35 Major Taylor Blvd

Downtown hotel near the DCU Center.

Hotel Vernon

address: Kelly Square

In a pinch? $100/week, bar downstairs.

phone: +1 508-753-6300

address: 503 Plantation St

phone: +1 508-852-2800

address: 50 Oriol Dr
Auburn
The following hotels are in Auburn, which is another town. This distinction is irrelevant except that you must remember to put in "Auburn" as the town on your GPS since some of the street names are also found in Worcester, Southbridge St being one of the city's main throughfares which extends into Auburn.
Go next
Worcester is in the center of
New England
and an easy drive to many destinations.