Worcestershire
Worcestershire
is a county in the
West Midlands
in
England
. It is best known for the Malvern Hills and the cathedral city of Worcester. It is also the starting point of the Severn Valley Railway.
Cities, towns and villages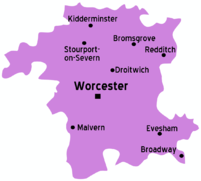 Cities
Worcester – the only city and Worcestershire's county town.
Towns
– charming market town on the River Severn
Bromsgrove – a town.
– a town.
Evesham – a market town.
– a large town.
Malvern – a historic spa town, and the gateway to the Malvern Hills.
– a market town with an historic abbey.
Redditch – a town.
– a canal town.
Tenbury Wells – a town.
– a town.
Villages
– a pleasant village, formerly the centre of a Royal Forest.
–
Understand
The most popular tourist destinations are
Malvern
and
Worcester
. These have many historical sites, and in Malvern's case, also has some excellent hill walks, which are however also quite easy to access.
Northern Worcestershire is relatively industrial and populated. The north also has the Lickey Hills and Waverley Hills, both of which are popular with urban residents as places to spend a family day out. In the north east, there is good walking the Wyre Forest. There are many smaller woods and nature reserves in various corners of the county.
The west of the county tends to be hillier, and more wooded, as it borders onto
Herefordshire
and
Shropshire
. In the south west, the Malvern Hills offer great views and interesting ridge walks. The Malvern Hills can be seen from high points around most of the county. The south east and the vale of
Evesham
is rich agricultural land, and borders onto the Cotswalds.
Broadway
is a very popular examples of Cotswald villages.
There are a number of small, historic market towns, that made money from wool in the Middle Ages, but went into decline later. These towns can have very interesting mixes of buildings, from the Tudor and Elizabethan half timbered styles, through to Georgian and Victorian buildings in their town centres. Some, like Pershore, also have some monastic ruins. The Severn and Avon rivers also make for pleasant walks in several Worcestershire towns.
Many towns and pubs claim some association with the English Civil War, King Charles I and II or Cromwell. Worcester was the site of two decisive battles. Charles II made his escape from Worcester in 1651.
The county has a number of 18th-century mansions, many of which are now open to the public. These are not always easy to reach by public transport, so travel by car or bike may often be easier.
Historically, Worcestershire was famous for its fruit, particularly apples and pears, and therefore also cider and perry.
Get in
Get around
Getting around Worcestershire is easy by car or bike, but like many rural ares of England can be challenging if public transport is your main option. This is especially true if you want to visit the many small villages or stately homes in the county.

See
Eat
Worcestershire sauceWorcestershire is known for its eponymous condiment.
Stay safe
As with the rest of the UK, in any emergency call 999 or 112 (from a land-line if you can) and ask for Ambulance, Fire or Police when connected.