Worthing
Worthing
is the largest town in
West Sussex
, around 100 km (60 miles) south of
London
and 18 km (11 miles) or so along the coast from
Brighton
. The town lies nestled between the English Channel and the
South Downs
National Park. Since the 19th century it has been nicknamed 'Sunny Worthing' thanks to its reputedly sunny and mild microclimate.
Understand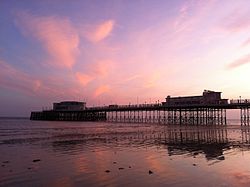 Although a seaside town with a pier, a prom and pleasant seaside parks, for much of the 20th century the town seems to have taken its eye off the ball with regards tourism, preferring to see itself as a town by the sea rather than a seaside town. In the 21st century, the town has been getting its act together; palm trees have been planted along the beach promenade, the Dome Cinema has been restored and the area around Splash Point revitalised. The town has a growing reputation for the arts and now hosts the Worthing Birdman event which attracts tens of thousands of people. Further regeneration work is planned, including a £150-million redevelopment of the Teville Gate area near the station.
The hills around Worthing were home to some of Britain's earliest and most extensive flint-mining operations, which saw some of the hardest flint available mined for thousands of years and exported across much of Britain and Europe. These flints helped people to fell trees, bringing about the neolithic revolution turning the nomadic Stone Age into a settled agricultural Bronze Age. Church Hill dates from 4500 BC. You can still see the filled-in mineshafts on the edge of Cissbury Ring, just north of town.
Settled since the Bronze Age, Worthing remained a small fishing hamlet until the 1750s, when various wealthy citizens visited for the hunting and fishing opportunities afforded by the area. Princess Amelia, daughter of King George III, stayed in Montague Place in 1798, which put the town firmly on the map of England's fashionable society. In the 19th century, Worthing was an elegant and fashionable resort attracting the rich and famous of the day.
It is famous for being used as the location for the movie
Wish You Were Here
as well as its literary connections. Oscar Wilde named the central character of
The Importance of Being Earnest
after the town, and wrote the play while stayed here at the height of the town`s fashionability in the 1890s. Jane Austen's unfinished novel
Sanditon
is thought to have been significantly based on experiences from her stay in Worthing in 1805. A blue plaque marks the former home of Nobel prize-winning playwright Harold Pinter in Ambrose Place.
Today Worthing has a windsurfing and kitesurfing centre at the western end of the promenade and is a good place to stay for visitors wishing to explore the
South Downs
which are just north of the town.
Worthing (population 100,000) is a large town and the centre of an urban area of 185,000. With nearby Brighton, it forms part of England's tenth largest conurbation, with nearly half a million residents.
Get in
By train
Trains to Worthing run from Victoria and London Bridge stations in London, taking about 75 minutes, while
Gatwick Airport
is about 45 minutes away. There are also trains which run along the coast to
Brighton
(around 20 minutes). To the west lie
Chichester
(around 30 minutes) and
Portsmouth
(an hour).
Southern Railway tickets to London and some other destinations can be purchased from as little as £3 (£2 with rail cards) one way, if purchased online from their website. The tickets can then be collected form the automated machines at your departure station.
The main railway station is located just northwest of the town centre.
By car
The A27 also runs through the north of the town so, it is very easy to get to from Brighton and Chichester (depending on the direction). The A24 links Worthing to the M25 and London and is dual carriageway for much of its length. The A264/M23 provides a dual carriageway link from the A24 to Gatwick Airport.
By bus
National Express
operates services to the town's bus station on the seafront close to the Dome Cinema. The journey from London to Worthing takes about 2hr 40min. Tickets are much cheaper if booked in advance online.
Get around
Cycling
To the East of Worthing the South Coast Cycle Route runs along the coastline, so you can cycle along the promenade down to Lancing and Shoreham. A cycle route also goes from the train station to the seafront.
On foot
The main pedestrian shopping centre on Montague and South Streets is only one block from the seafront.
By bus
Stagecoach
operates bus services throughout the town and local area. The Pulse is a service running every 10 minutes in the daytime between Durrington and Lancing via Worthing town centre.
Compass Buses
also provides buses in the town.
By train
Southern Railway
runs trains across Worthing's main station (known simply as
Worthing Station
) and four suburban stations (from east to west these are ,
West Worthing
, and
Goring-by-Sea
).
See
East Beach Studios

Worthing Museum and Art Gallery

address: Chapel Rd

Pay a visit to the town's free museum. It contains one of the country's finest Victorian costume collections and holds various fine and decorative art exhibitions, including lively temporary exhibitions often involving local artists, as well as a sculpture garden. Also has archaeology exhibits, including artefacts from the South Downs nearby. Some of the space is a little dated, but interesting nevertheless.
Visit local artists at the Worthing Open Houses event. More than 45 local homes open their doors to the public to display a wide range of arts and crafts from local artists. In 2011 the event takes place in the last two weekends of June and first weekend of July.
Visit the reproduction of the Sistine Chapel ceiling located in English Martyrs Catholic Church 4 miles (7 km) to the west of the town centre, near Goring Station. Open Tu-Fr 10AM-4.
Highdown hill, north of Goring, provides scenic views of the town and also has the historic Highdown Gardens open to the public. Both are free of charge. Highdown Gardens is open Apr-Sep: daily 10AM-6PM, Oct-Nov: M-F 10AM-4:30PM, Dec-Jan: M-F 10AM-4PM, Feb-Mar: M-F 10AM-4:30PM. There's also a cafe and a hotel/restaurant by the entrance.
Do
phone: +44 1903 823112

address: 21-22 Marine Parade, BN11 3PT

See a film at one of England's most atmospheric early cinemas.
Visitors to Worthing should not miss the opportunity to stroll along the prom. Or hire a bike from the cycle hire shop on the seafront

phone: +44 7852 986165 or +44 7852 986163

address: Marine Parade

Hire a bike along the seafront. They will also deliver to where you are in the Worthing area. Cycle along the seafront or up onto the South Downs.
Don't miss the fishermen selling fish from their boats on East Worthing Beach. Oscar Wilde's residence here in 1894 is commemorated by a blue plaque on the modern building at the eastern end of the Esplanade.
Admire the views of the town's art deco pier from Splash Point, with its rainbow mist water feature and pleasant seating area. Located 100 metres east of the pier.
Visit one of the town's theatres :
The Connaught Theatre offers productions visiting from London's West End as well as repertory theatre in an art-deco setting.
The Pavilion Theatre offers a range of shows from children's shows to general entertainers in the beach-side pavilion on Worthing Pier.
The Assembly Hall is the town's main venue for music, with its excellent acoustics. It is home to the Worthing Symphony Orchestra, the only professional orchestra in West Sussex, which puts on Spring and Autumn seasons.
Walk up to Cissbury Ring, one of Britain's most impressive Iron Age hillforts, managed by the National Trust and lying in the newly created South Downs National Park just north of the town. Consider walking from the Worthing suburb of Broadwater or the nearby village of Sompting with its picturesque 11th-century church.
Golf clubs
Worthing has a range of golfing facilities to suit all abilities:
Worthing Golf Club - Features two 18-hole courses on the South Downs. The Lower Course is reckoned to be one of the best downland courses in England. The Upper Course boasts some spectacular views across much of the south coast, from the Isle of Wight to Beachy Head.
Hill Barn Golf Club - Nice 18-hole course on the South Downs. Former municipal course in private hands and benefiting from their investment. The club hosted European Tour events in the 1970s.
Brooklands Golf Centre - Municipal, nine-hole learners course. Looks good now the trees have grown and has a nice water feature. Close to the seafront east of town.
Splash Point Mini Golf - Worthing's only crazy golf course, near seafront behind Splash Point.
Marine Gardens Putting Green - Small putting green close to the seafront west of the town centre.
Basketball
From September to April, Worthing Thunder play in the BBL, the UK's top basketball league. Catch them at Worthing Leisure Centre, close to Durrington Station, two miles (3km) west of the town centre.
Cricket clubs
In the summer months there various grounds in Worthing which will welcome spectators:
Worthing Cricket Club - A former county cricket ground and an easy walk from the town centre just north of the main railway station. Worthing play in the Sussex Cricket League.
Broadwater Cricket Club - Have played on Broadwater Green, a few km north of Worthing town centre, since the 18th century. There is a traditional pub named the Cricketers opposite the green.
Events
Watch the Worthing Birdman competition in August - see grown men jumping off Worthing Pier in their attempts to 'fly' the furthest, and with the wackiest costumes. If the weather's good you can expect to be joined by 20,000 to 30,000 others.
Buy
You will find the main high street shops around South Street and Montague Street including the town's two department stores Beales and Debenhams.
Montague Street is pedestrianised and is home to a market every Wednesday. South Street Square hosts a Farmers' Market on the fourth Saturday of every month.
Information on the shops and facilities in the pedestrian town centre can be found here
While in Worthing, look out for a type of sweet named Worthings after the town, available from various places including the shop at the town's Museum and Art Gallery.

Eat
Many different international cuisines are offered in Worthing, and most offer excellent food at a reasonable price. There main area for eating out in Worthing is in and around the pedestrianised
Warwick Street
. There are also an increasing number of restaurants around the
West End
of the town centre, about 1km west of South Street, around the west end of Montague Street and Rowlands Road.
For Italian food, go to '
Pomodoro e Mozzarella'
on Warwick Street. This restaurant is far superior to the nearby franchises of
Ask
and
Pizza Express
, and offers authentic Italian cuisine in a friendly but very intimate atmosphere. Be sure to make a reservation if you want an evening meal there on a Friday or a weekend night. For Chinese food, try either
China Palace
or
Fortune Inn
on Chapel Road; the first is somewhat more expensive than the second, but both offer good food. China Palace has both a traditional a la carte menu and also a 'buffet' menu - for a fixed price, you can eat as much as you like, but it is cooked to order rather than being displayed in open gastronorms in the self-service style. Good Indian food can be found slightly away from the town centre on Goring Road at
Shafiques
. Ask for the window seat here and watch the local world go by.
For a bite to eat during the day, head to Bath Place, just off the east end of Montague Street, where you will find two very interesting cafés:
Thai Lunch Box
and
Parklife
. Thai Lunch Box offers a fairly traditional sandwich menu backed up by an extensive menu of Thai food. Look out for the oriental supermarket next door - pop in and have a look round if you have time. Parklife (almost directly opposite TLB) serves all sorts, including milkshakes in over 50 different flavours.
You might also like to try:
phone: +44 1903 216937

address: 6 Beach Parade

The only cafe on the beach in central Worthing. Situated next to the East Beach artists' studios. In warmer times of year often has a piano or guitars available outside for customers' use. Organic ice cream, Illy coffee, tea in china cups, cakes and foccacia sandwiches are served.

Crescent Road Cafe Restaurant

phone: +44 1903 204194

address: 14 Crescent Rd

With a reputation for excellent food and service, it has contemporary decor. Tucked away in the town's West End, west of the town centre.

phone: +44 1903 207123

address: 51 Brighton Rd

Popular fish restaurant, with noisy, bustling atmosphere. Worth booking ahead for evening meal. Not place for a quiet dinner. Nice decor with simple wooden tables and chairs. Good variety of fish.

phone: +44 1903 227780

address: 6 New St

Popular restaurant in contemporary surroundings. Live jazz every night. £5 express lunch menu particularly good value. Plush, light and airy restaurant spread over two floors.

Pestle & Mortar

phone: +44 1903 820189

address: 44 Portland Rd

Deli-style cafe serving organic and locally-sourced food. Rustic feel. Also open on Saturday evenings.
Drink
There are many good pubs dotted around the centre.
phone: +44 1903 230085

address: 79-81 Portland Rd

Worthing's 2009 Pub of the Year. A thriving traditional pub, serving good cask ales and food. Also known for its jazz nights every Monday. A pub since 1857, the building used to be three fishermen's cottages.

Indigo Bar & Restaurant

phone: +44 1903 230451

address: Steyne Gardens

Stylish but informal restaurant, specialising in local fresh seafood, seasonal ingredients with monthly changing menus. Excellent cocktails served in the bar.

Selden Arms

phone: +44 871 951 1000

address: Lyndhurst Rd

Traditional real ale pub with irrepressible landlady.
Sleep
Central Worthing has a number of hotels and bed and breakfast establishments.
There are good Bed and Breakfast establishments in East Worthing along and just off the Brighton Road. Sea front rooms here offer excellent views of the picturesque fishing beach and the English Channel beyond. Benson's Guest House is notable for having a Gold Award for quality. The Cavendish Hotel on the Seafront is a 2-star hotel, ideal for tourists and business people, free wireless internet access is offered to guests in the public areas.
phone: +44 1903 230451

address: Steyne Gardens

Excellent family-run hotel, establised in 1928 and Worthing's highest rated with an AA 80% 3 Star award. Some rooms just newly refurbished which feature flat screen TVs, crisp white cotton duvets and stylish interiors. Includes the popular Indigo Restaurant and Bar.

phone: +44 1903 236103

address: Steyne

Superb traditional family-run hotel in Georgian building dating from 1807, full of character. Central location. Has its own lounge and cocktail bar. Also snooker and pool tables.

phone: +44 1903 538780

address: 98 Heene Rd

Popular four-star bed and breakfast, 5-10 min walk from sea. Free wi-fi. Winner of 2010 Worthing Tourism Award.
Stay safe
Although Worthing is generally a very safe place to be, like many large towns, the town centre can get fairly rowdy on Friday and Saturday nights.

Go next
Arundel is a pretty town, steeped in history and famed for its castle and cathedral. 11 miles (18km) west of Worthing along the A27. Stagecoach's 700 bus will take you there. By train you need to change at Ford or Barnham
Brighton lies 11 miles (18km) along the coast to the east. Brighton is often congested to drive through so you may find it easier to take the train (20 minutes) or use Stagecoach's 700 bus.
London is an hour and a quarter away via train or 2 hours via coach.