Wuppertal
Wuppertal
is a city in
North Rhine-Westphalia
in the northwestern part of
Germany
.
Understand
It is a result of a 1929 merger of the erstwhile independent cities Barmen and Elberfeld. Despite the young age of the city, the history of the settlement along the river "Wupper" goes back to 1161. "Elberfeld" was first mentioned in official documents as an estate of the archbishop of Cologne and received its town charter in 1610. "Barmen" was charted in 1808. Barmen is also notable as the birthplace of Friedrich Engels, best friend, financier and confidante of Karl Marx (who was born in
Trier
) and co-author of the communist manifesto. While some other city mergers in Germany haven't gone over well with the locals, the parts of Wuppertal feel much like a coherent whole these days, in part aided by the suspension railway ("Schwebebahn") that serves both parts and predates the merger.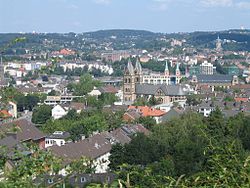 Get in
By plane
The closest airports to Wuppertal are either
Düsseldorf
airport or
Cologne/Bonn
airport. Lufthansa's (and by extension Germany's) main hub airport
Frankfurt
FRA
is worth considering when arriving from across and ocean as it is not that far away and well connected through the Frankfurt-Cologne high speed mainline.

By train
Wuppertal is 30 minutes away from Cologne by regional train (RE/RB), with departures several times an hour.
The "ICE" (Inter City Express, the German high-speed train) stops only at the Wuppertal Hauptbahnhof (HBF), the main station in Wuppertal. S-Bahn (Schnell-Bahn) and RE (Regional Express) trains stop at several train stations in Wuppertal, although the main station is probably the most convenient for most tourists.

By foot
Walking down the L357 will take approx 6 hours. This is not advisable but if time is your friend then this might be an alternate option.

Get around
An attraction in itself, the
Wuppertaler Schwebebahn
is the world's oldest monorail system, dating back to 1901. The suspended trains run for 13.3 km across the city in about 30 minutes, mostly above the surface of the river Wupper, and features in the movie
Der Krieger und die Kaiserin
(The Princess and the Warrior), which is set in and around Wuppertal. On special occasions, the original
Kaiserwagen
, used by Emperor Wilhelm II at the inauguration in 1900, is still used. Trains run every 4 minutes on Monday-Friday, 6 minutes on Saturday, 8 minutes on Sunday. Single trip tickets are €2.70, VRR tickets accepted.
See
Wuppertal as a whole - as opposed to its constituent parts Barmen and Elberfeld - is probably best know for its pioneering urban transit system, the
Schwebebahn
which its designer Eugene Langen tried to sell around the world but had few takers outside Wuppertal. A much shorter route exists in
Dresden
and was also built during Langen's lifetime.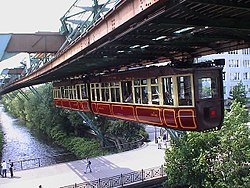 Die HardtA nice wide park on a hill in the heart of Wuppertal. On the park area there is also the Botanischer Garten (botanical garden).

phone: +49 202 5633600

address: Hubertusallee 30

Historische Stadthalle WuppertalNowadays the Stadthalle is a concert hall, host to many cultural events.

Engels HausFriedrich Engels is perhaps one of Barmen's most famous sons. He was not born in this house (the actual birth house some 100 meters away did not survive the war) but he did grow up here and his father was born here. While Trier has learned to make their native son Karl Marx into a tourism attraction, the co-founder of Marxism and Marx's long-time financier and best friend does not have the name recognition (it's not "Engelsism", after all) and Wuppertal has thus far failed to really market its connection to the son of a cotton manufacturer born in 1820.

Museum für Frühindustrialisierung

address: Engelsstr. 10-18 1

Even though it costs money to get in (€4 for adults), it's worth a visit because they let one help operate one of the antique machines. The signs are only in German, so if you don't speak it, you might want to bring a native speaker or see ahead of time whether they have audio tours, or English speakers working at the museum.
Do
address: Kohlfurth district of Wuppertal

The museum provides rides on old trams over its , metre gauge line that runs through a wooded area.

Lange TafelThe Lange Tafel is an outdoor event where several Wuppertal cafes and bars offer their beverages and food lined up in a long row under the Schwebebahn.
Buy
If you want to go shopping, then the Old Town or now
center of Elberfeld
will probably be the best place to go, since it offers the widest range of different stores in Wuppertal.
Eat
If you want to go out, then the
Luisenviertel
is probably a nice place to go. The Luisenviertel is part of the Old Town of Elberfeld and hosts a wide range of nice cafes and some restaurants. The most famous one is
Katzengold
.
address: Untergrünewalder Straße 3

address: Kleine Flurstr. 5

Try the Wuppertaler Brauhaus-Fritten and the spare ribs. Also the Pork Knuckle is superb if you like dark pork meat. Look in the "from the oven" section of the menu. Wash down with the in-house 'Dunkel' or Brauhaus Weisen. The atmosphere here is superb, there's live music most nights. The building is the old 19th-century swimming pool (hall). You'll need hollow legs to eat their mixed grill!

address: Gathe 67, 42107 W.Elberfeld

A nice cosy Greek tavern with good food and friendly staff
Drink
Like most German cities, Wuppertal brews a local beer exclusive to the city. The Wupper Hell and the Wupper Dunkel can only be enjoyed in the Wuppertaler Brauhaus, a former swimming pool converted into a modern brewery in Barmen, close to the city center.

Sleep
phone: +49 202 552372

address: Obere Lichtenplatzer Straße 70

One of the cheapest places to stay. Most of the time a little breakfast is included in the price for staying overnight. Especially during the busy season, reservations should be made in advance.

phone: +49 202 450511

address: Schloßbleiche 4-6

phone: +49 202 698230

address: Poststraße 4
Go next
Ronsdorfer TalsperreTake a walk around the historical dam.