Wuxi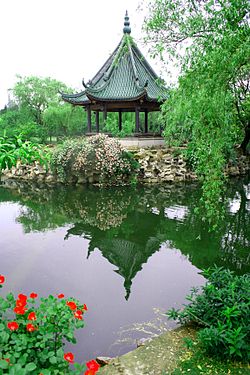 Wuxi
(无锡;
Vu-sik
in Wu,
Wúxī
in Mandarin) is an industrial city on the
Yangtze River
between
Suzhou
and
Nanjing
.
Wuxi is in the South of
Jiangsu
Province, roughly halfway between
Shanghai
and
Nanjing
, with Shanghai 128km to the East and Nanjing 183 km to the West.
Suzhou
is nearby, under half an hour by bus or car. The city has a population of 4.32 million and covers an area of 4650 square km.
Wuxi is bordered by water, with
Lake Tai
to the South and the
Yangtse River
to the North.
Understand
Wuxi has a history of over 3,000 years; its establishment can be traced back to the end of the Shang Dynasty. Taibo, the eldest son of emperor Zhouwu in the West Zhou Dynasty came here from the inland of China. He introduced the inland culture to the south and created the Wu culture. The place used to be rich in tin deposits during the Zhou and Qin dynasties. As the tin was depleted by the end of the Qin Dynasty, the place was called Wuxi, meaning " a place without tin".
The climate is moist and temperate, sub-tropical with distinct seasons. The average annual temperature is 15.5 ℃ There are 250 frostless days and the average rainfall is about 1,000 mm. There are hills, rivers and lakes in this area but most of it is flat and crisscrossed with canals and small rivers. It is a fertile area, the "land teeming with fish and rice".
Wuxi is well-developed economically and has good transport connections.
With rich natural and cultural heritage, Wuxi is one of the top ten tourist cities in China. The typical features of the area is that of the regions of rivers and lakes. Wuxi occupies the most scenic part of Lake Taihu and enjoys the beautiful scenery.
The city of
Jiangyin
and
Yixing
are administered as part of Wuxi.
Get in
By plane
Wuxi Sunan Shuofang International AirportDirect flights from major cities in China and Singapore, Tokyo, Osaka, Taipei, Hongkong.
In Shanghai you can take the new G-Train to Wuxi. The journey will be about 45 minutes and it costs ¥50 (June, 2019). G-Trains can be boarded from either Shanghai Hongqiao Railway Station which is accessible with Metro line 2 to East Xujing, or line 10, or Shanghai Main Railway Station accessible with Metro lines 1, 3 or 4. Otherwise you can take the normal D-Train which takes about 50 minutes and cost ¥49 (August, 2010).
If you get off from Nanjing Lukou Airport, you can take intercity Bus or taxi, don't forget your belongings when getting off.
By train
The Beijing-Shanghai railway, Shanghai-Nanjing high-speed railway passes through the center of the city, while the Beijing-Shanghai high-speed railway passes through the city on its east.
By road
Nine highways join Wuxi with important cities like Shanghai, Nanjing and
Hangzhou
. The Shanghai-Nanjing expressway passes through the city. It takes about 3 hours by car to get from Wuxi to Shanghai's
Pudong Airport
.
By boat
There are also water routes to various places in the country via the
Yangtze River
, the
Grand Canal
and
Lake Tai
.
Talk
The local language is
Wu Chinese
, often known as Shanghainese (although the Wuxi dialect differs significantly from that of Shanghai). It is not mutually intelligible with Mandarin, though as Mandarin is the official language and medium of education in China, almost all locals will be bilingual in the local dialect and Mandarin.
As with virtually elsewhere in China, English is not widely spoken, though staff at expensive hotels will usually be able to speak basic English.
See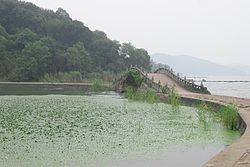 Xihui Park and Old Town (锡惠公园) - An old town pedestrian street with many souvenir and snack shops. Free but the individual residences cost extra (maybe ¥10 each). The main ticket is for several gardens and temples clustered together including the Garden of Ecstasy (Ji Chang Yuan) one of the leading gardens in SE China and Emperor Qianlong, who made seven visits, had a copy made of the garden at the Summer Palace in Beijing. The entrance ticket is also for the nearby park which is rather large if you spend the time to travel around the hill. You can pay extra for the cable car (might also be available as part of combined ticket) to get to the pagoda on the top of the hill.
Lingshan (灵山) - The main attraction is Grand Buddha, one of China's largest Buddha statues at over 80m tall. The whole Lingshan area is a tourist attraction built only in 2008 so there is no history to find here, with a musical fountain which plays out the story of the birth of the Buddha, as well as the Brahma palace (梵宫), a very grand palace with the pillars made of sandalwood, built to host the 2009 Buddhist conference. Entrance is ¥210 for a standard ticket excluding the electric buses. There is a show in one of the temples and you should get a free ticket when you buy the park fee (maybe not in peak season). It is only 20 minutes long and partly video thus not worth spending extra cash on if you did not get the ticket with your entrance ticket.
Lake Tai (太湖) - A very large lake with many scenic spots, famous for its fish and freshwater pearls. Nothing in particular to visit but Lingshan.
Grand Canal 1800 km long and travels from Beijing to Hangzhou. NOT really for sightseeing but it is there.

Donglin AcademyEnjoy the Ming and Qing Dynasty architecture of this well preserved site with gardens and classrooms of a famous school that prepared its students for the state exam. If you are in the neighborhood, it is worth the 5 yuan entrance fee to visit. Attractions are a stone arch, pool, Donglin monastery, Lize Hall, Yong Tang, Oscillation Temple, promenade, Road South Temple and Donglin Temple.
Do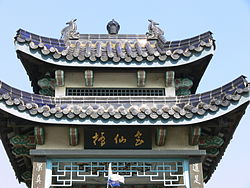 Taihu Lake Yuantouzhu (Turtle's Head) Scenic AreaWith a water surface of 2,400 km2, Taihu Lake is the third largest fresh water lake in China. In 1982 it was designated as a national scenic area by the State Council. Yuatouzhu is actually a small hill stretching into the lake like the head of a turtle, hence the name. This scenic area covers an area of 130ha and is composed of eight scenic spots.
Buy
Wuxi is a city with a lot of shopping areas; It has a wide range of brands is available.

Eat
Traditional Wuxi food is very sweet and savoury. Local specialties include
Wuxi-style xiaolongbao (soup dumplings)
(小笼包
xiǎolóngbāo
) which is sweeter than
Shanghai
style, as well as
Wuxi-style pork wonton
(馄饨
húntūn
).
Wuxi rib
(酱排骨
jiàng pái gǔ
) is known throughout China; the pork ribs are braised in red sauce with star anise until they fall off the bones.
In some alleys there are different kinds of foods on a stick, it is very popular with the locals.
There is also a wide selection of western food.
Budget
Saizeriya, a Japanese chain of Italian restaurants where a decently-sized plate of pasta can be had for less than ¥20 and all-you-can-drink soft drinks available for an additional ¥7. Many kinds of pizza, pasta, soups, roasted chicken, lamb, fish, salads, seafood, seaweed, etc. Menus are available in English. Find it in two locations: Zhongshan Road No.328 in T12 Shopping Center and Guangrui Road No.399 in Lifespace.
Drink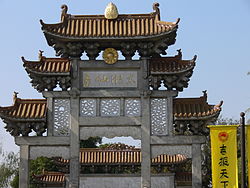 There are numerous watering holes around Wuxi. While there are more expats to be found in some of them, you can expect a mix of locals in any pub or nightclub in Wuxi.
Havana Cafe Bar Lounge

address: XianQian Jie

Latin inspired cafe with and extensive cocktail and beer selection.

Blue Bar Cafe

phone: +86 82759866

address: 53 - 1 Chongning lu

Western-owned and -managed bar/restaurant in the center of town.

phone: +86 510-81889898

address: 无锡市东梁溪路9号一楼

This is a big noisy club.
Sleep
Wuxi is home to a variety of accommodations catering to both foreign and local guests.
address: 317 Zhongshan Road, Chong'an District

A 4-star business hotel offering 186 rooms furnished with modern amenities. Business facilities include meeting rooms and a business center. Leisure facilities such as Japanese-style sauna and KTV room are also available.

phone: +86 21 61226688

address: 218 Zhongshan Road, Chong'an District

A 4-star hotel that features a revolving restaurant located on the 28th floor which affords guests a stunning panoramic view of the city. Various amenities plus excellent service.

phone: +86 510 6888 2888

address: No 288, Zhongshan Rd, Liangxi District

This property offers all-day dining. Guests can select from studio,one,two and three bedroom apartments.