Wuzhou
Wuzhou
(梧州; Wú​zhōu​) is a small city in
Central Guangxi
at the conjunction of Li River and Xijiang River.
Get in
By plane
Wuzhou's new airport, Wuzhou Xijiang Airport, is now open.
Buses to Wuzhou are available from
Guangzhou Baiyun International Airport
. The fare is ¥130 and the journey time is about 210 minutes.
By train
Wuzhou Station

address: 168 Hubin Road, Changzhou District (长洲区湖滨路168号)

Serves K and T series trains.

Wuzhou South Station

address: Zhanqian Road, Longxu District (龙圩区站前路)

Serves high-speed trains.
By bus
Jinhui Wuzhou Bus Station

address: 5 Hongling Road, Changzhou District (长洲区红岭路5号)

Wuzhou's main bus station.
By car
Expressways
Nanwu Expressway
Highways
China National Highway 207
China National Highway 321
See
Urban Wuzhou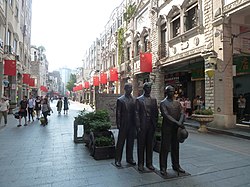 Arcade Town

address: Wanxiu District (万秀区)

Consists of 22 streets filled with arcade-style buildings (known in Chinese as qílóu 骑楼), which are noteworthy for their blend of Chinese and foreign designs. The buildings generally date from the late 19th century to the early 20th century, with the peak period of construction being in the 1920s and 1930s, particularly after a fire destroyed much of the old city in 1924.

Dragon Mother Temple

phone: +86 774 2810018

address: 75 Guilin Road, Wanxiu District (万秀区桂林路75号)

A dragon mother temple, north of the arcade town and west of White Cloud Mountain. Features a colossal statue.

phone: +86 774 2042146

address: 121 Baiyun Road, Chengbei Subdistrict, Wanxiu District (万秀区城北街道白云路121号)

A mountain to the north of the arcade town and east of the Dragon Mother Temple. Worth the climb.

Zhongshan Park

phone: +86 774 5831808, +86 774 2024739

address: 1 Wenhua Road, Wanxiu District (万秀区文化路1号)

Dedicated to the founder of China's first republic, Sun Yat-sen (Sun Zhongshan). There is a Sun Yat-sen Memorial Hall (中山纪念堂 Zhōngshān Jìniàntáng) in the centre of the park, which was completed in 1930, making it one of the first Sun Yat-sen memorial halls to be completed in China following Sun's death in 1925 (it claims to be the first, but in fact there is one in Guangdong's Dabu County, which is one year older).
Zhu Hill
Zhu Hill Park (珠山公园 Zhūshān Gōngyuán), also known as the Zhu Hill (or Zhushan) Scenic Area (珠山景区 Zhūshān Jǐngqū), lies in the central part of the city, on the west bank of the Gui River. The Wuzhou Museum is there, along with several notable historic sites. Visitors to the park have a choice of either walking up the hill or taking the elevator on Daxue Road (大学路). The eastern part of the park is officially known as Hebin Park (河滨公园 Hébīn Gōngyuán).
Crane Hill Tower

address: Zhushan Park, Wanxiu District (万秀区珠山公园内)

A modern reconstruction of a historic tower. The top of the tower has good views of the Gui River.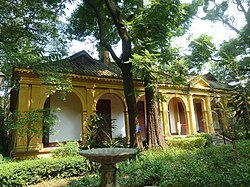 Former British Consulate

address: Zhushan Park, Wanxiu District (万秀区珠山公园内)

In 1897, British imperialists declared the entire hill to be the sovereign territory of Great Britain and built this consulate upon the hill. The consulate was abandoned about 30 years later when a campaign of civil resistance compelled the British to leave. Today the former consulate is a museum. There is a stone monument outside the building, which commemorates the return of the hill to Chinese sovereignty.

Former Site of Alliance Bible Institute

address: Zhushan Park, Wanxiu District (万秀区珠山公园内)

The Alliance Bible Institute is a Christian school founded by an American missionary at this site in 1899. The school continued to operate at this site until 1949 when it relocated to Hong Kong. Today the building is the property of the Wuzhou Christian Association, which holds regular church services here.

White Crane Temple

phone: +86 774 3844714

address: 1 Yuanjiang Road, Wanxiu District (万秀区鸳江路1号)

Said to be one of the best preserved traditional Taoist temples in Guangxi. It was originally established in the 8th century AD, but of course has been rennovated several times since then.

phone: +86 774-3868680

address: Zhushan Park, Wanxiu District (万秀区珠山公园内)

Wuzhou's main museum. Information is mostly in Chinese, though you will see some English when you get to the exhibition on the Arcade Town.
Rural Wuzhou
Cool Heart Falls

address: Lizhai Village, Langnan Town, Teng County (藤县埌南镇黎寨村)

The waterfall is located about 42 km away from Teng County's county seat and 60 km from Wuzhou's main urban area.
Eat
It is famous for Beggar's Chicken (Wuzhou Jiaohuaji), a stuffed and roasted bird with soy and ginger. Various versions of the recipe are found all over Eastern China.
Turtle JellyVery bitter but very popular
Drink
Infused BaijiuThere is a small hidden infused baijiu shop north of the Century Square. It's hard to find but cheap and delicious
Sleep
Wuzhou New Century Hotel

address: 8 Zhongshan Road (Zhongshan Lu)