Xàbia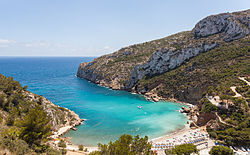 Xàbia
(Spanish:
Jávea
) is in the
Costa Blanca
region in
Alicante
,
Spain
. The town has three main areas, namely Xàbia old town, Xàbia port, and the beach area. The old town has not changed much and is a maze of narrow winding streets with homes that have wrought iron balconies and windows in gothic style, and a number of ancient churches and other structures. The harbour and fishing port have numerous restaurants and bars overlooking the sea. The Arenal beach area is the main commercial and recreation centre of the town.
Understand
Montgó's prehistoric cave dwellers and hunters date from at least 30,000 years ago, and the paintings in Migdia cave are well-enough known. Its slopes have certainly yielded evidence of the ancient past to many local residents whether collecting Stone-Age handaxes and flints, Roman pottery or Muslim ceramics.
The slopes of Montgó, the tops of surrounding hills and the valley itself, all tell of the earliest known Neolithic settlements in the Western Mediterranean, where men developed agriculture and domesticated animals from around 3000 BC and into the Valencian Bronze Age between 1900 and 500 BC. In the museum you can see Iberian beads, shards of decorated pottery, stone axes and pestle and mortars found all around us, including from a fox's burrow dig into the hill crowned by the Santa Lucia Ermita, and which revealed a Bronze Age and Roman Village.
Visigoths were here too. In the 6th century AD. Christian Visigoth monks whose ancestors had accompanied the troops sent to battle in North Africa, came across to Javeda and founded the monastery of San Martin. Here Hermangildo, son of the Visigoth king Leogevild of Toledo, sought refuge in the Monastery after angering his father by marrying a Christian girl. When his father's troops arrived to arrest him all but one ancient monk fled to Portichol - but Hermengild and the old monk were killed. You'll find a number of Javiense with Visigoth names even today.
The foundations of a 17th - 18th century house had been built right on top of a 3000-year-old Bronze Age farming site, thus preserving the remains of two cabins and several silos. And in San Bartholome. the next street, facing the church, another house has been demolished to reveal relics of a 14th-century dwelling with a cistern, well and various ceramics and coins.
Excavations have found 14th-century graves- some with several skeletons added later, all of the first Christians to repopulate Jávea after the long Muslim occupation. The cemetery was in use for another two hundred years and archaeologists found the remains of what appeared to have been a high, fortified tower and the later, smaller, 17th century chapel of the Desamparados.
There is little left of the Moors but some inscribed gravestones and ceramics, although they were here from about 714 AD until the last were expelled from Jávea and Dénia in 1609. Most were farmers, cultivating and terracing the land but undoubtedly there are remains hidden beneath many buildings and wooded areas.
Well, walk where you will in the valley, town or hills, you can be sure of one thing, you are walking on history.
phone: +34 965 794 356

address: Plaça de l'Església, 4
Xàbia Port Tourist Info

phone: +34 965 790 736

address: Plaça President Adolfo Suárez, 11

Tourist Info Xàbia Arenal – Winter Office

phone: +34 966 460 605

address: del Capde la Nau Pla, 122

Tourist Info Xàbia Arenal – Summer Office

phone: +34 966 460 605

address: Passeig del Tenista David Ferrer
Get in
By air
Valencia
airport is 100 km to the north.
Alicante
is found 100 km to the south, and
Murcia
a bit further. Several companies offer transportation from both nearby international airports.
By bus
By rail
phone: +34 900 720 472

address: Passeig d'Alacant

Tram Alicante (el Trenet) operates a light rail train connecting all major settlements along the coast between Dénia and Alicante, with the exception of Xábia; the nearest tram station is in the neighbouring municipality of Gata de Gorgos. To reach Xàbia from this point travelers will need to hire a taxi or have a car available.
For those arriving from Alicante, a changeover in Benidorm to L9 (line 9) is required. For travelers with smartphones, there is a helpful official app (iPhone and Android) with a route planner and timetables. Guide dogs and small pets in carriers are permitted.
By boat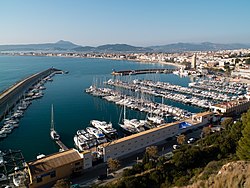 phone: +34 966 423 066

address: Escollera de Levante, s/n

Operates a ferry route to Dénia; hours vary by season. A round-trip ticket costs €18, and the journey lasts 50 minutes. The is on the opposite side of the port.
Get around
For most locations in Xàbia a car is essential. If arriving at Valencia or Alicante airport there are several car rental companies readily available. If booking a car rental locally in Xàbia it is generally advised to do so in advance of your journey as they tend to sell out during the busy summer season.
Taxi services
Radio Taxi Jávea

phone: +34 902 199 777

Xàbia Taxi

phone: +34 965 792 535
Car and bicycle rental
The tourist office maintains an
online list
of local agencies which hire out cars, motorbikes, and bicycles.
See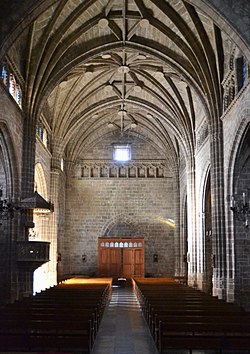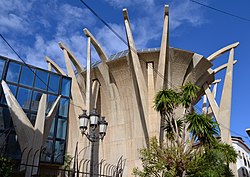 Església de Sant Bartomeu

address: Plaça l'Esglesia, s/n

The fortified Valencian-Gothic church was built between the 14th and early 16th centuries, and has a single nave with chapels between the buttresses. It was the town's main defensive structure besides the medieval walls, and exterior features include battlements, arrow slits, and parapets.

phone: +34 965 791 098

address: Plaça dels Germans Segarra,

An ethnographic and archaeological museum dedicated to finds from the local area, housed in a 16th-century building. The first floor has a permanent exhibit of paintings by local artist JB Segarra Llamas, and the uppermost floor concentrates on underwater archaeology, with pieces recovered off the coast of Xàbia.

Església de la Mare de Déu de Loreto

address: Carrer Pío X, 9

Also known as 'the fisherman's church', this radically avant-garde church was completed in 1967.
Miradores
There are a number of scenic viewpoints in the area, many with sights of historic interest.
Cap de Sant AntoniTopped by a 17-metre-tall lighthouse.

Molins de la PlanaEleven windmills for grinding wheat, one of which dates from the 14th century and ten of which were built in the 18th century. Today they are abandoned, without blades. You can have a great view from the top.

Punta del Arenal

Séquia de la NòriaA Roman-era canal dug out of the sandstone bedrock, used to channel seawater to an inland area used for salt ponds.

Cala BlancaA small rocky basin once used as a fish trap for tuna.

Creu del PortitxolThe crucifix is across the bay from the tiny Illa de Portitxol ('Portitxol Island'), and tops steep cliffs. At the base numerous Roman amphoras and other archaeological artifacts from the 3rd and 4th centuries CE have been discovered. This area is a favourite diving spot.

Cap NegreA rocky headland covered with pine trees.

Cap de la NauAnother steep, rocky headland, with a lighthouse. During clear conditions it is possible to see as far as Ibiza, 85km distant. At the base is a large cave (Valencian: Cova dels Orgues / Spanish: Cueva de los Órganos) accessible by sea only.

Castell de la GranadellaBuilt in 1739 as part of a coastal defensive system against Barbary pirates, it was largely destroyed during the Peninsular War in the early 19th century. Today just a few walls, a portion of the tower, and a well-preserved cistern remain, but it is worth visiting for the great views.
Do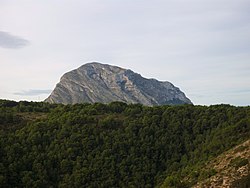 Hiking and biking
There are a number of well-marked hiking trails in the area, ranging in difficulty from easy to very challenging. The tourist office has a list of six hiking trails with maps and detailed route descriptions, which can all be downloaded directly from their
website
.
Similarly, there are some great opportunities for cycling enthusiasts, with a number of routes for both road bikes and mountain bikes, of all levels. The tourist office has maps and trail descriptions for the most popular routes available for download
here
.
Parc Natural del MontgóThe Montgó (753 m) is a nature reserve, and has some interesting caves as well as great hiking and mountain bike trails. The park can be accessed from Xàbia to the south or from Dénia to the north, and is crossed by the highway CV-736 with some amazing views. A brochure with route maps and descriptions (in Spanish) can be downloaded here.
Beaches and water sport
Xàbia is a good base for all types of water sport, including scuba diving, parasailing, and sea kayaking. The city's tourist office maintains an
online list
of the numerous local agencies which rent out equipment and/or offer guided tours.
Platja de l'ArenalThe main city beach is a Blue Flag beach, with a long promenade, disabled access, toilets and first aid stations, and plenty of restaurants. Jet-skis are available for rent.

Platja de la GravaAnother Blue Flag urban beach, smaller than Platja de l'Arenal, and good for snorkeling. Facilities here include a promenade, lifeguard station, restaurants, and a taxi stand.

Platja de la GranadellaGranadella Cove and the attached beach of Granadella are one of those hidden little pieces of paradise. The cove is attached to Xàbia but hidden away behind the buzz of the main Arenal beach, and is a spot well worth visiting for its natural beauty, tranquil atmosphere and historic castle ruins. The cove is enclosed by mountains, features a Blue Flag beach, excellent diving facilities and plenty of pure natural beauty. Facilities include toilets and lifeguard station, and jet-skis and canoes are available for rent.
Buy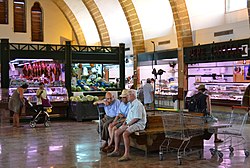 Mercat Municipal

address: Plaça Celestino Pons, s/n

The municipal market is a good place for local produce, fish, and meat, and has two onsite bars and a bakery.

Mercadillo

address: Plaça de la Constitució

A weekly street market for local produce and other goods.

phone: +34 665 314 404

address: Carrer Santísimo Cristo del M, 15B

Buys and sells used books.
Eat
Unsurprisingly Xàbia is known for its great variety of seafood dishes, which include
paella marinera
(seafood paella) and
arròs a banda
(rice cooked in fish stock with 'trash fish' and potatoes). The town is also known for its sweet pastries with almonds, and for its raisins.
Budget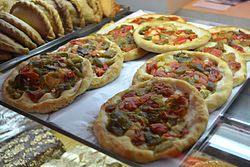 Bar El Clavo

phone: +34 965 791 014

address: Presidente Adolfo Suarez, 15

A classic Spanish fisherman's bar. Fresh seafood and good values. Menu on wall only. Overlooking sea near fishing docks.
Midrange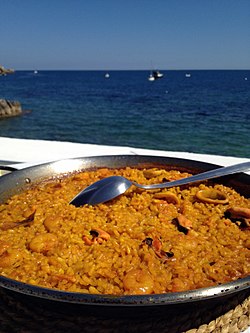 phone: +34 965 790 104

address: Carrer de la Muela, 4

Austriaco Café Wien

phone: +34 966 470 997

address: Av de la Llibertat, 15

Excellent bread, pastries and croissants – favorite place for breakfast.

phone: +34 966 594 495

address: Carrer Antoni Llidó

Super fish and chips, and chicken. Order a paella or fideuà ahead of time. Great mixed fish plate.

phone: +34 965 791 600

address: Av Libertad, 5, Bloque 1

One of the better restaurants in this part of town. French owned, fine tapas. Consistently good reports.

Restaurante El Corral del Pato

phone: +34 965 756 834

address: Partida dels Trossets, 31

Very good Valencian cuisine with popular menu; great wood fired lamb, oxen and duck. Eat in or outside under huge carob trees. Reservations recommended. Local Jalón wine by pitchers.

Restaurante Gota de Mar

phone: +34 965 771 648

address: Partida Cm Cap Marti, 531A

Lovely terrace overlooking valley.

phone: +34 965 795 021

address: Ctra de Jesus Pobre, 101

Great value, quantity, and quality, and well-presented. Excellent fish and chips. Great view of the mountain.

phone: +34 965 791 910

address: Av del Mediterráneo, 42

Classic Spanish with a great view of the bay; can accommodate vegetarians. Reservations by email must be made by 12:00 for lunch the same day, and before 18:30 for dinner the same day.

phone: +34 965 794 745

address: Av Marina Española, 15

Excellent and imaginative tapas. Book or but worth the wait.

phone: +34 966 470 776

One of the better restaurants in this part of town.
There are also two restaurants at Hotel Rodat (see its "Sleep" listing).
Splurge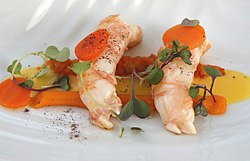 phone: +34 965 084 440

address: Carretera Benitachell, 100

Operated by chef Alberto Ferruz, this was awarded a Michelin star in 2014, just two years after opening. The restaurant is known for innovative cuisine featuring mostly locally-sourced produce.

phone: +34 965 771 835

address: Ctra Cabo la Nao, 154

Fantastic views and good food.

phone: +34 965 793 764

address: Ctra Benitachell, 9

Swiss-owned with very good foods and wines. Try the salt encrusted sea bass. Reservations can be made online.
Drink
phone: +34 609 702 809

address: Av del Mediterráneo, 63
Sleep
Midrange
phone: +34 966 472 146

address: Carrer Paul Gauguin, 4

Has one- and two-bedroom apartments, all with kitchenettes. Also has three outdoor pools, fitness centre, onsite restaurant, and free Wi-Fi. Pets permitted on request, parking €6/day.

phone: +34 966 462 191

address: Carrer Sor Maria Gallart, 3

Has nonsmoking rooms and an onsite bar-restaurant. Offers shuttle service to Valencia and Alicante airports, the bus station, and train stations, from €80. Pets permitted on request for no extra charge, free Wi-Fi, private parking €5/day.

phone: +34 965 790 050

address: Pasaje Génova, 12

Has a pool, garden, onsite restaurant, and free Wi-Fi.
Splurge
phone: +34 965 790 200

address: Avda del Mediterráneo, 233

Facilities include nonsmoking rooms, fitness centre, indoor and outdoor pools, and free Wi-Fi; all rooms have a balcony. Has a respected onsite restaurant which can accommodate special diets on request. Parking €10/day.

phone: +34 966 470 710

address: Carrer de la Murciana, 15

4-star hotel with services such as two restaurants operated by Nazario Cano, a spa (for extra cost), and sport facilities. Free Wi-Fi and parking, pets permitted on request.