Xiamen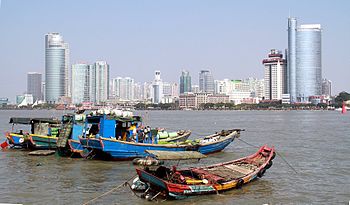 Xiamen
(厦门;
Ē-mn̂g
in Minnan,
Xiàmén
in Mandarin, traditional English name:
Amoy
) is a coastal city in
Fujian
Province in
China
. It has been an important port for centuries and became one of China's earliest
Special Economic Zones
in 1980. The name Xiamen means "door to the house", referring to the city's centuries-old role as a gateway to China.
Xiamen is a very vibrant, affluent and modern place, though by Chinese standards it is a small city — only 1.9 million in the city itself and 3.6 million counting suburbs, nevertheless making it the largest city in Fujian province. It has many non-Chinese residents and a range of restaurants, bars and stores that cater to them. It also has several universities and some areas popular for tourism.
The most important tourist area is
Gulangyu
, a small island close to downtown which contains some beautiful colonial buildings and is car free. It is now listed as a
UNESCO World Heritage Site
.
Understand
Like many other Asian cities, Xiamen is a fascinating mixture of old and new. Buildings range from ancient temples to modern skyscrapers, roads from narrow alleys to multi-lane boulevards and highways, and industries from handicrafts to hi-tech.
Orientation
The core of the city is on Xiamen island. The term "Xiamen" is somewhat ambiguous since it can refer to the island, to the city on it, or to the whole urban area (a "prefecture-level city" in the Chinese
administrative system
) including suburbs not on the island. This article covers Xiamen Island; the others areas have their own articles, linked below.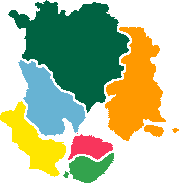 On the map, Xiamen Island is the pink (Huli District) and green (Siming District) approximately circular area near the bottom. It is about 13 km (8 miles) in diameter.
Gulangyu
is the green dot next to the larger island. Much of both islands is heavily built up, but both also have quite a lot of parkland and plenty of trees and flowers; this is a bustling modern city with distinct overtones of tropical paradise. Also, the terrain is hilly and quite a few hills are still covered with forest.
The areas on the mainland that are administratively part of Xiamen are
Haicang
in yellow,
Jimei
in blue,
Tong'an
in dark green and
Xiang'an
in orange. A few decades back these were largely rural areas, but all now have populations of several hundred thousand and are growing quickly; the city is expanding beyond the island. Xiamen Island is connected to Jimei by several bridges (road, rail and rapid transit), to Haicang by one bridge, and to Xiang'an by a tunnel.
The main train station, long-distance bus stations, and ferry terminals are all on Xiamen Island, though there are less important stations in other areas. The airport is also on the island, up on the north side. The bus rapid transit system (BRT) has one line running east-west across the island and another that runs north, crosses a bridge and then forks to run through parts of Jimei and Tong'an. Other districts do not yet have BRT service. See
Get around
below for more on BRT including a link to a map.
Most of the historic buildings and much of the new commercial and business core of town are in the area of Xiamen Island opposite Gulangyu, though newer development has spread out a long way east and north from there. Major streets in the old central area include Lujiang Road along the coast, Siming Road parallel to it and a bit inland, and Zhongshan Road which is a pedestrians-only shopping street perpendicular to the other two. The university is on the coast at the southern end of that downtown area.
A long and rather pretty ring road, Huándǎo Lù (X401 on the map), runs from the university along the east coast all the way to the airport on the north edge of the island; there are popular beaches along it. A large new
International Conference Center
with its own hotel is just off this road, about halfway up the coast.
Somewhat north of downtown on the west side of the island, there is a long, narrow lake running east-west near the map's pink-green border. Its name can be romanised as either Yundang Lake or Yuandang Lake; we use Yundang here because it is closer to the sound in Chinese, but both forms are in widespread use.
Major roads run parallel to the lake shore and a bit inland on all four sides, all with names that say which side of the lake they are on. The area around Hubin Beilu (Lakeside North Street) has several high-end hotels (the Marco Polo is a landmark), quite a few expat residents, and many restaurants and bars. Along the lake are mainly upmarket places, while the back streets have more modest establishments. Around Hubin Nanlu (Lakeside South Street) are shops and offices.
Xiahe Lu, south of Hubin Nanlu and roughly parallel to it, is one of the main streets of the newer part of the city; it has many banks, hotels and offices, several of the larger shopping centers, and the train station. The east-west BRT line runs along it.

West of the lake, between it and the seashore, is Haiwan Park which has a half-dozen bars/restaurants right on the seashore, all with large patios overlooking the water. Like the ones on the lake, these mostly offer Western food and are popular with Xiamen's large expatriate community.
Xiamen's container port, on the west side of town north of the lake, is among the 20 busiest on Earth. From the main road up the west side of the island, you can look out over hundreds of stacked containers and some enormous cranes for moving them. In the photo of Haicang Bridge on the right, some red cranes are visible.
Climate
Xiamen is just one degree north of the Tropic of Cancer. The climate is subtropical, warm year round; even in the coldest winter months (January and February), the average nightly low is 10 °C (50 °F). Frost is extremely rare and the last time it snowed was a freak storm in 1893.
It does get hot in summer; in July and August, average daily high and low are 32 and 25 °C (~ 90 and 77 °F), and it is often humid as well. There is a fair bit of rain; average is 1350 mm (~ 53 inches) a year. October to January are the driest months.
Xiamen has cleaner air than many Chinese cities; it is right on the sea, there is not much heavy industry and almost no domestic heating with coal, and the city government is generally strict about pollution since it might drive away investment. Xiamen got an international
award
in a contest for most livable and environmentally aware cities in 2002; neighboring
Quanzhou
won the following year.
There is a risk of typhoons, mainly July to September, but Xiamen is partly sheltered from them. Typhoons come in off the Pacific; most of them cross
Taiwan
before reaching Xiamen, use up much of their power smashing up Taiwan, and are significantly less nasty by the time they hit Xiamen.
Overall, the climate is usually very pleasant year round.
History
The region has been inhabited since prehistoric times and Xiamen Island is mentioned in Han Dynasty records around the time of Christ. There has been a town in the area at least since the Song Dynasty, a thousand years ago. For most of that time, it was administratively a district of
Quanzhou
, which was historically the richest and most important city in Fujian. In the past couple of centuries, however, Xiamen has grown a great deal; now it is administered separately and is
much
more than just an appendage of Quanzhou.
Until 1842, the Chinese Empire allowed Western "barbarians" to trade only in
Guangzhou
(then known as Canton), and only under strict controls. After China lost the First Opium War, Britain took
Hong Kong
and China was forced to open five
Treaty Ports
— Canton, Xiamen (then known as Amoy),
Fuzhou
,
Ningbo
and
Shanghai
— to foreign trade, and to eliminate some of their restrictions. Trade boomed and these port cities developed very quickly.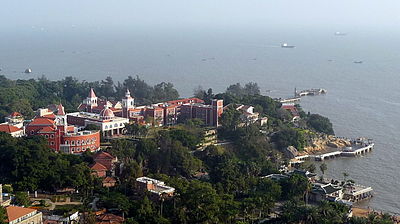 In Xiamen, the island
Gulangyu
became a foreign enclave with consulates and luxurious homes. Today it is a quiet area (no cars or motorcycles), five minutes by ferry from downtown, and remarkably scenic.
In the late 19th and early 20th centuries,
Fujian
was a focus of missionary activity and there are many historic churches in the region. China's oldest Protestant church, the Xinjie Church, is in downtown Xiamen near the Ximing Road & Zhongshan Road intersection.
Some of the history of the China trade is darker; key commodities were tea, silk and ceramics plus "pigs and poison" — indentured labourers and opium. Some labourers were very badly treated, almost slaves, and opium caused major problems in China. Xiamen had its share of the dark side as well as the more positive side; one company there was prosecuted by the British for kidnapping potential workers.
Many overseas Chinese around the world can trace their ancestry to Fujian, often to the
Minnan
-speaking region around Xiamen. In particular, much of the Chinese immigration to
Southeast Asia
has been from Fujian, as was nearly all immigration to
Taiwan
before 1949. Some overseas Chinese maintain connections to the "old country", especially Xiamen. Tan Kah Kee, after making his fortune in
Malaya
rubber, started Xiamen University, an
Overseas Chinese Museum
nearby, and a technical college in neighboring
Jimei
. The Filipino chain store SM first entered the Chinese market with a store in Xiamen, the company founder's birthplace. Overseas Chinese often visit the region, some donate to various good causes in the area, and Xiamen university has many overseas Chinese students, including a large contingent from
Indonesia
.
In the 1980s, Xiamen was one of the first cities to become a
Special Economic Zone
to encourage development and open mainland China to the outside world; like other SEZs it has been booming ever since. While only Xiamen Island and Gulyangyu are in the SEZ, the whole region is flourishing. Xiamen has more Taiwanese investment than any other mainland city, partly because Taiwanese is a dialect of
Minnan
(Southern Min), the local language of southern Fujian. There is also a major influx of other foreign investment; among the foreign companies with large factories in Xiamen are Lifetime Products, Dell and Kodak.
Xiamen also has five large industrial development zones set up for various types of development, two in
Haicang
and one each in
Jimei
,
Xiang'an
and on Xiamen Island. Details on
Wikipedia
.
Talk
The main local language is called
Minnan Hua
(Southern Min speech) in Chinese, and in China usually just Minnan in English. It is also widespread in
Southeast Asia
, where it is known as
Hokkien
, and in
Taiwan
where it is called
Taiwanese
. All these variants are mutually intelligible and the Xiamen version is the standard, so Xiamen is an excellent place to learn Minnan. Minnan is not mutually intelligible with Mandarin, Cantonese or even with other Min (Fujian) dialects, though it is to a certain extent mutually intelligible with
Teochew
, which is spoken across the border in Guangdong province.
As with anywhere else in China,
Mandarin
is almost universally spoken, at least by educated people, since it has been the only language used in education, government and most media since the 1950s. Like other prosperous coastal cities, Xiamen has many migrants from other parts of China, most of whom speak Mandarin but not Minnan.
Foreigners staying in Xiamen long term generally choose to learn Mandarin instead of (occasionally, as well as) Minnan because Mandarin is so much more broadly useful. Go a hundred miles from Xiamen in any direction, except across the Taiwan Strait, and no-one will speak Minnan; the local language will be something completely different. Go anywhere in China, though, and most people you meet will speak Mandarin. That being said, attempts to speak Minnan are most certainly appreciated by locals, and might even be essential for breaking into local social circles.
English is not widely spoken. You can expect reasonable-to-excellent English from staff in higher end hotels, tourist shops, and the many restaurants and bars that cater to expatriates. Elsewhere the range is likely to be none-to-limited, with the occasional exception. This is a Chinese-speaking city with some English facilities, not somewhere like
Amsterdam
or even
Hong Kong
where an English-only traveller can expect to cope quite easily.
You can survive and have a good time in Xiamen speaking only English more easily than in most Chinese cities, but there will be difficulties. You will need some help from Chinese friends or hotel staff — things like writing down a destination in Chinese or giving directions by cell phone — because the cab drivers generally have no English. English is OK for high-end restaurants, but if you want to eat more cheaply or more adventurously then you need to learn some Chinese or bring along a translator.
Learning some Mandarin opens up most of the city to you. The only areas where knowing some Minnan, or bringing along a local guide, are likely to be essential is if you want to get out into the countryside, shop in a farmers' market, or buy from fishermen at the docks.
Get in
Xiamen has a major airport and good road and rail connections; it is easily reached from anywhere in China and many places beyond.
By plane
Xiamen Gaoqi International AirportThe airport is on Xiamen island and close to downtown, ¥30-40 and 20 minutes by taxi. It is among the dozen busiest airports in China by several different measures — passengers, freight volume or number of flights — though its exact position on the list is different for each measure and may change from year to year.
Xiamen Airlines
use XMN as their hub. They have connections all over China, international flights to many Asian destinations, and a few beyond Asia such as Amsterdam and Sydney. Most other Chinese airlines also fly to Xiamen and there are connections to almost any major Chinese city.
Probably the most common way to fly into Xiamen from overseas is to connect through
Hong Kong
. Flying via
Guangzhou
or
Shanghai
is also common; both are major international hubs, have good connections to Xiamen, and are reasonably nearby. Shanghai, however, generally requires a somewhat inconvenient change of airports; most international flights come in to
Pudong Airport
but domestic routes use Hongqiao Airport, on the other side of the city. Connecting via
Beijing
is also possible, but Beijing is a long way from Xiamen.
Direct international flights to Xiamen are becoming more common, and may offer better options for many fliers.
From
Taiwan
, there are numerous flights on multiple airlines from both Songshan and Taoyuan airports in
Taipei
to Xiamen, as well as several flights form
Kaohsiung
. However, these do not take the most direct routing and can be rather expensive; consider flying into
Kinmen
and taking a ferry to Xiamen instead.
From Southeast Asia, there are flights direct to Xiamen from
Singapore
,
Kuala Lumpur
.
Jakarta
,
Bangkok
,
Manila
and
Cebu
. See
Discount airlines in Asia
.
From North America, there are direct flights on Xiamen Airlines from
Los Angeles
and
New York
but several two-hop possibilities are available from the US, Canada or Mexico. Korean Air have direct flights to Xiamen from
Seoul
. They sometimes offer good discounts, and the Seoul Airport is very user-friendly, with free Internet and nice free lounges with couches to stretch out on. Japan Airlines have direct flights to Xiamen from
Tokyo
and
Osaka
, Philippine Airlines and Cebu Pacific have direct flights from
Manila
and Cebu Pacific also have flights from
Cebu
.
KLM offers direct flights between
Amsterdam
and Xiamen, creating the first direct link to Europe for Xiamen. Flights are scheduled three times per week: Amsterdam-Xiamen on Mondays, Wednesdays and Fridays, and Xiamen-Amsterdam on Tuesdays, Thursdays and Sundays.
Buses from the airport include #18 to Xiamen University and #27 to the harbour, both with stops at the train station. #37 just goes to the train station, #41 to the SM Mall area, 91 to the Exhibition Center. #105 goes north into the suburbs, to
Tong'an
via
Jimei
.
By train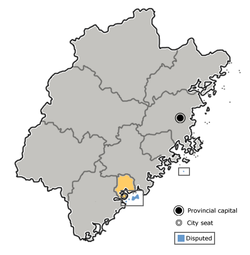 Xiamen is well connected to China's
high-speed rail
network; it is on a major line that runs along the South China coast from just across the border from
Hong Kong
all the way to Shanghai.
There are two high speed railway stations: Xiamen (near downtown) and Xiamen North (Xiamenbei; outside of the Xiamen Island). More high speed trains run from the latter which can be reached by BRT from downtown.
From Xiamen, the routes are:
Northeast to Fuzhou (¥85, 100 minutes), Wenzhou, Ningbo, Hangzhou and Shanghai (around ¥400 and eight hours).
Southwest, to Zhangzhou and Longyan in southwestern Fujian, and on to places in the next province, Guangdong like Chaoshan for Chaozhou. The line runs via Shantou and Huizhou all the way to Shenzhen (¥150, 3.5 hours). From Shenzhen, one can cross to Hong Kong, change trains for Guangzhou, or take a ferry to Zhuhai.
Another high-speed line goes inland from
Putian
(north of Xiamen on the Fujian coast) to
Nanchang
in
Jiangxi
(an inland province West of Fujian). Xiamen-Nanchang time is about five hours.
There is also service on regular trains from Xiamen to various destinations in Fujian and to major cities throughout China's interior. It is inexpensive, but slow (e.g., about 20 hours to
Wuhan
) since the railroads travel a circuitous route through mountains.
By bus
Quanzhou, ¥35, 1.5 hours.
Fuzhou, ¥70-90, 4 hours.
Hong Kong, Guangzhou, or Zhuhai, around ¥200-300, overnight sleeper bus. There is a bus direct to Xiamen from Hong Kong airport. From Hong Kong, there are some buses that go all the way and some where you have to change buses at the Hong Kong-China border.
From Hong Kong via Shenzhen: take the metro to Lo Wu border station, cross the border on foot (usually fast and easy if your visa is in order). There are small shops selling bus tickets within the border complex, with pickup nearby, or you can walk a block to the main bus station. A number of bus operators are available and bus service is frequent. A trip from Lo Wu (China side) to Xiamen will take 9 hours and cost ¥250-300. Night sleeping coaches are also available.
Shenzhen, ¥200-300, 8 hours. Buses leave for Xiamen from the Qiaoshe long-distance bus station (侨社客运站) daily at 09:10, 09:40, 11:00, 11:40, 12:30, 20:00, 20:30, 21:00, 21:30, 22:00 and 22:20. Tickets can be purchased at the Shenzhen Tourism Group (深圳市旅游股份有限公司) counter at Qiaoshe bus station. They take credit card or cash.
By ferry
A boat service operates from Xiamen's two ferry terminals to and from
Kinmen
, which is under Taiwanese control, hourly 08:30-19:00 every day. Tickets cost NT$750 from Kinmen and ¥160 from Xiamen.
One ferry terminal is called Dongdu (东渡/厦门国际邮轮中心) on the west side of the Xiamen Island near the Marco Polo and Pan Pacific Hotels. The other is called Wutong (五通客运码头) in the northeastern corner of the island near the Xiang'an Tunnel.
Wutong is definitely the better choice because the boat ride is only about 30 minutes, and there seems to be fewer tour groups moving through this port. If you get seasick (and the waters can be rough in this area) this choice is obvious. The boat ride from Dongdu is about 55 minutes in normal weather. The only advantage this port could have is that if you are on the west side of Xiamen (where the downtown is), and want to save the ¥40 taxi ride to the other side.
There is only one port (Shuitou) on Kinmen island for mainland-bound boats, and the boat times alternate. So if you are doing a visa run and want to minimize your time in Kinmen, you can leave Xiamen from one port, and return to the other.
Get around
If you are planning on staying in Xiamen for a significant amount of time, consider getting an
eKatong
(e卡通) stored value card. It can be used in different forms of public transport not only in Xiamen, but also in the neighbouring cities of
Quanzhou
and
Zhangzhou
.
The local
bus
system is very good, but the normal bus routes are listed in Chinese and do not have English on the signs.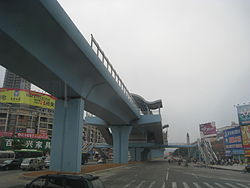 Xiamen BRTThis uses buses on elevated bus-only roads with 4 lines operating. The BRT is very fast and comfortable and does have signs in English. Fare depends on distance, usually ¥1-¥4 per person. Line 1 connects the northern high speed railway station, Terminal 4 of the airport and downtown/Siming.
Xiamen metroAs of mid-2019 the rail network has one north-south line mostly connecting the Xiamen North railway station with downtown. Four more lines are under construction, with Line 2 (to Haicang and east-west through downtown) scheduled for late 2019 and the others 2020-2022. Eventually there may be 11 lines.
Taxis
are cheap, starting at ¥8 (plus ¥3 fuel tax – so ¥11) for the first 3 km. After the first 3 km, the meter charge will go up based on distance. Although the meter may read with a decimal, most taxi drivers will round up. On the other hand, as anywhere in China, tipping is not expected.
During the day time, you should be able to get anywhere on Xiamen island, including the airport, for under ¥40. But be wary that some taxi drivers might take advantage of you if they know that you are not a local and might take the longer route to your destination. For example, if the driver says "Huándǎo Lù" after you tell him where you want to go, say
bù (no)
, because that is the ring road that circles the entire island and although it is scenic, it is likely the most expensive way to go.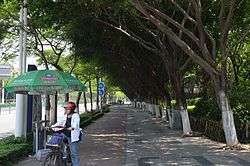 There is a frequent
ferry
service to/from
Gulangyu
. Non-Xiamen residents have to take the ferry from Dongdu Wharf, accessible via taxi or bus #51. Tickets are ¥35 for the trip to Gulangyu, and ¥18 for the trip back to Xiamen; the ferry ride takes about 20 minutes.
To go around by
bicycle
is a great way to explore Xiamen, except
Gulangyu
where bikes are forbidden. Try the Island Ring Road (Huándǎo Lù) which has an extra path for bicycles along much of its length. Start at Xiamen University Beach and go up until the International Exhibition Center. There are various rental stations on the Huándǎo Road, starting at ¥30 per day. Enjoy the sunshine while cruising next to the sea. If you leave the bicycle path, be cautious about the traffic.
Motorcycles are forbidden
everywhere on Xiamen Island and enforcement is quite strict in the central areas (e.g. Yundang Lake, Zhongshan Road, etc.). In other areas, enforcement is more relaxed and some people do ride, but this risks a fine or even police seizure of the bike. Motorcycles are allowed in the mainland suburbs (
Jimei
,
Tong'an
,
Haicang
or
Xiang'an
), but see
Driving in China
for some cautions.
See
Xiamen has a few large clumps of interesting stuff to see.
Gulangyu
may be the main tourist area, but there is quite a lot on Xiamen Island as well, and some out in the suburbs.
North of the lake
One is the area around
Yundang Lake
. The north side has a large group of restaurants and bars (see
below
) plus a rather pretty lakeside park area with a walkway right down by the water. Around dawn and dusk, you can watch the
egrets
(symbol of Xiamen, used as the logo for Xiamen Airlines) flying to and from the lake.
At night, there is a bit of a
light show
; many buildings (especially around the south side of the lake) have laser or LED displays that attract attention, sort of an advertisement by commercial buildings and some residential complexes to draw attention to their business. This sort of thing is fairly common in Chinese cities, but Xiamen has more of it than most others. It is best seen from the north side, augmented by reflections in the lake. This is not really an attraction in itself, just a nice extra for anyone imbibing in a lakeside bar.
Bailuzhou Park

phone: +86 592 5082380

address: 565 Bailuzhou Street, Siming District (思明区白鹭洲路565号)

A large park that includes hotels, bars, restaurants and shopping. Go around 8:30PM and enjoy the vendors, music, and dancing.
Around the university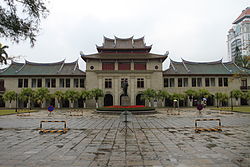 Another is the area around
Xiamen University
. In Chinese, it is 厦门大学 (
Ē-mn̂g tōa-o̍h
in Minnan,
Xiàmén dàxué
in Mandarin), usually abbreviated to 厦大 (
Hā-tāi
in Minnan,
Xiàdà
in Mandarin). This is Fujian's most prestigious university, the province's only "national key university" controlled by the central government in Beijing rather than by the provincial education department.
To get there, take a 20-minute walk south from the Zhongshan Road and Gulangyu ferry area, along either Lujiang Road or Siming Road, jump in a taxi or take a bus. Buses that go to the main gate include #1, 15, 18, 21, 29, 71 and 82. #2 or 22 go to other parts of the university.
The university has a beautiful campus with old traditional buildings, extensive gardens and a small lake. Among the attractions are a small but interesting
Anthropological Museum
(straight ahead and a bit to the right from the main gate) and a large
bookstore
with quite a few high-grade Chinese art books and (by Chinese standards) a fine selection of English books. Entrance via the main gate may be restricted on busy holidays; use one of the three smaller gates which are across from Baicheng beach.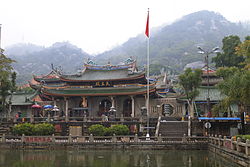 Just outside the main university gate is the south end of Siming Road, generally referred to as
Xiada Street
. This is a lively area of shops, street stalls and restaurants; it is only perhaps 150 m long, but packs a lot into that space, plus a few smaller streets running off it. There is also a large bookstore here, not quite as good as the university store for art books, but better for CDs and DVDs. Because this area caters to the student market, it tends to have a lot of fairly cheap stuff. You need to
bargain
to get good prices. Few of the vendors speak English, but there are sometimes helpful English-speaking students about.
phone: +86 592 2087282

address: 515 Siming South Rd, Siming District (思明区思明南路515号)

This is a large Buddhist temple parts of which are over a thousand years old, mainly dedicated to the bodhisatva Guan Yin who is sometimes described as the Goddess of Mercy. Mount Putuo in Zhejiang is one of China's greatest Buddhist temples; "Nanputuo" means "south Putuo". Visitors can climb the mountain behind the temple for beautiful views of Xiamen and surrounding nature. The mountain is also littered with small enclaves with hundreds of Buddhist statuettes.

Xiamen-Above-the-Clouds Observation Deck

phone: +86 592 2563326

address: Level 55, Shimao Cross-Strait Plaza B, 188 Yanwu West Road, Siming District 思明区演武西路188号世茂海峡大厦B塔55层

Probably the best place to see Xiamen's skyline. The observation deck sits atop Building B of the 300-metre high Shimao Cross-Strait Plaza twin-tower complex.
Beach and boardwalk
From Shoushan Road to Baishi Fortress is about ten km (six miles) of
boardwalk along the beach
; it runs parallel to the Huandao Lu ring road. Plans call for it to eventually extend all the way to the Conference Center, roughly doubling its current length. Along it are bicycle rental places, many food stalls and restaurants, and various other attractions: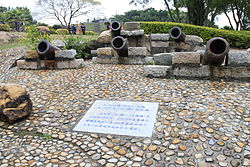 phone: +86 592 2099603

address: 2 Zengcuo'an Road, Siming District (思明区曾厝埯路2号)

Xiamen has always been vulnerable to attack from the sea and various fortifications have been built over the centuries. The Ming built a fort to defend against Japanese pirates in 1387. The remains of Koxinga's fortifications from the late 1600s are now a tourist attraction on Gulangyu. Cold War era tourist attractions on Taiwan-controlled Kinmen off the coast include guns built for shelling Xiamen and bunkers built to protect against shells from Xiamen. ; The Hulishan Fortress was built in 1894 as part of China's Westernization Movement. The architecture is in a Qing Dynasty style. On the front of the platform there are "Wanggui platform" and "Pangui platform", from which you can see the Dadan and Xiaodan islands through a telescope. In the yard of the cannon platform there is a gorgeous wall sculpture named "the Soul of the Nation" and a water fountain.

Music Square

address: 318 Huandao Road South, Siming District (思明区环岛南路318号)

A park-like area along the boardwalk with sculptures of/about many famous composers and musicians, both Western and Chinese. Look for the public toilets with the musical notes on the wall, or a large red sculpture that looks somewhat like an open fan.
Other sights
There are a number of other sights outside these main areas:
phone: +86 592 2024785

address: Siming District (思明区)

Over two square km (500 acres) of gardens, some dedicated to particular plants such as bamboo, palms or coniferous trees, with a lake, bridges, several temples, a network of footpaths, a bonsai exhibit, and an exhibit hall with over a thousand types of flowers.

Xiamen Culture and Art Centre

address: 95 Tiyu Road, Siming District (思明区体育路95号)

Both a museum and a performance venue. The Xiamen Library is here too.
phone: +86 592 2085345

address: No.493 Siming Nan Lu (Siming South Road), Siming District (思明区思明南路493号)

A museum of Overseas Chinese culture and history, started by Tan Kah Kee who also founded Xiamen University. The #21 bus, from the train station to the university with a Zhongshan Road stop, has a stop at the museum.
phone: +86 592 2956065, +86 592 2956066

address: 2017 Lüling Road, Siming District (思明区吕岭路2017号)

A museum about the Olympic Games. Established with the approval of the International Olympic Committee and the China Olympic Committee.
Wuyuan Bay Wetland Park

phone: +86 592 5220888

address: Huli District (湖里区)

Xiamen's largest wetland park, covering an area of about 85 hectares or about half the size of Gulangyu Island.
Do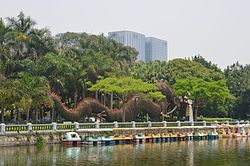 Zhongshan Park

phone: +86 592 2910888

address: Siming District (思明区)

A large park named for Dr. Sun Yat Sen (Sun Zhong Shan in Mandarin), leader of the 1911 revolution that overthrew the Qing and established the Republic of China. It has a statue of him, several gardens, a small zoo, a flower exhibit hall, a lake with rental paddle boats, dance shows, and bumper cars.

Kite surfing

address: Huandau Road, near Asia Golden Bay Hotel

Training with English speaking IKO-certified instructors, equipment for sale and storage, compressor and shower facilities.

phone: +86 592 5118287

address: Room 2304, Wei Ye Na Building, Century Bay, North Hubin Road, Siming District (思明区湖滨北路世纪海湾维也纳楼2304室)

A registered private school specializing in teaching Chinese to foreigners, with lessons for students at different levels.

Xiamen MarathonAn international marathon race run every year in Xiamen on the first Saturday in January. This is a large event; it had over 50,000 runners in 2013. Some of the world's top long distance runners compete and their times are impressive; in 2014 the men's winner was Mariko Kiplagat at 2:08:06 and women's Mare Dibaba 2:21:36. The course is mostly along the Huándǎo Lù ring road with the finish line right downtown near the Gulangyu ferry dock. If you book well ahead you might get a room at the Lujiang Harbourview Hotel with a balcony overlooking the finish line.

Guanyinshan Fantasy Beach Holiday Resort

address: 17 Guanyinshan Commercial Street, Siming District (思明区观音山商业街17号)

A major amusement park on Xiamen Island's east coast.
Trade fairs
Xiamen is host to many influential trade shows. A majority of the Xiamen exhibitions are located at the
Xiamen International Conference & Exhibition Center (XICEC)
, listed as one of the world's top exhibition centers by
Trade Show Executive
.
Learn
Xiamen is home to
Xiamen University
(厦门大学
Ē-mn̂g Toā-o̍h
in Minnan,
Xiàmén Dàxué
in Mandarin), one of China's premier universities and the most prestigious one in
Fujian
. There are opportunities for international students to enroll at the university, as well as for students at foreign universities to study here on exchange programs.
Buy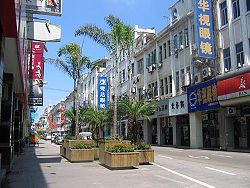 Zhongshan Road Pedestrian Street
(中山路步行街) runs inland off Lujiang Road (which runs along the coast) near the Gulangyu ferry terminal, through a historical part of the city. This is major shopping area with interesting smaller streets off it. The opening time is generally from 9AM to 10PM The buildings along Zhongshan Road combine a European architecture style with Chinese.
Other major shopping streets in the area are Siming Road and Jukou Street. The area also has many smaller streets with shopping; most are off to the left as you come up Zhongshan Road from the sea.
As you come along Zhongshan from the sea, you can look for a set of stairs going off to your right a short way along; these lead to a smaller parallel street with many little shops and street vendors. From the inland end of that (Siming Road), turn left to get back to Zhongshan Road at the inland end of the pedestrian area.
Xiamen University Street
is actually half a street because the other side is part of Nanputuo Temple. Hundreds of shops line the street which is only a few hundred meters. Most of these shops sell garments and cultural things, and the book stores are also worth a look. Since they cater to students, these stores are often more reasonably priced than other areas, but some
haggling
may be needed to get the best prices.
There is also much tourist-oriented shopping on
Gulangyu
.
Xiamen has a number of modern enclosed
shopping malls
or large standalone
chain stores
. Here are some of the main ones:
World Trade Mall

address: 878-888 Xiahe Rd

Includes a huge Walmart.

Robinson Plaza

address: Xiahe Road and Hubin Dong Rd

Has a Tesco, Britain's largest chain.
Shi

SM LaiyaTwo large shopping malls that are part of the Filipino SM chain; the company founder was born in Xiamen.

Wanda PlazaNewer (2011) mall with Uniqlo, a large Japanese clothing chain.

MetroA German chain well established in China, catering mainly to restaurants and hotels. For Western groceries it is often better than Walmart or Tesco, but some items are sold only in bulk quantities.

Shimao E-MALLA seven storey mall with many restaurants and shops.
Most of these sell everything from fresh vegetables to clothing and LCD TV's.
Eat
Xiamen Local Foods:
Xiamen Glass Noodles 面线糊 miànxiàn hú
Oyster Omelet 海蛎煎 hǎilì jiān
Xiamen Fish Balls 厦门鱼丸 xiàmén yúwán
Sea Worm Jelly 土笋冻 tǔsǔndòng
Shacha Noodles 沙茶面 shāchá miàn
Shrimp Noodle Soup 虾面 xiāmiàn
Xiamen Spring Roll 春卷 chūnjuǎn
Xiamen Glutinous Rice Wrap 厦门烧肉粽 xiàmén shāoròu zòng
Peanut Soup 花生汤 huāshēng tāng
Xiamen Pot Stickers 韭菜盒 jiǔcài hé
Crab Porridge 蟹米粥 xièmǐ zhōu
Braised Duck with Ginger 姜母鸭 jiāngmǔyā
Xiamen Wonton Soup 扁食汤 biǎnshítāng
Budget food areas
Two areas with many cheap local restaurants are around the university and the many smaller streets near Zhongshan Rd, inland from the ferry terminus.
There is an old restaurant on the east end of Zhongshan Rd (intersection of Xinhua Rd) which serves the local dish ShaChaMian, noodles with peanut soup.
Gulangyu
also has much cheap food, though prices there are higher than Xiamen.
Around the lake
The area from the north side of Yundang Lake over to Haiwan Park has a large number of bars, cafes and restaurants. Most are mid-to-high priced, though there are exceptions. Many are popular with Xiamen's large community of expatriates.
There is a whole strip of about twenty cafes and bars along the lake on
Xidi Coffee Street
(西堤咖啡一条街) running West from the Marco Polo Hotel. Most of them are in villa-style homes converted to cafes with patios or balconies with a view of the lake; these are upmarket establishments whose clients include tourists and expats, but are mainly well-off locals. The parking area along the lake always has many BMWs, Audis and SUVs, and often a Ferrari or two.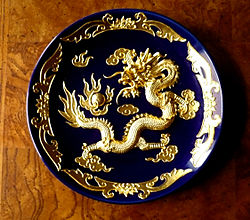 Most of these serve Western food, but many have Chinese dishes as well and there are some with other specialties. The area also has some stores, also mostly upmarket, selling things like ceramics and lacquerwork.
phone: +86 592 5046623

address: 58-2 Ganglong Huayuan

Tex-Mex food made with fresh ingredients. Excellent cheesecake.

Geo Geo Cafe

phone: +86 592-533-0111

address: No. 3, Yundang Road (Xidi Coffee Street)

Serves good Italian and American food and coffee.

Marco Polo HotelDoes a good Sunday international buffet for ¥120 plus service.

Old Villa Western Food Restaurant

phone: +86 5033377

address: No. 3-9 Yuandang Rd

Samadhi

address: A-115, Xidi Villa, Yundang Rd

Vegetarian

ShogunJapanese food
On the side streets off the lake are more places, some of them more modest in decor and pricing.
Tutto Bene

phone: +86 592-504-6026

address: Jien Ye Road 1-16

A very good Italian place.

Mama MiaAnother Italian place, which for some reason chose a location right next door to an existing one

Burger Bar

address: Guanren Lu

Good quality burgers made with Australian Wagyu beef. A build your own menu with different size patties, including a cheese stuffed option. Not many seats inside but service is quick.

ChongchingExcellent Sichuan food, moderate prices, plain decor. Staff do not speak English, but there is English on the menu.

phone: +86 592-5089783

address: 5-8 Guanren Lu

British-themed pub with a range of draft beers, home of the Xiamen Typhoons Rugby Union Football Club.
Inland of the lake, behind a KFC, at 27 Hubin Bei Lu (Lakeside North Street) is a cluster of shops called Haiwan Xincheng. It has several other places:
Tuscany Cafe

address: Shop 102-2

Mainly European dishes with a few Mexican dishes. The owner/chef is a former chef of the Four Seaons Hotel, Hong Kong. The prices are reasonable, with most items under ¥50 with free bruschetta. They also have a special lunch menu which is quite cheap. The staff are able to speak English.

Xiamen Sports Cafe

address: Shop 103

Nice sports bar popular with some locals but mainly expats. The bar has a reasonably priced food menu, with the pizza being of high quality. Daily happy hour with cheap pints of Tiger. Especially good if it is your first time to Xiamen and you are looking for some advice on things to do

phone: +86 592-514 3227

address: Shop 106

Bright, clean and colourful, TOSEA serves a selection of fresh homemade food from Vietnam, Thailand, Laos, Malaysia and Indonesia. All at very reasonable prices. English/Chinese menus.

phone: +86 13950107808

address: 1C N 10 Hubin Bei Road

Greg's is a little piece of France in China. They serve traditional French dishes, from bouillabaisse to the lamb shank, including Gillardeau oysters from Arcachon. The chef adapts his recipes for each customer, personalising the sauce and way of cooking. He also changes the menu seasonally, featuring fresh seasonal products.
Haiwan Park
Haiwan Park (
Haiwan Gongyuan
in Chinese), just west of the lake, also has a number of places:
Havana Beach

address: Haiwan Park

Latin American food and often live latin music.

Jiangfeng Yuhuo

address: Haiwan Park

Seafood on a charcoal grill.

JJ Bar and Grill

address: Haiwan Park

A neon sign above the entrance says "Welcome to Texas" and that is the theme. For an American looking for a taste of home, this is good choice – steaks, barbecue, fajitas, and a lot of classic US-style appetizers. If you're really sporty, there is even a mechanical bull. Band at night plays mostly western classics. Frequent dinner stop for expats. Just around the corner are the popular nightclubs.

Me & You 2

address: No.1 Hou Hai Ting, Haiwan Park

Owner is a cheerful Scandinavian; decor includes some Viking-themed items. Good menu with both Asian and Western options including a large range of pizzas from Y45-65 (they also deliver). They have Becks, Tiger and Stella on tap. Happy hour until 8PM (Becks and Tiger are half price). Live music sometimes (in English).
The park has a lot of other stuff as well, including a lot of flowerbeds and lawns, popular with picnicking locals, an amusement park with several rides, several swimming pools, a roller skate and skateboard area, and a number of discos and nightclubs (see next section).
The
Avenue of the Stars
in the park is 300 m long by 40 wide and has over 2000 LEDs in the pavement which do computer-controlled light shows. A musical fountain down its center has 240 water nozzles, also computer-controlled.
Buses 11, 22, 31, 43, 54, 66, 71,102, 504, 520, 533, 625, 803, 808 and 810 stop just outside the park at the
Haiwan Gongyuan
stop. From the westernmost stop on the BRT, it is a ten-minute walk north along the seacoast to reach the south end of the park. From the area around the Marco Polo, a ten-minute walk west on Hubin Bei Lu puts you at the north end of the park.
Around the university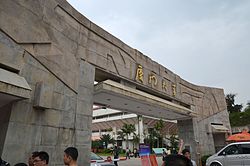 Xiada Street, between the university main gate and Nanputou Temple, has many restaurants. These mainly cater to the student trade, so they tend to be relatively plain but to offer good value. Neither English menus nor English-speaking staff are common.
Along the boardwalk by the beach, from near the university out toward Hulishan Fortress, are many more restaurants and food stalls.
Red Armadillo

phone: +86 592-256-4128

address: 18 Zeng Cuo An, Huandao Rd

A restaurant serving American and Mexican food.

Prague CafeA Czech restaurant with hamburgers, homemade sandwiches, Czech beer, and organic Xiamen-made bread. Sometimes there is goulash as well. Prices are good (about 45 for a very large hamburger with fries). Owner/manager is Czech and speaks English. Located directly across from Xiada.
Other areas
There are also restaurants and bars at various other locations around town.
Lujiang Harbourview Hotel

address: Lujiang Road & Zhongshan Rd

Has a nice sixth floor al fresco restaurant looking out at Gulangyu Island. The restaurant has an English menu and serves Fujian specialities. Highlight was some excellent wasabi marinated cucumber slices.

Indiano John's

phone: +86 592-5557699

address: 69 Jian Tou Bei Lu

Indian food

Temptation of Spicy Fragrance

phone: +86 592-555-1111

address: No.625, Xianyue Road (inside the Smart Hero Club 骏豪会)

An upmarket Sichuan place.

Little Chili

phone: +86 592-291-7773

address: Xiahe Commercial Building (厦禾商厦), No.323, Xiahe Rd

Offers excellent Chinese food, mainly spicy Sichuan food, at an affordable price. There is English on the menu, but staff do not speak English.
Drink
As everywhere in China, there are many tea houses in Xiamen and many KTVs (the 'K' is for Karaoke); both are quite popular with locals. See
China#Drink
for background information.
Xiamen also has many bars and discos in a more-or-less western style; these are generally more affordable than comparable places in Shanghai or Beijing. Although crowded, these places are generally safe. Some caution is required, however, since
pickpockets
sometimes take advantage of the crowding and drunken customers sometimes get combative.
1801 Bar

phone: +86 592 520 1801

address: 1st floor of the United Hotel, Hubin Bei Lu (Lakeside South Road)

A disco with mainly R&B and hip-hop music. Open well into the small hours, sometimes past dawn.

Dushang bar

phone: +86 592-507-5078

address: No.1 Building, No.188 Hubin Dong Lu (Lakeside East Street)

Loud and expensive, but popular and lively.

The Key

address: 109 Hubin Xilu (Lakeside West Street)

Live music from a Filipino cover band with a broad repertoire — jazz and latin as well as rock and hip hop.

KK Disco Pub
Also, most of the major hotels have live music from Filipino cover bands in their bars.
Alternative and cheaper nightlife can be found in Zengcuo An, formerly a separate village now a neighborhood near Xiamen University. Here you find a lot of cheap pubs, open-air BBQ´s and casual gatherings of students and other young people who enjoy the sunset and mild Xiamen nights over a drink.
Temple Cafe

phone: +86 592-209-6780

address: No. 61 Zengcuo An, Siming District

Coffee, beer and cocktails in a unique location, in the courtyard of a functioning Buddhist temple. Western menu, moderate prices.
That area also has many hotels, mostly small and moderately priced.
Sleep
This lists accommodation on Xiamen Island only. Staying in
Jimei
instead might save a little money and could be reasonably convenient if you choose a place near a BRT stop. There is also plenty of accommodation on
Gulangyu
.
Budget
Xiamen Old Town Hostel (厦门古街青年旅舍)

phone: +86 13313848939

address: Kaihe Road, 24 Jiutiao alley (开禾路-九条巷24)

A family run Hostel in a three floor house located in one of the oldest parts of Xiamen, very central. The hostel has a large rooftop garden with a view of the city and harbour, wireless Internet, and big community kitchen. It is right off of the Kaihe road food market, one of the largest open air markets in China with lots of fresh veggies and seafood. You can also eat some the cheapest food in China at many small local eateries.

Hostel Locanda

phone: +86 592 2082918

address: No.35 Minzu Rd, Siming District, Xiamen, China

One block from the waterfront with Gulangyu island across the water. It is a 10 minute walk to Zhongshan Road and Lundu Ferry and 20 minute walk to Xiamen University. Lovely double rooms upstairs, but the dorms on the ground floor are cramped and the shared bathrooms far from clean. Garden but no kitchen at all.

Xiamen Baijiacun International Youth Hostel (厦门百家村国际青年旅舍)

phone: +86 592 2131010

address: 20 Liaohua Lu (蓼花路20)

Clean, spacious hostel located in a great location at Zhongshan Gongyuan (中山公园)

Xiamen International Youth Hostel

phone: +86 592 2082345

address: 41 Nanhua Road, Siming District

Very well kept YHA hostel, dorms or rooms are impeccably clean and comfortable. Friendly,small kitchen, bar, space to sit. Close to Xiamen university and easily reached by bus (1 or 21 from the railway station, ¥1).

Meihulu Hotel (美湖鹭酒店)

phone: +86 2572255

address: 52-5 Hubin Nan Lu (湖滨南路52-5号), Siming District

Small place that accepts foreign passports and is quiet, yet conveniently located. From ¥70+.

Xiamen Travellers' Home

phone: +86 592 2516180 -136 0693 7090

address: No.23 Zeng Cuo An, Island Ring Road 厦门环岛路曾厝垵23号

A very homy place to stay for holiday. clean, great hospitality, 5 rooms ensure small number of guests staying.
Mid-range
Gem HotelBeautiful Japanese-style rooms overlooking much of downtown Xiamen. Includes Chinese buffet breakfast and free wired internet access. Most of the staff speak English well and are extremely helpful.

Jing Hua Hotel

phone: +86 592 5819898

address: 1130 Xiahe Rd, Siming District

Three star hotel offering 146 air-conditioned rooms, all of which have Internet access, satellite TV, and mini-bar. Some of its amenities include KTV, fitness center, and sauna.

phone: +86 592 2022922

address: 54 Lujiang Rd

A grand old place, very central, near the Gulangyu ferry terminal. The restaurant has authentic dim sum.

phone: +86-592-3236-888

address: No.2 Jinshan Rd, Siming District

With 167 apartments ranging from studio to three bedroom apartments, the property is equipped with a breakfast lounge, children's playground, gymnasium and a video room.
Splurge
phone: +86 592 770 9999

address: 7 Guanjun Rd

Surrounded by open spaces and lush vegetation. Nestled on a slope of Xianyue Hill. Breathtaking views of Xiamen Bay.

Marco Polo HotelThis hotel is located on Yundang Lake, and offers a very good international buffet and a great atmosphere.

Millennium Harbourview Hotel Xiamen

phone: +86 592 2023333

address: 12-8 Zhenhai Rd

Located in downtown Xiamen which is a major shopping and business district, the hotel is only minutes away on foot to the ferry to Gulangyu Island. It features a 22-story building that houses 352 rooms that include various business facilities including a work-desk and high speed Internet access.

phone: +86 592 507 8888

address: 19 Hubin Bei Lu (Lakeside North Road)

A super modern hotel, formerly Xiamen Sofitel. The rooms use a lot of glass and modern design techniques. The hotel also has an excellent ¥100 lunch buffet.

phone: +86 592 5525888

address: 386-1 Jiahe Rd

The latest international chain hotel to grace Xiamen's shores. It is very plush, and the Waves Pan Asian buffet is very good.

Xiamen Fliport Software Park HotelLuxury hotel in a software park development area near the airport
Connect
There are consulates in Xiamen for:
phone: +86 592 513-0366

No. 2 Ling Xiang Li, Lianhua District,

phone: +86 592 268-4691

address: No. 189, Xiahe Road #05-07/08, The Bank Centre

phone: +86 592 202-7980

address: Building No.3 (City Hotel Xiamen), No. 16 Hu Yuan Road

Visa section open only 09.00-11.30
Some news stories have indicated that the US is considering opening a consulate in Xiamen, but as of February 2013 no such announcement has been made. Staff from the Guangzhou consulate do visit Xiamen to provide services to Americans there.
Cope
In addition to the supermarkets listed under
buy
above, Xiamen has a number of smaller stores catering to expat residents.
Tastylife

address: 10-105 Jianye Rd

The most comprehensive collection of western supermarket items including a good selection of international beers.
Go next